June 26, 2010 (Saturday)
There are many things that are iconic about UP.  We have the colleges themselves which are historical landmarks on their own, the different statues that are scattered all over the campus, the Oblation, the UP Ikot and Toki jeeps, and I even miss the giant trees that serve as a canopy all around the Academic Oval.  And of course, let's not forget the various food establishments that range from your typical fishball stand to actual sit-down restaurants that serve a full menu.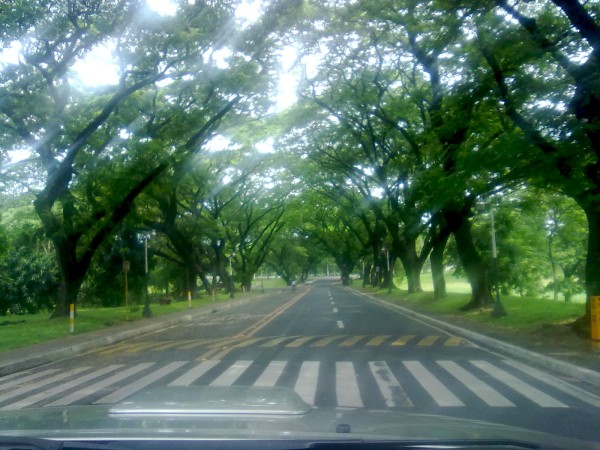 On my second week of French extramural classes, I decided to go back to one of UP's most famous dining establishments.  During my undergraduate years, I think I only had three chances to try Chocolate Kiss out.  The realities of being a student on an allowance kind of limited the frequency of me craving for entrees apart from what was served in Casaa and the UP College of Mass Communications/ Plaridel Hall.
It was a quick lunch and we ended up halving an order of the Taco Salad and the Hickory Smoked Spareribs with their trademark Iced Tea.
The Taco Salad was a serving good for two to three.  I actually thought we ordered the Nachos Overload instead when I saw it.  I think the main difference between the two is that the Nachos Overload has some Jalapenos mixed into it.  As a "salad", it was a plate full of nachos with loads of toppings – salsa, ground beef and cheese.  I think I got full from this alone.  But I was on a mission for spareribs also.  I have only recently acquired the appreciation for spareribs and this is actually one of the really good ones I've tried.  The meat falls off the bone clean.  Their sauce had the right amount of sweetness and tang to it.  And it comes with a generous helping of either rice or garlic mashed potatoes.
I never realized how much value for money the place actually offered until then.  If you have enough money for a P250++ meal, it's worth the trip.  It's easily accessible within the UP Diliman Campus in the Bahay ng Alumni.  They have the café on the first floor and the restaurant on the second floor.  While they share a general menu, there are some items that are exclusive to each also.  They also have another branch in Roces Avenue, Q.C.
I'm intrigued about their Blue Marlin Salpicao so that's next on my list.  And I would appreciate it if I actually had room to spare for dessert then.  Their Devil's Food Cake caught my eye and I even saw on the menu that they have a Chocolate Kiss Suite where you can choose three from among the Devil's Food Cake, Carrot Cake, Dayap Chiffon Cake, Kahlua Butter Cake or Prune Cake.  For only Php75!!!
The UP branch is open everyday from 7AM to 10PM while the one in Roces is open Monday to Saturday from 11AM to 10PM.
Comment on this and Share it on Facebook!
comments
Powered by Facebook Comments