It's no secret to those who have read my entries that food is one of the things I love.  It's even better that I have someone who enjoys food just as much and also has a keen interest in all things alcoholic. 😛
To vote, check out Ray's profile on the myfoodtrip.com site.  He's a definite foodie but what sets him apart is his love for mixing drinks with food as well. Because what good is a meal without the perfect complement?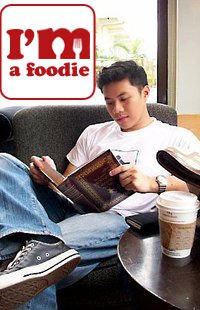 Ray is what you can call a self-taught mixologist. In fact, he's tending to a pot of peppermint now to supply his love for mojitos. And he has actually taught a bartender in Mr. Rockefeller how to mix a Black Opal drink. To say that his bar at home is comparable to that of a real bar might just be an exaggeration but, to say that the range of alcohol and liquor in his house is as extensive as that of a bar is most certainly not. He has also extended his mixing skills to the kitchen by experimenting with Nissin's Yakisoba which, has led him to come up with Chicken Yakisoba with Tuna flakes (Century Tuna Calamansi) and Beef Yakisoba with Bistek. But the best thing he can really mix together is his love for the open road, his eager attitude for all things new, coupled with his great planning and research skills for all his next adventures. He's the perfect travel companion because while he can be happy with a seven-peso glass of scramble, he can also organize a trip to discover places like Johanna's Grille in Bauan Batangas, Marcia Adam's near Tagaytay's border or Laya Personal Dining in Antipolo, Rizal. Plus, he has a penchant for knowing what drink would go well with each meal…or moment. Like how he paired a glass of Asti Martini with bars of Nestle Crunch while lazying it up on the beach: GENIUS. This is why I believe he is worthy to be Mr. myfoodtrip.
I lifted excerpts from his profile on the site so you can read up more on his thinking for food.
If he were a type of food/cuisine, he would be…
Pizza best describes my personality: Comfort in what you know always works best (cheese and tomato base) and yet, always find something new to make each kind a bit different (toppings) to always have something happy to talk about. 🙂
His motto/ philosophy on eating is…
Make every bite count. Never let any morsel or drop slide in without bringing out a memorable experience. Any bite or sip can bring back pleasant memories of a joyful past or let it elicit visions of a hopeful future, all the while enjoying the company of others or of yourself in the present.
Comment on this and Share it on Facebook!
comments
Powered by Facebook Comments