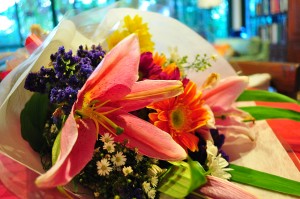 While everyone was scrambling for reservations, searching for that romantic location to spend the day of hearts, we opted for something different over the weekend.  We decided to make our own Valentine's day dinner.
Despite the attempt to be non-traditional, it began with a surprise bouquet of flowers that I couldn't stop gushing over.  I love receiving flowers and I'll take them anytime I can.  I have to admit that a bunch of assorted flowers work better on me than your typical (and overpriced) roses. 😛  They just bring out the girliest (and cheesiest) in me.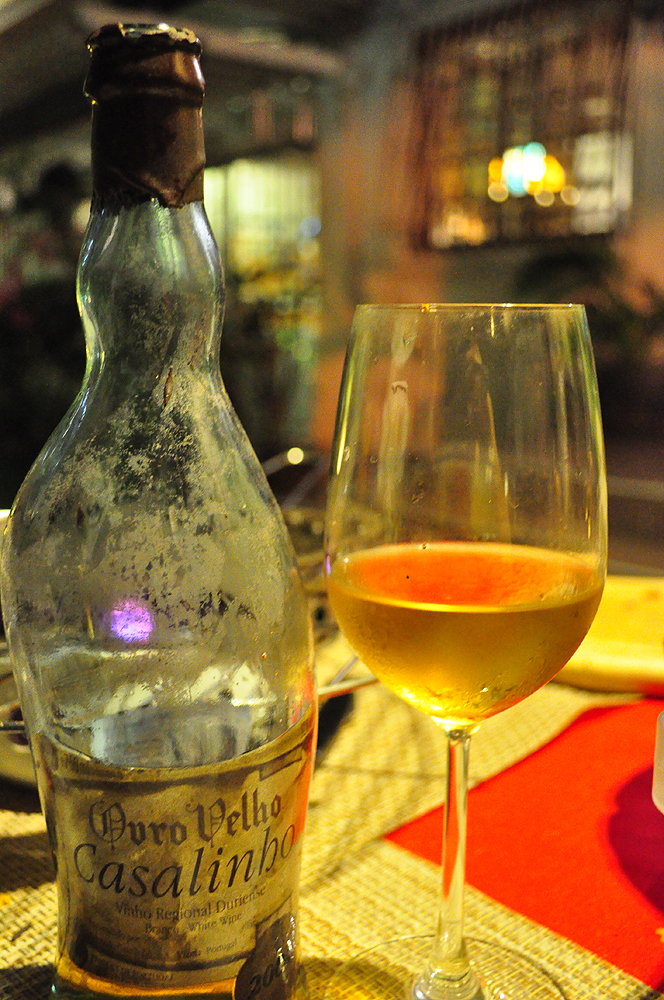 Ray and I both love to eat but we've never really cooked a meal, apart from stir-fried leftovers or instant cook noodles.  So suffice it to say that the night was interesting.  Nothing overly dramatic but it wasn't without its share of little mishaps like a ceramic plate breaking into pieces due to the blue flame we had underneath (supposedly to cook slices of meat, Gaudi-style) and some fun with the grill, Bacardi rhum and flames.
On the menu for that night: Salami Pasta, Grilled Steak with Portugese Wine.
For the Salami pasta, we fried around 200g of salami until they were crispy in olive oil.  We chose the mildly spicy kind and tried to go as thinly as we could slice them.  Once the salami was done frying but keeping the fire on, we threw in a handful of halved cherry tomatoes and added in 250g of cooked penne.  Then we added about a cup of chopped parsely.  And lastly, we mixed and tossed in a cup of grated cheddar cheese.
The result?  A very light but meaty flavored pasta dish.  It could have used more parsely.  We think basil could work better too.  The spice of the salami provides a nice kick while the mildness of the cheese adds some creaminess to the mix.  And the cherry tomatoes were added for their sweetness.  You can actually add the tomatoes after throwing in the pasta if you don't want it to cook much so they retain their juiciness.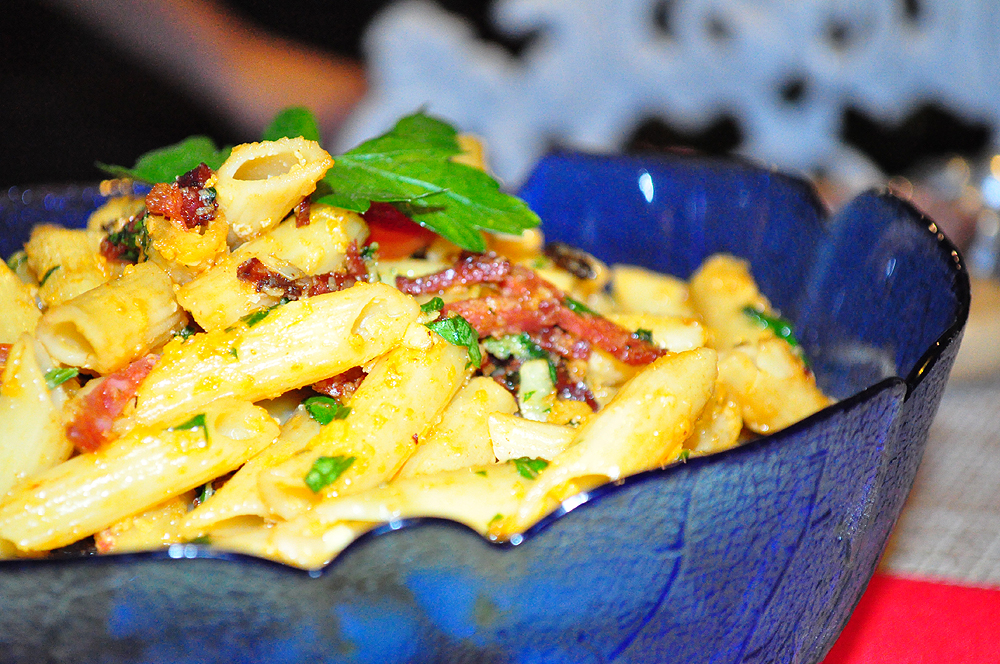 It took us quite long to get the grill ready.  I keep thinking of all the scratch paper we burned just to get the coal hot enough for cooking.  Some few reams after (I exaggerate :P), we were finally prepped for grilling this one piece of steak that was massaged with olive oil, rock salt, and freshly ground pepper.
Lesson learned: do not play with the rhum and grill too much when the meat is there.  😀  We ended up with half of our steak seared well done.  It's a good thing we were able to rescue it (and yes, stop ourselves from enjoying the flames too much) just in time to still enjoy medium tenderness.  I wonder how long we would have waited if we had to defrost another piece?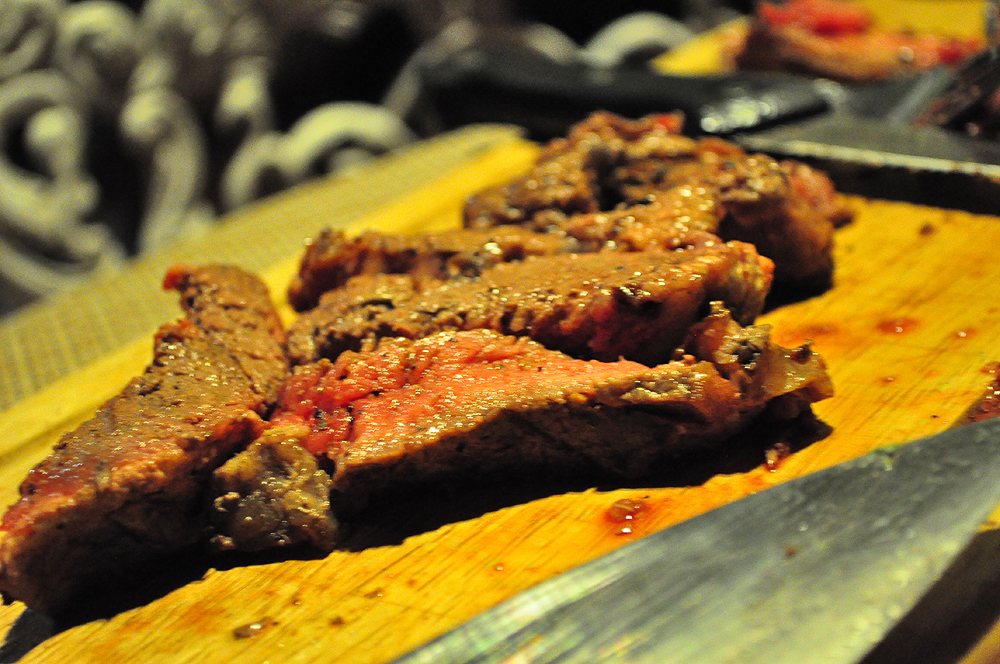 We cut them into strips and reheated (or further cooked) them using a stone plate (think "sisig" plate) over a small flame.  As mentioned, a ceramic plate broke on its own due to the heat so we had to improvise and use a stone plate instead.
In the end, we had our Valentine's day meal.  On the practical side, we weren't scrambling for reservations, stuck in traffic going the direction where everyone else was heading, and we probably spent a lot less than most couples.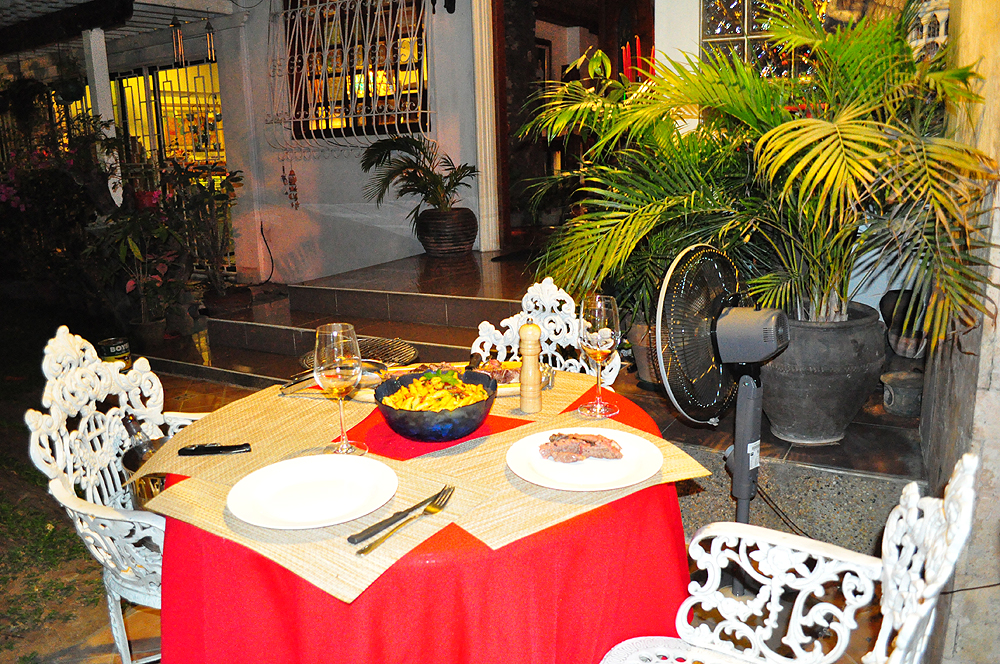 And it was definitely fun and memorable to prepare the meal ourselves.  It won't require another Valentine's day for us to do this again for sure.
How about you?  How did you celebrate your Valentine's day?  Any other ideas for next year?  Recipes maybe?
Comment on this and Share it on Facebook!
comments
Powered by Facebook Comments