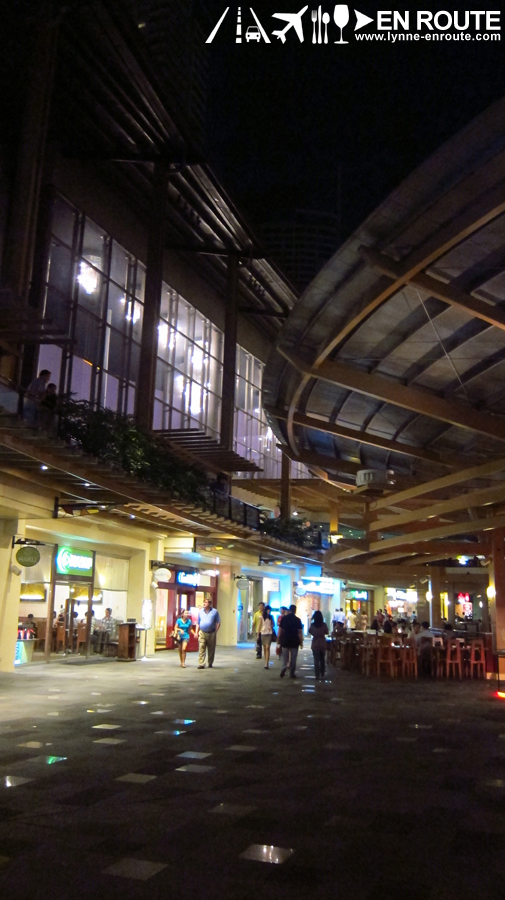 When the Greenbelt complex was built, it set the standards for aspirations of the Metro Manila folk when it comes to having a good night out in town. Bars, restaurants and movie theaters here are always a pleasure to visit and patronize. And it continues to do so until this day.
So one night when a popular movie was out, there was time to have a comfortable but quick sit-down dinner. Given self imposed eating restrictions since the Gastronomy category of the blog has taken a life of its own and has wrecked havoc on health and figure, something light on the stomach would suffice.
What is hard to compromise, however, is a full meaty taste. So something light yet filling to the taste buds were the parameters. How lucky that in the thought process, a popular snack/comfort food came to mind: Shawarma!
And how fortunate too that there was a Persian restaurant in Greenbelt for this! Gilak by Hossein. Run by the same people of Hossein's in Fort Bonifacio, this was a more luxurious dining experience for shawarma in Makati. Shawarma has become a staple snack in the Philippines that it can be bought from food stalls like the popular Food Channel. How everyone would wish they were in Greenbelt, too. For now, it would be this.
Gilak by Hossein exhibits the typical Indian and Middle Eastern Restaurant ambience found around the Philippines: intricate decorations and adorned with ornamental patterns from the Indian and Middle Eastern culture. Even the outside al fresco area is drooped by cone shaped chandeliers. Large seats with arm rests ensure a comfortable dining experience. There are booths with curtains giving that private moment feel. Each detail can be a conversation piece, like Antonio's in Tagaytay. After the initial appreciation of the surroundings, it was back to business of looking for light food.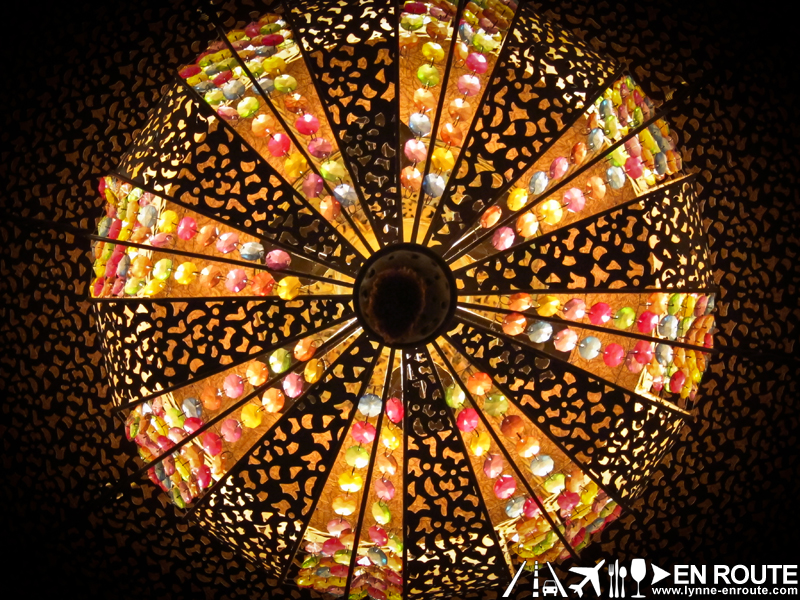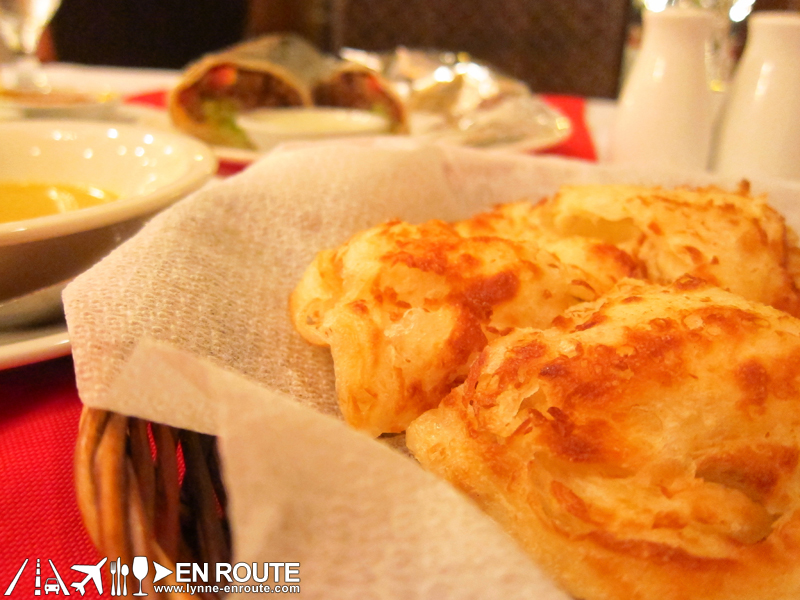 Light dining it was. Roti bread to begin with for appetizers. From the delicate crunch of the outside to the soft and chewy inside and then followed by the faint sweet taste, it was the right starter before our shawarma arrives. Can be eaten just by itself if you are more for the sweet taste. For some variety in the flavor, dip it in the curry sauce that comes with it.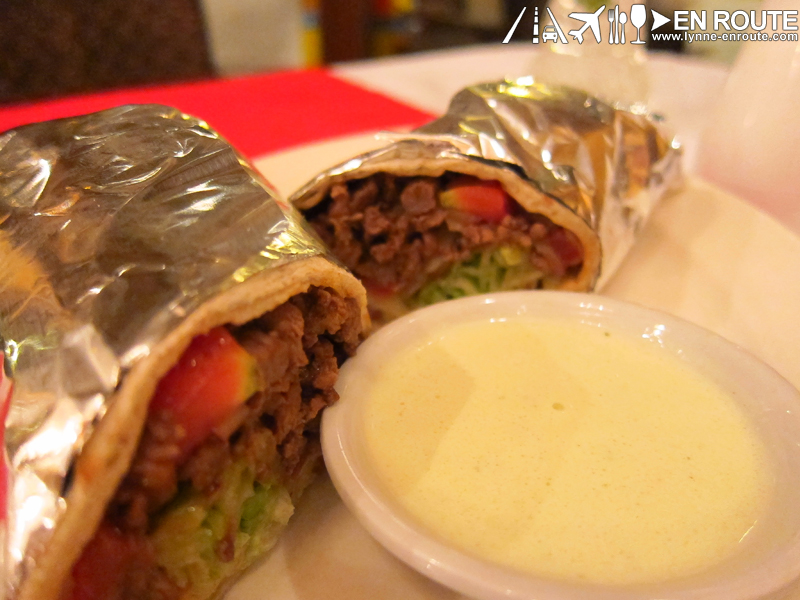 Finally, it was time for beef shawarma. Nicely wrapped in foil and properly packed inside the pita bread. Gilak by Hossein has shown they take great care in making their shawarma. Some other places pack it so loose all the contents spill out at the slight mishandle. Beef was full of flavor and the vegetables were fresh and crunchy.
Drizzle it with the accompanying garlic sauce little by little as you bite into it. Garlic sauce was creamy and rich, with strong flavor of fresh garlic. Gilak by Hossein didn't cheat by adding more cream or mayonnaise, so you don't have to put that much to get the flavor. These details in quality are what diners appreciate.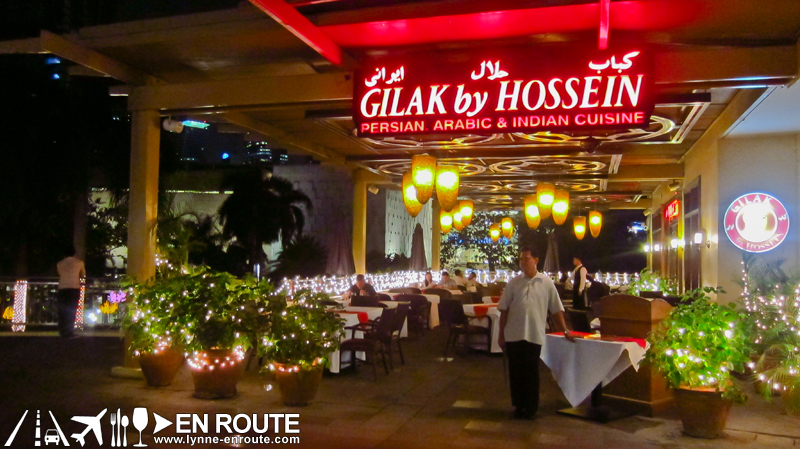 Gilak by Hossein in Greenbelt 3 is not popular to many diners but should be worth trying not only for the items sampled in this post but for the other varieties in their menu. Prices are on the steep side but quality is not compromised. On a future visit, kebabs are on the list!
Gilak by Hossein is located at the 2/F, Greenbelt 3 Makati City. Tel: +632-729-0266 Fax: +632-729-0267. Their menu can be found on their website http://www.hosseins.com/index.html
Comment on this and Share it on Facebook!
comments
Powered by Facebook Comments