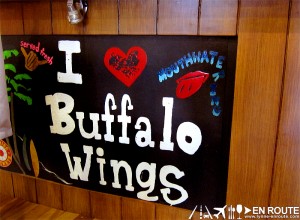 Buffalo Wings are not really associated with sophisticated, fine dining and haute cuisine settings. It really is more for the casual, easy going grub grind, much like your burger joints and pizza parlors. (Click here to open a new window to find out more about what haute cuisine is)
So when making a restaurant where your main showcase is buffalo wings, it has got to feel relaxed, cheerful, and more carefree. Oh, and we shouldn't forget that the wings better be good, too!
With a name like Sunrise Buckets, you know it will lead to something very promising…
And just from the outside, it looks like it will deliver 😀 !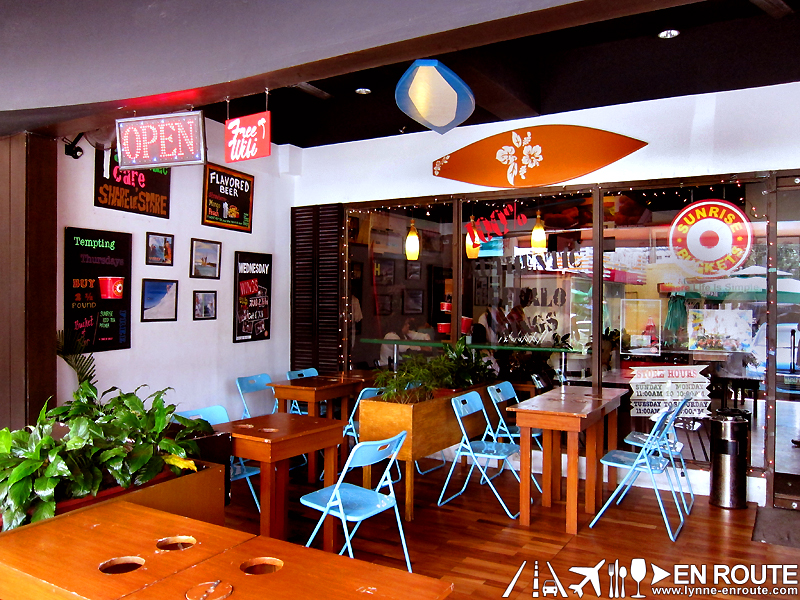 Simple folding chairs on simple tables and replica surfboards hanging on the ceiling. The surfing lifestyle is the perfect compliment to honest to goodness chicken wings. Past surfing trips have proven that you cannot  be uptight or you won't have any fun at all (Click here to open a new window for surfing related posts.)
And this continues all the way inside….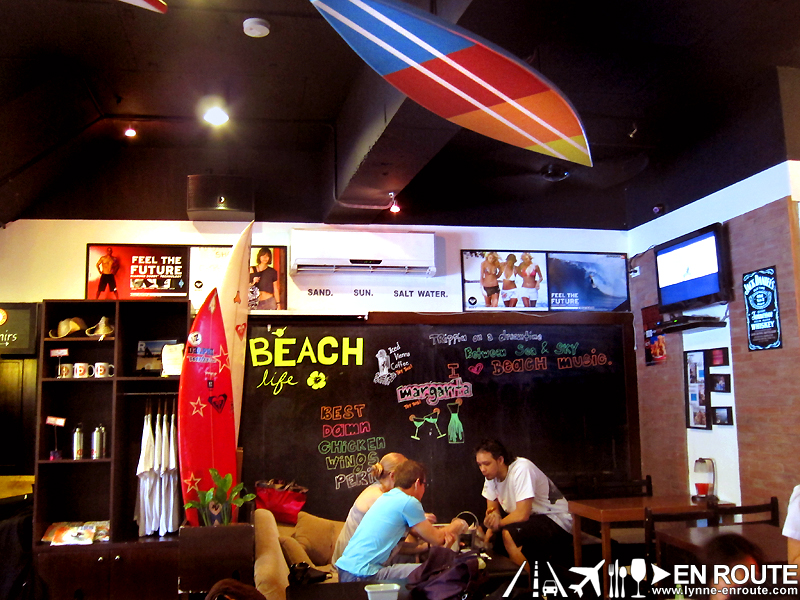 Surfboards (both fake and real) abound in every nook and cranny. Posters, shirts, and other paraphernalia  of the beach and surfing life are scattered everywhere. It really does look like you are transported away from the hustling Ortigas/Greenhills area into a place where you are asked to take it a little bit easy. Mood changing!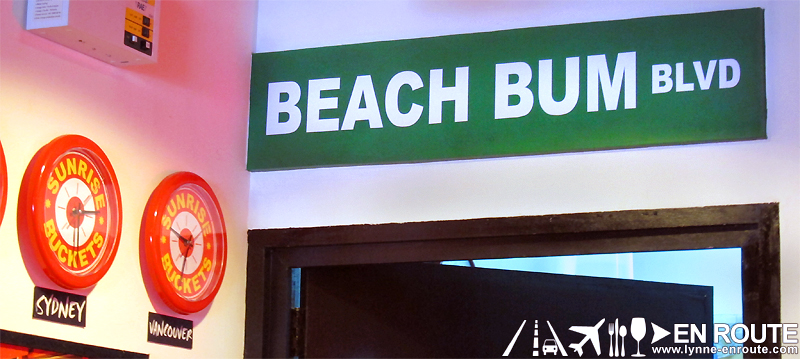 Now, don't get carried away by the easy vibe and forget what you came here for. Let the lighted sign remind you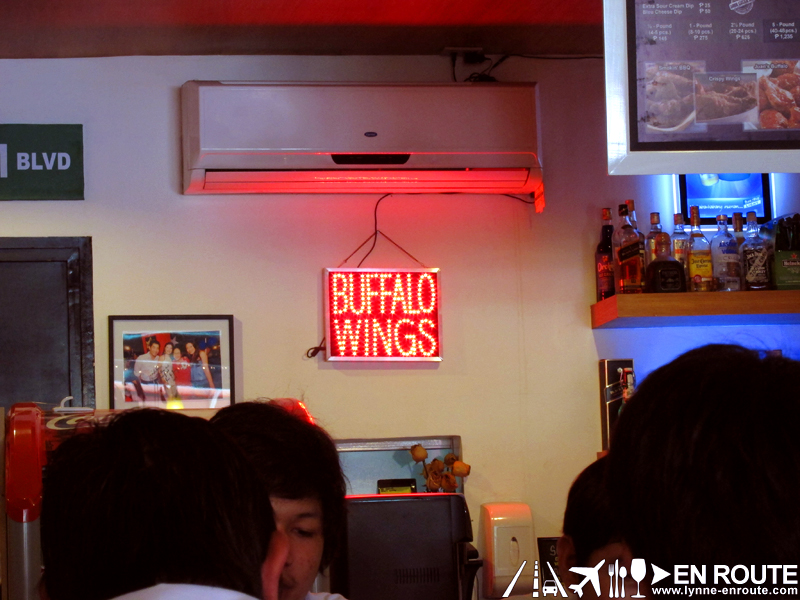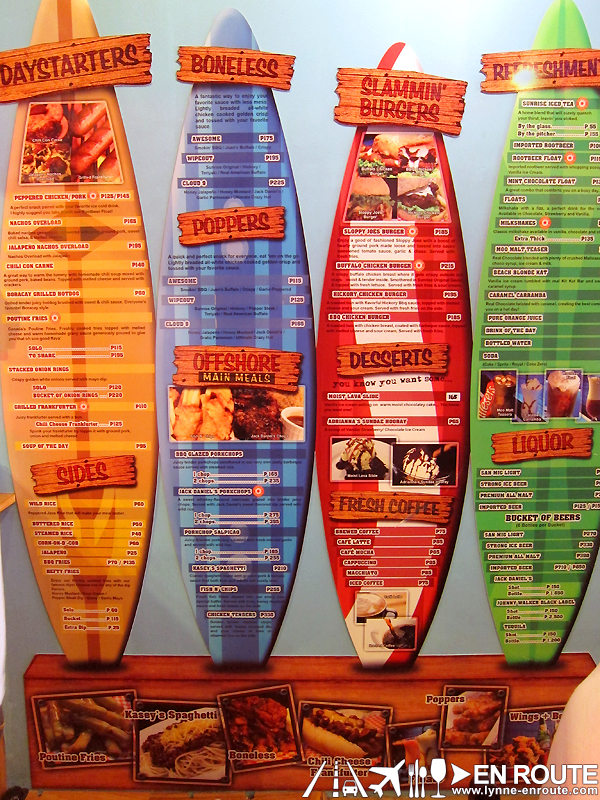 .
.
Walk up the counter and order some buffalo wings. You will be pleased to know that Sunrise Buckets has got all kinds of flavored wings to suit your fancy. Original buffalo wings, hickory smoked, some flaming hot variants, they got it all.
They even have more than just buffalo wings, too! Check the menu out. Hotdogs, burgers, full meals, and various refreshments that will suit your casual fancy.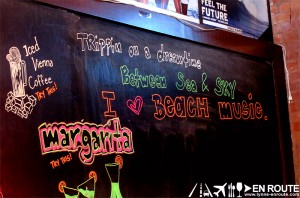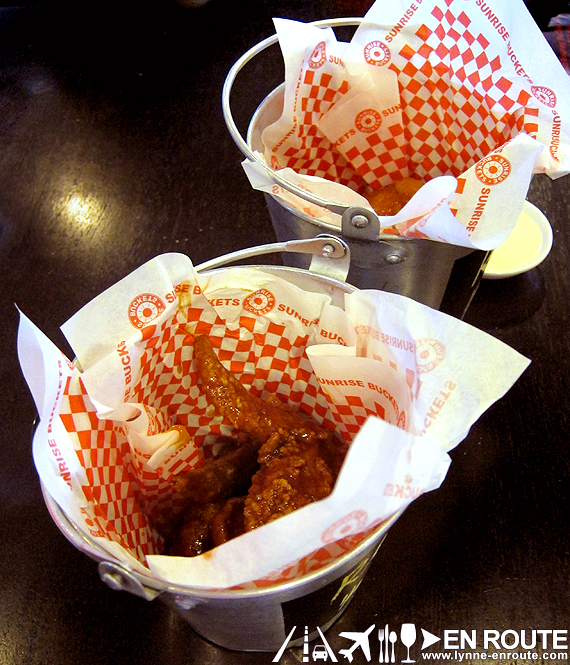 .
For this visit, had to sample half a pound each of their Sunrise Original and the Hickory Smoked wings:
.
The Hickory Smoked had a tempting blend of the smoky, tangy, sweet and barbecued flavor that was just too difficult to resist. Lovers of baby back ribs will be licking their fingers to satisfaction.
.
The Sunrise Original was a bit more true to the taste of buffalo wings: the spicy kick with a hint of vinegar-like sourness while still not completely overpowering the chicken flavor. Goes best with the blue cheese dip that's served with it.
.
.
.
.
.
There's another thing that goes best with Sunrise Buckets buffalo wings: Beer 😀 !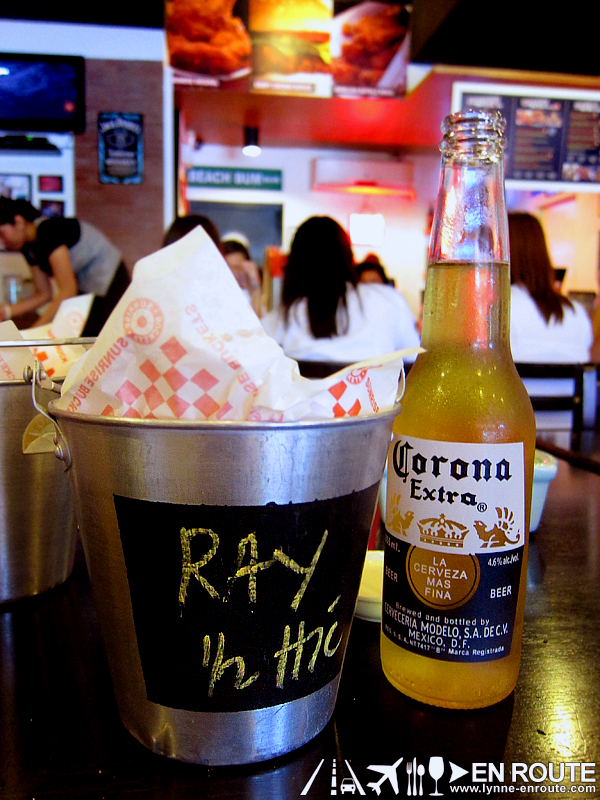 Sunrise buckets serves both local beers like San Miguel Pale Pilsen and Light, and some international brands.
.
While some may argue that Corona does not have as much character as other beers, its crisp taste and smooth finish complements the buffalo wings. It's just much more fun that way. Remember, you came here to chill. (Much like in Misibis Bay. Luxury chill in the Bicol region)
.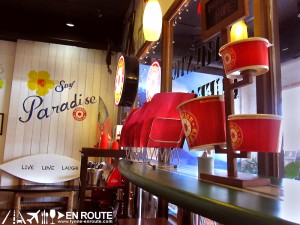 .
.
When you're all done, just dump the bones in the "Bone Collector" on the table. Simple, cute and it works.
Get ready to just sit back, relax, and let the wave of good vibes and good chicken wings of Sunrise Buckets carry you to comfort and relaxation. And if you can't stay, just grab a bucket to go and take it out to wherever you want to bring the good buffalo wings experience 😀
Sunrise Buckets is located at Unit 1, Madison St. cor. Ortigas Ave., North Greenhills, San Juan City, Metro Manila
Tel. Nos. +632-477-7636
If you are also a fan or have tried other stuff in their menu, share it with En Route in the Facebook Comments below.
Comment on this and Share it on Facebook!
comments
Powered by Facebook Comments