AS OF JANUARY 5, 2014, IT WAS DISCOVERED THAT THIS RESTAURANT HAS CLOSED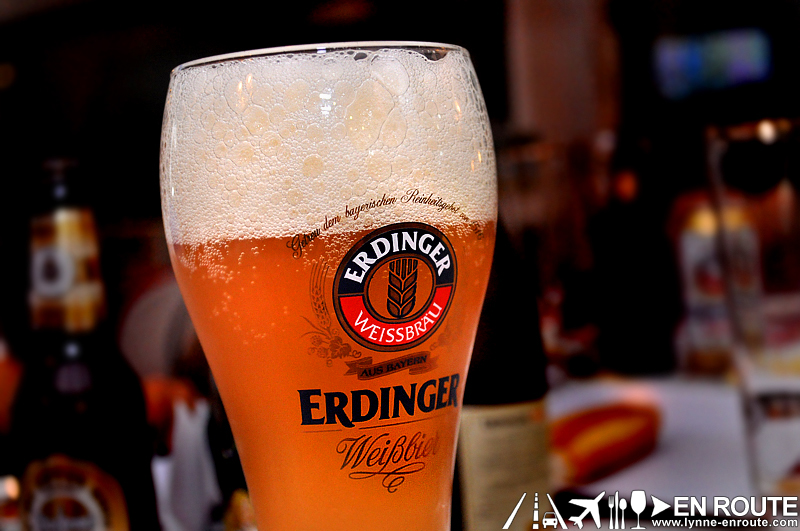 It is obvious to the regular reader of En Route that a large portion of posts is dedicated to the love for food. But hidden in these posts is also the love for the alcoholic beverage, particularly wine and beer.
Beer is the topic of this post, particularly imported quality beer.
So when The Pickiest Eater in the World  invited for a beer tasting event that fell on a night before a national holiday, this was how the conversation went:
"Several beers on a night before a holiday? Of course we're going 😀 !!!"
This post is written with extreme gratitude to a guy with such enamoring passion for the best flavors for the tummy. Savor his gastronomic escapades with a pairing of his witty humor by clicking below.

The invite was for a beer appreciation session inside The Collective. This abandoned automobile depot is now a sanctuary for some of the budding creative minds of Manila. Visual artists, musicians, designers, philosophers, and creative culinary creatures abound in this place.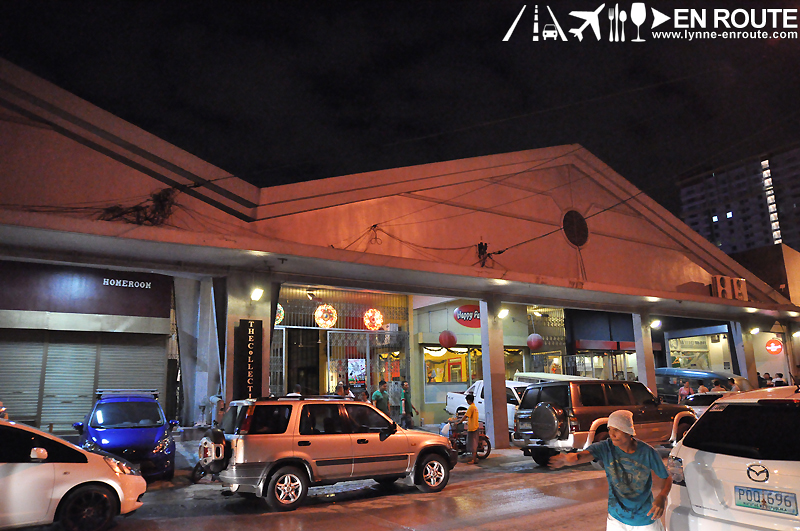 One of the shops here has made a name for itself with is creative and intriguing sandwiches: Offbeat Cafe.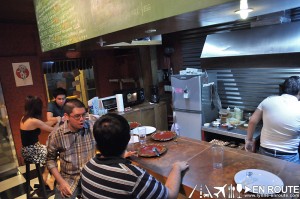 Offbeat Cafe has been around for quite some time, but it made its mark by introducing the foodie favorite Krispy Kreme Hamburger Sandwich that took off in Mercato Centrale.
Offbeat Cafe is headed by Mickey Wieneke, occasionally dishing out unique creations for people to enjoy, and now has also used his cafe as for beer tasting sessions with Francis Panuncialman guiding us in this fun journey.
.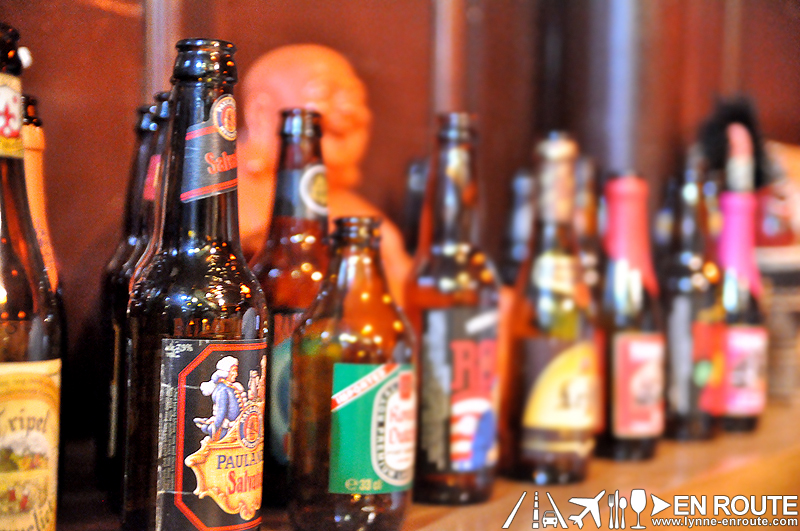 Surprisingly, beer is as complex – if not even more – as wine. There are so many variables that can affect the taste, consistency, and overall character of every beer. Even the water that is available in a certain country influences the taste!
Luckily, Francis assisted us in determining how to rate beers in terms of commonly used characteristics such as appearance, aroma, palate and flavor. It's very much like tasting wine.
The thing about beer  is that it doesn't have an underlying snobbish impression, but holds just as much culture when experiencing it.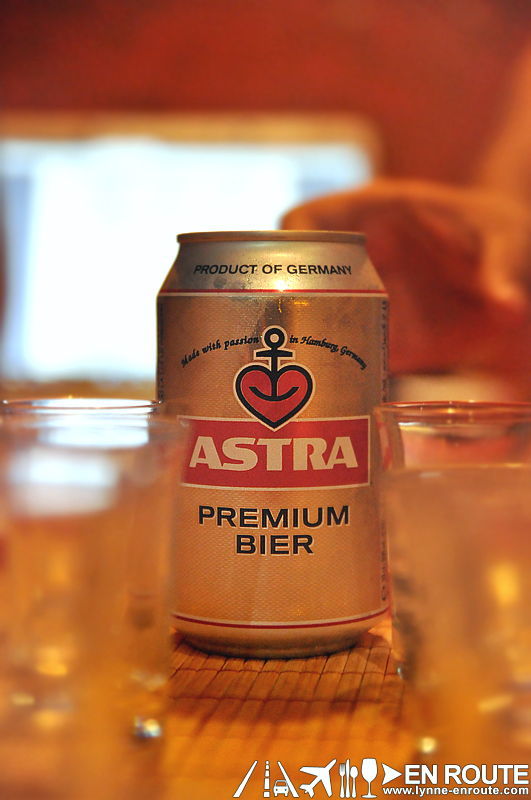 While beer may have a more complex character, it's easier to determine it because the flavors are more pronounced and simpler to describe. It's even more fun to drink because of beer's place in modern culture as mischievous and non-pretentious.
From the crisp and familiar finish of Astra, to the more popular and bready banana-like flavor of Oettinger Wheat Beer (supposedly the most popular beer in Germany, and a cult favorite here in the Philippines), to the caramel-like Belgian Leffe Brune, to the award winning Konig Ludwig Weissbier, each and every sip is like travelling to the roots of how the craftsmanship and passion for beer has made it one of the most popular drinks in the world.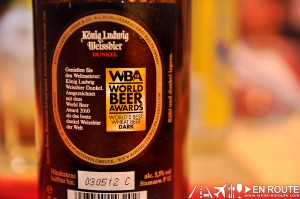 One thing is for certain: There is a beer for each and every person here on earth and a perfect beer for each and every occasion. This occasion actually brought about the munchies, so what better way to curb it than by getting one of Offbeat Cafe's creations: The Meditteranean Burger on wheat bagel with spicy fries:
Meaty, quite spicy, and the bagel gives a good chewiness to make it an exciting sandwich. Mickey mentioned to try it in a sourdough bagel the next time around to complement the spice.
Francis recommended it be paired with a classic Guiness Extra Stout. It's dark color, sweet caramel aroma, frothy-creamy texture and bittersweet flavor was a heavenly match. It was painful not to go for another helping.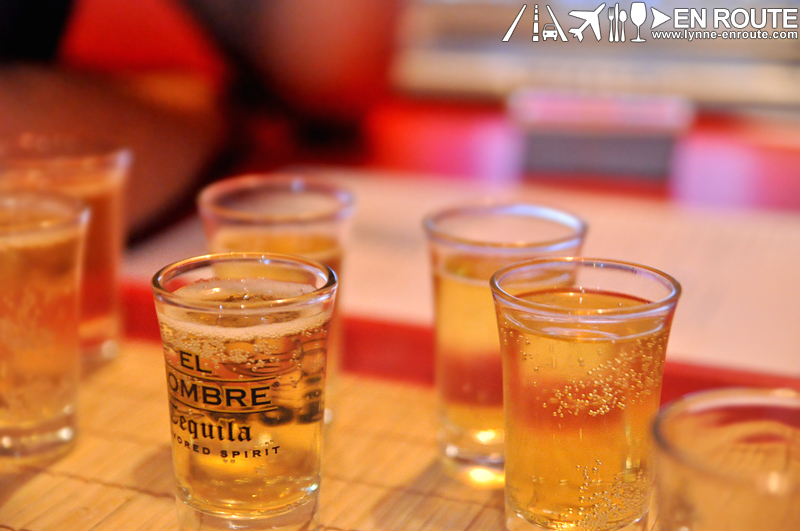 .
It would be unfair to describe all the beers here and spoil your fun, so the best way to experience it is to head to Offbeat Cafe to look into their Beer Gallery and find out which one may be best for you. They offer these imported beers at much lower prices compared to other restaurants so you can come back over and over again to give each and every bottle a try 😀
So when you pick up one of the local San Miguel Pale Pilsen, you can now appreciate how much history and complexity a bottle of booze apparently has in it.
Offbeat Cafe is located inside The Collective, 7274 Malugay Makati City
Tel. +63916-611-8036.
How to get to Offbeat Cafe and The Collective:
Path 1: The simplest way would be through Buendia Ave. Stick to your right once you are past Chino Roces Ave. Once you get past the train tracks, take an immediate right, and then make an immediate right again. That is Malugay Street. The Collective is 15 meters to your left (It's across the place where we retrieved our confiscated license when we were caught in Makati 😛)
Path 2: From Buendia, turn right to Chino Roces (Don't turn when the light is red. Makati police enforcers with ninja-like agility will swarm all over you. Turn left to Yakal St. At the end of Yakal, turn left, then turn left at the next street. That is Malugay St.
Fan of beer or just want to give your piece? Give a comment below and share this find with your friends!
Comment on this and Share it on Facebook!
comments
Powered by Facebook Comments