The Philippines has its own set of unique and special street foods, wether it be your run of the mill fishballs and squid balls, or something refreshing during the summer like dirty ice cream and the very nostalgic scramble. These cheap thrills are nice treats as you go about on the road.
So what happens when these street foods were given an upscale and somewhat "haute cuisine" appeal?
Lime 88 in Mandaluyong happens 🙂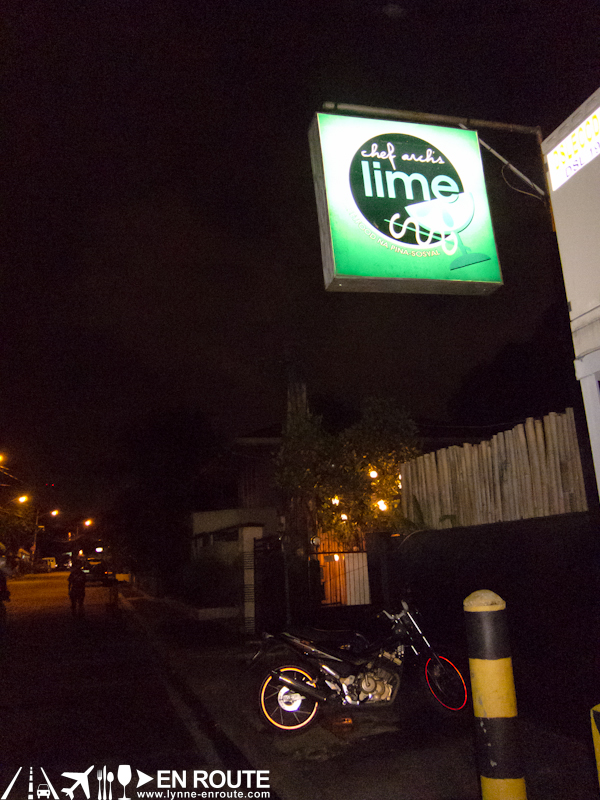 .
Lime 88 calls their gastronomic offers as "Street Food with a Twist" or "Street Food na Pina-Sosyal". Essentially they take some of the known Filipino casual cuisines and street food and scales its classiness up a bit by integrating new flavors.
Lime 88 has converted an old 1970's residential house into a hang-out place for casual diners. No pretensions here whatsoever. Everything feels like it is a makeshift eating place where it's all about the combination of food, friends and stress-free enjoyment.
Click these links for full sized versions of Page 1 and Page 2 of the Menu.
A glance at the menu and there are a few items that look interesting to try. The Glutton group decided to sample some of those that seemed to be a mix of Filipino common food and international cuisine: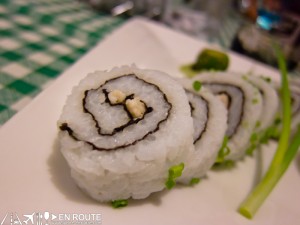 Sisig Maki (PHP 155.00) was well presented and showed some promise in its simple Japanese inspiration. Probably more sisig in the mix would have helped make this dish a winner.
Also, nothing beats getting the appetizer sampler Authentic Street Style Balls with Soy Mirin Glaze (PHP 110.00). The popular street foods like fish ball, squid ball, kikiam and chicken balls come in this ensemble. The familiar taste will feel nostalgic although you may question its price for street food.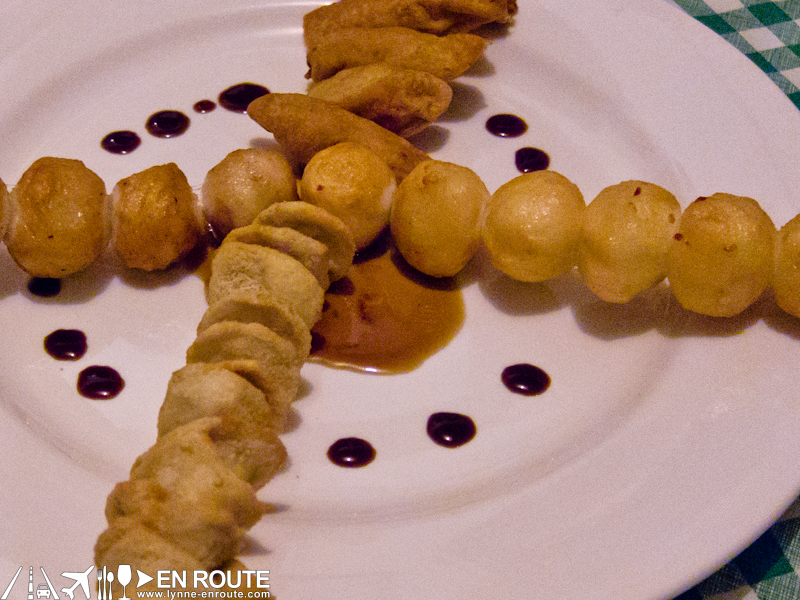 For some twists to the normal Filipino fare, try the delicious creamy-salty mix of the Garlic Tuyo Pasta (PHP 175.00). The saltiness of the dried fish is balanced with the white sauce. The Street Style Pizza (PHP 210.00), with its toppings of longganisa, tuyo and kesong puti, works in the similar way, but with a chewy and crispy crust.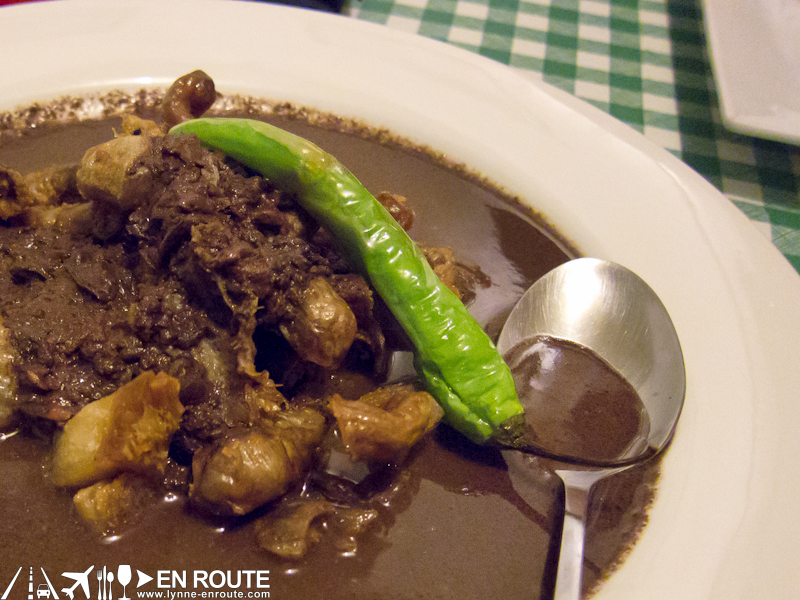 A specialty must-try is the Crispy Dinuguan (PHP 185.00) made of chicharon bulaklak. The combination of crunchy textures and rich flavors are great to eat with rice.
And for something a bit more complex? Osso Bucco Kare-Kare (PHP 225.00) would be worth sampling. Umami tasting slowly braised beef with some sweet peanut butter goodness of the Kare-Kare sauce and topped with a bit of salty bagoong. Truly a feast.
Oh, and this is a hangout place with drinks, so grab a glass or two of their cocktails. The Cosmopolitan (PHP 75.00) is sweet and catered to the Filipino palate. Deepest Blue (PHP 80.00) is a combination of tequila, lime and blue curacao. It is not as stingy and taking these shots is a delight with friends.
Lime 88 would be just one of those places where you can feel at home and even come in what you usually wear at home (in Filipino terms: pambahay). The laid back setting and well played treatment of familiar Filipino food fares will keep you returning to a familiar taste with a different twist.
..

Chef Arch's Lime 88 is Located at 160 San Rafael Street, Mandaluyong City. 

Tel Nos. +632-400-2268

Fan of Lime 88's unique wares and would want to recommend stuff? Or just want to share something? Leave you comments in the Facebook Comments portion below
Comment on this and Share it on Facebook!
comments
Powered by Facebook Comments