When we think of the Swiss – apart from them being neutral and all – we also conjure images of the Alps, snow and chocolates.  Just imagine, if you had been out skiing on the slopes, what would be more welcoming than a warmly lit chalet, a nice hot cup of choco, and a roaring fire?
It's just that in our case, it was a Friday night from a busy work week and we were wandering around with no idea where to have dinner.  We needed a bit of comfort and quiet.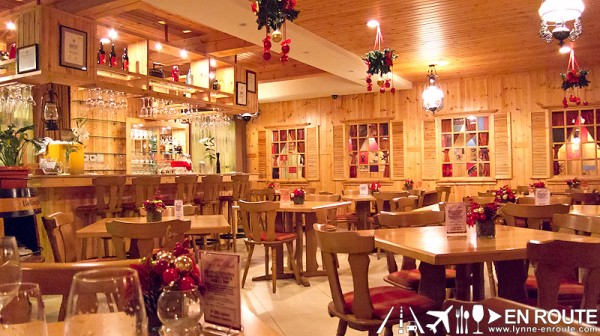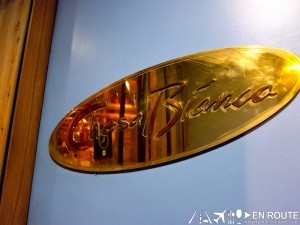 This is what ushers you into Chesa Bianca Swiss Restaurant as soon as you walk through their doors.  The traffic and rush of Makati are soon forgotten as you take in the cozy ambience.  Despite the lack of snow and skiing as a leisure pastime here in the Philippines, we can still enjoy the homey-ness of what it's possibly like inside a Swiss chateau.  The interiors are made of light-colored wood that automatically brings a subdued brightness to the place.  Trinkets and other interesting details line the walls to add conversation pieces to your meal.  This is just one of the many restaurants that the Werdenberg International Corp., the same supplier for Santi's Deli, has put up.
Service has to be commended as the all-female staff was nothing short of attentive to each of our every needs.  They entertained our questions about the restaurant, water was refilled without having to ask for it, and we were given ample time to mull over the ever-pressing issue of what to order.  We knew that the cheese fondue was a best-seller, but we were looking for something heartier to fit in with the homey vibe.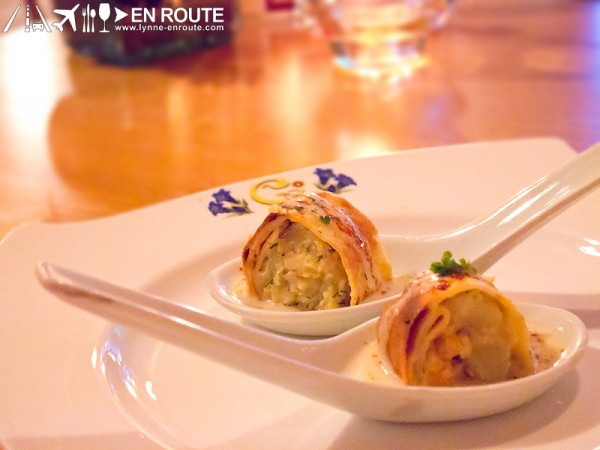 For starters, we were given a serving of Seafood Crepes, delicate rolls of seafood served on a spoon with a creamy sauce.  The texture of the seafood was just milky and it tasted like a mix of fish and scallops with a bit of squid.  It was a perfect start.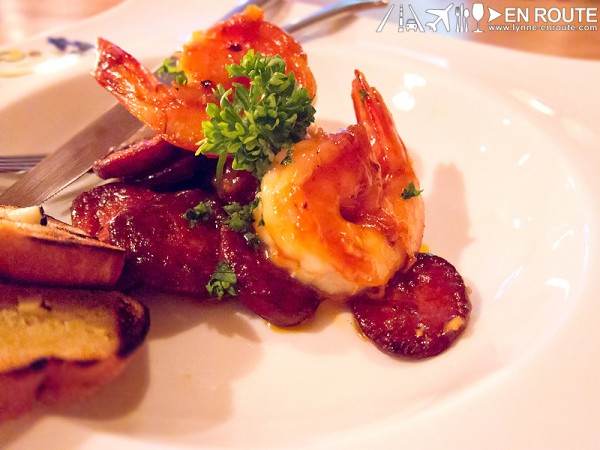 From the creamy, we next went for a spicy flavor with their Chorizo and Shrimp Valenciana (Php475).  The saltiness of the chorizo and the juiciness of the shrimp complemented each other well against the garlicky spiciness you get from the sauce that they were cooked in.  Somehow, there's something about spicy food that makes you crave for more.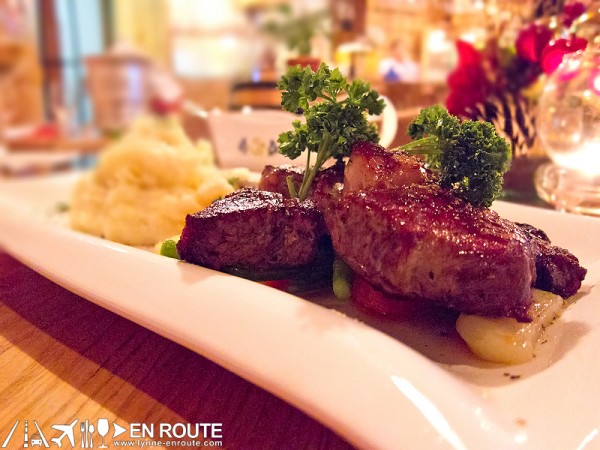 So, as a main dish, we halved an order of their Rib-eye Steak (Php1,800).  A serving is easily good enough for two and goes well with a nice bottle of wine.  Their wine selection is something you will not be disappointed with, that's for sure. 🙂  The steak was cooked medium (which is just how we like it), served with a generous helping of mashed potatoes and vegetables.
Suffice it to say that our venture into a part of Makati we do not frequent was a success.  Our objective of easing the stress from a hectic week was forgotten.  We enjoyed so much that we loss track of the time.  We eventually realized that we were the only patrons left and that they were about to close for the day.
We took that as our cue and we made our way home, content after our restaurant find as well as our long and soothing dinner over comfort food.
Chesa Bianca is located at 7431 Yakal Street San Antonio Village Makati City Philippines.  They have weekly menus and accept reservations.
Hours: 11:00am to 11:00pm
Phone No.: +6328151359
Comment on this and Share it on Facebook!
comments
Powered by Facebook Comments