En Route was privileged to be invited to experience a place so quaint and humble, yet in its simplicity and rarity, it transforms itself into something memorable, much like the couple who hosted their wedding reception here.
It is also worth mentioning that the groom is a blood relative and that part of our purpose – and gift for the couple – was to mix drinks for this reception, so… 😛
.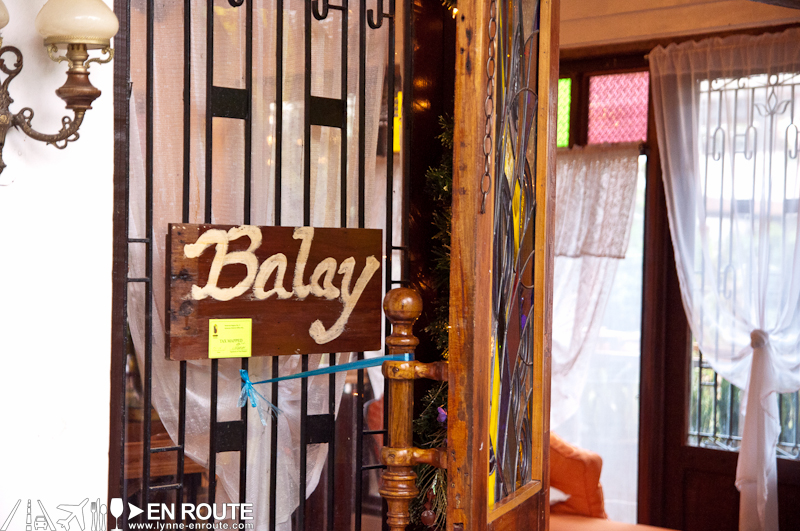 It's more than a wedding reception area. It is also a restaurant and bed and breakfast away from the mainstream places. Whatever it is at a given moment for whoever is inside, it is filled with timeless charm.
Welcome to Balay Indang.
.
The Journey to the Balay
.
The experience begins the moment you veer off the much traversed Tagaytay road, and into the innards of Cavite into the historic town of Indang.
It is not really that much of a trouble heading there, but passing through mostly unknown towns and villages can cast doubts on your head. But keep the faith just follow the main road, and you will find yourself seeing this sign on your left:
.
That is pretty much the only thing marking the place aside from the white walls with the big "88" numbers on either side.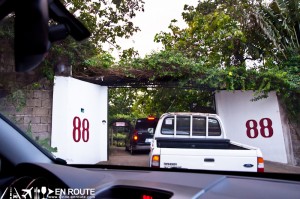 Balay Indang from the perspective of a new guest
Once inside and past the archways covered in various foliage, you are welcomed into a Filipino inspired house mixed with Asian accents. For this wedding, the front was turned into a registration and cocktails area. You can feel the chilly wind here, especially in the cold months of December to February.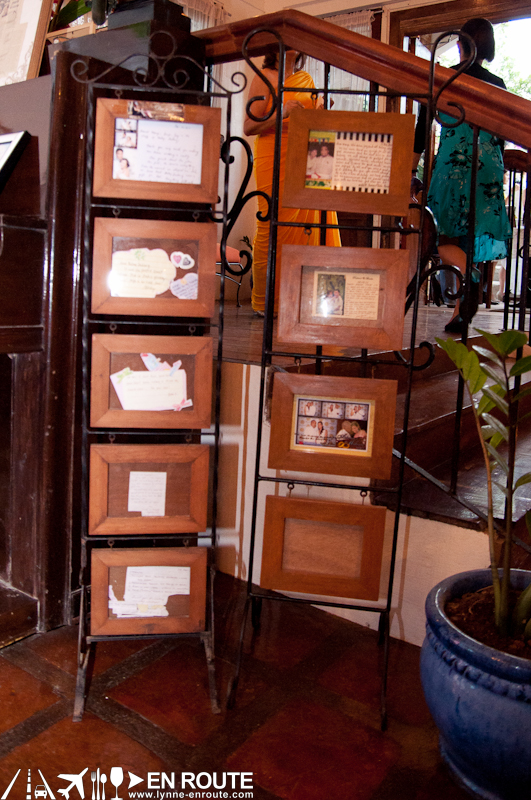 Entering the Balay is no different. Furniture and trinkets found in the Asian region abound every nook and cranny.
From the rattan chairs, to bronze buddhas, to cute chandeliers, to the piano that seems to attract the curiosity of children. Anything becomes an excellent conversation piece.
They even have a set of frames showing pictures, letters, and thank you notes from different people who either celebrated milestones, got engaged or had their wedding reception here. The caretakers mentioned that Balay Indang has been here for close to seven years, so it's seen its fair share of happy moments 🙂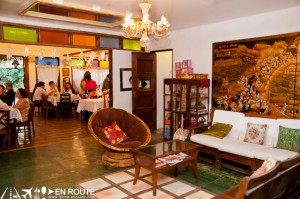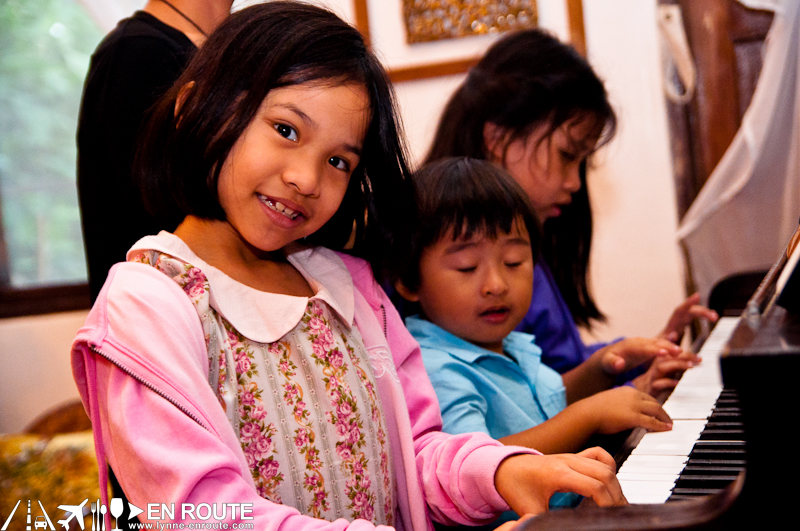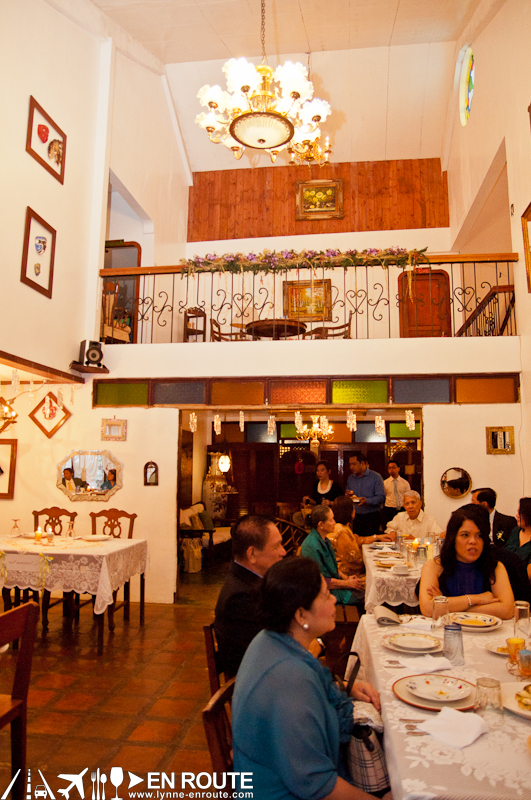 The house serves as the indoor area for dining, but it extends into a large patio that can accommodate a good 100 people, probably even more.
Feel free to look from head to toe and sideways at all the hanging vines, flowers and charms that decorate the patio.
.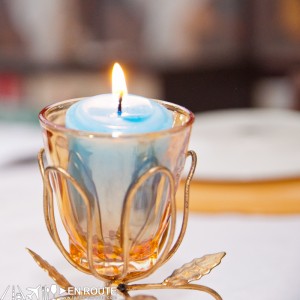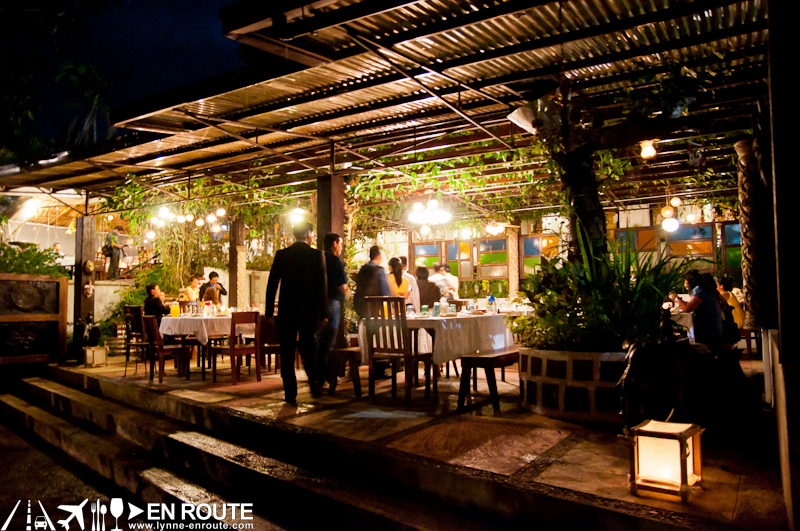 Outdoors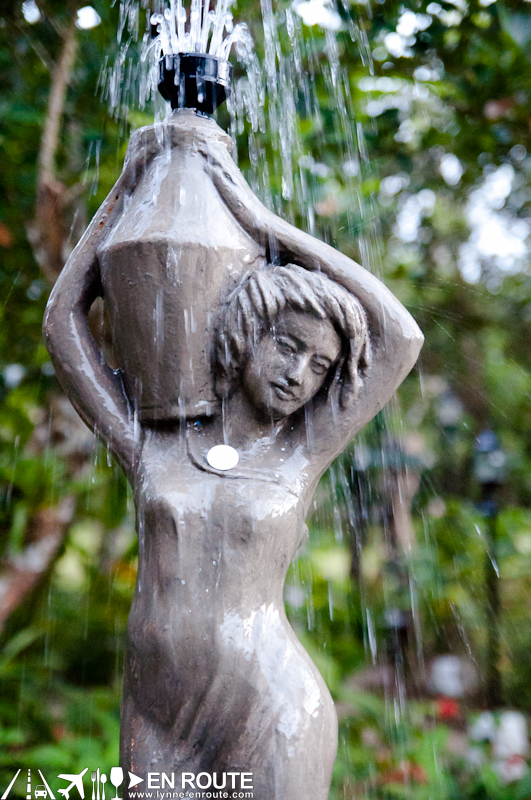 Explore further and cobblestoned walkways will lead you to a few fountains of interest and playgrounds for kids. Venture forth, and there's a gazebo where events are normally held. The pool is also within the area, providing a good backdrop for any occasion.
The couple used the gazebo to entertain the guests by playing the video game Rock Band. It seems to be one of their favorite pastimes. It was cool and provided a fun break 😀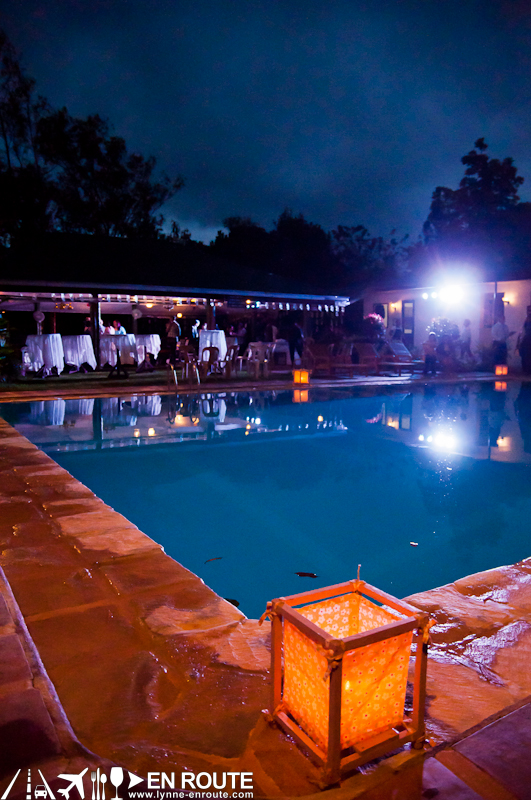 .
Gastronomic Indulgences
By now your appetite could be built to anticipate what Balay Indang has to offer. Here are a few from their menu and they generally do not disappoint: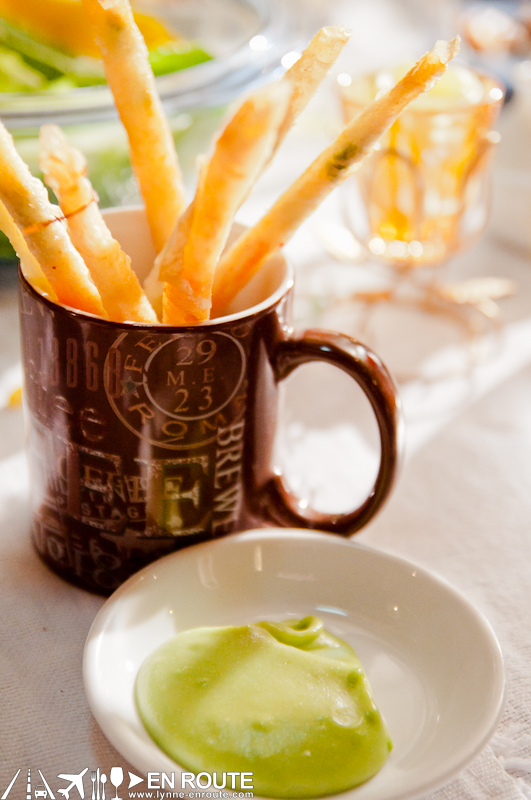 The fried crabstick and wasabi mayonnaise was a good appetizer, with the addictive crispiness partnered with the slight wasabi kick. The spice is generally suited for most people, and dipping fried sticks in tasty sauces is always fun.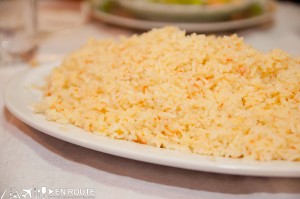 The Carrot Rice is quite intriguing with the shreded carrot bits and a yellowish tint similar to a rice smothered in that popular Star Margarine commercial. It does not have that much of a distinct taste, however.
You will soon forget that though as the other entrees come in.
Skewered sauteed shrimp with ripe Philippine mango and cilantro was light, and the contrast in the flavors provided a good balance. If they said that this was the entree, no one would have minded. But there was more 😀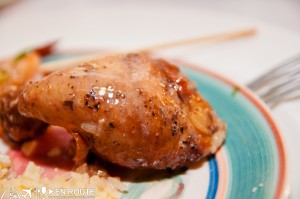 It may not look visually attractive, but their herbed stuffed chicken is one of the tastiest recipes. Its tender meat with a marinade that doesn't overpower the other flavors. It will keep you wanting to take a bite to figure out how it tastes so good.
And that goes for their pork spare ribs, too!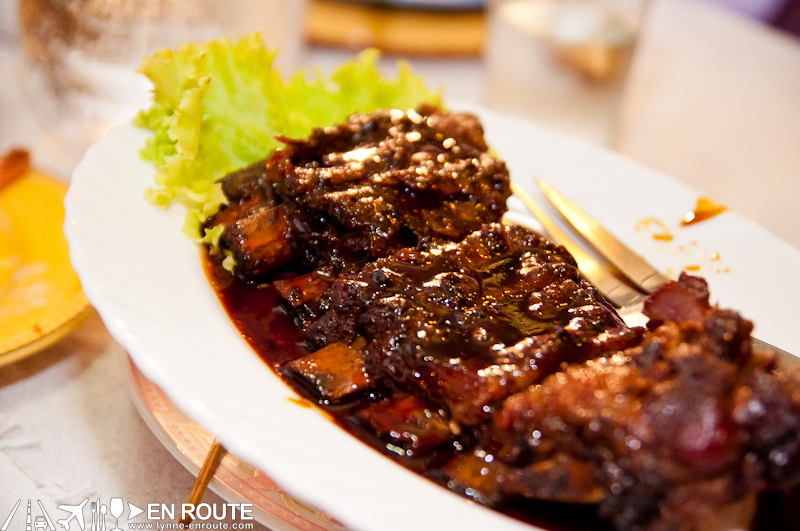 This was the highlight of the table with its fall-off-the bone tenderness and sweet-peppery taste. The table found itself requesting for more, which the hosts gladly mentioned that you can demand for at any time during their reception :D.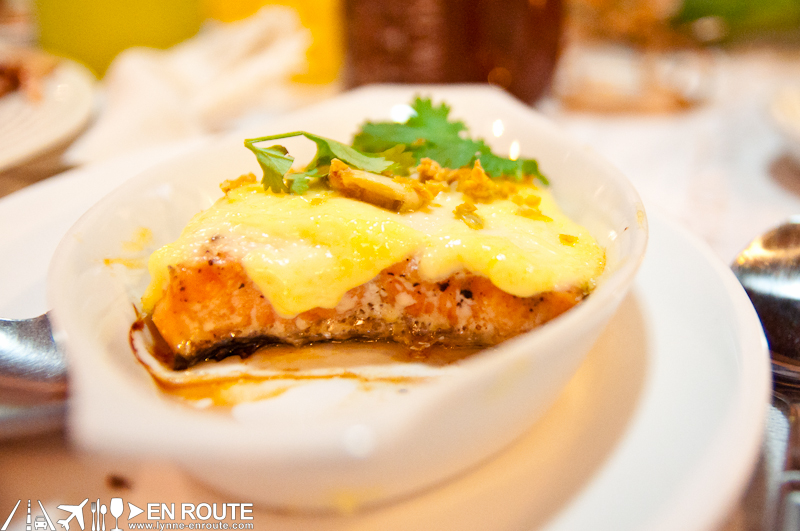 To finish it off, the baked salmon belly covered in cheddar cheese was a seafood lover's sanctuary. Baked right to leave a crunchy crust yet tender insides, and the saltiness of cheddar cheese complementing the creamy consistency of the salmon.
It didn't matter what rice was served with these on the table 😀
More Balays inside the Balay
But Balay Indang is more than just a restaurant or wedding reception area. It is also a bed and breakfast, with about four houses with a total of about 17 rooms. You can have a relaxing stay here and wake up to a sumptous breakfast even just for a weekend. Perfect for those times when you want to get away from it all but not feel too far to forget reality 😀
Too bad no opportunity presented itself for some photo taking of the rooms, Pictures of these houses are available on with a small Google search here.
Balay Indang is definitely one of the most romantic destinations within travel distance for those who will really make their way for it. After all, what is romance without a little chase for that secluded experience? It makes for a great story.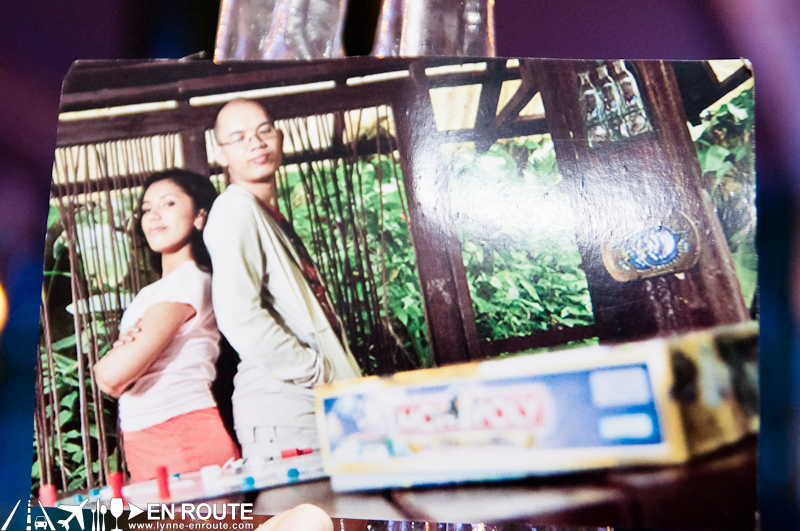 And Balay Indang makes for a great wedding experience 😀 ! Congratulations to the Rock Band playing duo – and now husband and wife – Miko and Sef. All the best 🙂
Balay Indang, The Red Ginger Farm and Garden is located at 88 Mendez Avenue, Indang, Cavite. For reservations, call +63917 837 4261, +63919 559 5884, +63921 980 7154 (9am-8pm daily), or Marge Tan, their manager +63917 866 5825)
Driving Directions:
From the South Super Highway, take Santa Rosa Exit and drive towards Tagaytay.
From the Tagaytay rotunda, head to the market located after Taal Vista Lodge.
You will pass by Taal Vista, Casino Filipino, and Total Gasoline station.
As you approach the Mendez market intersection, you should see mercury drug on your right.
Turn right on the stoplight after Mercury along Mendez drive.
Drive along this very long Mendez stretch until you hit a dead intersection.
Turn right and Balay Indang should be 3km from this point.
You would go past the Balay Indang Welcome Arc .
Look for a wooden gate on your left with no.88
Comment on this and Share it on Facebook!
comments
Powered by Facebook Comments