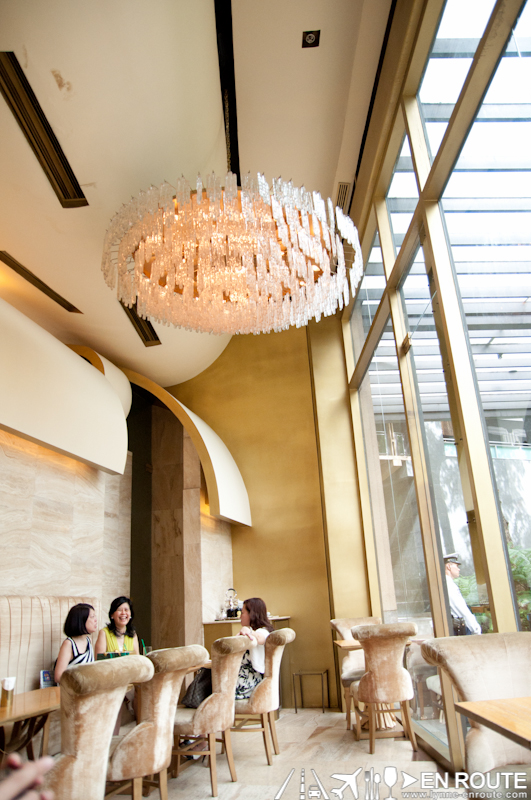 We have yet to meet a person who is not a fan of truffle or foie gras.  Saying so should most probably be the equivalent of a crime.  If not here, maybe somewhere else in this world. 😛
If we were to name a place where these choice ingredients are more the norm on the menu than not, we would say Lusso in Greenbelt 5.  Everything about the place evokes luxury and elegance.  From the white jackets of the staff to the beautiful chandelier (which came from the Manila Peninsula) that graces its high ceiling, you'll feel like you've been transported to a fine dining European restaurant.  But that doesn't mean you will have to sacrifice and offer an extra dose of table manners just to have a satisfying meal.  Quite the contrary, Lusso offers you affordable luxury.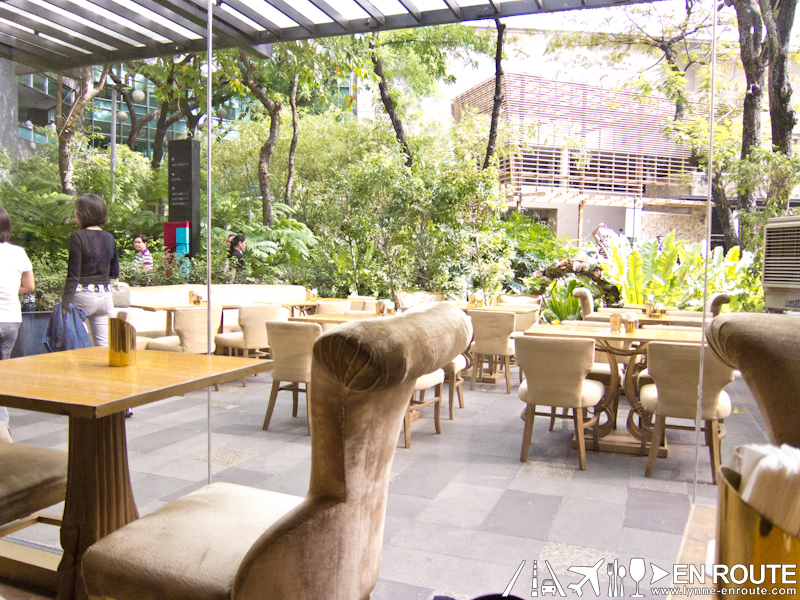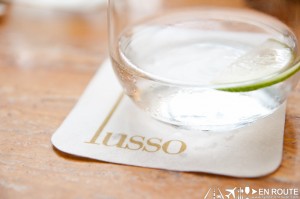 Lusso is a restaurant by Margarita Fores (the same woman behind Cibo, Pepato, and Cafe Bola), which opened in 2009.  It has a few tables inside but also offers al fresco dining.  By day, it is a very classy and chic sight.  At night, the bright and almost "golden" glow from inside is warm and inviting.
Positioned as a champagne bar, you can actually get some bubbly by the glass.  (Shame we went on a lunch break…)  And as mentioned, truffle and foie gras are typical words you will see from their menu.  Even fast-food favorites like fries and potato chips have been reinvented with just the addition of some luxury ingredient.  Or your plain water served with a slice of lime.  Instant luxe makeover.  Little details with big impact.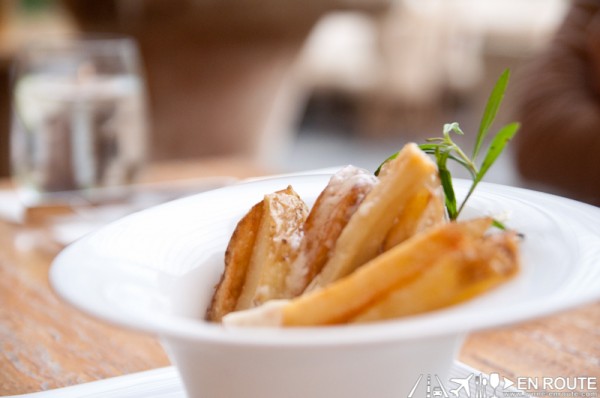 We got ourselves some Asiago Fries as an appetizer – a bowl of thick-cut fries with asiago cheese.  We knew their burgers were good but we were also feeling the tug of a pasta dish on the menu.  In the end, we gave in and ordered both.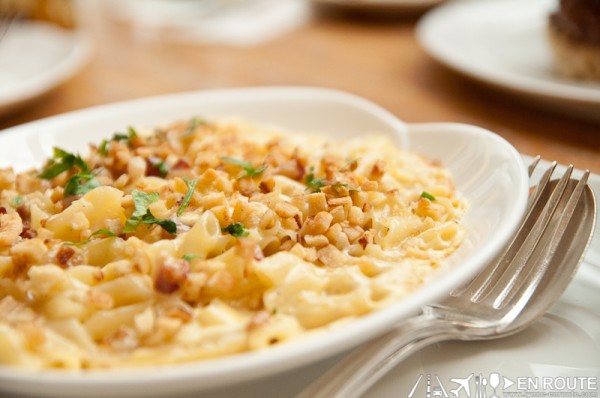 The pasta dish was Lusso's Lux Mac and Cheese (Php495), a comfort food favorite with a good amount of pancetta and formaggio trio.  The healthy does of garlic bits also does wonders for the flavor.  From just looking at the menu, we knew that we could not miss this.  And speaking of not missing anything, the burger was high up on that list too.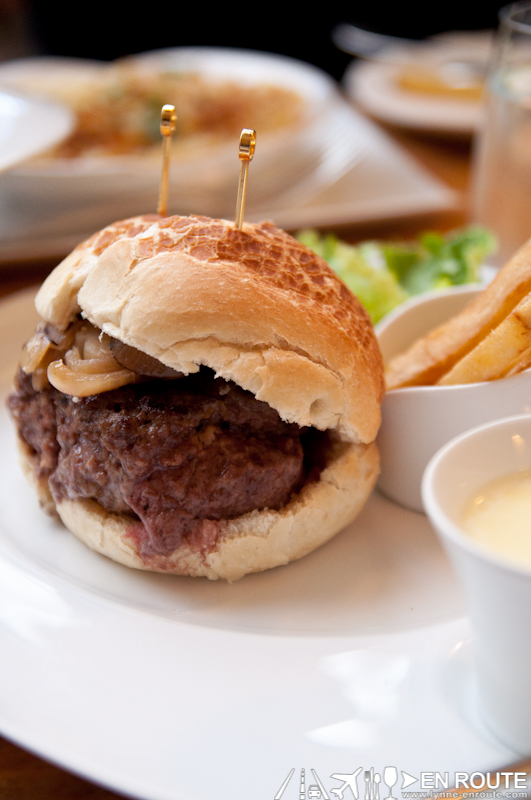 Behold the Demi-Pound Burger (Php595), a thick patty with foie gras goodness inside.  The burger was cooked perfectly!  The rich, creamy texture of the foie gras was balanced by the flavor of the meat and caramelized prosecco onions.  This comes served with salad, a few more pieces of fries and Cambozola cheese.  You can either opt to drizzle it on your burger or as a dipping sauce for your fries.  Being the burger purists that we like to think we are (crazy, I know), we enjoyed it sans the cheese. Spot.ph has even ranked it 2nd on their list of the Top 10 Gourmet Beef Burgers in Manila.
A meal is easily within the Php600-1,500 range, but the value that you get from each of their dishes, the service, and the beautiful design is worth every bit of what you pay for and more.
Maybe on another occasion, we can go here just to try their desserts over some champagne.  We hear the Pot de Creme is highly praised.  And in between sips of Dom, what would't taste good?
Given the limited seating especially inside, reservations are recommended.
Lusso is located at the Ground Floor of Greenbelt 5, Ayala Center, Makati City.
Phone numbers: +632 756 LUXE (5893) / +632 756 2329
Comment on this and Share it on Facebook!
comments
Powered by Facebook Comments