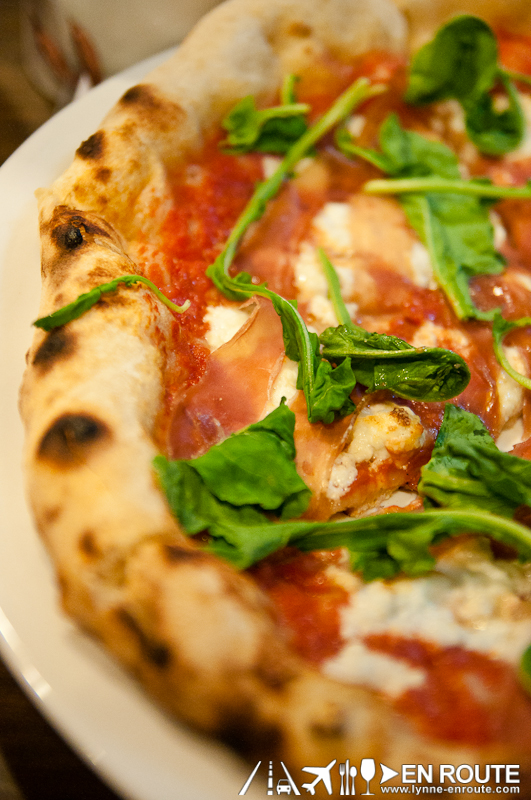 Here's a nice little nook that some people from the Ateneo/Miriam/UP side of Katipunan would be most familiar with: Gino's Brick Oven Pizza.
There is something different on how a brick-oven, wood fired cooked pizza comes out when used with some fresh and tasty ingredients. Settled on a stone with even heat yet uneven flashes due to the flame, it produces an evenly cooked pizza with hints of charred splotches here and there, resulting in a delicate crisp and slightly chewy interior.
This pizza style is very much the characteristic of a Neapolitan style of pizza making. Gino's Brick Oven Pizza seems to brandish this style, giving a new perspective that pizza making is as diverse in Italy as it is when it was transported to different parts of the world (Like the New York Style and the Chicago Deep Dish Pizza).
They do not seem to have a lot of pizza options on the menu, but whatever limited selections they have, they seem to do it right, like their version Prosciuto Pizza (PHP 420.00) . It's about the size of a frisbee (said to be how most Neapolitan style pizzas are) with an added local twist of "kesong puti" (Cheese from carabao milk) to mix with the ham and arugula. It may be deceivingly small, but it is quite filling.
Give it a try to see how merging dishes of Neapolitan origin with Filipino foodie passion can create great little restaurant finds. 😀
Related Posts:
Gino's Brick Oven Pizza is located at the 2nd Floor Katipunan 2000 Building, 341 Katipunan Avenue, Loyola Heights, Quezon City Philippines
(It's where the old Kublai's used to be and there's a big Mercury Drugstore on the ground floor).
Tel. Nos. +632-381-3963.
Let us know what you think by contributing to the Facebook Comments below 😀
Comment on this and Share it on Facebook!
comments
Powered by Facebook Comments