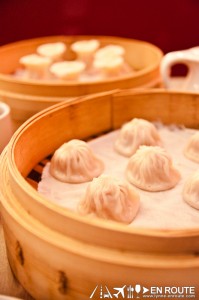 There have been a lot of foodie raves over Shi Lin's Taiwanese style cuisine, with its delicious dumplings matched with relatively value-for-money prices. It helps a lot also that they are situated in the Podium in Ortigas, Powerplant Mall in Makati, and Commercenter building in Fort Bonifacio (It's actually same building where Relik Tapas Bar and Lounge is situated).
There is quite a confusion in whether this is Chinese or Taiwanese cuisine, as both offer dumplings, savory fried rice, noodles and other soups. Per their page, Shi Lin is Taiwanese cuisine. Not yet sure what is the distinct difference as of this writing.
But that currently doesn't matter as upon entering the Commercenter branch with hungry expectations, an open kitchen showing staff craft some dumplings ready to be steamed, and served fresh.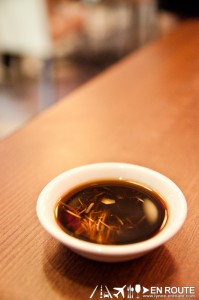 Upon looking at the menu, and seeing these dumplings, chops, double boiled chicken soups and other drinks, there was this strange feeling that the menu items look so familiar. Maybe it was just the common items mostly found in Chinese restaurants.
Then the table duo of black vinegar and soy sauce with some mixing instructions seem to beckon. Again, is this like some sort of deja vu? A place with almost the same menu and some mixing instructions for a dumpling sauce? And with the same ginger slices on the tiny saucers? This is becoming strangely familiar.
But without further adieu, it was time to sample some Shi Lin dumplings.
.
Xiao Long Bao (PHP 138.00) came first. It's got great texture and firmness. The skin doesn't peel or pierce with just a little poke. It has to be a bit more deliberate in order for the soup to seep out. Place this in the soup spoon with a bit of the mixed vinegar and soy-sauce and top it off with some ginger slices.
Even the taste feels the same, but not quite something from a previous trip out of the country. Then the Shrimp and Pork Dumpling (PHP 148.00) landed on the table….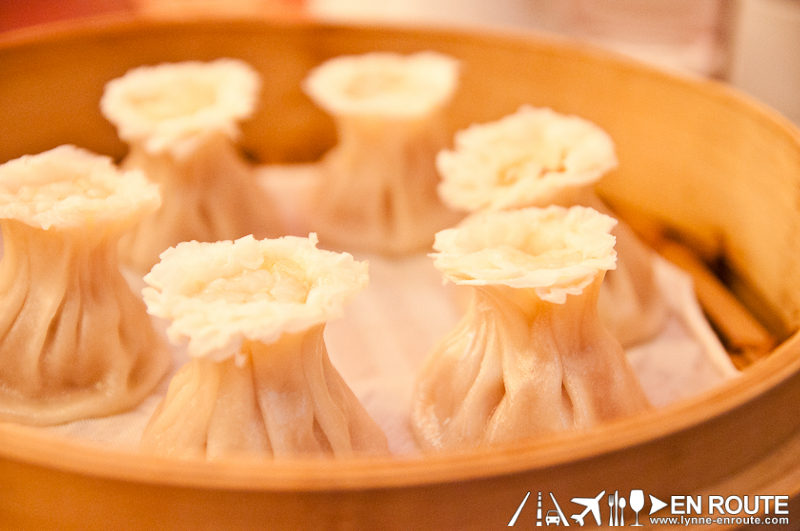 With its flower-like appearance of the shrimp topping the minced pork underneath, this looked visually attractive, all the more making it appetizing. Eat it in the same way as the xiao long bao.
After that one dumpling and a bit of reflection, now it seems to all come back.
Some of the menu selections, and even the shape of the Shrimp and Pork Dumpling looked so much similar to Din Tai Fung, that Michelin Star restaurant during a Hong Kong trip. It was quite uncanny how everything looked very similar!
The pictures above came from the Din Tai Fung article.
And while the price and food quality of a Michelin Star restaurant (particularly in Hong Kong) may be a little bit higher, Shi Lin seemed to have provided some pleasant memories of that Hong Kong trip: from Disneyland, to a wedding proposal, to the man getting stuck in an airport looking for something to do with a 7 hour layover.
Funny how so much memories can come out from a dimsum 😀 Give it a try and see if any pleasant feelings come out 🙂
Related Posts
Shi Lin has the following Branches:
G/F Commercenter Building, 4th Ave Cor 31st St., Fort Bonifacio Global City, Taguig

3/F The Pdoum Mall, ADB Avenue, Ortigas Center, Pasig City

Powerplant Mall, Rockwell Drive, Rockwell, Makati City



 So what's your take on Shi Lin? Tried Din Tai Fung already? Leave some comments below.
 DETOUR:
After some salty-savory dumplings, guess where sweet endings happen 😉 ? There's also a Chatime just around the corner of Shi Lin in Fort Bonifacio 🙂 ! Learn about the favorite milk tea of En Route here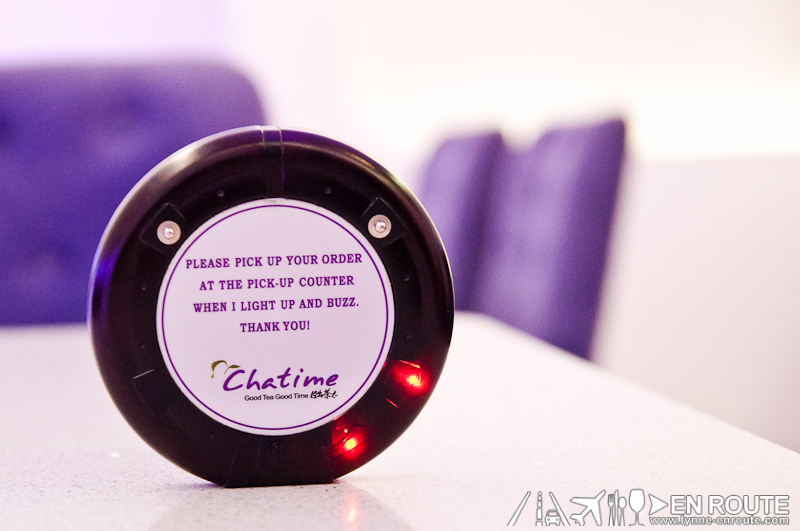 Comment on this and Share it on Facebook!
comments
Powered by Facebook Comments