In the Philippines, the word "Wagyu" gives the first impression of a somewhat high-end steak great for grilling. And the term "corned beef" can mean pretty much a clump of shreded beef stuffed in a can, readily available in the neighborhood grocery.
Then you combine the two: Wagyu Corned Beef? Specifically, Philippine Wagyu Corned Beef? There can be murmurs about how good meat might have been better used for steak instead of something that has associations with canned rations in case the war with a particular Oriental superpower/bully breaks out. But this creation is worth its weight in fatty marbling, care of the man behind Mr D's Artisanal.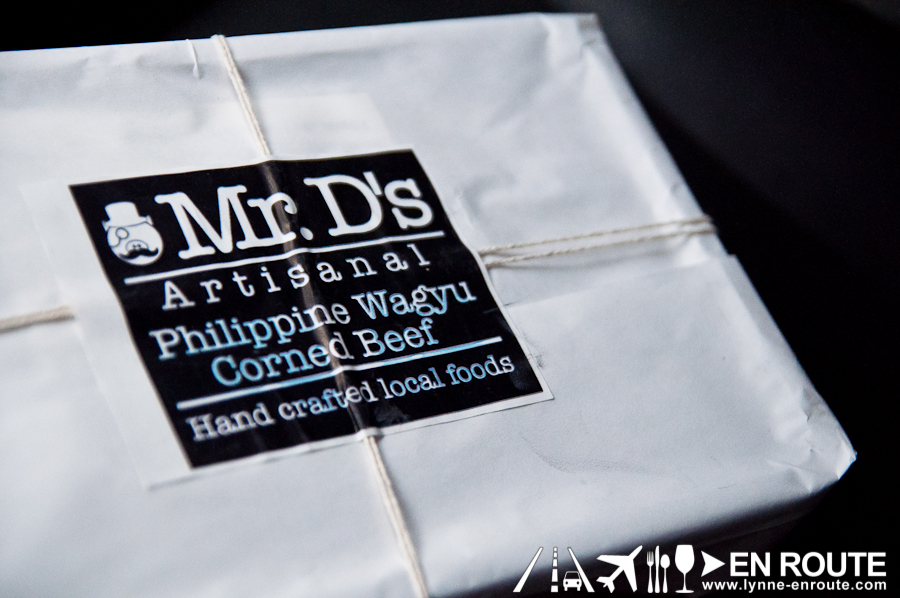 Mr D's Artisanal is the brainchild of Mr. Delicious, the self proclaimed Minister of Propaganda of mrdelicious.ph, who also is a French trained American chef and sommelier. His objective? Patronize the best local produce of the Philippines and churn out something world class.
Wow did he make a hit with this.
The other picture was borrowed from Pepper.ph that did the professional picture taking of this product. Yes, ours below looks amateurish as we tried to replicate it, but at least we think our bowl of roasted baby potatoes over garlic and parsley looks cuter.
Because any sentence with the word "baby" on it is cute.
(Hope they don't read this and decide to decapitate us with their Bacon Lightsaber)
This is a kilogram's worth of exceptionally soft, cured for one week, meticulously slow cooked for five hours, Philippine Wagyu Corned Beef. This is made using Kitayama Beef from Northern Mindanao. It was so soft that handling it took a bit of effort, because any undue force and we fear it might pull itself apart.
The taste? Delicious and soft inside and out. The term "melts in your mouth" takes a more literal meaning, as even pressing it with your tongue into the roof of your mouth breaks it all up into tiny chunks of figurative rainbows shooting through your brain. A kilogram may sound heavy, but you won't notice it as you take bite after bite.
Mr. Delicious is selling it at both half a kilogram and kilogram variants, and both raw and cooked versions (raw version on special order basis). Click the link below to;earn more. The demand for the product has reached a fever pitch so please bear with him as he cranks up production.
Current price is PHP 1,250/kg or or PHP 650/500 g
Mr D's Artisanal Philippine Wagyu Corned Beef
If the Philippines were to go to war, this has to be the best food to stock for the long haul.
Stay tuned for more foodie finds 😀
Related posts:
Comment on this and Share it on Facebook!
comments
Powered by Facebook Comments