So once again, work has given the opportunity to see a place that i full of history, like those one-day trips to Barasoain Church in Malolos, Bulacan, or that back-breaking one-day trip, which resulted to a visit of the historic Hill Station in Baguio.
This one has been on the sights since it is considered the largest Catholic church in Asia. St. Martin of Tours Basilica in the town of Taal, Batangas, does look monumental. To give a perspective, check the picture below:
St. Martin of Tours Basilica in Taal probably stands about 40 feet in height. The doors are enormous and the height is all but amazing for something that was built way back in the olden days. There was a funeral that day so no pictures were intentionally taken of the interior.
The current location is not its original location, as the old location of Taal was destroyed in one of the largest eruptions of Taal Volcano at around 1754. The town was then relocated to its current place, and the church rebuilt overseen by generations of priests in the Spanish colonial period.
It is actually quite marvelous how the town has been able to preserve this great wonder, and one can see why this church is also one of the very popular wedding churches, even if it takes some time to get inside the bowels of the town of Taal, Batangas.
What is even more marvelous is that not only is the town preserving the church, but the historical houses that surround the area as well!
These houses have been preserved or restored to look like their old Spanish colonial days. If you will look closely in the pictures, there are already plaques that signify that these houses have been registered to the National Historical Institute of the Philippines, therefore ensuring that a law protects these tructures from being demolished and that there will be an allotted funding in preserving these houses. Even the 7-11 (Not in any of these pictures) had to have the store patterned after these because the local government wishes to  preserve the charm of the town.
Tourists and nationalistic entities will give high praises for these.
Then again, if you are one of the oldest established towns in the Philippines, you do feel like there is a innate duty to preserve the culture 🙂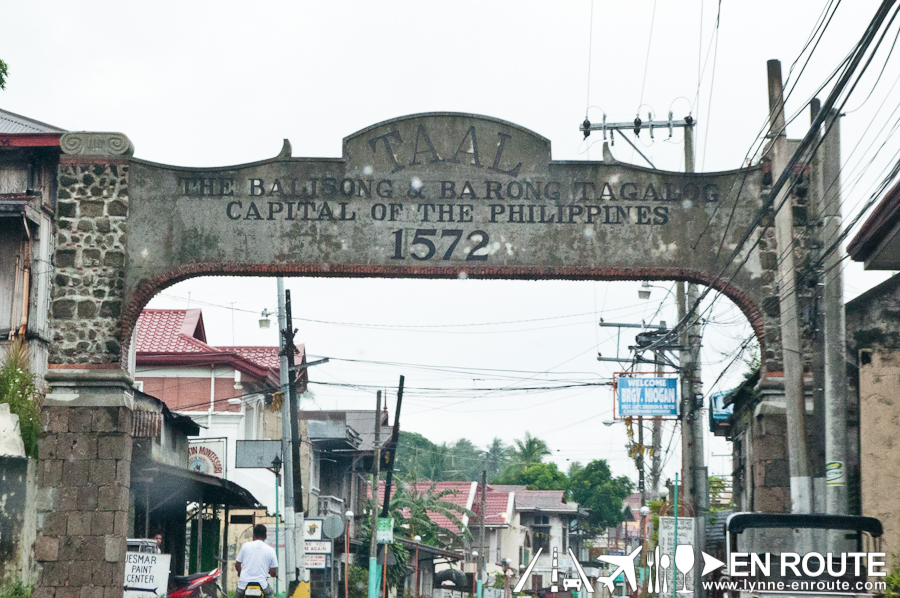 Related Posts
There are many ways to get to St. Martin of Tours, but all go through South Luzon Expressway (SLEX) and STAR Tollway in Batangas:
Easiest route would normally be:
Take SLEX and continue on to STAR Tollway
Exit at the last part of STAR Tollway (Batangas), and continue on towards Bauan
Pass the tow of Bauan and continue on to the highway. There will be signs leading you to Taal
Follow the signs that lead you to Taal town proper. From there, there will be signs poiting to St. Martin of Tours
Comment on this and Share it on Facebook!
comments
Powered by Facebook Comments