This post is dedicated to a newly found foodie couple who felt totally victorious when they found out that they were able to suggest something that was worth featuring in En Route.
(You know who you guys are. 'Till the next food trip! )
Admittedly, even with a bit of research about Tuscano, not much popped into the radar on what would be great to try. It doesn't help that it is also an Italian restaurant.
You see, after Filipino, Chinese, and American cuisine, Italian cooking is one of the most common in Manila, and this is due to its approach of using basic ingredients and simple techniques in making dishes. Thus, there are a lot of Italian dishes that are then given various twists, sometimes to the demise of the real essence of the cuisine: using the best and freshest ingredients.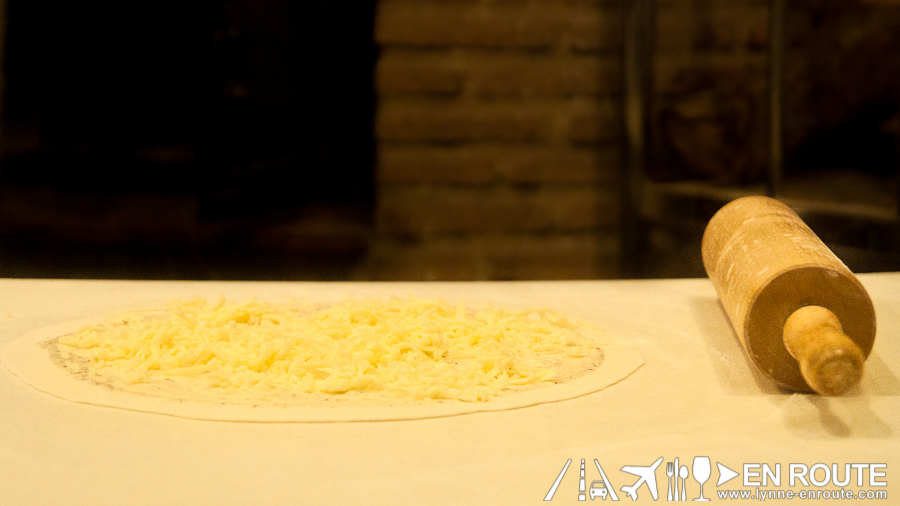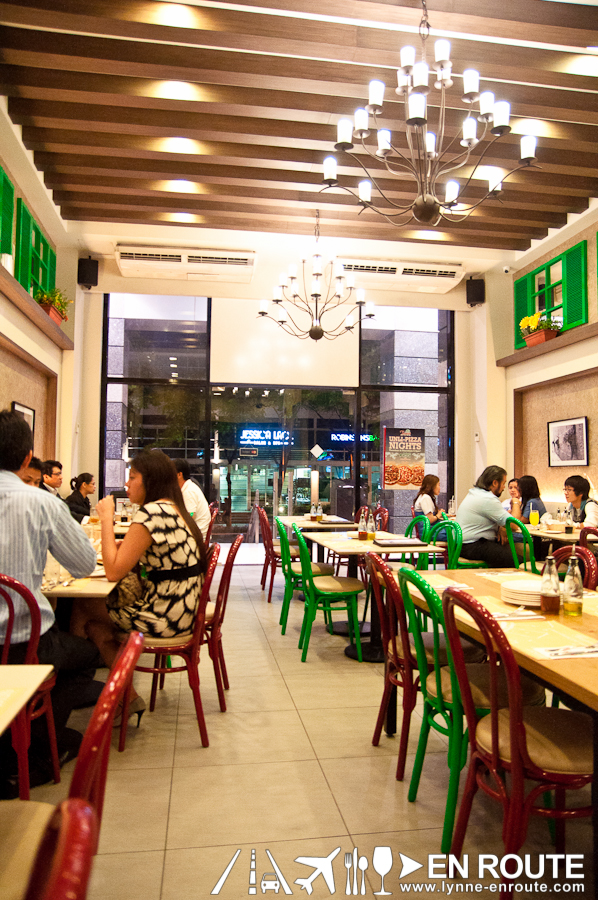 Luckily, Tuscano in Burgos Circle ensures that the ingredients are fresh, and the cooking is spot on. All this in a casual, non-intimidating dining setting.
What probably lends to the easy atmosphere is that you can see any baked creations made to order, thanks to an open-style dough kneading corner and wood fired brick oven. The dough is carefully rolled and toppings placed at the right timing (like you do not place everything at once and stuff it all in the oven, often making vegetables soggy or burning some aromatic herbs.
After placing your orders, you start off with the standard fare of baked bread dipped in olive oil, balsamic vinegar, and your option of drizzling it with mozzarella cheese. Want some spice in your life? Use the spicy olive oil. Don't worry. The color will give it away.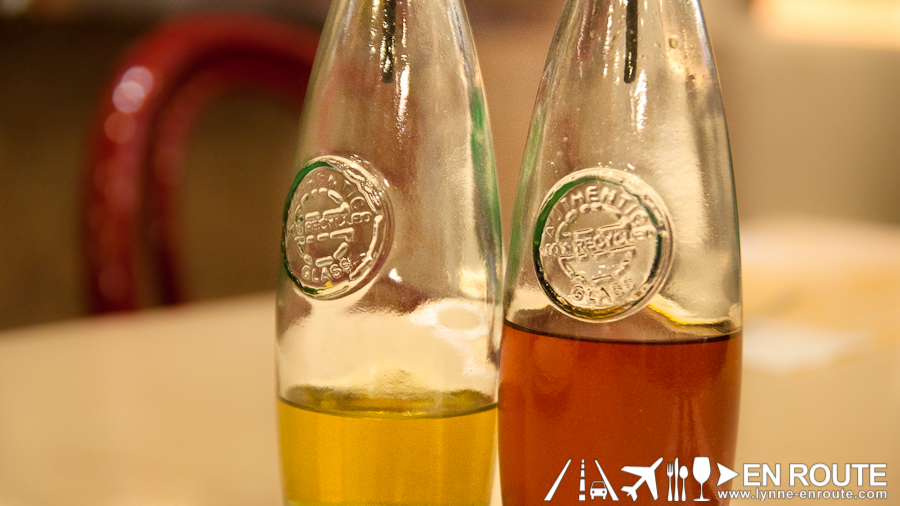 An appetizer worth nibbling is the Calamari Frito (PHP 345.00). The squid is not too tough, and the batter just lightly coats it. What you see is what you get, with no cheating on making the batter thicker. This is great because some places just do that and you end up eating batter the whole night.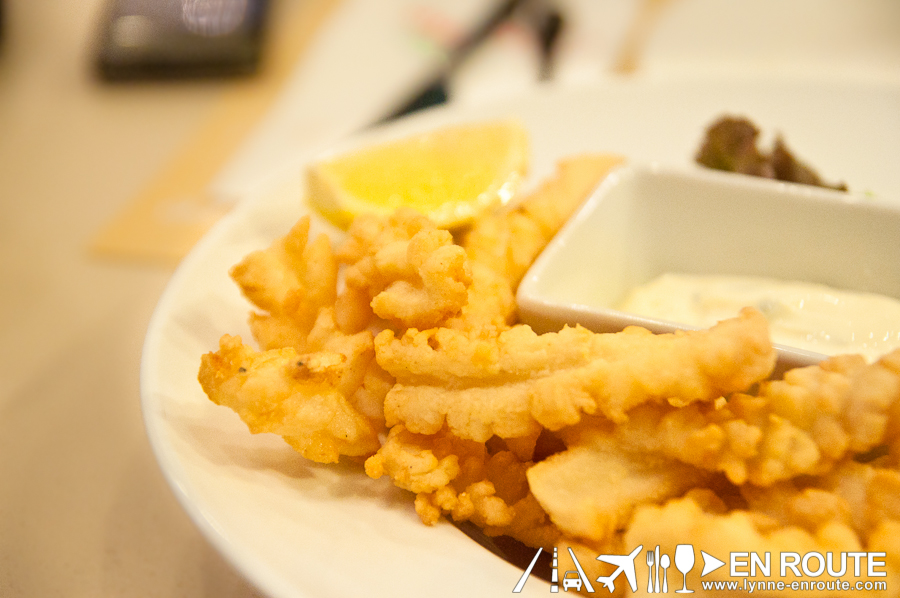 After a few bites, it's off to some basic Italian fares. It was time to test that brick oven and see how the pizza crust turns out. One of the most basic pizzas, the Margarita with Goat Cheese (PHP 585.00)  is up.
Tuscan style pizza seems to have a thinner crust compared to other pizza styles. This was after coming from seeing the Neapolitan Style Pizza of Gino's in Katipunan. But one thing's for sure: Brick ovens are the true game changer for great pizzas. Like Gino's that uses brick ovens, having unevenly charred crusts actually give each pizza some sort of distinct character whose combined imperfections from being cooked with wood or charcoal actually just makes for a better pizza experience.
For pastas, Tuscano has this Spicy Tomato Prawn Gambaretti in Oil and Garlic (PHP 465.00). The level of spiciness can be adjusted, and if you want more, all you need to do is sprinkle some chili flakes to increase the intensity. Pasta was cooked al dente, and no flavor was truly overpowering. It is recommended to get this mild and increase the spiciness as you desire.
The more unique items on Tuscano's menu is the Beef Stew Casserole in Chocolate (585.00). Everyone on the table was quite apprehensive at first, but with one yell of YOLO (You Only Live Once), it was ticked for tasting.
The beef was braised and softened to great tenderness, and the dark chocolate sauce was more on the bitter side rather than sweet. It just complemented the fragrant rosemary and sides of broiled potatoes and carrots. For the chocolate addicts, use the bread pieces to wipe the bowl clean.
It could have been the good food, it could have been the pleasant company, or it could have been both. But Tuscano was what the end-of-day respite ordered. With relatively generous servings, relaxed vibe, and a hungry foodie market reaching back to the basics of good cooking with good ingredients, Tuscano has something to offer to the hungry population.
Related Posts:

Tuscano is located at GF-3 The Fort Residences 30th St.cor. Padre Burgos Circle, Bonifacio Global City, 1105 Taguig, Philippines
Tel. Nos. +632-478-7503
Have you tried Tuscano? Any other Italian places worth checking? Leave some comments in the Facebook Comments section below.
Comment on this and Share it on Facebook!
comments
Powered by Facebook Comments