THE CONTEST IS OFFICIALLY CLOSED. WINNERS HAVE BEEN DRAWN HERE
After close to three weeks of inactivity, some movement now in En Route! Please pardon the hiatus as pre and post wedding activities do take oodles of time and logistical skills. But lots of adventures did come up in some mini road trip the past week. Tune in for that.
One of the gimmiks during the wedding reception was to replicate the ever popular Quiz Night of 121 Grille. But instead of giving away free booze, the prizes were some gift certificates. Starbucks gift certificates that is. It rewarded pretty much the diligent reader of the site (or those who pretty much had nothing to do with their time).
Questions about stuff that appeared in some selected posts came out, such as the following:
These were just a few of the topics, and to those who attended the wedding and are reading this, thank you for joining (and eating all the food. Hope you guys had a great time!)
So prizes were given. And guess what? There's a few left! There are currently three envelopes of Starbucks Philippines Gift Certificates worth PHP 1,000.00 each, and it's up for grabs. Oh, and they don't expire.
With that, we will be drawing three (3) winners who will each win PHP 1,000.00 worth of gift certificates from Starbucks Philippines.
Why are we doing this?
Just to share our joy. We could have just used it all up to keep us awake for a good few weeks, but what better way to spread the love than sharing the caffeine.
Here are the mechanics and rules on how to get a chance to win:
If you already are part of En Route, you can skip to step 2
2. Once you have "Liked" it, click the Share Link below
3. On the newly opened page, type in the blank field "I'm joining the Starbucks Philippines 2012 GC Giveaway by En Route" <- Make sure to tag the En Route name.
To tag, type in the "@" symbol then type "En Route" A drop down selection will present you "En Route". Click that and you should see "En Route" become a blue link. If it doesn't, then you're probably not part of the Facebook Page yet and will have to go back to Step 1
After completing the sentence, click the Share. Make sure your profile is set to share to "Everyone" or else your entry won't appear on the En Route Facebook page.
4. Post your full name, email address and the URL of your Facebook post in the "Leave a Reply" section at the very bottom of this page. (Not on the Facebook Comments . Entries not in this section and without names, email addresses, and/or Facebook URL will be immediately disqualified.
To get the post, just head to the En Route Facebook page and look for your post. Underneath it, there is a link that says "View Post". Click it, and it will take you to the post itself. Just copy the URL from the address bar of your browser
Here's an example of how your entry should look:
Annie Batumbakal
[email protected]
http://www.facebook.com/anniebatumbakal/posts/268106986564002
5. One entry per person only. Duplicate entries will be disqualified.
6. Open only to Philippine residents. We can mail it, too! Be sure it can be mailed to a valid Philippine address.
7. This raffle will run from September 26, 2012 until October 16, 2012. Winners will be raffled out and announced on October 17, 2012, some time around 9:00PM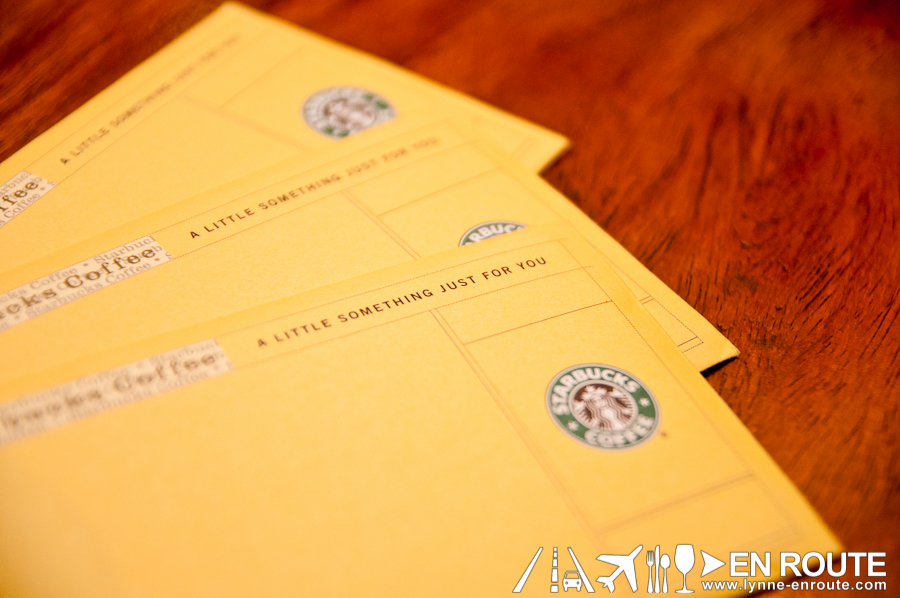 DISCLAIMER AND DISCLOSURES:
This is not a raffle sponsored by Starbucks Philippines. All the funds required for En Route to acquire these gift certificates have been personally paid for (Yes. In this day and age such generosity with no monetary return sounds suspicious, but maybe the world needs more of these giveaways :P)
These gift certificates can only be consumed in Starbucks Philippines branches.
Comment on this and Share it on Facebook!
comments
Powered by Facebook Comments