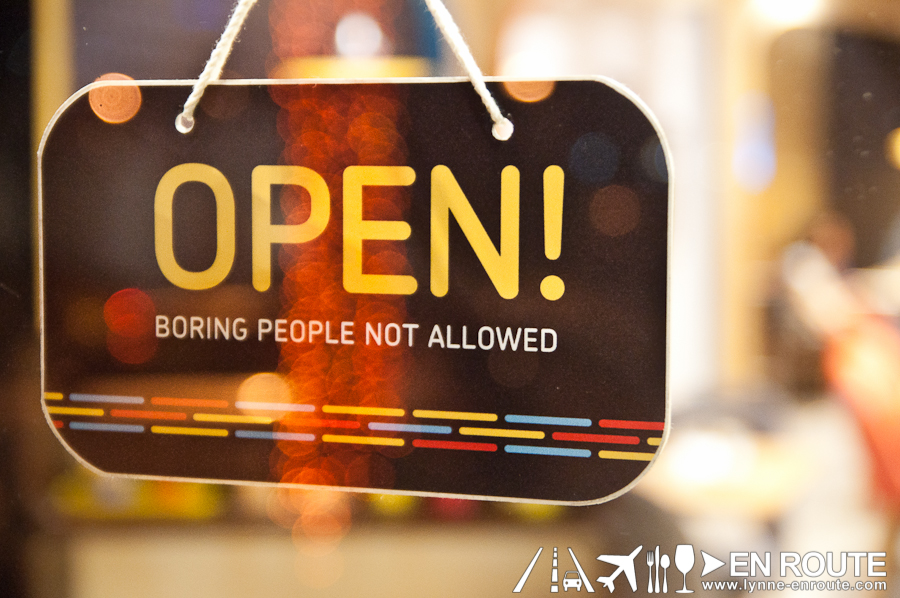 Several raves and write-ups on the quirky, secretive, and fun loving vibe of Umami Hambaagu House have sprung up ever since its opening. This Japanese adaptation of the conventional burger patty has drawn a lot of fans. Some chefs and restaurateurs have even been seen eating here!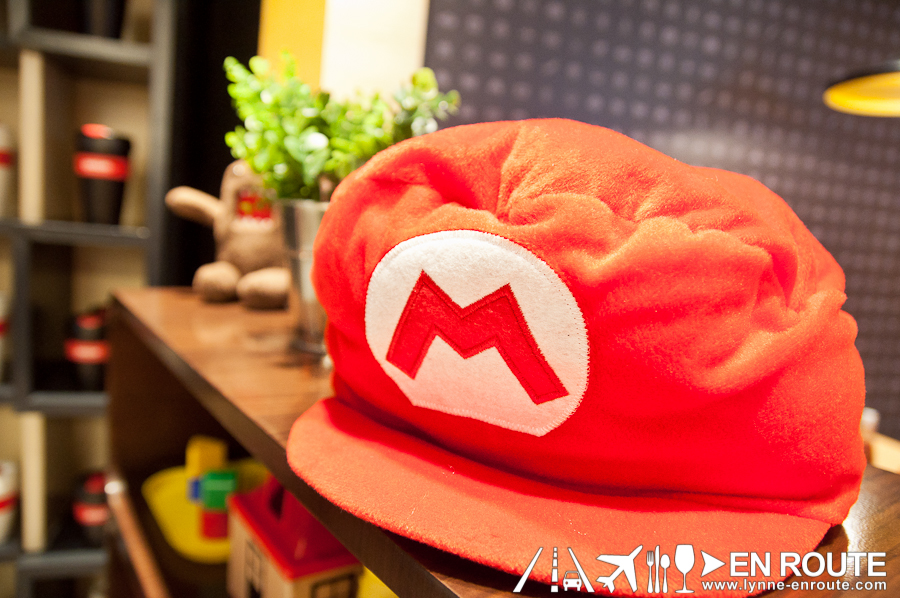 Is it the dish and menu selection? Is it the casual and kiddie appeal of the decorations? It probably is both, and has led to the reputation that Umami Hambaagu House has today.
Few people know, however, how Umami used to look before all the Super Mario hats and bright colored livery spruced up the place. In here, En Route looks into a then-and-now of Umami Hambaagu House.
–
Then: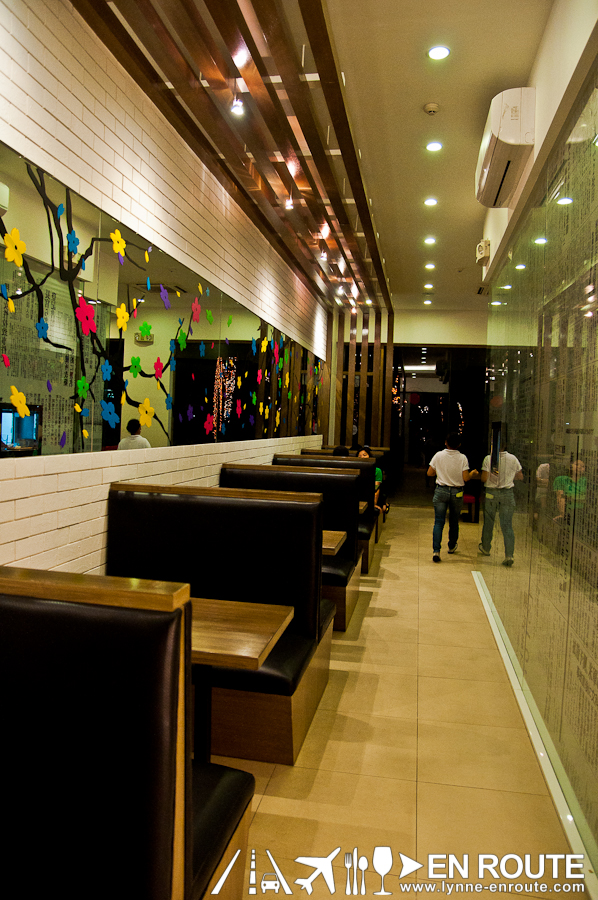 Sleek lines and minimalist decorations and furniture adorn the place. Everything looks simple, clean, and clutter free.
It looks great, with the simplified interiors very much a reflection on the Japanese way of Zen. Something, however, seems amiss, and a constant exposure to this can draw the word "bland" into mind.
.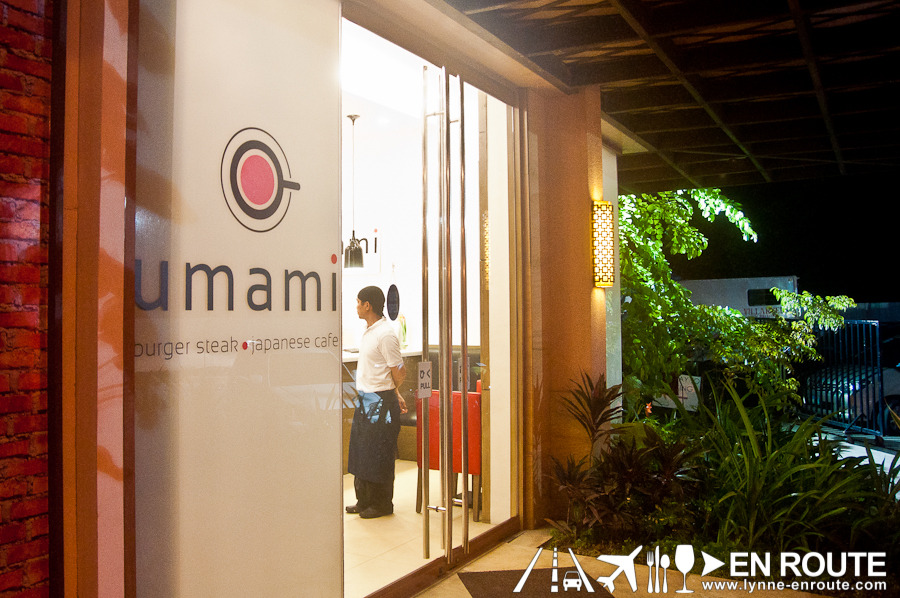 Now: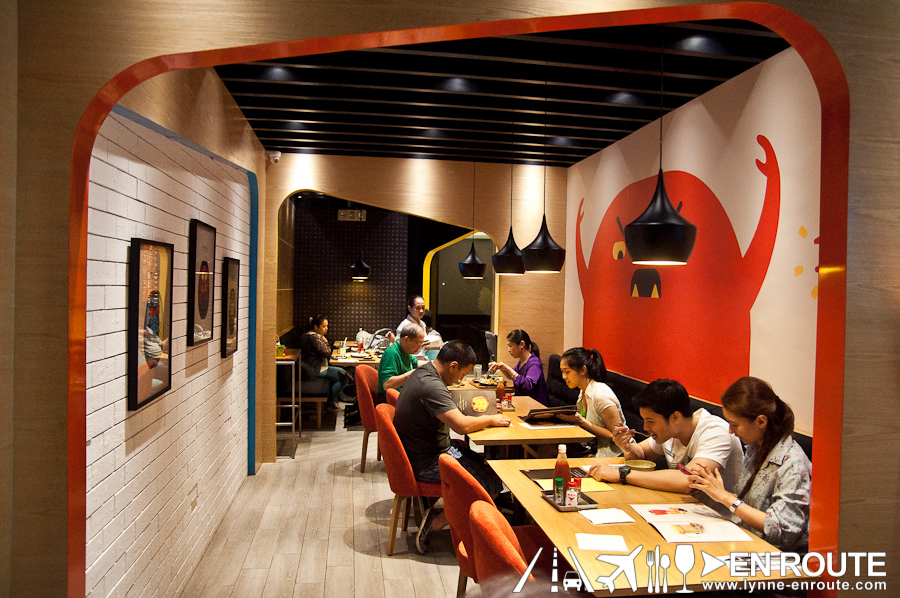 Where to begin? Textured concrete white walls illuminated with warm lighting, simplified drawings of Japanese comic monsters, plush toys, trinkets, posters, and various combinations of Japanese pop culture memorabilia.
It's quite different, and hardly shows any indication that this is also a part of the Japanese culture. But it is part of Japanese culture. This Japanese Pop Culture of Japan draws loyal followers, from manga and anime lovers, to cosplayers. It attracts various people like moths to a flame with its bright and shocking color combinations. It is like an immersion into a different side of Japan.
Then: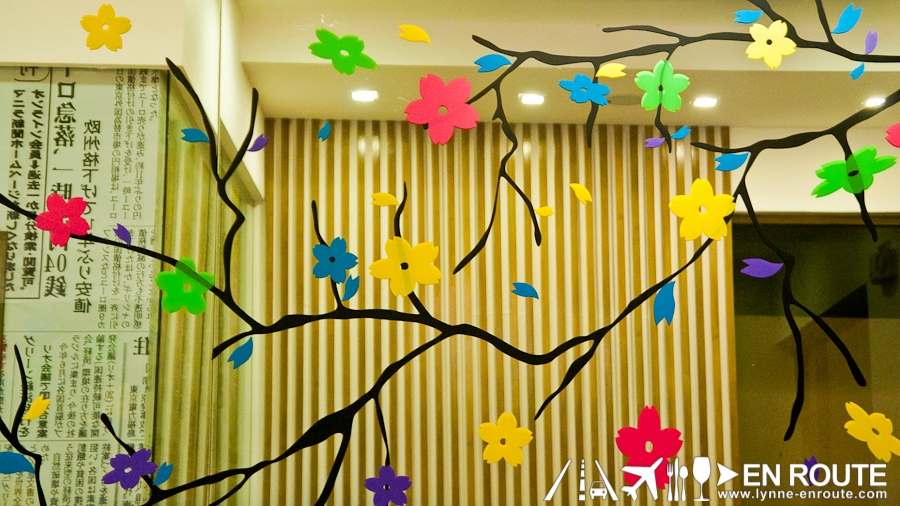 So that people won't forget that this is a Japanese Hamburger Cafe, the walls are plastered in what looks like a blown-up print of a dull, picture-less Japanese broadsheet on a slow news day. The very color you may see would be the stickers replicating cherry blossoms stuck on the mirrors.
Now:
There's now a wallpaper depicting some distinct characteristics of things in Japanese pop, manga and anime culture. Anyone recognize any of these?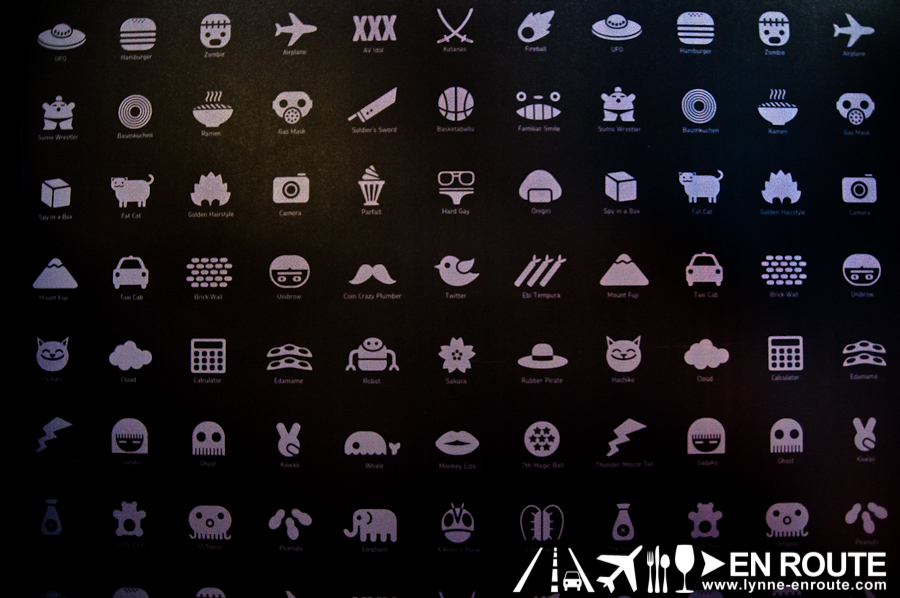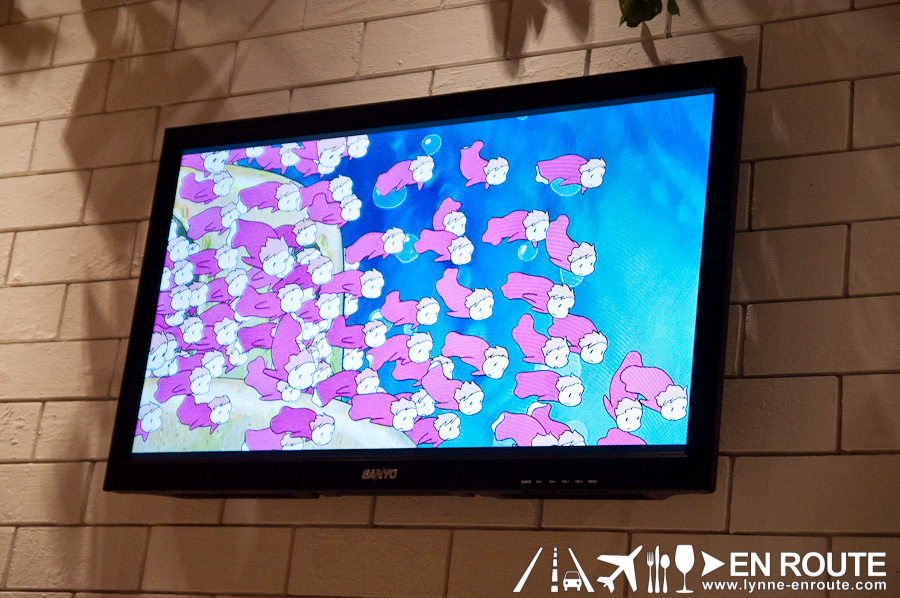 Umami Hambaagu House also has a TV playing this very thought provoking Japanese Anime cartoon named "Ponyo" (Interestingly, this same anime is on loop during the several trips to Grams Diner in Fort Bonifacio).
It's great distraction while you wait for your food, if the other trinkets are not distracting enough. There are also Japanese comics (manga) for your reading pleasure, in case you can read Japanese or understand the story through the context of the drawings.
Then:
The food even then, though, is quite tasty. Chicken Karaage has a good batter that makes it tasty enough without using the special spices that accompanies the order.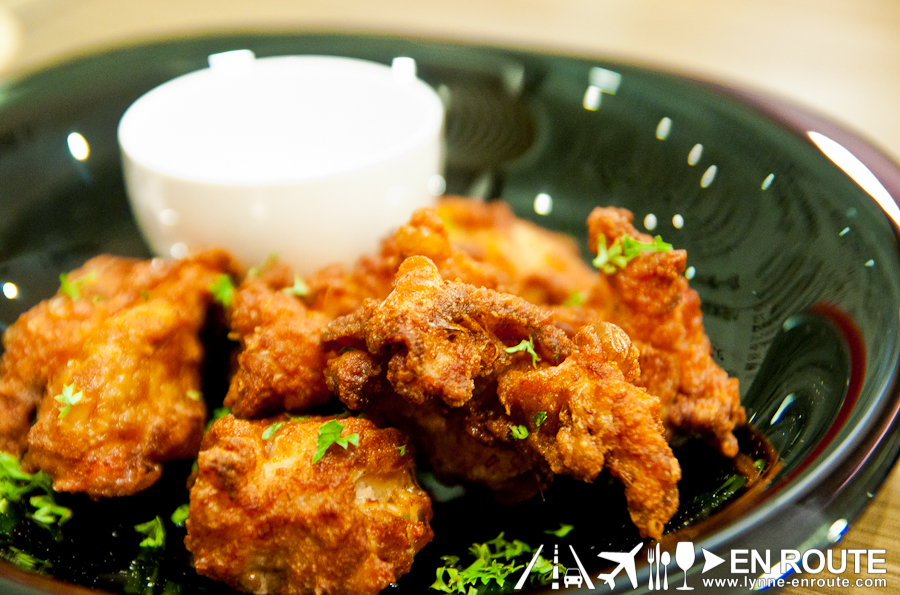 As for the main dish of Japanese burgers, it had a good selection with various toppings. Japanese burgers are different in that it has a mixture of ground pork in the patty. This makes its taste a bit lighter and allows the sauces to be more pronounced. This particular order has a meat sauce with strips of mozzarella.
Now: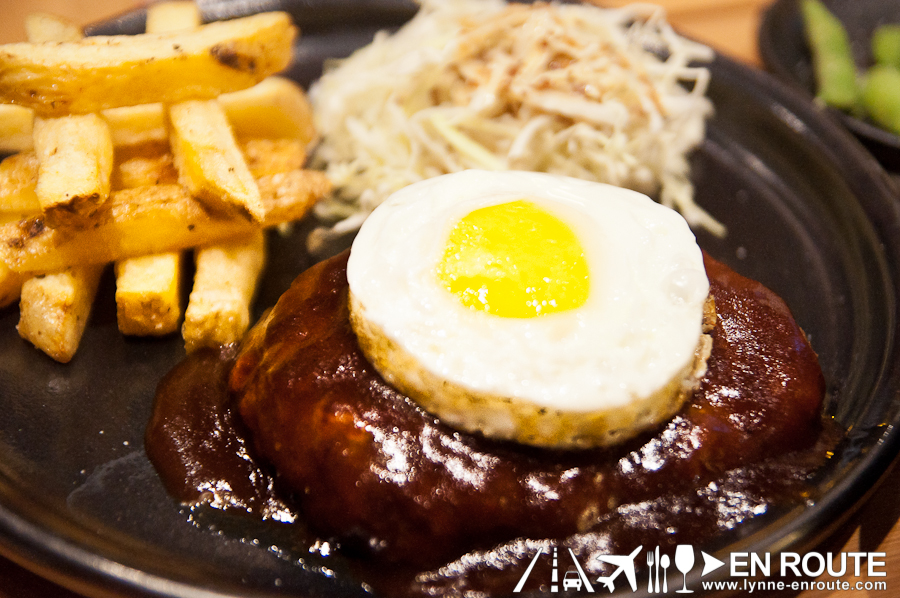 The plating of the burger dishes of Umami is consistent from when the place looked more bland and subdued. The taste is consistent as well. The patty is still tender and whatever sauce and toppings in the order allow a variety of flavors to mix in your palate.
What was added now was novelty in some of its menu selection. Even something as simple as including an hourglass to time the steeping of tea or intricate drawings in the froth of cappuccinos make things more appealing.
If eating a burger patty with rice instead of buns is your thing, Umami has a great selection that satisfies. And it also goes to show that in making a restaurant, having a distinct identity that distinguishes you and your food from the rest of the endless food services can change the number of people who will patronize your wares. The newer reincarnation of Umami has helped it make its food more fun, much like the details in every nook and cranny of this quirky haven.
Related Posts:
Umami Hambaagu House is located at the Grove by Rockwell along C-5 corner Ortigas Avenue, Pasig City, Philippines
Tel Nos. +632-695-3643
Comment on this and Share it on Facebook!
comments
Powered by Facebook Comments