Three weeks after returning from our Euro-trip, reality has set in.  No more chilly, afternoon walks by canals.  Bread has morphed back into pan de sal from its sexier cousin, the croissant.  The Eiffel Tower won't be in sight when I turn the next corner.
And bills have to be paid.
Yes, we're home.
Home from what I would consider a dream come true.  Some dream of fancy cars, diamond rings, and job promotions.  Mine was a plane ticket wrapped in "bonjour, madame", drizzled with "s'il vous plaît", and signed with "je t'aime."
It started with the plane ride.  I was teary-eyed as soon as our plane left the ground. "This is it!", my mind kept screaming.  I was doing cartwheels and back flips deep inside until I lost steam over the 9-hour layover in Dubai.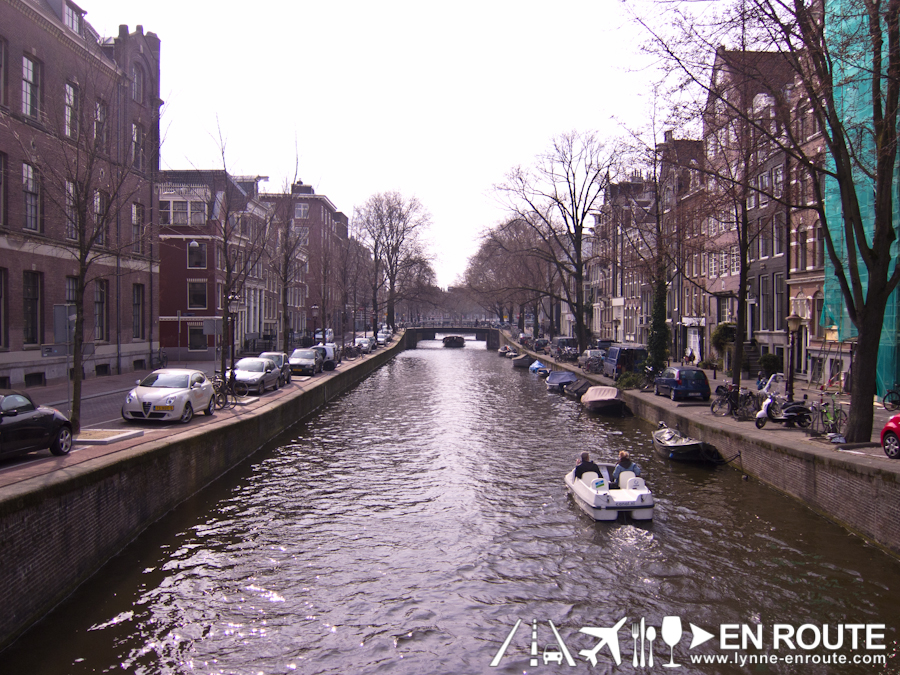 When we arrived in Amsterdam, I was blown away by how picturesque it was.  Everywhere you looked was post card-worthy!  Oh no, what if the Paris of my dreams didn't measure up and evoke the same awe that the canals did?  I was honestly worried Paris would disappoint.
But then again, how could it?
Finally, the day of reckoning arrives.  Evening comes and we take the hi-speed Thalys train from Amsterdam to the Paris Nord station.  A hearty meal and wine.  Plus free wi-fi on-board.  Things were looking up already. (Yes, we can be that easy to please.)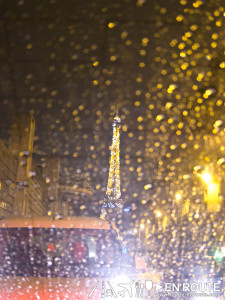 We arrive to a drizzling evening in Paris.  Our cab service is waiting and I can feel my toes tingling with anticipation.  I crane my neck and keep looking out the window to hopefully catch a glimpse of that icon I so strongly associate with this place.  Ray explains to our chauffeur that I'm looking for the Eiffel Tower.  A few entries into his GPS tracker and we make a detour – a pretty long one.  My mind suspends converting the taxi fare to pesos, and just throws practicality out the window.
And there it was.  First, peeking from the tops of buildings.  Next, it was larger than life, looming in front of us.  We were allowed to stop right in front of it for a minute.  It was 10:59pm.  The driver kept emphasizing one minute, asking us to wait, and was making gestures with his hand.
Then it sparkles! Like a giant christmas tree on overdrive.  And I was smitten, won over completely.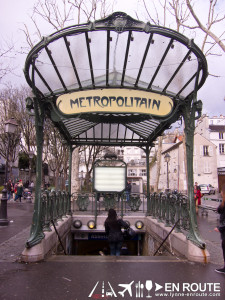 The days spent in Paris after that one night was spent with the lens of looking at all things beautiful and nice about it.  The language, the food (the food!), the Metro, the sights.
The very first post of En Route set out going to Paris as a goal.  So now that we've gone and back, it begs the question, "How was it?"
Cliche as it may sound but, it's what you make of it.  I tried to pick out French words I coud understand while we were sipping coffee in a cafe.  I was able to use counting and spelling in French (that's about it though).  We ate in a three-star Michelin restaurant, went on foot most of the time so we could see more, ate candied peanuts from the street, bought breakfast from a boulangerie (bakery), and engaged ourselves in something close to a sport in Paris: people-watching.
I didn't find them to be the snobbish French I was told about.  There will be tourist traps but that was an isolated case for us, and it can be found in any tourist destination.  The subway is a different character from the stretch of Champs–Elysées.  It was about getting to know all these different characters but staying in your upper box and viewing from afar.
It was all about discovering everything we could but still maintaining that distance to allow you to look at it from the outside, to see everything with wonder and curiosity.  I didn't want it to lose its magic because we felt so immersed.
Let's just say, it did not disappoint and I would love to go back.  J'adore, Paris. À tout à l'heure.
Comment on this and Share it on Facebook!
comments
Powered by Facebook Comments