Back in the lunch at Mesclun branch in Linden Suites, a couple of friends got to talking that there doesn't really seem to be a great Japanese restaurant in the Ortigas Business District area here in the Philippines. If Japanese food was to be talked about, it would always be one of the favorites coming from the Little Tokyo Area in Makati.
There is, however, one great find that a friend pointed out. And lo and behold, it was practically under the noses of everyone, hidden so close to Linden Suites in a blind corner of a street.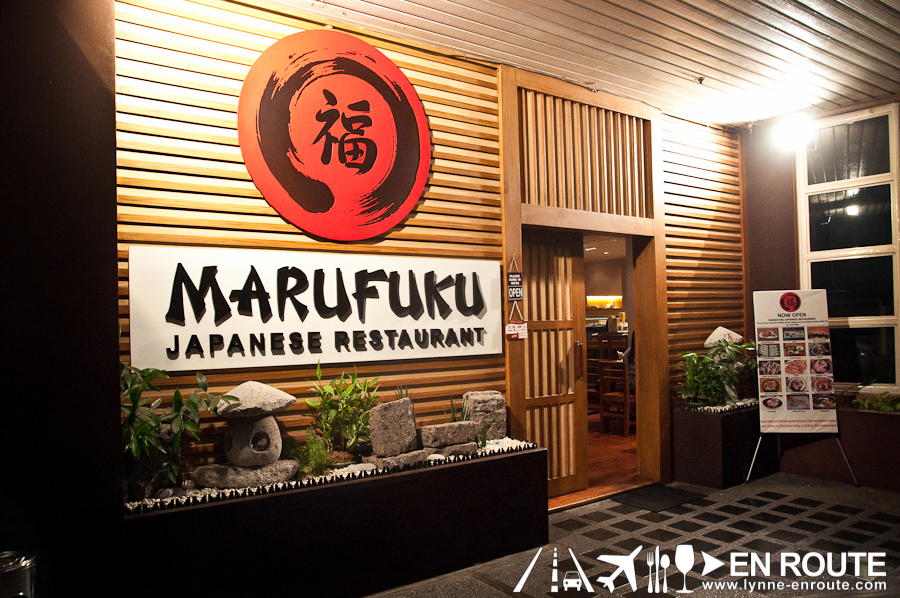 The name of the place is Marufuku. Marufuku's address is stated at Crescent Building in San Miguel Avenue, but the access to it is actually at the back of the building at Amethyst Street.
There is ample parking in the place, and if it runs out, and it is the evening, you can park on the street. So far no towing incidents (hope it lasts).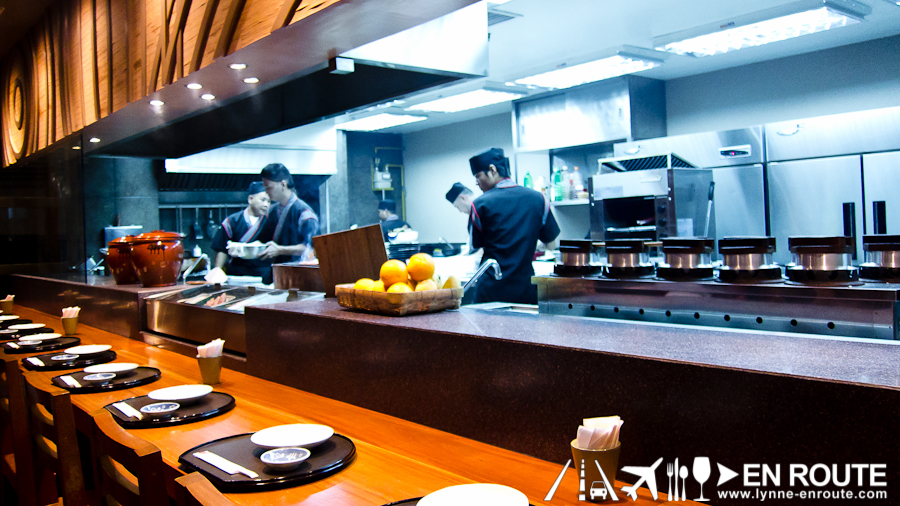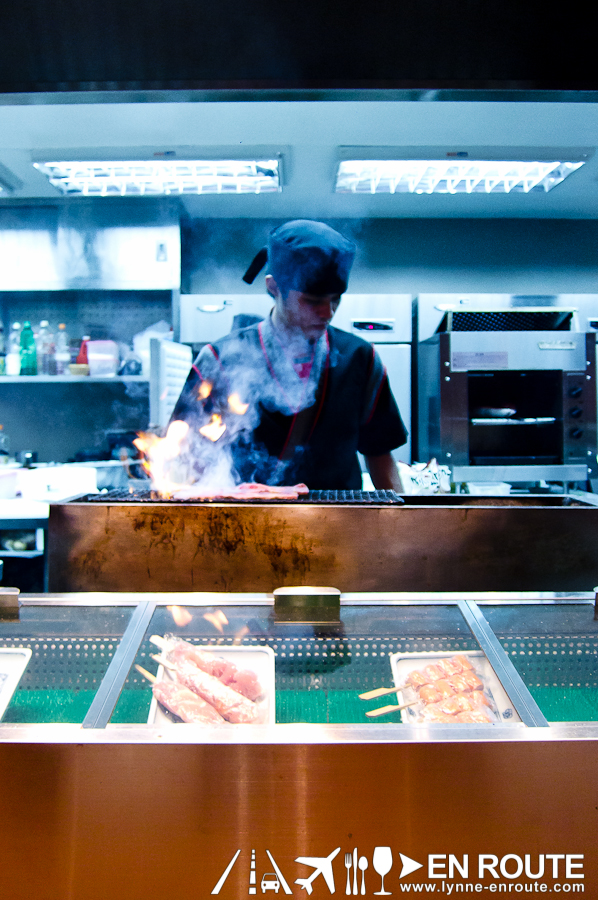 Marufuku in Ortigas is not that big of a place. It's about as big as Seryna in Little Tokyo, but with an open kitchen. this is great because you get to see the head chef (who is Japanese) and all the staff in action. You can even sit by the bar that faces the open kitchen.
These open kitchen styles really are a throwback to traditional Japanese Izakayas, where you can just sit down, grab some grilled food, and chug down an ice cold beer.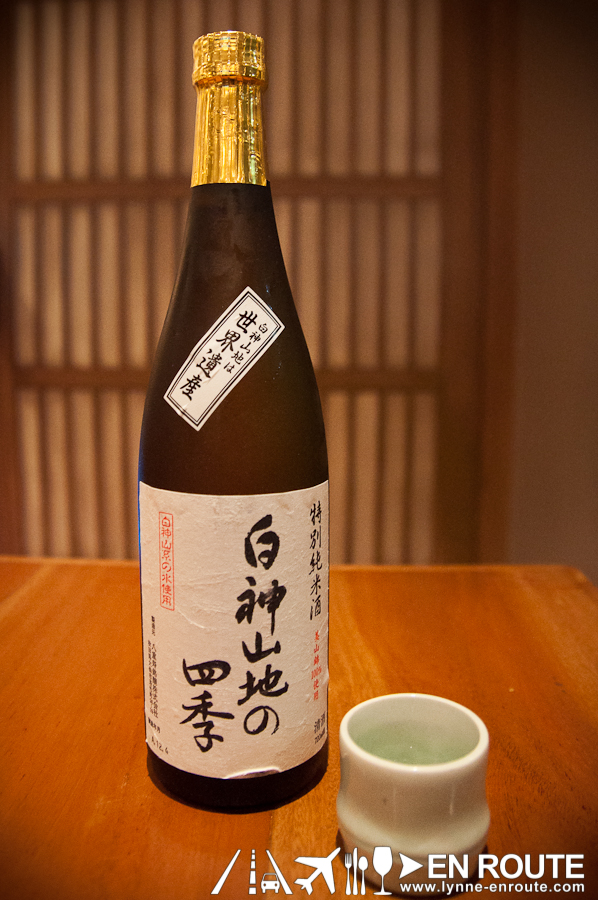 For an evening of great eating, start off with a nice, bottle of cold sake. This would range in prices so best to check which one fits your preference.
Once that is chilling, and you have your hands all cleaned up with the Oshibori (that rolled up towel served to you in Japanese restaurants), time to dig into some of the treats here:
(Side note: Learn the proper way to eat sushi by checking this infographic).
Previous reviews raved about the Kaki Motoyaki (PHP 240.00 for 2 pieces). Freshly flown oysters from Hiroshima, slightly grilled with a miso based sauce. Oyster lovers should not miss out on this one. Presentation is fantastic, and the taste will justify the relatively steep price tag for two pieces of oysters.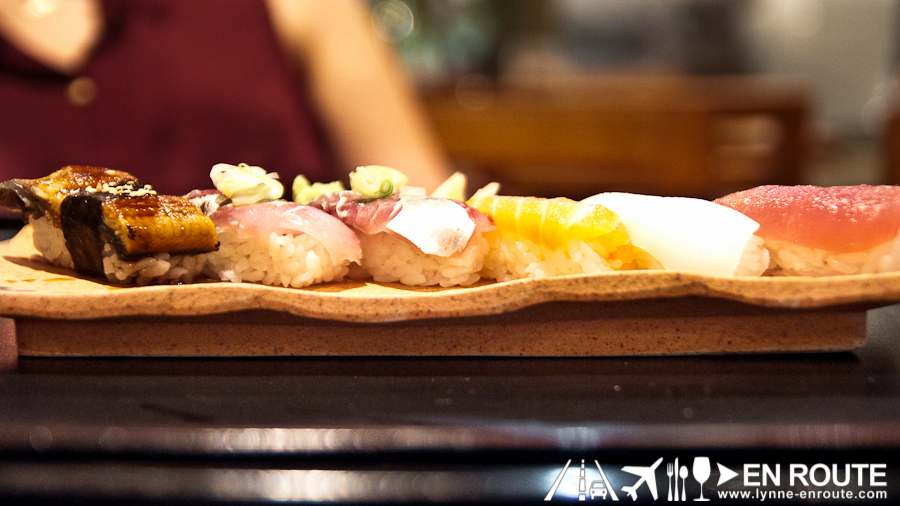 If it is the familiar sushi that you are after, then it is the Nigiri style sushi that you will look at. These are ordered by the piece, some ranging from PHP 70.00 for the regular tuna, and some going quite up to PHP 360.00 a piece for premium tuna belly. Is it any good? In this area, this is pretty much the best you can get.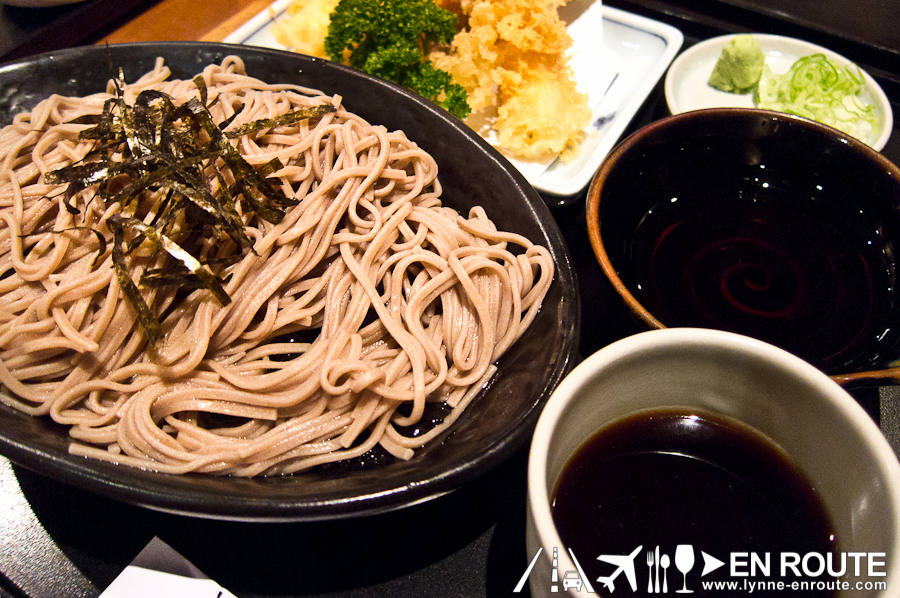 Soba lovers unite! Marufuku's Tenzaru Soba (PHP 290.00) will be one of the best value-for-money meals here. Buckwheat noodles served on a bed of ice with wasabi, dipping sauce and condiments, slurp your way to goodness. The one in Watami seemed to have a more pronounced buckwheat flavor, though, but you cannot go wrong with this well cooked soba noodles.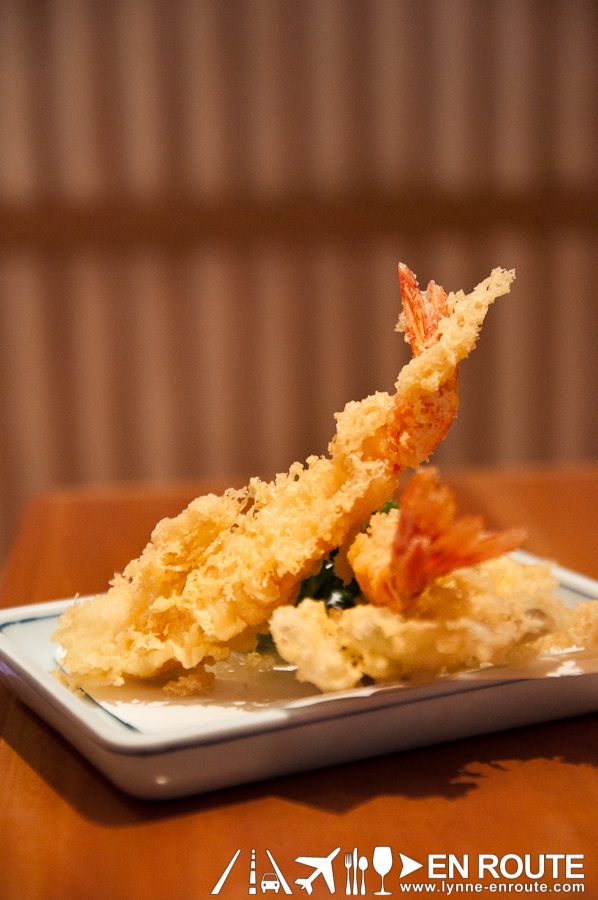 More of the fried and grilled kind? Shrimp Tempuras (PHP 380.00) are also available, but one thing great to get is the oh-so-tender Wafu Steak (PHP 780.00). Wagyu Rib-eye in a special sauce, goes well with some rice.
You will see that the reality is premium items will really have to be on the steep side. Savor every bite instead of just dunking everything into your stomach like you would if you were a human trash compactor.. You will not be disappointed.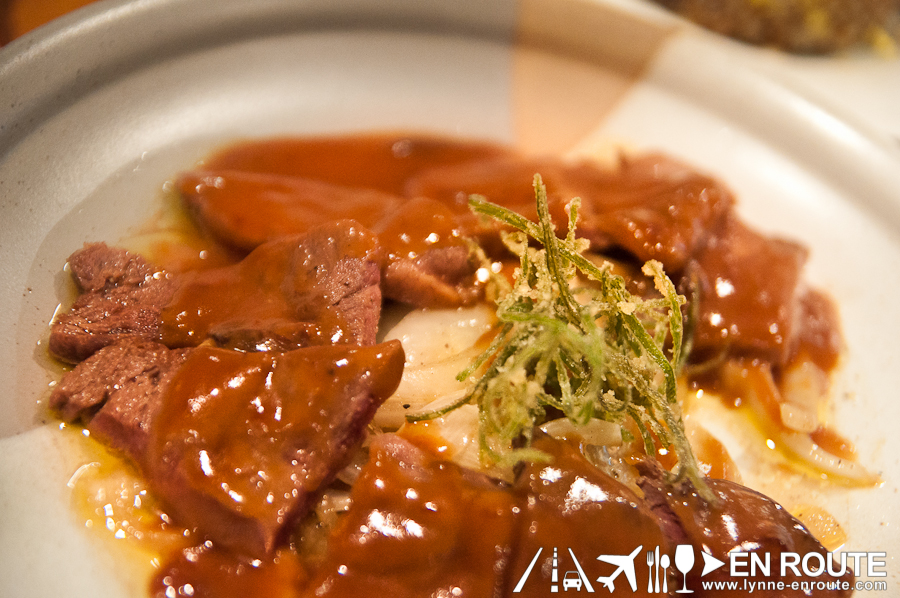 There are some special Japanese rolls in the house, like the Shrimp Tempura Roll (PHP 430.00), which looked like two tempura pieces facing each other, then reverse-rolled maki-style, topped with Japanese crumbs in mayonnaise and fish roe. These are very filling, one order is good for one very hungry person.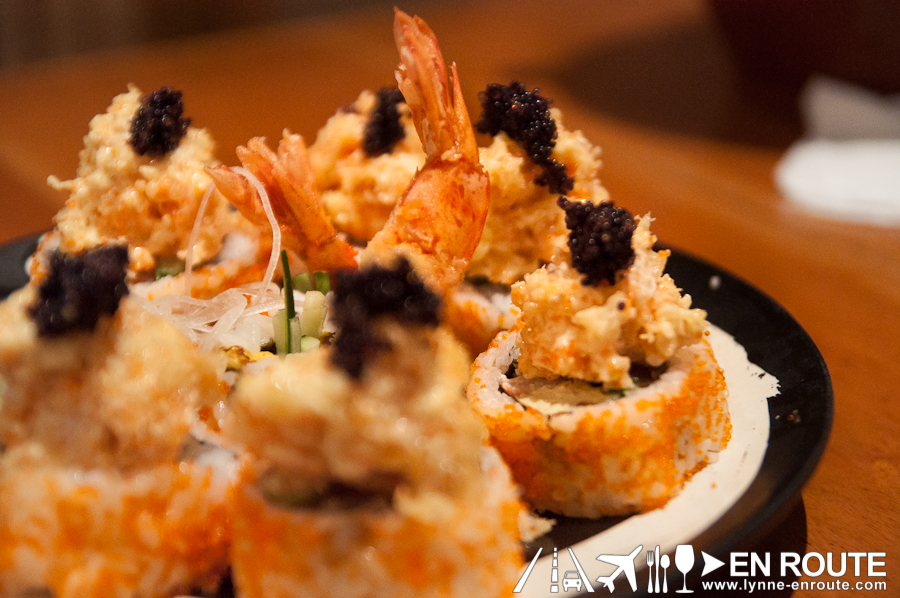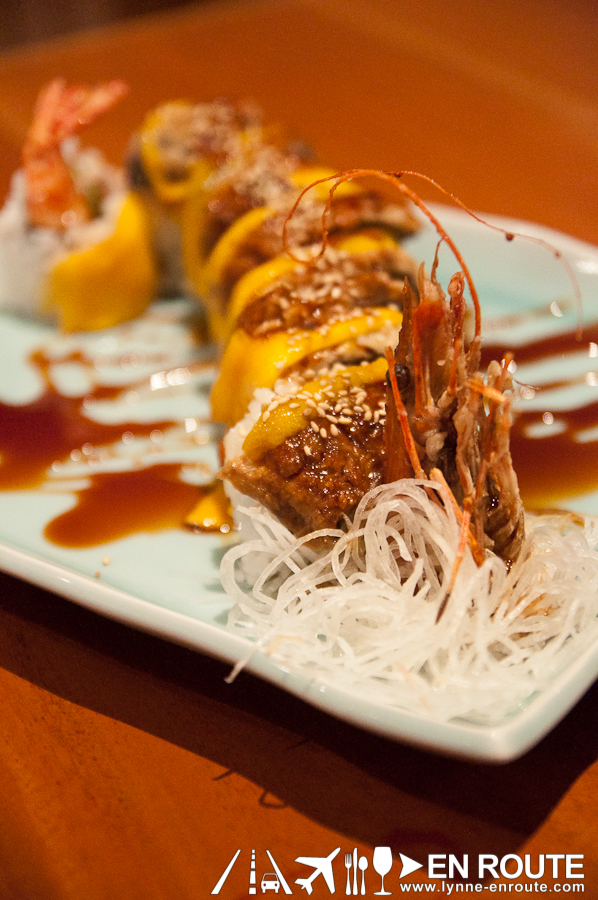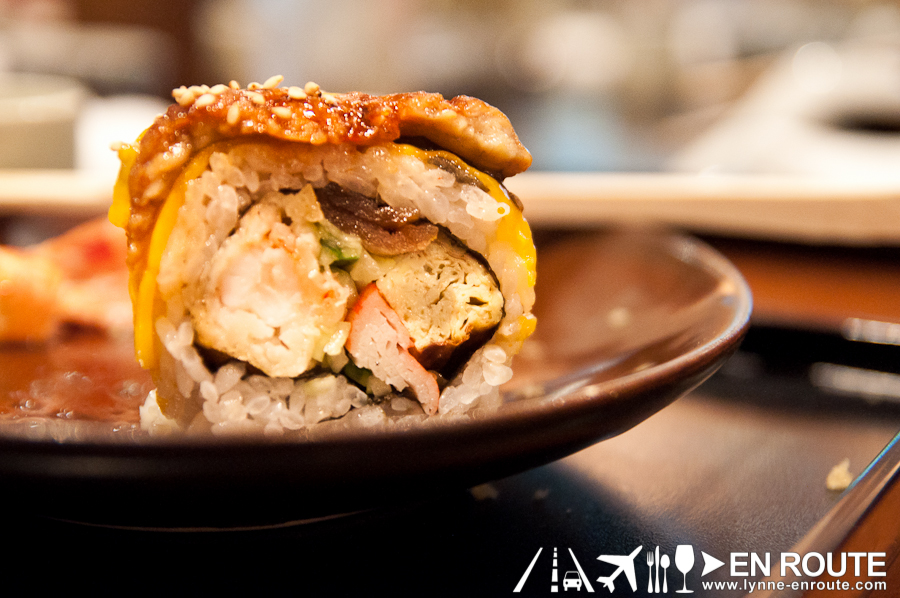 And if this was huge, then the Marufuku Roll (PHP 550.00) is gargantuan. This took a long time to prepare, with so many ingredients stuffed in like tamago, lobster tempura, cucubmber, crabsticks, and…. are those mango slices and unagi? Trying to eat this in one bite was a challenge. Possible, but you might choke. One order is good for two people.
Marufuku only opened August of 2012, ad so far the ones who make the special trip to look for it have not been disappointed. The prices are steep, especially once you compare it to Nihonbashi-Tei or Kikufuji, but the cash you shell out does give you some of the best Japanese cuisine this side of Metro Manila, and you can enjoy it in the comfort of a small, private, hidden nook this side of Ortigas.
Marufuku is located at the Ground Floor of Crescent Bldg., 29 San Miguel Avenue, Ortigas Center, Pasig, Philippines
Tel Nos. +632-570-3989 / +63917-528-6150
Enter through Amethyst Street
Parking available on site or in UA&P.
Open daily: 11:30-2:30 / 6:30-10.30
Comment on this and Share it on Facebook!
comments
Powered by Facebook Comments