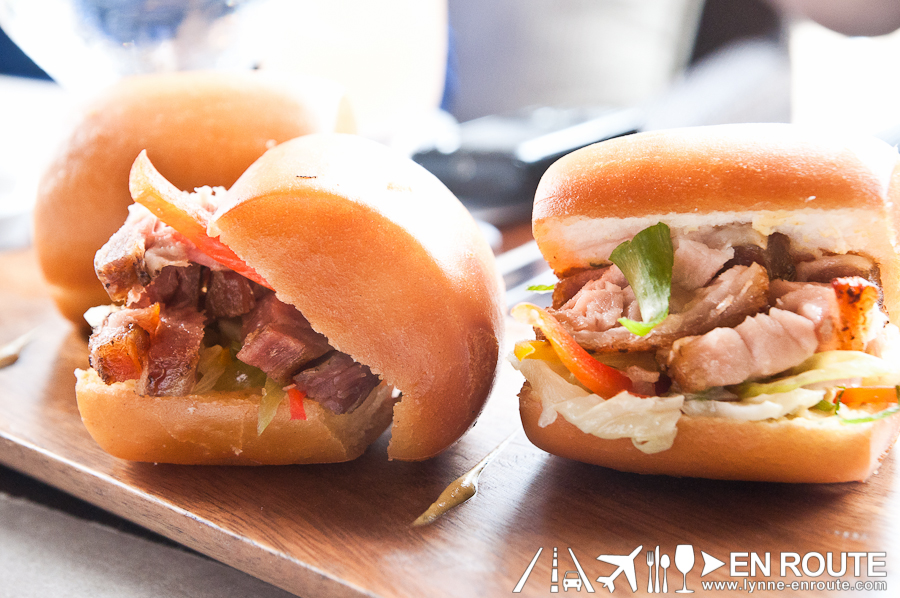 Power Lunch is often defined as a somewhat high-level business networking / meeting / congregation over an extended lunch period. This lunch period can last somewhere to the tune of three hours, as you build your case or continue your networking engagements in the hopes of achieving results. Some even go all the way until Happy Hour starts (which is really a GREAT excuse for that power lunch session).
The essential thing for power lunches is a good venue that serves familiar comfort food and can be private enough to minimize distractions (and the possible spies who may be looking at what the competition is planning next). This is why hotel restaurants have made a market out of these modern corporate needs.
Being one of the new swanky kids on the block, The Long Bar in the Raffles and Fairmont Hotel in Makati have launched Power Lunch specials for the business people in mind, or maybe for the salesman yearning to make a good impression on a client with impeccable taste.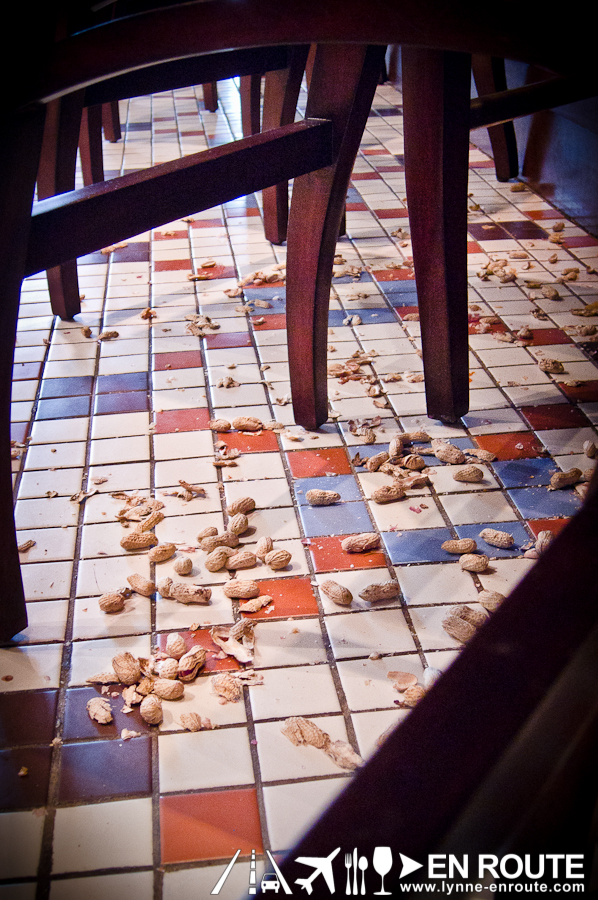 The Long Bar in Makati is a tribute to the original Long Bar located at the historic Raffles Hotel in Singapore. It is old world style with touches of modern and local influences (like a picture of Manny Pacquiao, personally signed by the said boxer).
And in true Long Bar fashion, you can just eat the free peanuts and practically throw it on the floor (the British who were living in Singapore must have been living on great times).
The Long Bar Power Lunch Specials offers a choice of a starter of either a Cobb Salad, Caesar Salad or Onion Soup, partnered with a main course of Pulled High Pork (Lechon) Sandwich, Reuben Sandwich, or their highly regarded Long Bar Burger. It costs about PHP 995.00 (add local and Value Added Tax). Pretty much the standard prices for hotels as this time of writing. Better save up those precious Philippine Pesos for this endeavour. Or better yet, invite the boss and have him treat the whole team.
You won't be limited to these for your lunch selections in The Long bar, though. Here are some other selections that may be more your fancy:
Starters: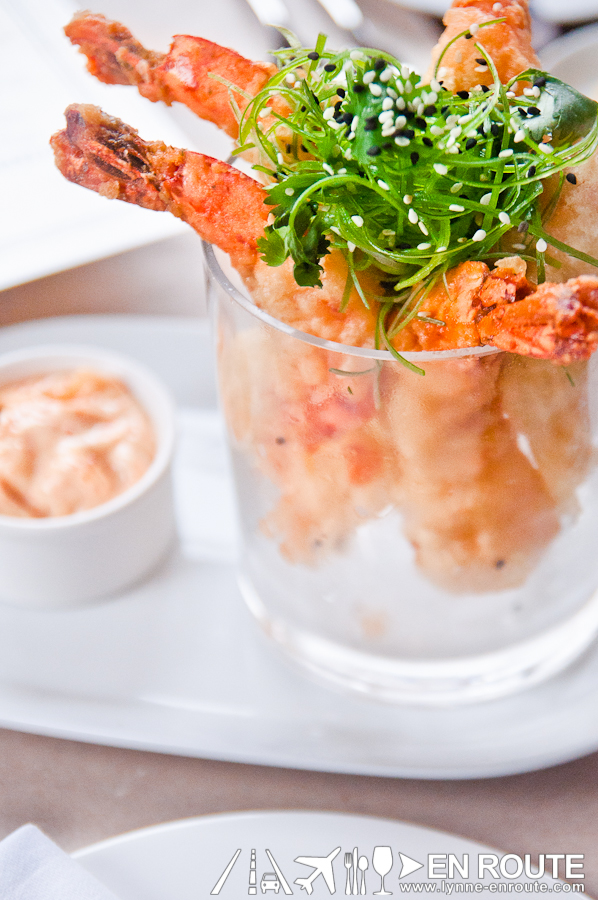 Funny how these are named starters when a serving of these is more than enough for one person. But since Power Lunches are not about eating alone, go negotiate through these as a cohesive team.
First off the list that may interest you would be the Crispy Rock Shrimp on Chili Mayo (PHP 1000.00) quite a hefty price tag for what looks like five pieces of shrimp tempura. One difference with a lot of the tempura stuff out there: This has more shrimp than breading. Bite into it, and you will have more luscious meat that oily breading. Goes great with the Chili Mayo.
Oh, and yes the salads are great, too! This Cobb Salad (PHP 500.00) is one of the more value-for-money dishes. Great for sharing given its abundance.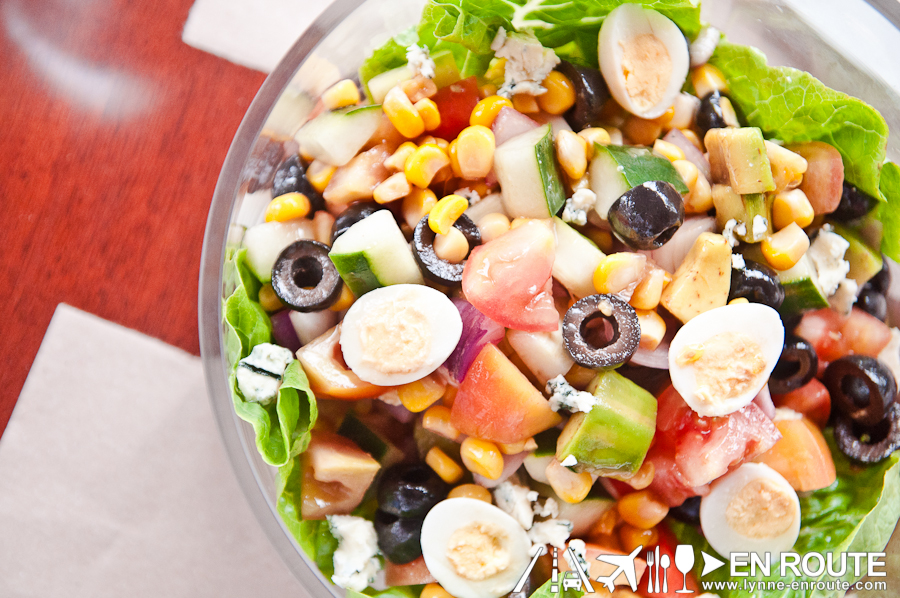 And because you would want to leave some room for other options on the menu, too, like the Fried Duck Rolls (PHP 900.00)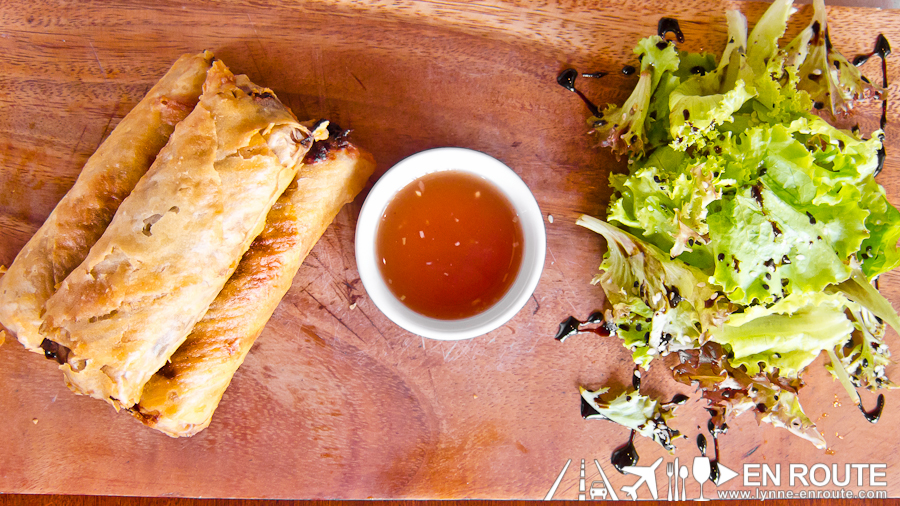 Looking like the traditional lumpia, these trio of crispy quackers can get by even if you do not use the ginger plum sauce. Duck in itself is a very tasty and gamey meat, and the side salad balances the flavor for those not used to this not-so-common dish in the Philippine food circle. This one, along with that Crispy Rock Shrimps, may be a deal-maker for those making an impression.
Sandwiches:
Browse through the menu, and the Pulled High Pork (Lechon) Sandwich (PHP 600.00) may interest you. After all, who isn't interested in lechon? Tenderly roasted succulent pork seasoned with the herbs of the orient, now infused in a western world bun of lettuce and tomato.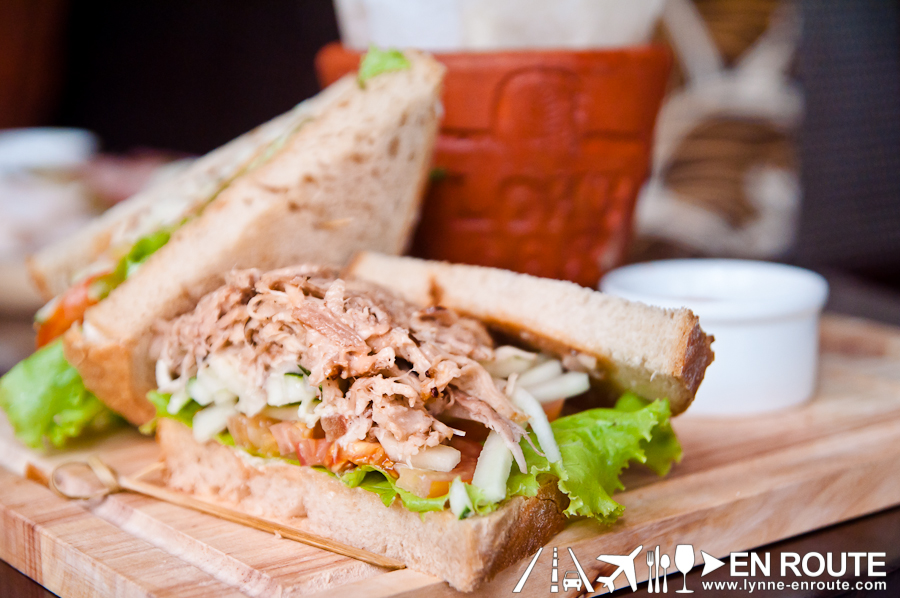 While very attractive in description, the appearance may be underwhelming especially for those looking for crispy skin. Yes, the distinct flavor of lechon is there. If you are looking for more tasty fatness, you may want to look into the long bar burger.
And speaking of The Long Bar Burger (PHP 600.00):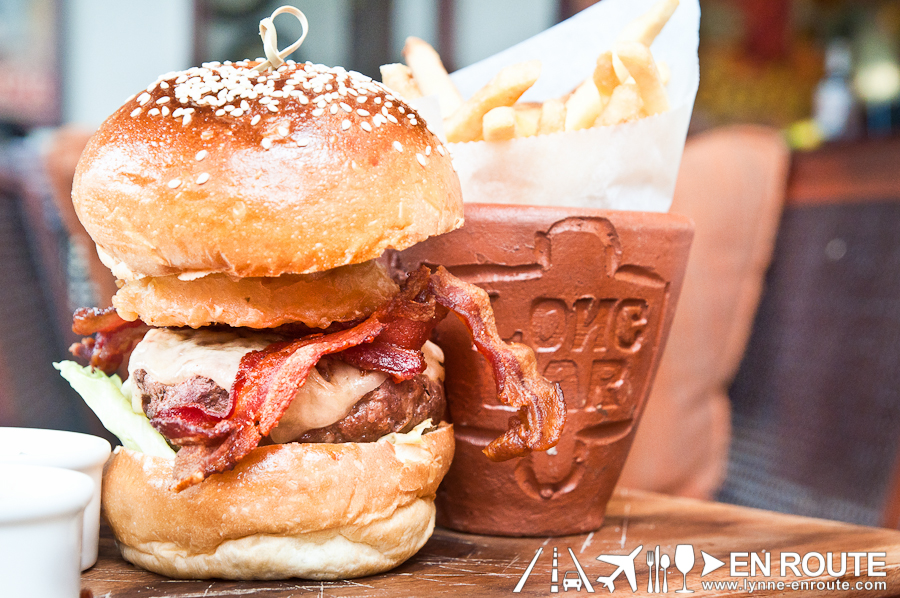 This may be one of the thicker burgers in the metro. Stuffed in some thick buns is a hunk of a sirloin patty, bacon, cheese, onion rings, and some lettuce and tomato (already buried by the weight of all the meat). Add a side of fries to this. The sight of this monster was a cause of celebration and the mandatory picture/Instagram post before it can be devoured. Speaking of devoured: It may take you the whole lunch time to finish this. Have someone help you in this challenge or you may be eating way into Happy Hour.
Main Courses:
The Long Bar Burger is actually listed as a main course. The size itself justifies it to be such. But for those that prefer a more fishy alternative, the Long Bar's Lapu-Lapu "A La Meuneire" (PHP 800.00).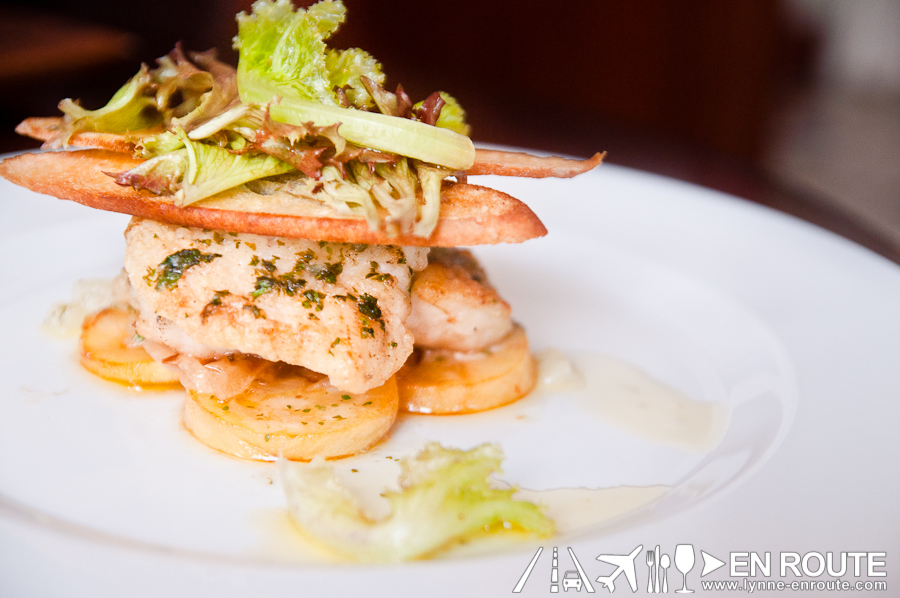 Meuneire is a form of preparation with a distinct sauce, and this is applied to the Lapu-Lapu common in Philippine classy dishes. You can also look into traditional Fish and Chips (PHP 500.00) or some Grilled Salmon (PHP 900.00)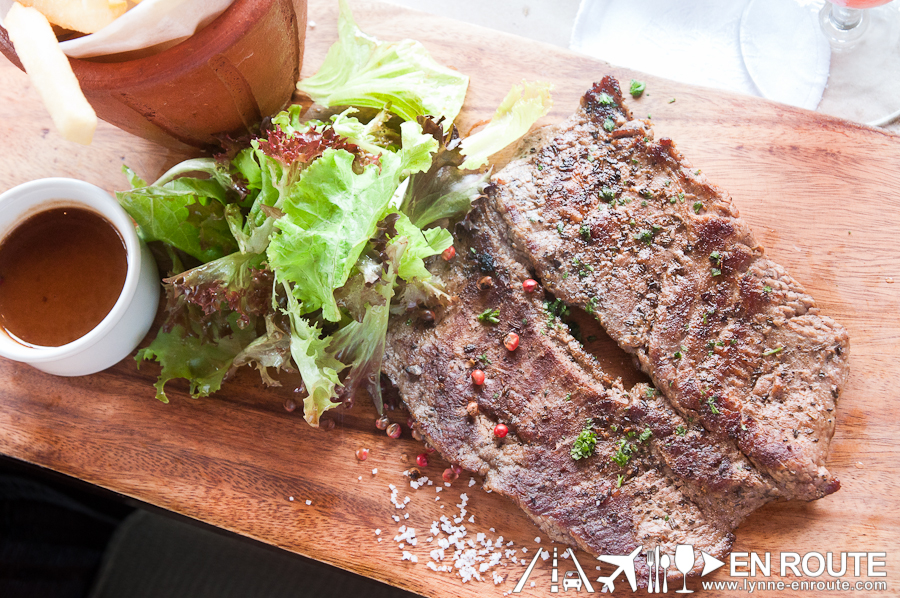 Steak lovers can choose the Steak and Frites (PHP 900.00) made from wagyu flank steak and with a side of fries. Since this is a flank steak, don't expect rib-eye marbling rainbow of flavors. That Long Bar Burger may provide your meat fix for your power lunch.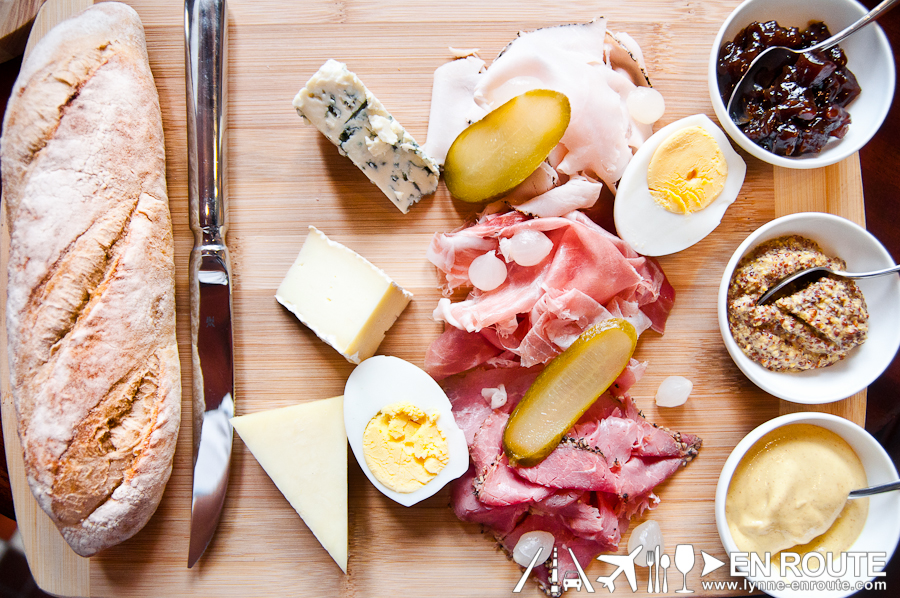 And for the more slow and distinct diner among your group of power lunchers, Ploughman's Pltter (PHP 1000.00) of blue cheese, gruyere, brie, pork ham, beef pastrami and turkey pastrami with a side of bread is screaming lunch sophistication (or maybe screaming cheese and charcuterie love)
Still have room for desserts?
Desserts (PHP 300.00 each):
 Sweet endings are very much welcome for power lunches at the Long Bar. Take your pick:
Warm Apple Crumble with Vanilla Ice Cream (pretty good)
Mango and Coconut Trifle (Gotta Loooove Philippine Mangoes)
Bread and Butter Pudding with English Toffee Ice Cream (Great pudding texture)
Or their bestseller: The Long Bar Cheesecake: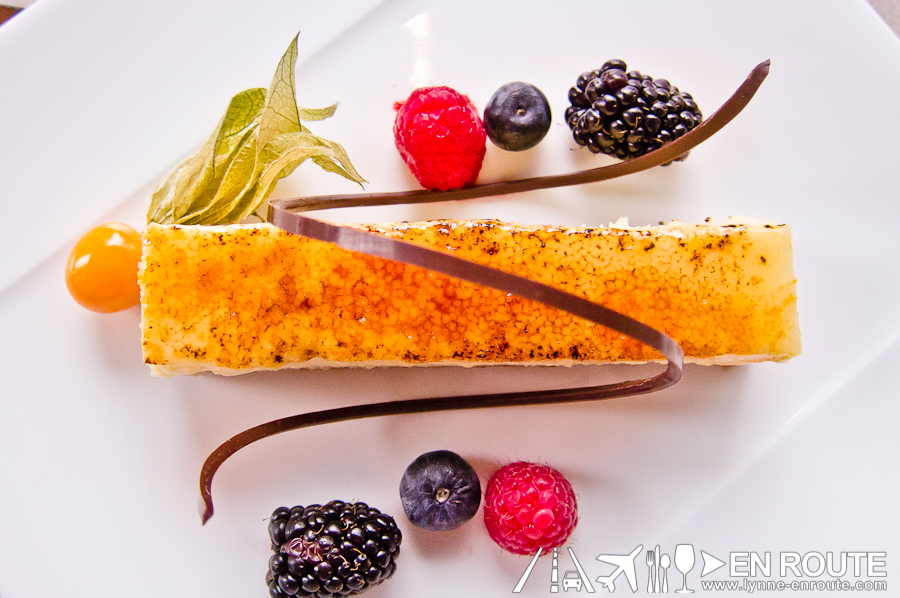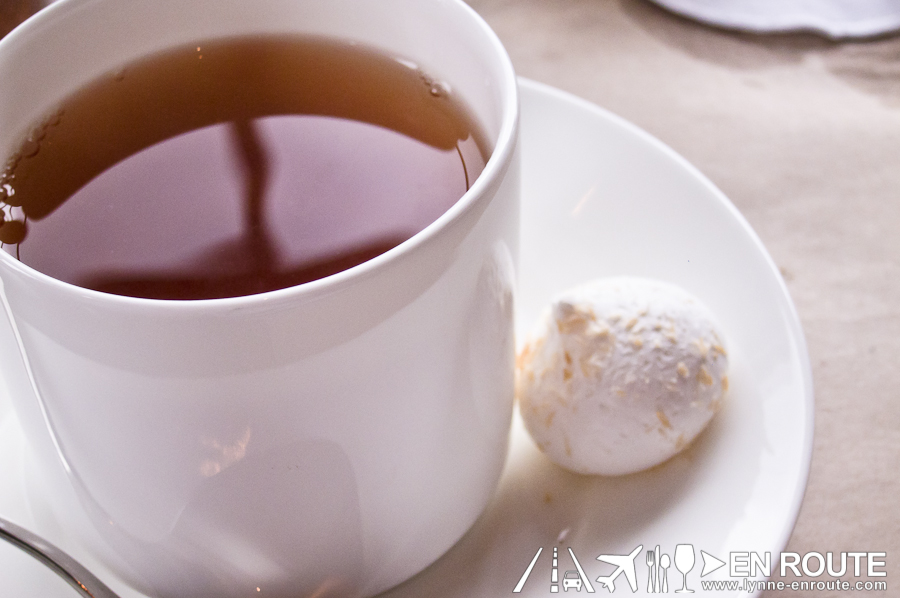 A pretty sight with the intricacies of molded chocolate partnered with fresh berries, you can't help but oggle at the artwork before deconstructing it with your fork. The taste? It's reminiscent of a thick and tarty leche flan. The crowd loved this with a spot of tea. Because by then, it was 3:00pm.

Past Power Lunch? Make it for Happy Hour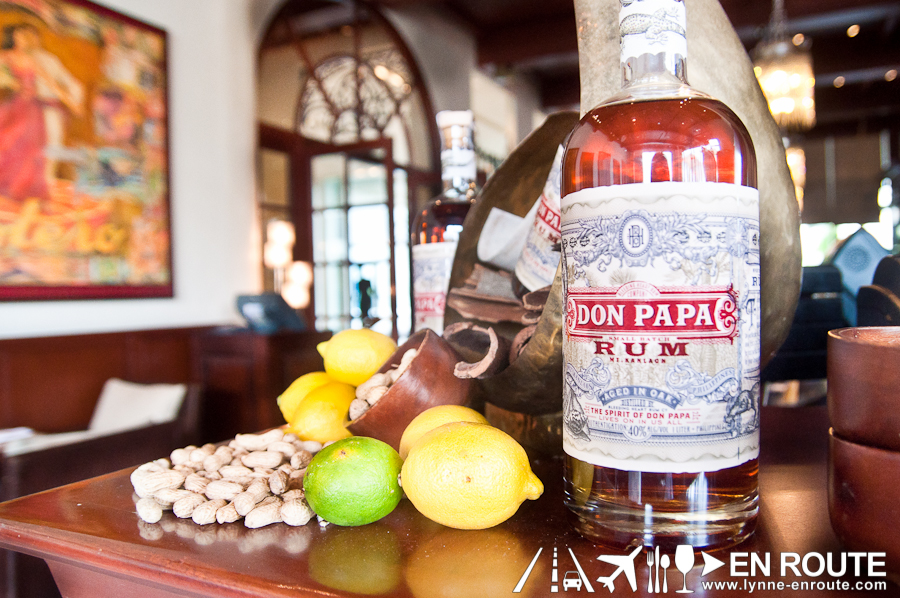 If you find yourself staying longer than expected, no one can blame you. Good, enriching conversations over tasty comfort food may make anyone forget the time to return to office (or that other option of using it as an excuse and say that you are entertaining and sealing the deal with a high rolling client). Then it is time for Happy Hour (Starts 5:00pm to 2:00am)
Happy Hour is like the dismissal bell for the working class, only this time, associated with a little booze and some bar chows to end the day. In the Long Bar, you can find yourself gorging down on some delicious morsels to go with your beer.
Or that ever famous Singapore Sling: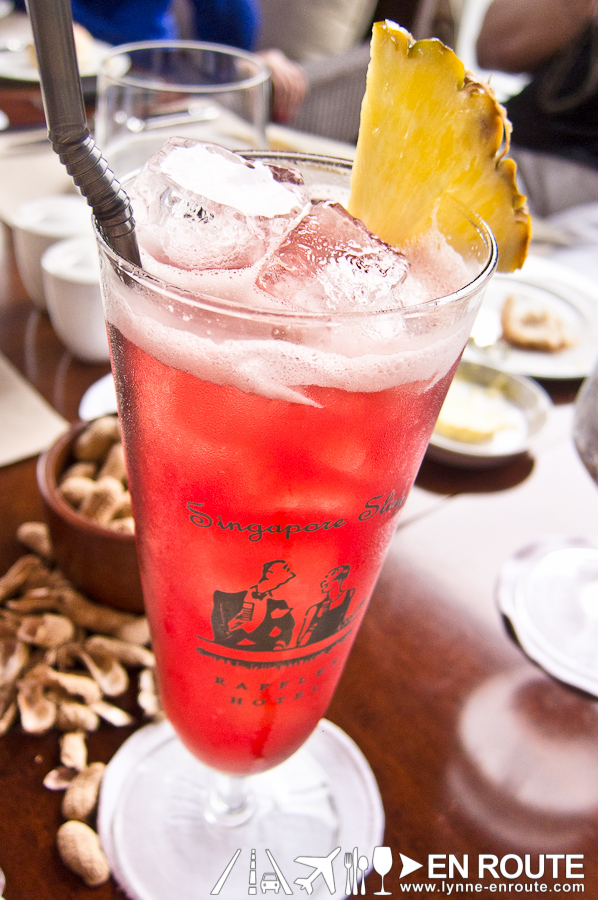 Invented in Singapore and in the hallowed halls of the original Long Bar, this cocktail is mixed with grenadine, gin, sour mix, cherry brandy, and a splash of club soda. Fortunately for the Filipino heavy drinking market, the Singapore Sling here packs a bigger punch than the one in Singapore, as they probably are afraid that the patrons might start dropping dead like irresponsible teenagers who can't hold their liquor all plastered up in The Zouk.
You can also opt for the local version: Makati Luxury Sling (PHP 850.00) . With gold flakes topping a mixture of mango, gin, and a froth of egg white angostura bitters, sip this one with a little more finesse. It takes quite a while to appreciate the subtle flavors of this concoction.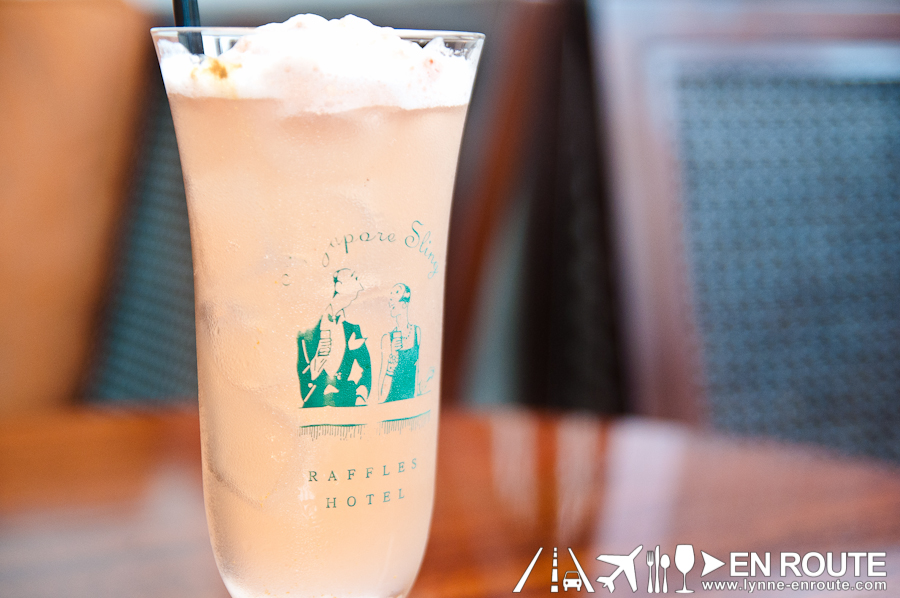 The ladies of the corporate world may opt for some martinis, or Long Bar's alteration of the cosmopolitan, turning it into a Guava Cosmo: a cocktail more suited for the Filipina femme fatale.
And the manly counterpart? A fivespice ginger fizz cocktail with strong notes of the main ginger component, balanced well for a refreshing finish.
Or you can opt for the traditional Old Fashioned.
Bar chows to go with your cocktail may be one of the selection of Tarte Flambe (PHP 350.00)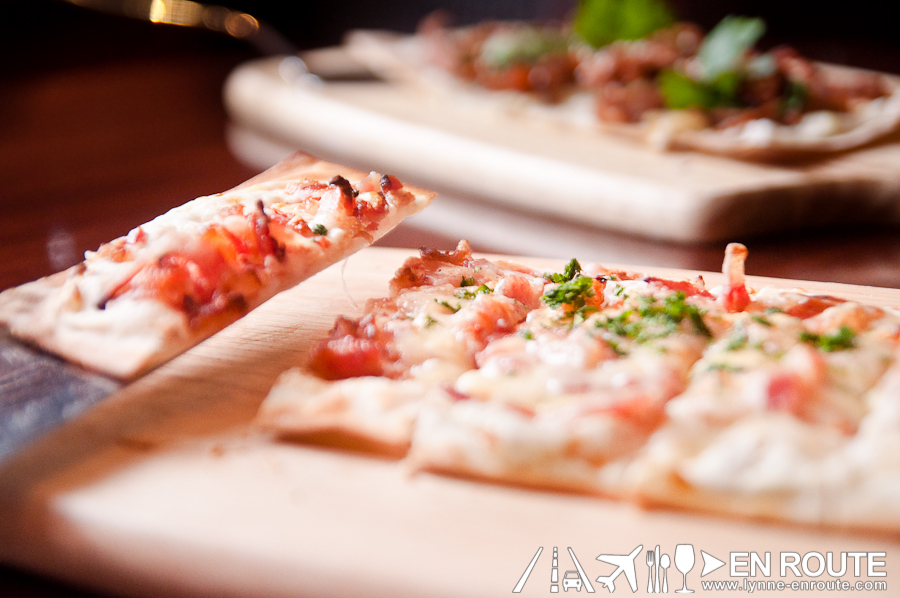 There are quite a few to choose from, but ones that will make a good impression in the palate would be the Smoked Salmon, Peking Duck, and the good ol' fashioned Bacon and Onion. Savory tasty meals after a long day at work just makes it all worth it.
Enter any time of the business day, and The Long Bar of Raffles and Fairmont Makati will have something to suit that corporate requirement for great comfort food and refreshing drinks to end the day. Business now, can be a form of pleasure.
Related Posts:
 The Long Bar is located at the ground floor of the Raffles / Fairmont Hotel in Makati City, Philippines.
Hours of Operation: All-day ala carte is from 12:00 p.m. – 2:00 a.m. daily

Entertainment
8:00 p.m. – 11:00 p.m. Monday to Thursday
8:00 p.m. – 2:00 a.m. Friday to Sunday
Dress Code
Casual Chic
Reservations
Please call our Restaurant Reservations at +632-555-9840
Comment on this and Share it on Facebook!
comments
Powered by Facebook Comments