For those who frequent the Salcedo Weekend Market in Makati, there is a high chance that you would have come across the Hillside Ranch brand of Roasted Beef Belly and Corned Beef. These are succulent chunks of bovine that have been sacrificed for the ever demanding consuming public.
An invite for a taste test of these Hillside Ranch beauties was held at Trellis in Makati City. Apparently, the purveyors of Hillside Ranch are relatives/ descendants of the institution that is Trellis.
Little Known Fact: Trellis is one of the first restaurants that introduced the world renowned sisig to Metro Manila. Heck, they may even be the very first one to have done so at a broad scale!
The roasted beef belly was a definite winner with the group. With the fat just oozing in between fibers of beef and seasoning, the slowly cooked to tenderness roast beef was marvelous as a filling to sandwiches. It is also great alone, drizzled with gravy.
Tip: Want an awesome variation of this? Cut a slice about ¾ of an inch thick, then sear both sides like you would sear a steak. It was a stroke of genius.
As for the corned beef, you will feel at home to the familiar taste you have come to know as a child, but this time in larger chunks and less commercial preservatives. Most Filipinos would probably know corned beef as a hash mixed with diced potatoes and onions, but you can enjoy this with some sliced cabbage, baby potatoes, carrots, and string beans.
Also, slices of these corned beef brisket make for a tasty reuben sandwich! This was demonstrated also in the taste test. Gotta find a good source of sauerkraut. Treffpunkt in EDSA, perhaps?
In the kindness of their hearts, some sample products were given for a taste test at home. The idea with the vacuum sealed packs is that you have an almost ready-to-use product of Hillside Ranch Roast Belly or Corned Beef to spice up your home meals. It comes with heating instructions and some suggested serving methods. How cool is that?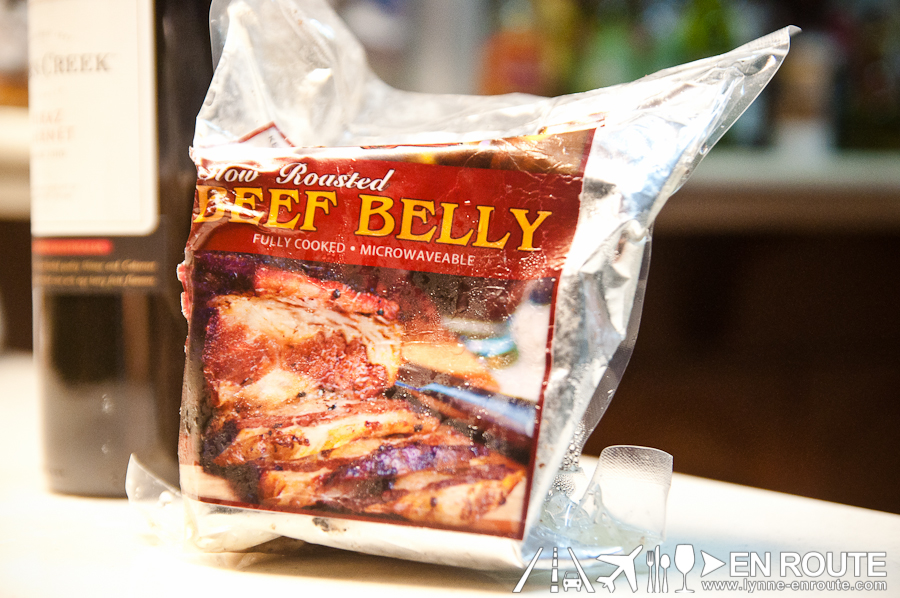 So now, off to the En Route home laboratories….
Now, the usual end products at home are experimental cocktails named "Ang Ninong" or that badly named Coco-Coffee-Choco-Martini-With-Stick-O, but once in a blue moon, some blockbuster hits come out…
Like some Jack Daniels sauced Baby Back Ribs. Yeah, yeah… still based on alcohol. Moving on….
First off, the roasted beef belly….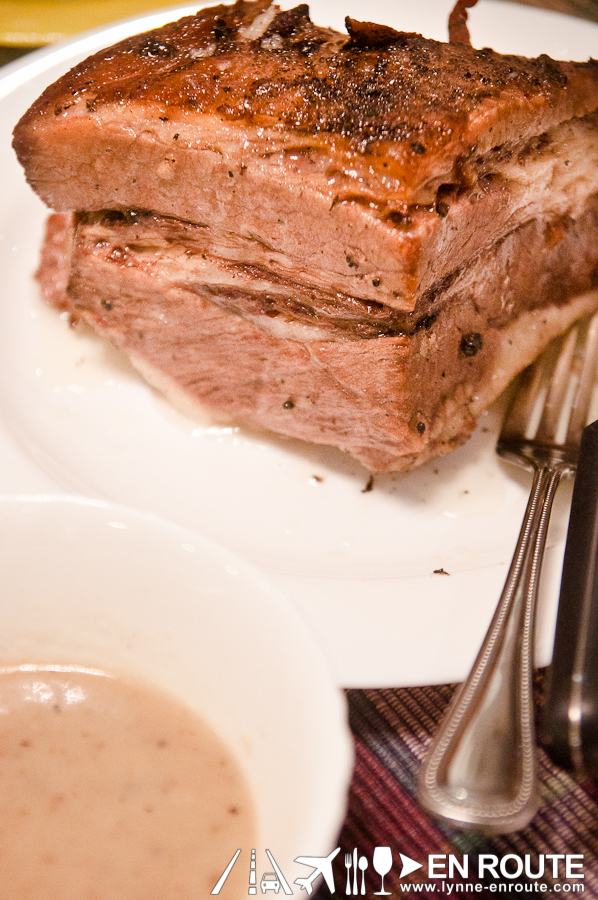 Not sure if it was executed correctly, but we were not able to replicate the oozing tenderness of the sample chunk. Still soft, but not near the hot-knife-through-butter soft as before. It could have been that the temperature during our heating was not enough to break down the fat, or that some steam escaped the foil when it was heating up in the oven, or it required longer heating. It was still very tasty, though.
One note for this: Make more gravy.
For the corned beef, there were these recipes researched off the internet that seemed very similar to an old comfort food for rainy days. A clear stew of chunky potatoes, cabbage and beef…
…what is also known as nilaga.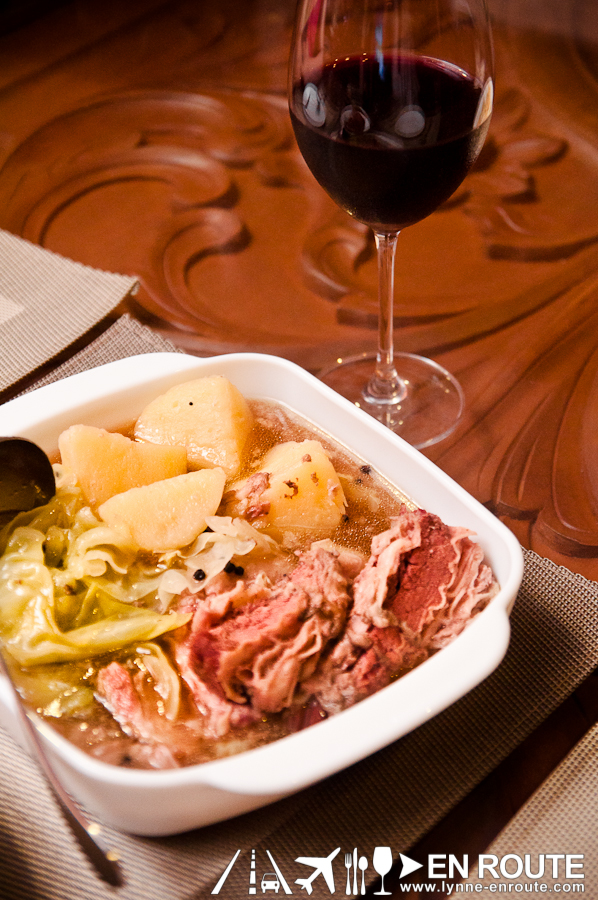 .
So instead of using regular beef chunks, the corned beef was used. To make sure the fat doesn't get wasted by boiling it too long into the stew, the corned beef was only added midway into the cooking process. Oh, and some whole peppercorn for the bite to enhance the savory flavors. Lastly, cabbage added just before serving to keep the crunchy texture of the leaves.
The result? One of the tastiest stews now juiced up with classy chunks of corned beef. This recipe will get you in the good side of your guests, with the comforting taste of a piping hot soup made from beef stock, then made tastier by the corned beef, and complemented by potatoes that have absorbed the spice of the pepper, and crunchiness of cabbage. It feels like an old Swiss homemade recipe thanks for the corned beef.
What else can be done? How about an Irish Macaroni with Beer Sauce and Corned Beef? Did this a few times. That corned beef added a good dimension to balance the flavor of three kinds of cheeses. Oh yes!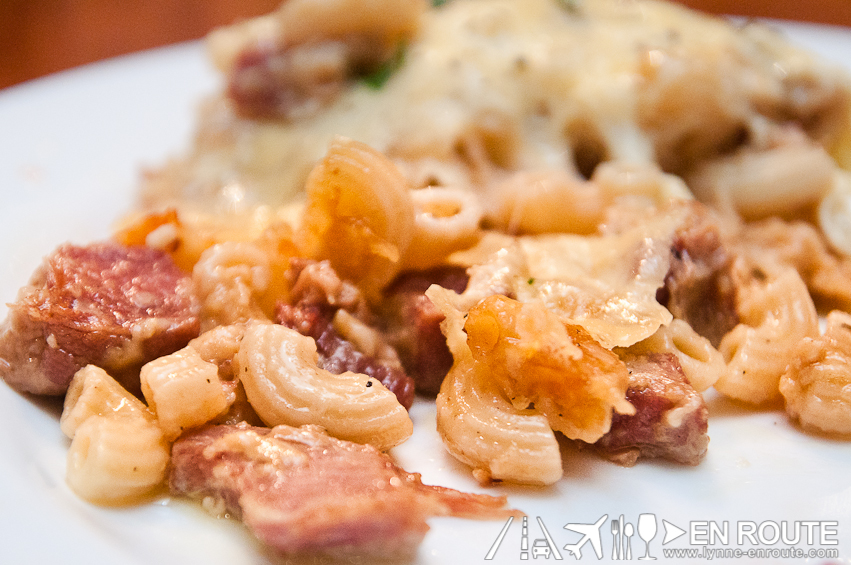 When you head to Salcedo Weekend Market, find these, along with other favorites like Ministry of Mushrooms, and Mr. Delicious' Apple Smoked Bacon (oh he's got wagyu corned beef chunks also. These one recommended not as part of a stew, but as reuben sandwich. That wagyu marbling will shine in the bun.)
---
Roast Belly Prices:
225 grams – PHP 220.00
650 grams – PHP 550.00
Corned Beef Brisket Prices:
225 grams – PHP 220.00
650 grams – PHP 550.00
Pick-up points:
Trellis in Quezon City:
#40 Matalino St. cor. Kalayaan Avenue, Diliman, Quezon City, Philippines
Trellis in Makati:
G/F, Telecom Building, H.V. Dela Costa St., Salcedo Village, Makati City, Philippines
Valle Verde 5 Convenience Store, Pasig City, Philippines
Essel Supermarket, San Fernando, Pampanga, Philippines
For inquiries on Hillside Ranch, you can contact the following numbers:
+63917-531-9351 / +63917-530-1251
Comment on this and Share it on Facebook!
comments
Powered by Facebook Comments