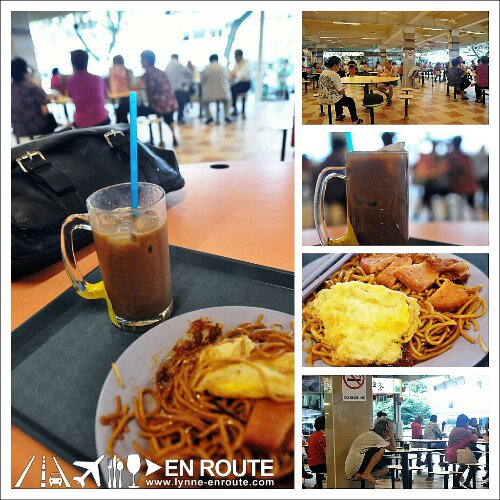 Ray:
Come to where the flavor is. Come to the Singapore Hawker Centers.
Used to be scattered along the streets at evening, those moonlighting hawker cart days are long gone replaced with centers under strict hygiene controls. And the variety here is great! There are some that are more popular such as the Maxwel Food Center that houses the Bourdain made famous Tian-Tian Hainanese Chicken Rice shack, but any hawker center is worth trying.
This one here is the nearest from Studio M Hotel. Not a very big one, and some don't open until lunch. It even has its resident crazy old lady yelling around and daring to smoke in an attempt to regain sanity. Poor lady. It must be, as my friend put it, the heat and humidity.
Breakfast in these hawker centers are mainly congee or noodle soup, topped with toppings of your choice. Or why not try some stir-fried noodles with spam, kikiam, deep fried egg, and slathered with chili? Portion is big and you can make it last the whole day, and costs only 3 SGD. Iced coffee is 1 SGD. Great bargain.
Never miss a chance to try one hawker stand. This is very much a large component that make Singapore the special place that it is.
Comment on this and Share it on Facebook!
comments
Powered by Facebook Comments