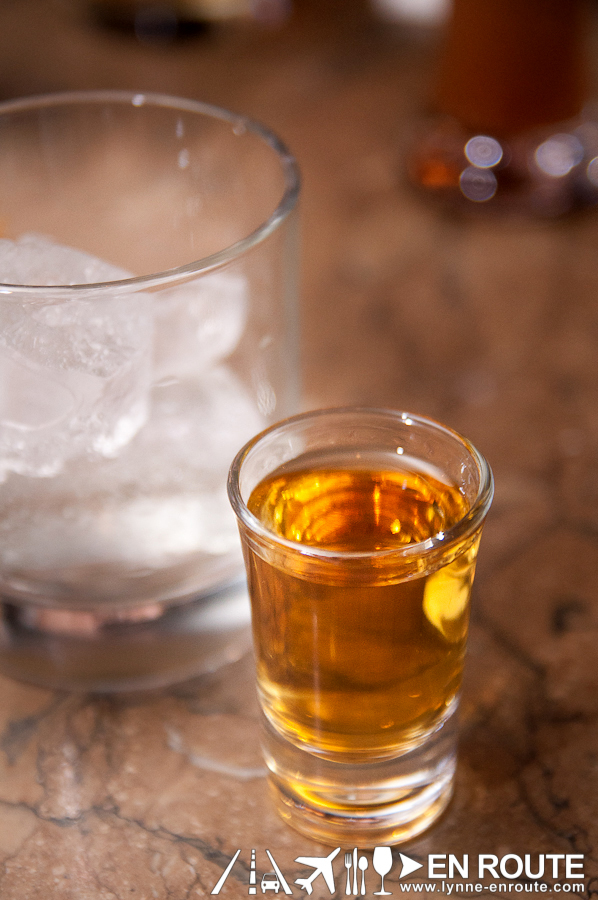 The first visit to Dillingers 1903 in Makati City were due to a tip that it has some great value-for-money ribeye steaks, more authentic tasting buffalo wings, and a single-malt whisky selection that boasts more than the usual Johnnie Walker (Laprhoaig, anyone?). It did satisfy, and gave some new ideas about the less traveled path of whisky pairing for food.
Now, Dillingers seems to have made a revamp of the menu, and there are additions from what appears to be a refinement over the past three years that Dillingers has stood in its corner as a fusion of an American restaurant and British Pub, creating an American style pub.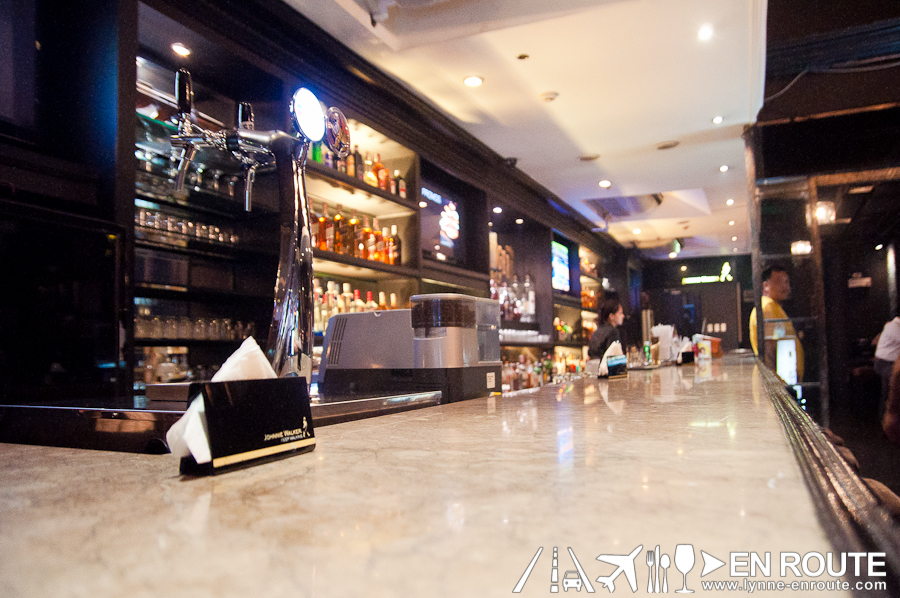 What is an American Pub anyway? A pub crawl around London gave some ideas on this landmark of an institution integral to the lives of many Englishmen. Of course with migration into the Land of the Free, most of these ideas have probably crossed the Atlantic, assimilated into the Yankee culture and forever expanded the global gastronomy scene.
Maybe these items can give an idea:
Clam chowder (PHP 295.00)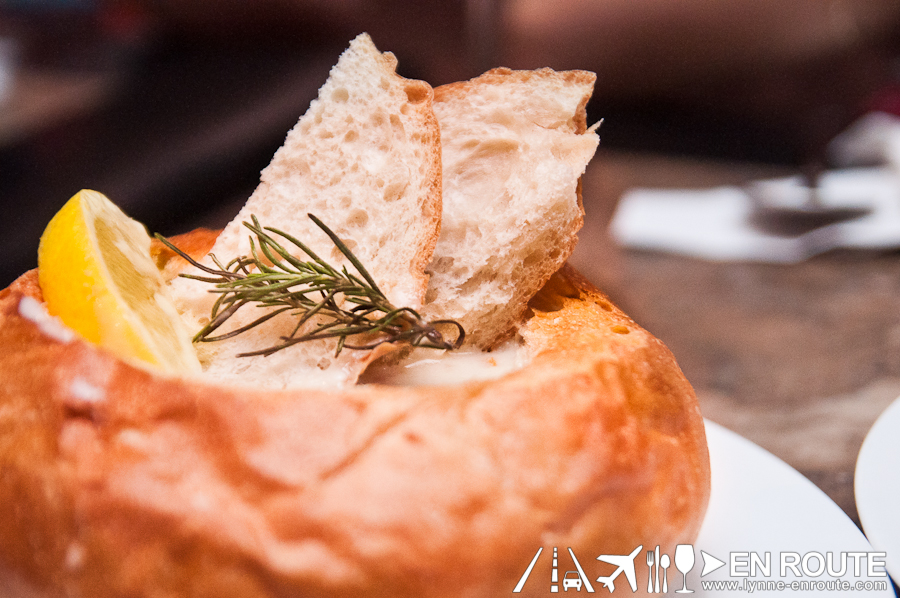 Strangely, a few research suggests that clam chowder is very much an American dish. This one, poured in a big bread carved from the inside like a jack-o-lantern and finished off with a stalk of rosemary is warm, hearty goodness.
Finish off the soup and tear off that bread as the soup level goes down. One complete meal in itself.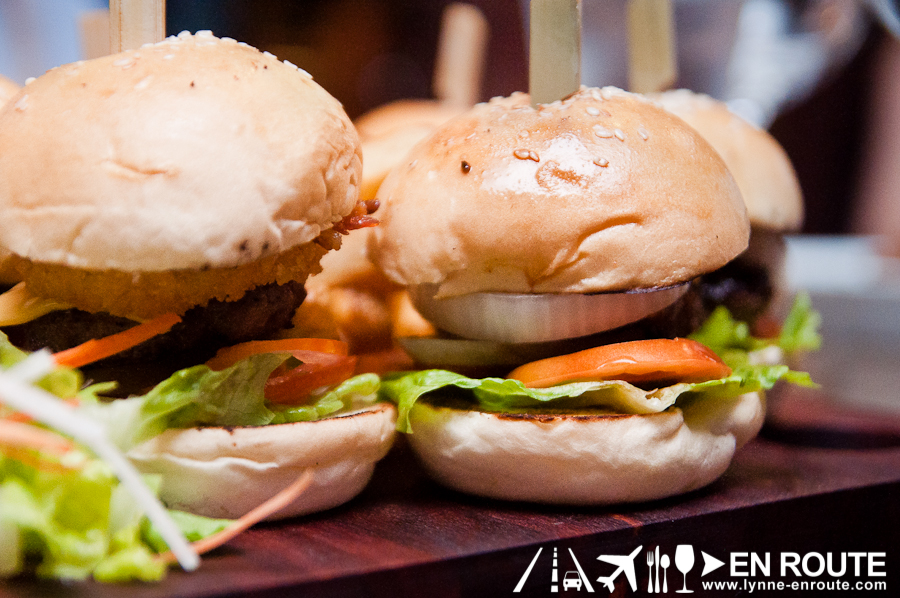 What's another American acknowledged food? Burgers. Dillingers has burger bites, with a traditional burger, bacon cheeseburger, and a western version of the bacon cheeseburger, adding some onion rings and barbecue sauce into the mix. It's not rock-your-world type of burger, but more of an integral bar chow to add to your night of merrymaking.
And what else should be part of those merry moments? That famous Dillingers Buffalo Wings (PHP 265.00)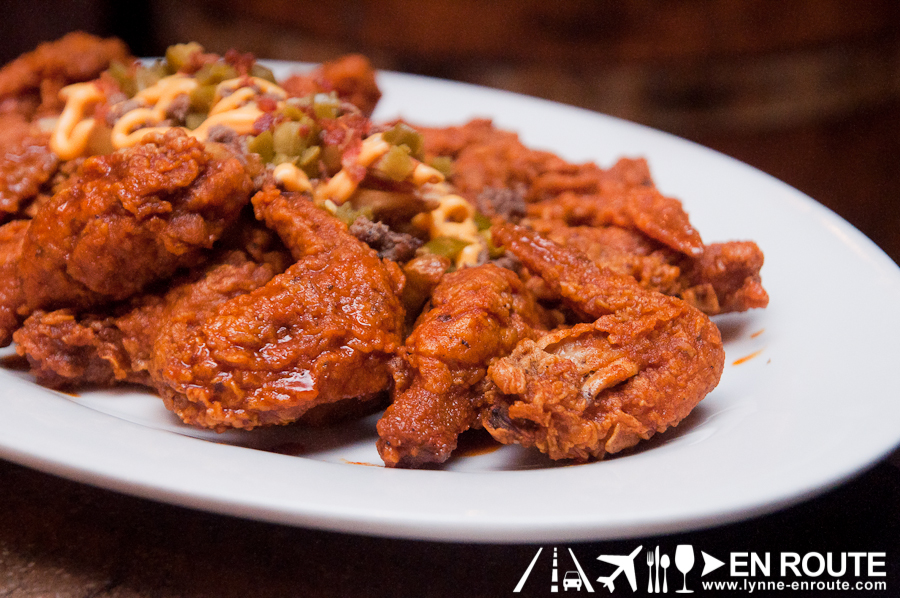 The authentic taste seems to be catching on, with people becoming more aware and discerning this side of the metropolis.
One thing they added now is an option to put some cheese on top to nullify the sourly-sweet taste associated with sauce normally coated on buffalo wings. And you know what? It works. I mean, who doesn't love melted cheese?
And who wouldn't also love to see a big-ass Tomahawk steak (PHP 2,995.00. Order at least a day in advance)
42 oz (about 1.2 kilograms) worth of bone-in ribeye steak, just in case the standard steak in their menu doesn't seem to satisfy your carnal cravings. Have it cooked to the doneness you like.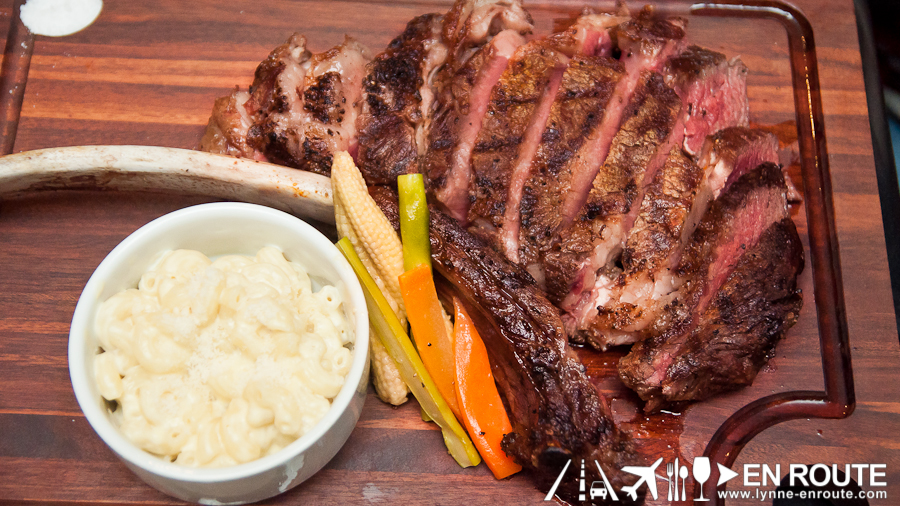 If you want to take on this all by your lonesome, please give all  of us a call.
Note that the close you get to the bone, the rarer the steak gets. Its an inherent thing as the bone absorbs most of the heat when a steak is cooked. But the real steak lovers wouldn't want it any other way than a hot-pink center that signifies it is cooked medium rare, slightly scorched on the surface for that delectable charred crust character.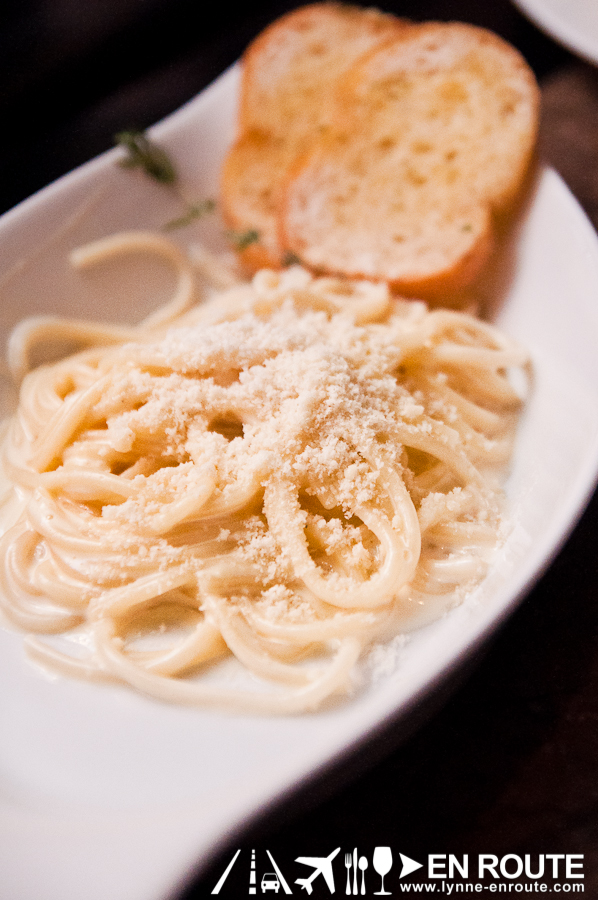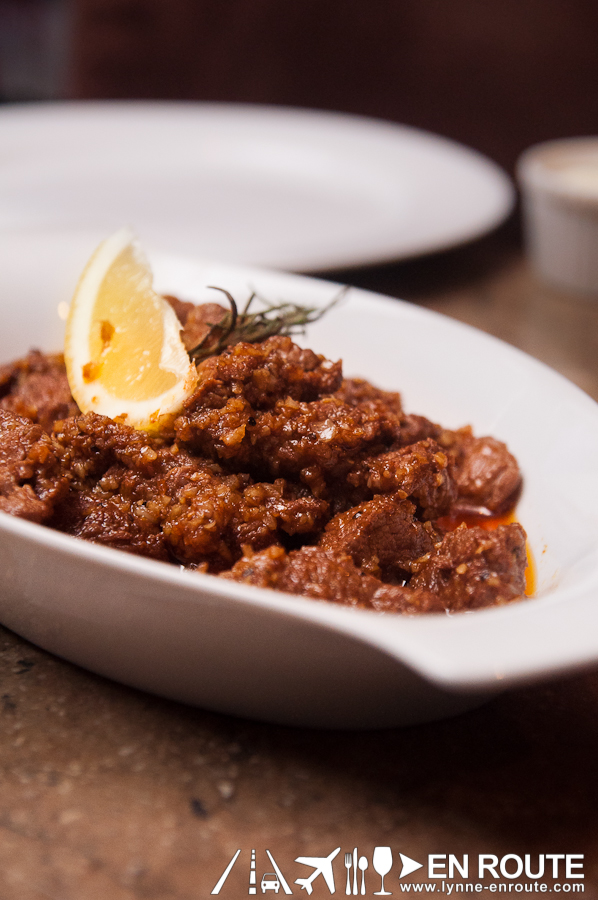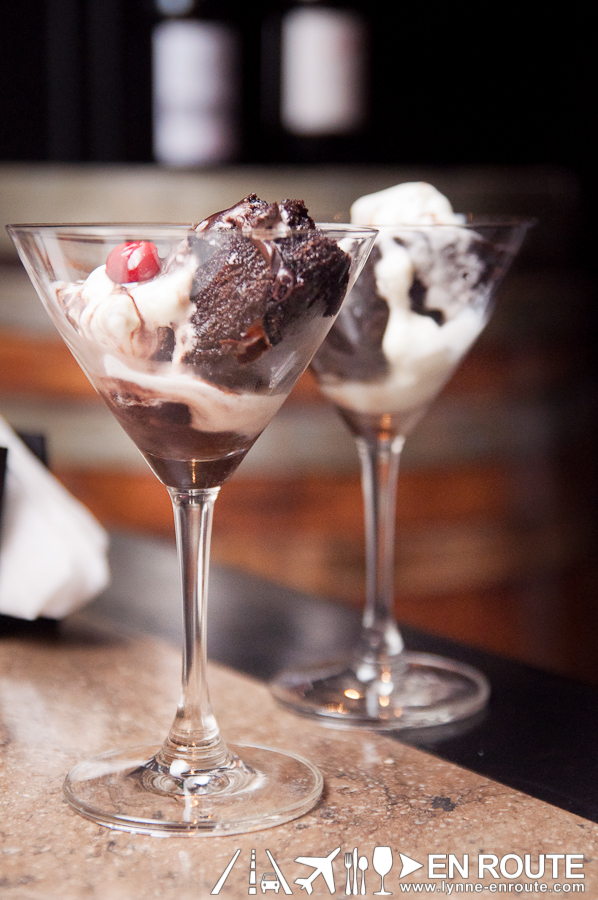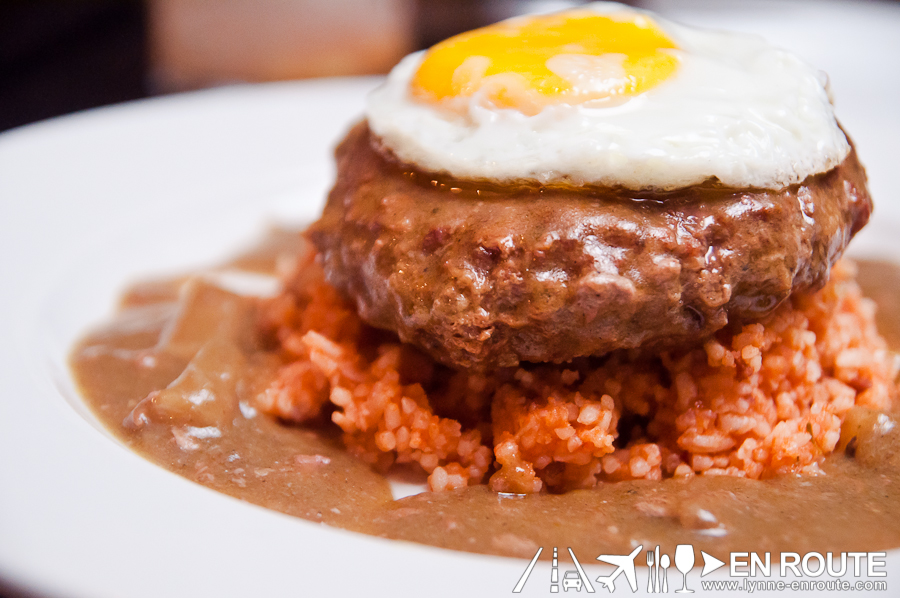 More stuff abound like Truffle pasta (very reminiscent of Poco Deli), salpicao, Dillingers' version of Loco Moco (A Hawaiian inspired dish) and a brownie 'ala mode' served in sassy martini glasses to give a sweet ending to a salty, sour, creamy, umami, beefy ordeal (That is, if you still had room for sweets).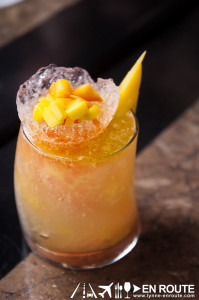 Oh, what about the whisky? They still have it, but now bolstered up with some signature cocktails thanks to their award winning bartender Allan King Roxas (See now why we need to recognize bartenders as celebrities? Cocktail recipes won't be pushed to higher levels of sophistication without them). Try what he has original made for Dillingers….
…. Or, better yet: Pay him a visit in his little secret stable inside Dillingers: Prohibition Liquor Lounge.
Dillingers 1903 is located at at the 3rd Level, Greenbelt 3, Paseo de Roxas cor. Legaspi St., Ayala Center, Makati, Philippines
Tel. Nos.: +632-621-6790
Operating Hours
Monday to Sunday 11:00am to 4:00am
Comment on this and Share it on Facebook!
comments
Powered by Facebook Comments