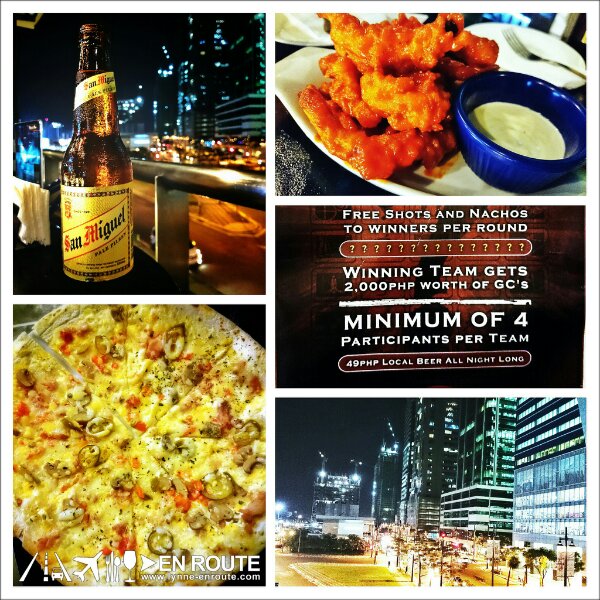 Just came from Skinny Mike's Sports Bar in Fort Bonifacio.
Traffic has not really been favorable today (Heard tragic news of a bus that lost brakes and plowed through waiting pedestrians this morning. Very heartbreaking) and since it was not productive to be part of the rat pack on the road, it was better to get some respite.
Besides, with a view like Skinny Mike's third floor, you would really want to stop by for a few rounds.
Been hearing about Skinny Mike's from a lot of peers, and sports bar chow is what the psychotherapist ordered to calm the nerves. That and copious amounts of beer (So yes, it's obvious that the male counterpart is the one writing this)
The great thing about the bar chow here is that they are creative takes on some classics. There are buffalo wings, but one thing that was attention grabbing was buffalo shrimps. Now why hasn't anyone thought of that?
It is like boneless chicken tenders, using a tasty meat from the sea. The skin is still on, but you eat it that way (suddenly remembered those cereal prawns from No Signboard Restaurant and the slob I became while eating it.). Just for this, I would return here.
Lynne, on the other hand, said she would return for that open faced chicken quesadilla. Well basically it looked like a flat bread, but that melted cheese and jalapeño… Oh so good.
Thursday is apparently Quiz Night at Skinny Mikes, and the prizes aren't too shabby. Hmmm… Wonder if team Ketlogs of 121 Grill infamy would want some buffalo shrimps?
Skinny Mike's is located at 32nd St. cor. Justice Drive, Fort Bonifacio Global City, Philippines
Tel. Nos. +632-551-18-53 all reservations are only booked under this number
Comment on this and Share it on Facebook!
comments
Powered by Facebook Comments