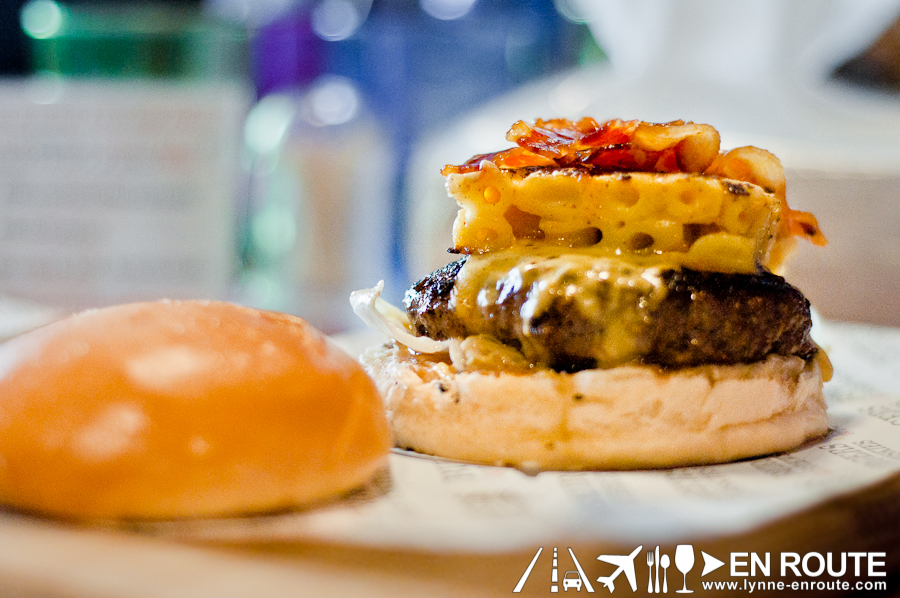 How does one begin describing a very simple thing such as a hamburger, yet convince everyone that what you are sharing may be one of the best damn burgers in Manila?
Maybe it is good to start that it is not found in the swanky places or five star hotels. Maybe it is good to say next that its environment is so inviting, that making yourself comfortable and assuring of what to get lends to making it taste even better? Maybe it is also good to say that the ones who made these burgers are not even chefs by profession, but just normal joes who took real effort in making sure every burger is a sure winner.
Maybe it is best to say that this is Burgers and Brewskies.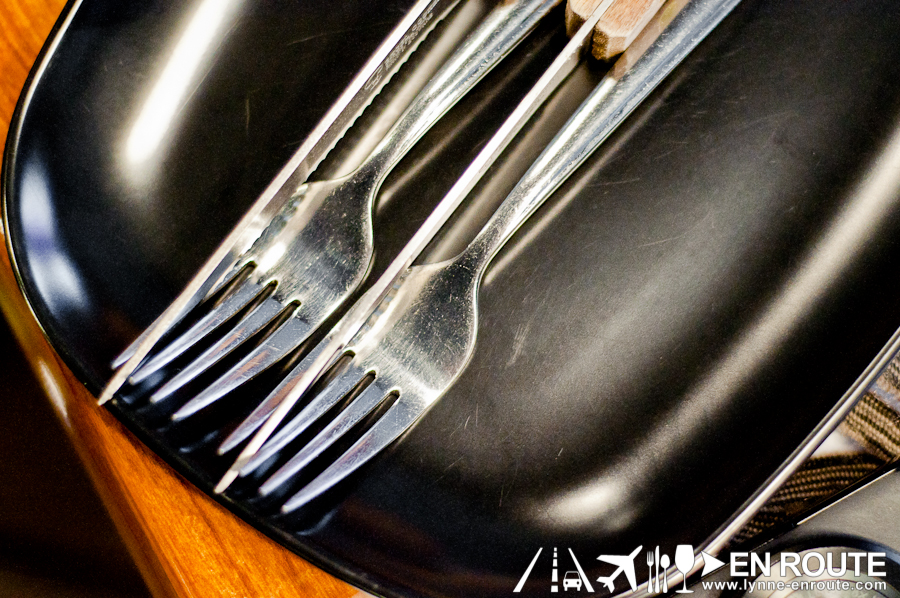 Even the name of the place itself lends to assumptions of casual evenings and "Hang Loose" vibes. And this is what it is all about. You sit down, make yourself comfortable, grab a few beers, and sink your teeth in straight up American comfort food, tweaked for the palate of the town that plays host to it.
One of the owners, who wished to bring the New York burger scene to Manila, developed with a few friends the recipes and its restaurant execution. Where else to get inspiration but the cultural boiling pot of the American east coast?
So let us begin with the brewskies (This is En Route, after all. Booze before everything else.)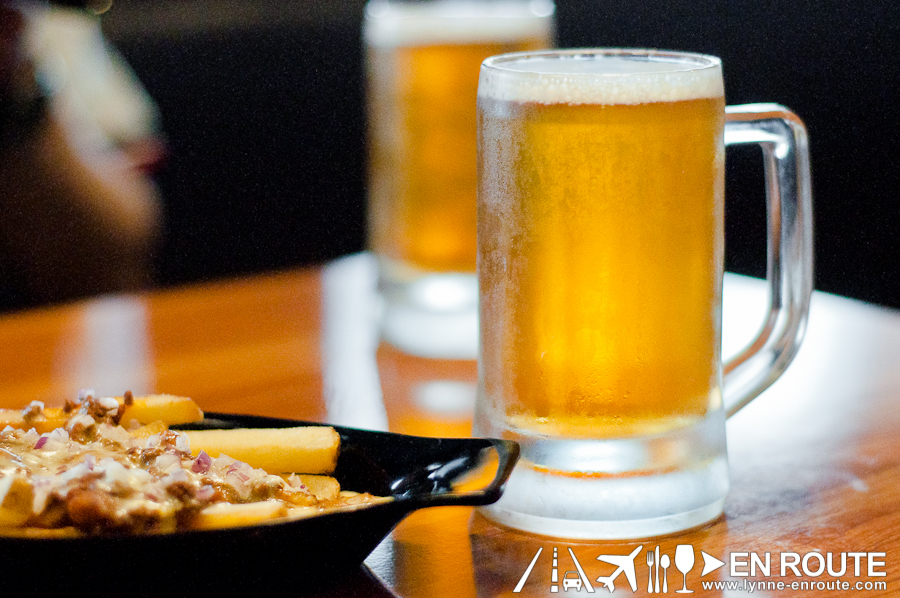 Burgers and Brewskies encourages you to try something more of the craft beer kind. So working with Global Beer Exchange, some of the easier drinking beers in the selection is brought in, like some Mount Macedon and the Road Trip from Holgate Brewery in Australia. Paulaner from Germany is also available, as is Hitachino White Ale from Japan and a respectable variety of Ballast Point brews from good ol' 'murica. You have to have great tasting beer. It is going to be paired with great burgers, after all.
But let's move on slowly across the menu first, beginning with starters: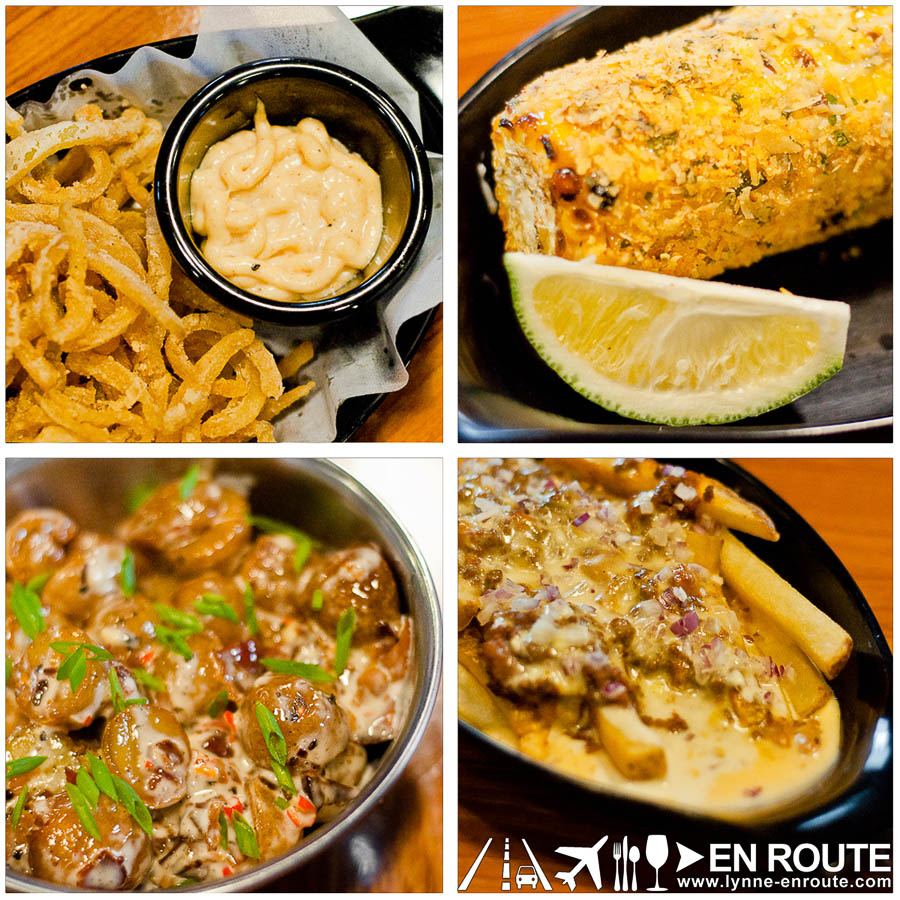 Onion Strings (PHP 95.00), Cuban Missile (PHP 130.00, a grilled corn with mayonnaise and shredded cheddar cheese), Kick-Ass Spuds (PHP 85.00, baby potatoes with mayonnaise and spicy green chili. MUST TRY), and Chili Cheese Fries (PHP 160.00, with cheese sauce and their special chili).
They know what American comfort food is all about. Cheesy goodness abound with these appetizers. But always, ALWAYS, get this: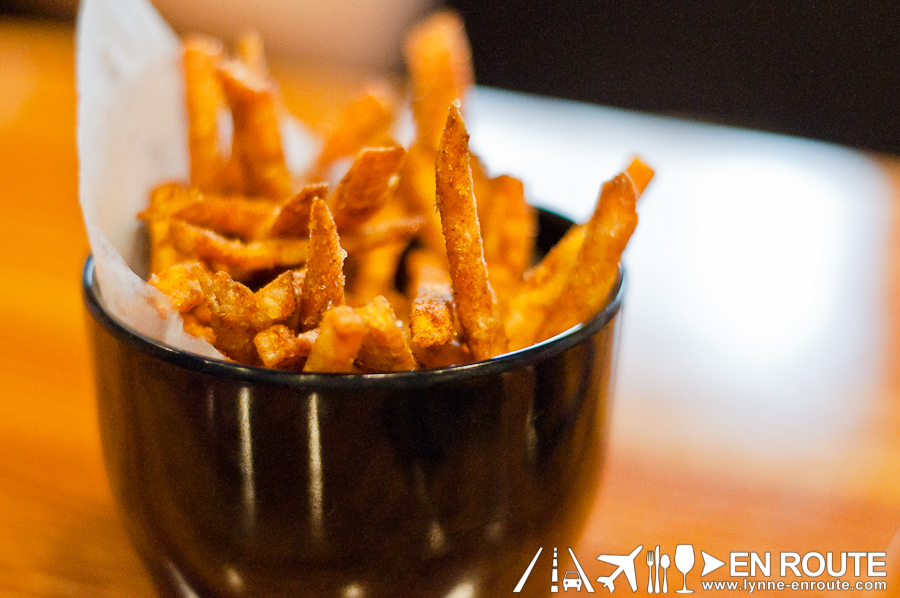 The S.P.F. (65.00). Strangely the cheapest of the starters, but one with the most addicting taste. Sweet potato, fried to a crisp, shaken with this special spice mix that the owner refuses to even disclose. It is held in such secret that he has to bring it every morning mixed into the shop. The play on sweet starchy taste and savory, umami flavors entices you to take a swig of victory from that craft beer you just ordered.
And burgers seem to uncannily marry well with wings: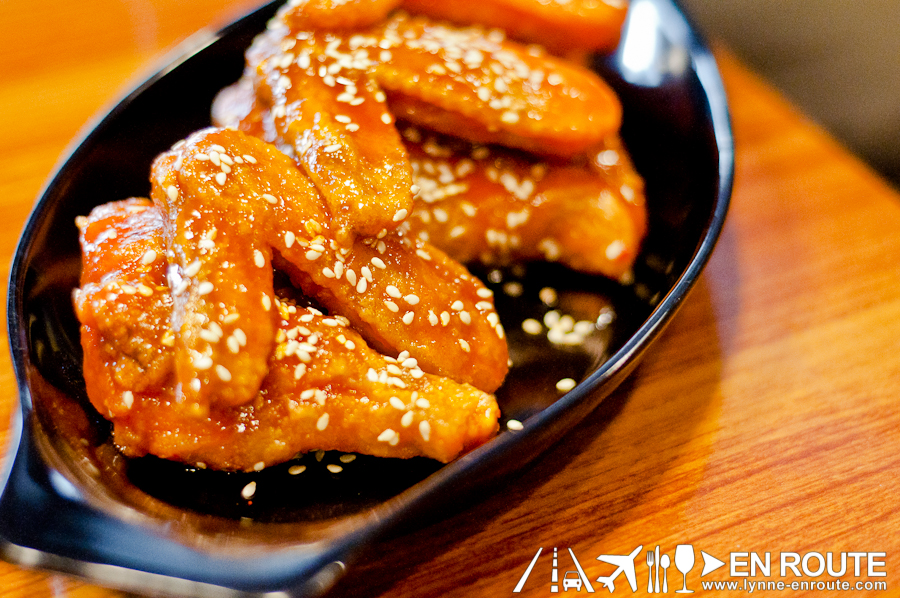 Now this one is more of a suit-you-fancy kind of thing. People like plain wings. People like wings with a bit of spicy vinegar. Some people like wings that seem to give them a taste of the fires of hell. So just pick one that fits your mood for the night. But that Thai Sweet Chili with Ginger and Cilantro is wildly popular, as well as a Sesame Sriracha.
Oh yes, this is about the burgers.
Take a moment to appreciate them in all their open-faced glory. The probable reason behind this plating is to give a better idea on what is placed on your burger. Blue Cheese Sauce with Jicama Celery Slaw and Bacon Vinaigrette? (A Heisenberg, PHP 250.00). What is a bacon vinaigrette? Who cares? Burgers and bacon go well together. Mustard Aioli, Secret Cheese Sauce, Roasted Tomatoes, and Fried Onion Strings? (A "Flipped" PHP 215.00). It sounds magical. There was a thought process that went through these creations.
But wait… Call the Nurse (PHP 280.00) ! There's Honey Cured Sriracha Candied Bacon and Mac-N'-Cheese on top of my burger!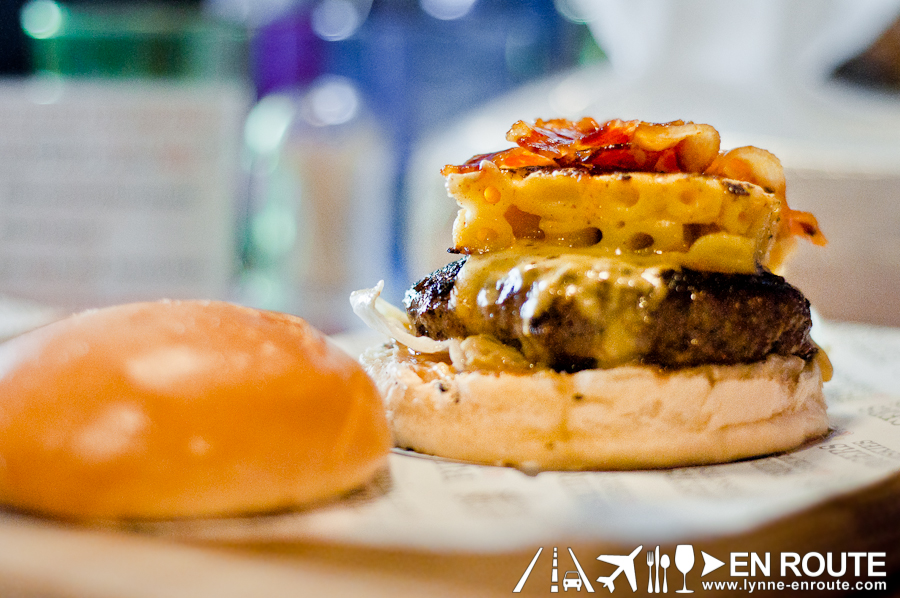 No wait, call the owner, so that I can shake his hand and revel in his genius.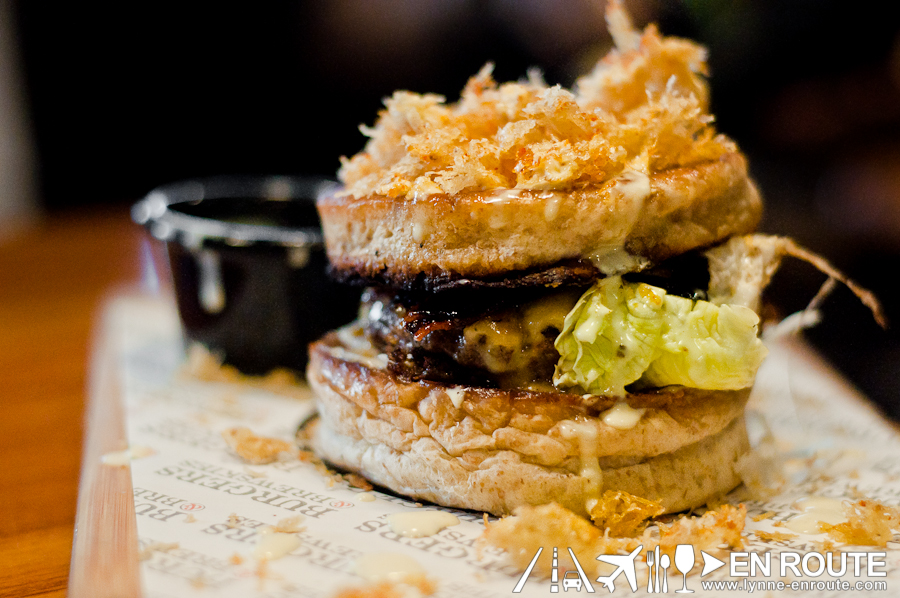 It doesn't stop there. A breakfast burger concept came out, where a sunny side up egg is meticulously jammed inside the bun, then topped with bite sized crispy hash-browns. So when you bite it, all the warm yolk oozes out to coat the seasoned beef patty. Why, they just made a burger that made drinking a beer in the morning highly justifiable!
It's called The Walk of Shame.
You know what's the great thing about this? They are open to ideas as well. Give the some ingredients that may work and the laboratory will see what can be done. I heard that Foie gras in a burger is wildly popular. Oh wait, was that an idea right there?
So in just a little over 800 words, this is what Burgers and Brewskies is all about. Burgers are simple, but describing damn good burgers needs more than that. Don't take our word for it, though. Head over and find your own litany of acclamation shoot through your head as you sink your teeth into those perfectly toasted and buttered buns holding together a medley of comforting, juicy, and beefy flavors.
Burgers and Brewskies is located at the Burgos Circle, Fort Bonifacio Global City, Philippines
(It used to be the old Dinelli diner. It was a bittersweet visit since Dinelli felt really special, but really glad that in its departure, something incredible took its place)
Open daily: Sunday-Thursday 11am-1130pm, Friday-Satruday 11am-2am
Comment on this and Share it on Facebook!
comments
Powered by Facebook Comments