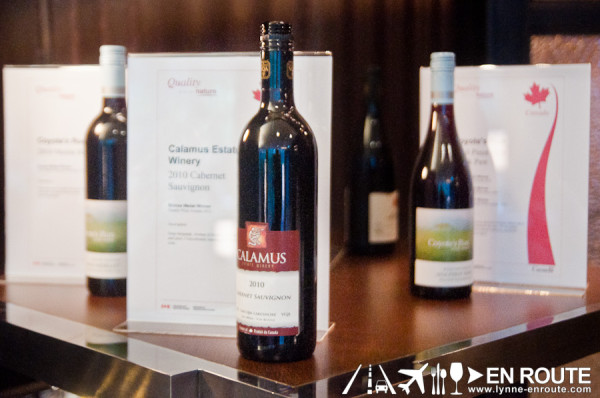 This is something that not a lot of people know about Canada: They apparently make great wine.
Most people know only of the famous Canadian Ice Wine, but being exposed to a few more of what they are able to produce in their side of the world offers insight on just how blessed this place is.
(Interesting tidbit about Ice Wine. They said the way Canadians produce it is that instead of freezing grapes artificially, they just select a few batches where the environment itself will freeze it for them. They said that freezing it artificially just to meet demand and charge higher for it would be cheating. Can you believe how earnest these people are? They will never cheat people out of their fine products!)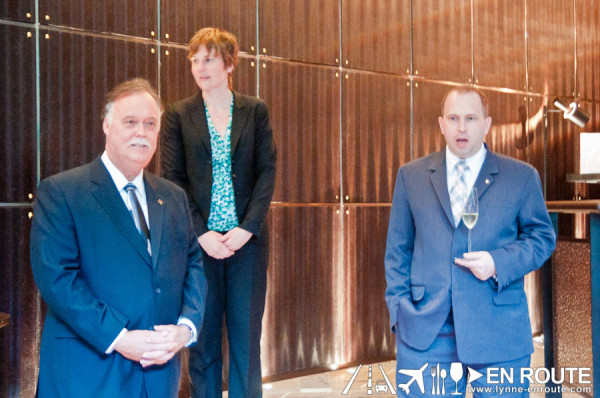 Ambassador of Canada to the Philippines Neil Reeder led a few distinguished guests in introducing a sample of what Canadian wine has to offer. It hails from a private collection that they have brought here. It is presumed that they, of course love their own.
Apparently, the world loves it, too. With a production doubling since 1995, Canadian wines have enjoyed steady growth from more developed neighbors like Hong Kong, Japan, and Singapore. There must be something special about the growing conditions in the British Columbia and Ontario regions of Canada. These are where most of the wine is grown for local consumption and for export.
The current sommelier of Makati Shangri-La, Daniel, Blaiss (whom we have fondly called "The Booze Boss" after a successful Martini on the Table event), is Canadian as well, so his knowledge of what might work well for the Filipino palate is worth hearing. And if he says that some of Canda's finest products are ready to be appreciated by the people of Manila, it must be true.
And it went oh-so well with some of the creative tapas specifically made for this event by Sage, Makati Shangri-La's newest dining concept.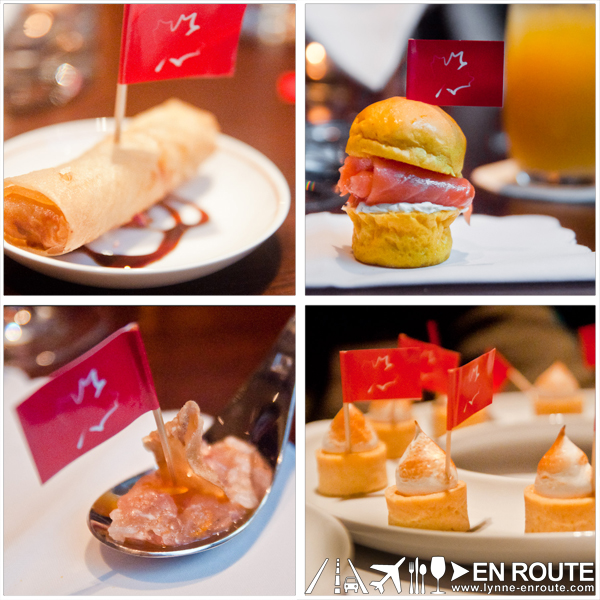 From a personal perspective, here are the top ones that have really shined during this event:
Henry of Pelham's Cuvee Catherine Brut:
This is a sparkling wine of distinct character. For a "brut", this one actually comes with a slightly sweeter note, fitting the palate of how Filipinos enjoy cool, bubbly beverages. This is a great way to begin an evening. Once those corks pop, you know it's time to let the good times roll.
Personally, this will add the right balance for the base of a French 75.
Henry of Pelham's 2011 Pinot Grigio:
A white wine, that, again, possesses those fruity and sweet flavor profiles that Filipinos will enjoy. On a hot, sunny day (which is pretty much all year round in the Philippines), having a glass/bottle/bottles of these stored for any given moment that you wish to have a rewarding sip is necessary. Goes well with salmon, too!
Lailey Vineyard 2010 Syrah:
Syrah (or shiraz) is normally known for having some spicy notes. It is not a wine for the novice of drinker. But when paired with heavy meats, the characters of this particular grave variety complement it. For those who love that little peppery touch when having a sumptuous meal, this wine will be a great companion whether you dine alone or with friends (Might actually try this with a crispy, juicy duck confit.)
These wines are not yet available in your local market, but they will be, soon. Do not be surprised if you see a new area of a local supermarket or wine depot dedicated to some of the wines from Canada. They won't, after all, sell you something that will not be worth your while.
Actually gives people enough reason to actually go to Canada and see the beauty of their country for themselves. This will be the next goal here in En Route.
Comment on this and Share it on Facebook!
comments
Powered by Facebook Comments