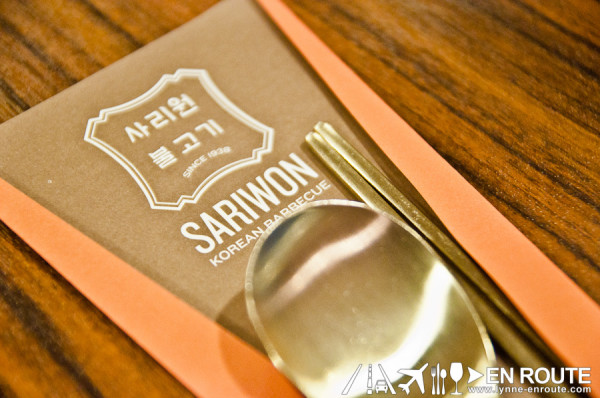 Yes. Sariwon, a Korean restaurant chain that has existed even before Korea was split into two, marinades their meat (particularly their bulgogi) mainly with fruits.
It started long ago with a wife who loved his diabetic husband so much that she figured that the best way to create that same sweetness without getting the complication for Korean grilled beef would be to use fruits as the sweetening portion for the marinade. Fruits such as apples and pears among other now secret ingredients were apparently perfect for beef marinade.
Little also did the kind wife realize that in today's world, science has discovered that the enzymes of fruits she had used had a contributing factor that made the meat extra tender. And it is this that Korea was taken by storm by the Sariwon recipe.
Now, it's not just Korea. Many cities around the world, including Manila, has embraced this… as much as they have embraced that part of having a great Korean feast would be to have a bottle of Soju (PHP 225.00) to share with friends.
Glass of soju at hand? Got your Banchan (Korean appetizers. Complimentary with every grill)? Good. Time to get that famous tender meat: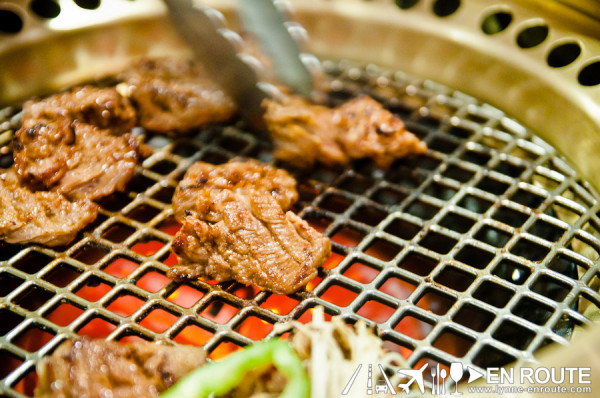 Beef Galbi (PHP 695.00) is close to 300 grams of tender beef marinated in those fruits with just the sufficient sugar. There is this distinct cut and score in them (diamond cut) which helps ensures the flavor and texture are not compromised. Result? An impulsive sensation to chug down your beverage of choice, while a freshly grilled beef right before your eyes gets wrapped again in an envelope of lettuce smothered in a spicy, savory sauce.
It's just the first wave, but that soju and Beef Galbi was a great way to start. Time to go through the other stuff in the menu. But before that, a second set of drinks, like a Sangria Soju (PHP 195.00). Sangria is very much a Spanish influence (check this out), but some non-Spanish restaurants have had it in their menu and adding their own twist (check this out, too.). This one uses Soju as its base liquor instead of brandy. You get something refreshing given Soju's more fruity and neutral character.
Forgot soup on the menu? Get one that, surprisingly, went well when topped on rice: Soondubu Chigae (PHP 300.00), a spicy soup with tofu. People can imagine this particular soup great for winter weather given its bite. Ironically, though, Filipinos have this thing for spicy soup and love this despite the heat of Manila. Oh, and washing it down with the sangria? What a pair.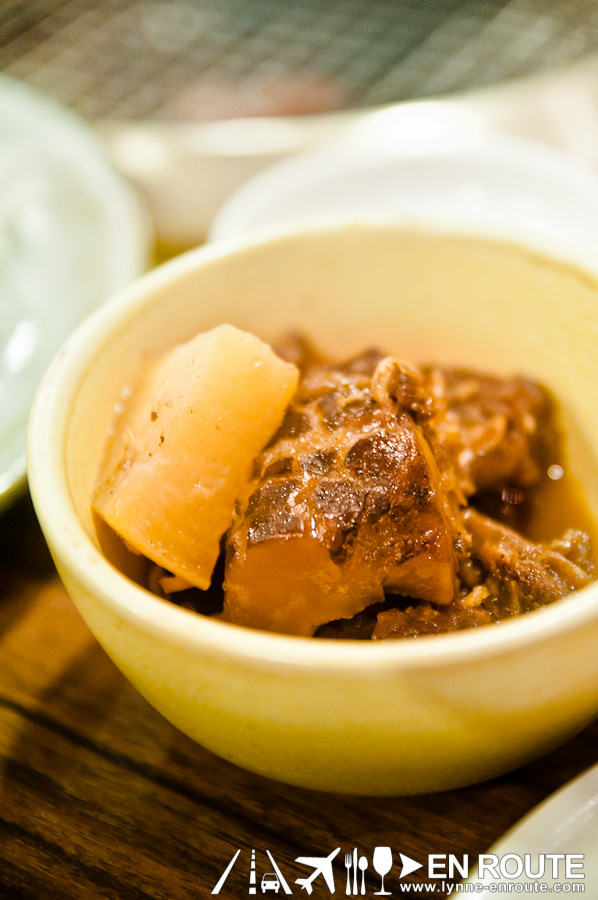 Too hot? Sweet and meaty Galbi jim (PHP 780.00) may be for you. Do not let the price make you think twice. There is TLC on this dish of slowly tenderized sweet-savory beef stew with potatoes. You may find certain characteristics of this dish similar to some of the local fares.
Every day goes by, and the tradition of the simple lady who had the idea of making Korean meat cured with the sweetness that comes from nature lingers on every time that slab of cured meat kisses the scorching hot grill, sending fumes that carry the legacy of Sariwon straight into your senses and ultimately… into your memories.
Sariwon in Manila currently has two branches:
Bonifacio High Street Central, Fort Bonifacio; Tel. Nos. +632-621-3205 / +63915-900-9272
Greenhills Promenade, San Juan; +632-650-3075, +63916-237-7070, +63932-855-1543
Comment on this and Share it on Facebook!
comments
Powered by Facebook Comments