Click here to go back to Part One of the Diageo Reserve World Class Bartender Philippines 2015 Bar Crawl and Send Off Party
Rain still pouring and traffic building, time to soldier on to the next stop:
Rambla's Michael Tubiera
Cocktails: Boy Juan-Der, and Night Duty Magtataho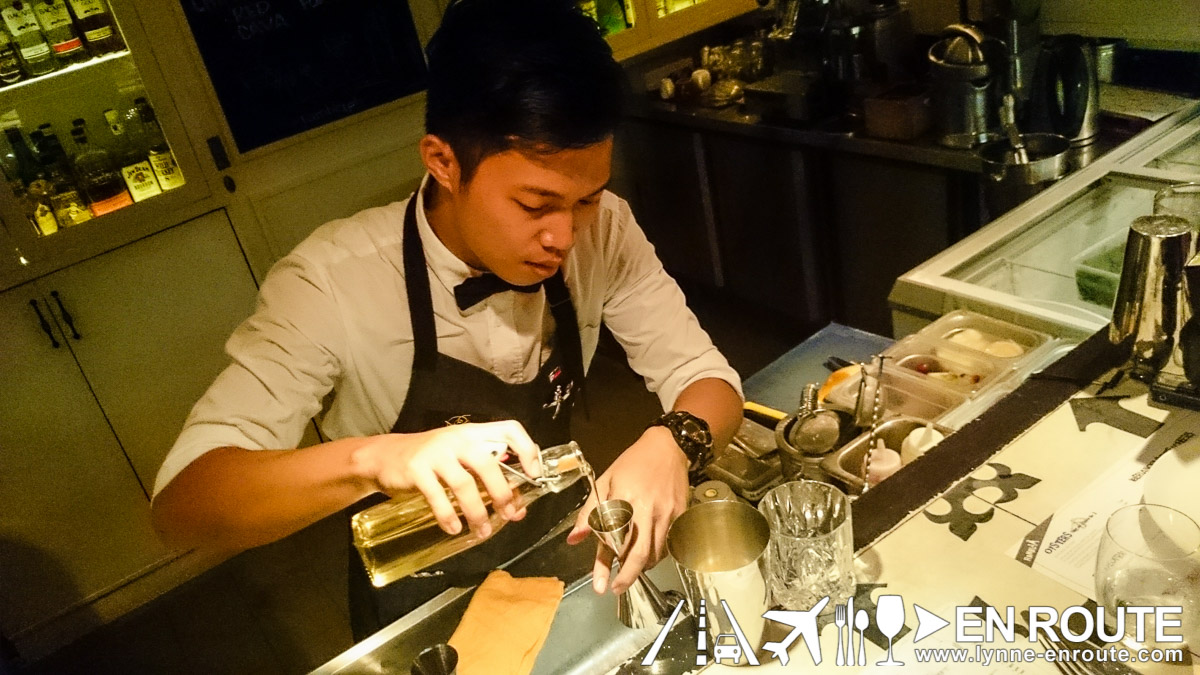 You look at Michael, and his very shy demeanor doesn't seem to fit the somewhat outgoing and oftentimes overeager-to-please bartender you may find at your favorite watering hole. But it is just because he chooses his words carefully and internalizes the situation, saving his words and letting his craft do the talking. His selection is the one that draws the most inspiration from his Filipino roots:
Boy Juan-Der, a mango based cocktail sweetened further with some vanilla, balanced off with fresh lemon, and added that honey-smoke character from a Johnnie Walker Gold Label really took the edge off the traffic frustration to reach the bar. Partnered with the salty jamon iberico croquetas, you can easily forgive Manila and its tendency to screech to a halt when rain and rush hour combine.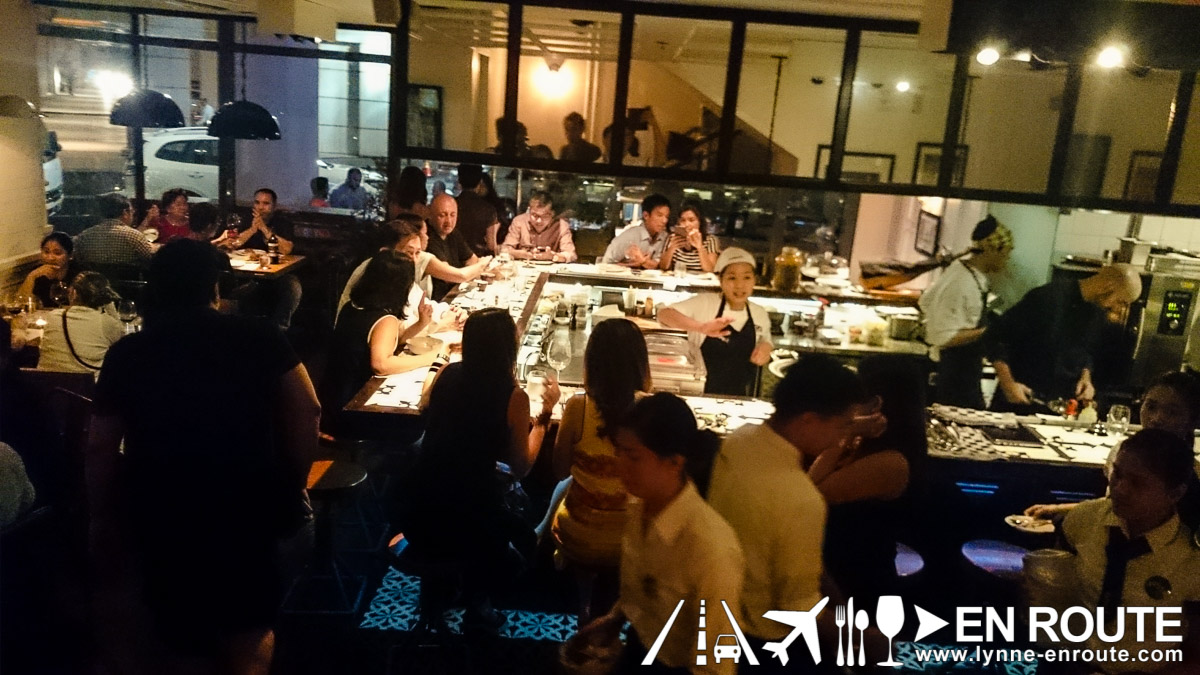 And for dessert? A cocktail drawing from the childhood favorite Taho. Michael used the soy curds alright, but he charged it into a mousse consistency to be whipped on top of a Ciroc Vodka base. And for the tapioca balls? Molecular gastronomy comes into play as local coffee blend Kapeng Barako is used and topped into the simply made build cocktail. The trick is to mix it all together and taken in big swigs.
Steadying is the right word to describe this cocktail when taken as a single shot.
And it was off to the last venue for the crawl:
ABV: Kenneth Bandivas
Cocktails: Jupiter 22, and After Ten
For those that don't know or don't know where ABV is, you cannot be blamed. It's the newest Speakeasy style bar in town, barely a few months old, hidden in a small joint called The Lazy Bastard (this one is easier to find. Look for the larger than life sign that directs you to get some good bacon and burgers.)
TRIVIA: The Lazy Bastard also holds the title for having THE BEST HOTDOG IN MANILA: The Honey Parmesan Hotdog. This will play a significant role in one of Kenneth's cocktails, which, by the way, were a great exclamation point to end the tour.
The Jupiter 22, drawing inspiration from the address of their shop, gets playful in its presentation by brown bagging a bootleg beer bottle filled with Singleton Single Malt Scotch whisky, prosecco reduction, lime juice, and ginger beer.
The result? Probably the best cocktail for the Manila weather, with fizzy, refreshing ginger beer subdued suddenly by a Singleton scotch hit and the palate wiped clean by the flavor of lime.
Oh, and this is where the Honey Parmesan Hotdog comes into play. As it is served and people realizing that the pairing was superb, you will see hands grabbing bits and pieces of the sandwich, shoveled in more-than-you-can-chew mouthfuls. Seriously, what were in those hotdogs?
But all good things come to an end, and like a great day, the After Ten becomes the night cap, with Tanqueray No. Ten playing the main ingredient supported by the bold, sweet and herbal flavors of Amaro Averna and complimented with hints of prosecco reduction and oranges.
The team couldn't ask for a better way to send them off to Bangkok, and ultimately, one of them to Cape Town. This annual contest has always brought out the best of each and every bartender that has decided to join, and with it, a cask load of experience that will never be replicated by any quantity of cocktails mixed, shaken, stirred, or strained. And every year that passes, all the more that the region is beginning to recognize the Philippines as the hub where talents are brewed to become world class bartenders.
Learn more about Diageo World Class in their Facebook Page.
Comment on this and Share it on Facebook!
comments
Powered by Facebook Comments