Random post.
On the way up to our floor at 2PM everyday, it is a nightmare taking the elevator of our building.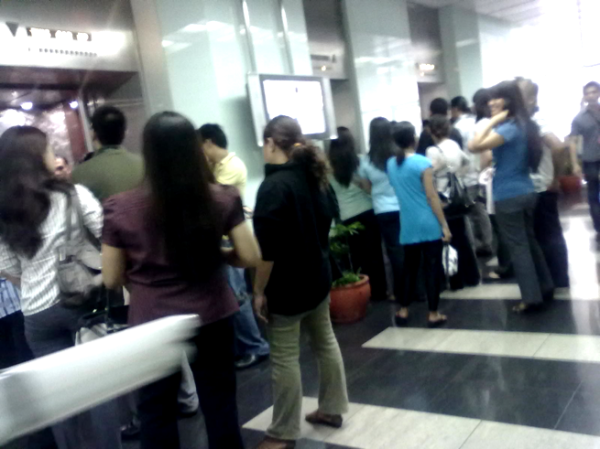 To add to that, you have to share breathing room with people who are either sticky from the heat outside or reek of cigarettes (sorry smokers but, a lot of you do…) or both. 🙁
2PM's what I call the changing of the guards for the call centers so all of them are rushing to meet their time-ins.  For most of us agency folk, that's when we come back from our late/ long lunches or our coffee breaks.  Going back up is a journey in itself.
Our office is in the Insular Life Building along Ayala Avenue in Makati.  I was just in the Insular Life Building in Alabang this morning and it was a stark difference.  The lobby looked like a hotel's.  There was a complicated fountain installation that served as a relaxing ambient sound to the whole entrance.  And the lifts were efficient, fast, and they were actually working!
This last photo was taken last October 13, 2009.  The sign has not moved for a year I think.  Oh the irony of it all.  They say they're working to improve things.  If nothing ever changes, then nothing ever improves, right?
I should really remember to stop having my trips to the bank and Starbucks at this time.
Comment on this and Share it on Facebook!
comments
Powered by Facebook Comments