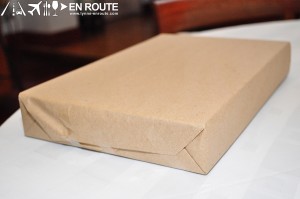 The town of Bauan, Batangas really has this strange fondness for tucking their desserts in brown unsuspecting boxes.
Up on the plate now is this unique, soft, crumbly and sugar overloaded bread called Londres. In a previous post, I mentioned that Ka-Idro makes some quality bread, and this includes Londres.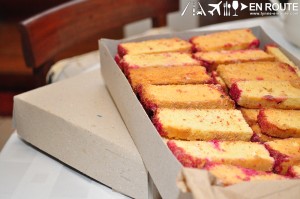 This one, however, comes from Yan's-Yan's Food Shop near the Bauan Public Market that specializes in it and apparently ships these calorific wonders out of the Philippines, reaching places like Cincinnati and Minnesota (I'll research on this American demand further).
Opening the not-so-exciting box reveals rows and rows of yellowish-white bread covered in some red-colored frosted sugar, giving it a thin hardened sugary shell.
I have asked on how this is really made but they claim it to be a trade secret, so here's my take on how it's made:
It starts out as a tiny loaf, like some sort of sliced bread but smaller and with more sugar
It's baked twice and sliced (somewhat like a sweet biscotti),
It's glazed in white sugar
Then it's glazed with more sugar in red- food coloring along the edges.
The breads are then sprinkled with white sugar
It goes in your mouth and drives your insulin levels to medically dangerous heights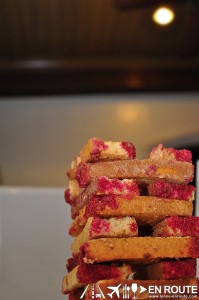 A box costs around PHP 200.00 as of this writing. Feeds about 10 people or 1 priest. Not bad if you want to wreak havoc in someone's diet, and still be thanked for it. The devilish part is that you can't have just one piece, as each bite crumbles and dissolves so fast in your mouth it gives this yearning to want more just to figure out what it really tastes like. The mind-numbing deception of it all is that it only tastes one thing: like a spoonful of sugar. I know a priest who got it as a gift and finished a whole box in one sitting! Not really timely saying this during the Lenten season, but I bet the experience was religiously uplifting for him :P.
So what goes well with this? What else can go well with anything from Batangas? Kapeng Barako 😀 !
Enjoyed this or wish for people to learn or try this? Share it 😀 !
Comment on this and Share it on Facebook!
comments
Powered by Facebook Comments