Bowing is part of many cultures, especially here in Asia, like in Japan, China, Korea, Taiwan, Vietnam, and of course, India.  It's a manner of greeting and a way of showing respect.
In India, they greet you by saying, "Namaste!"  Literally translated, it can be taken to mean, "I bow to you." As "Nama" means bow, "as" means I, and "te" means you.  I consider it one of the richest cultures in the world and when we were invited to experience this richness in culture at least in terms of cuisine, it was something we couldn't pass up.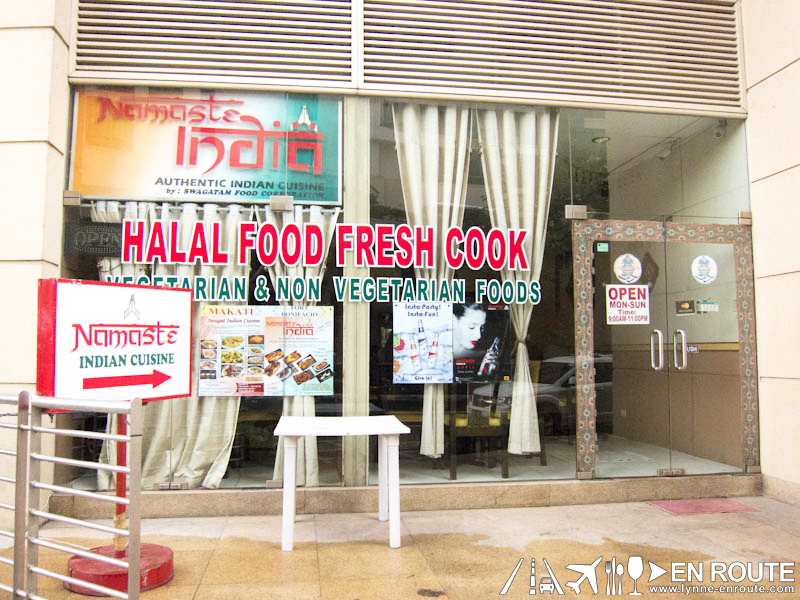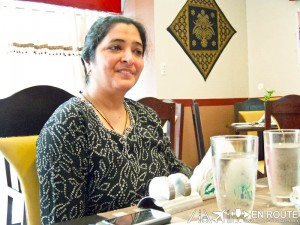 Aptly named, Namaste Restaurant welcomed us to share a meal with fellow food-lovers and writers.  It's high-time people opened up to other cuisines to discover the flavors of Indian cooking.
Namaste is the 2nd restaurant venture for Mrs. Komal Khanchandani.  Her first salvo was Swagat (which means "Welcome) in the heart of the Makati central Business District along Valero St.  But while Swagat offers patrons authentic home-style Indian cooking, Namaste, on the other hand, is the place to go to for dishes that people in India would get whenever they dine out.  Based on this distinction, you could say Namaste's menu is not your typical everyday Indian fare and will offer a bit more panache.
Starters
Given all the spices that Indian cuisine incorporates into the menu, presentation is never without color.  We were first served some Chicken Tikka (tender, skinless chicken marinaded in a blend of ginger, garlic and yogurt), Aloo Tikki (fried potato balls with a ginger flavor) and some vegetables coated in spices.  Dips were provided to further enrich the flavors with tamarind and coriander.
Main Dishes
With just an order of any dish, you can already feed so many people.  It's easy to get filled and satisfied because your mouth is on overdrive from tastes you are not used to.  Next came baskets of freshly-baked Garlic Naan (all-purpose dried bread flavored with garlic) and Chicken Biryani (Chicken cooked with special Indian rice and flavored spices).  Naan bread is thicker, softer, and less flaky than roti.  Naan is made by marinading the flour and cooking it in a clay oven.  Biryani is flavored rice that's pressure-cooked.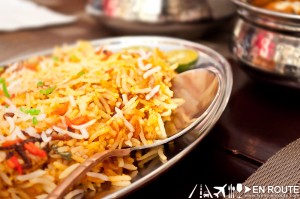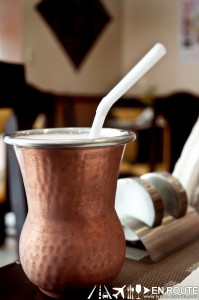 These were paired with three pots bearing different saucy concoctions: Chicken Kadai (Boneless chicken cooked with fresh tomatoes, onions, and bell pepper sauce),  and a third one that's notpart of the menu yet but also has chicken in a variation of the tomato-based sauce.  I enjoyed tearing pieces of naan that I would pile with any of the saucy dishes.  Everything was spicy but all of them were tolerable.  They've already adjusted to suit a Pinoy's tolerance for spiciness.
I remember chugging a lot of water just so I could have some more!  And if you're after refreshment to help soothe your tongue, they had us try their Strawberry Lassi (Sweetened yogurt drink flavored with milk and strawberry).  This was super yummy and was a perfect match for all the dishes we had.
Dessert
And after making your taste buds do acrobatics, we wind it down with a serving of Gulab Jamun (Cheese ball dipped in syrup).  It reminded me of pastillas as I could taste milk alongside the cheese.  The syrup was nice and light so it wasn't sickeningly sweet, which was good.  That means you can have more than one. 😀
Ready for more flavor
We'd like to thank Namaste for playing host to us that day and for letting us experience the flavors of India.  It's time we expanded beyond the shawarmas and the kebabs (which are more Persian actually) to try other authentic Indian dishes.  They offer catering and delivery too and you can negotiate the delivery charge depending on how much you order and how far it is.
Namaste!
Namaste is located at Unit 1A Kensington Place, 1st Ave., Cor. 29th St. Burgos Circle, Crescent Part West, Bonifacio Global city, Taguig.
Open from 11:00AM-11:00PM everday
Phone numbers: +632 403 6088, +63917 864 9729
Comment on this and Share it on Facebook!
comments
Powered by Facebook Comments