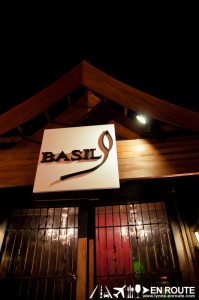 There's so much that a closed door can hold behind it.  It has an air of mystery and gives one a sense of anticipation.  Itching to know the secret keeps you on your toes, that's for sure.
Curiosity drove us one Saturday night to this corner of White Plains and Katipunan where a new squat structure now stood.  Lined up with the different plant sellers and koi shops, it sported a pointed roof, a simple leaf design and just the word, Basil. It had a big door with grills and some warm light trickling through.
It was a compelling invitation we couldn't say no to.  It turned out to be the metro's latest Thai restaurant to try.
As the doors open, you get transported into a secret Thai garden.  A rock wall covers one side and different ethnic accents are placed on the surrounding walls, with the soothing sound of water nearby – later on revealed as a small (but deep) koi pond.  Basil showcases Asian-inspired simplicity, with wood dominating the materials from the ceiling to the carved chairs and natural greens to soften the ambience.  Indoor and outdoor areas both provide equal laid-back dining sections.  They even have alcoves on either side of the entrance for bigger groups.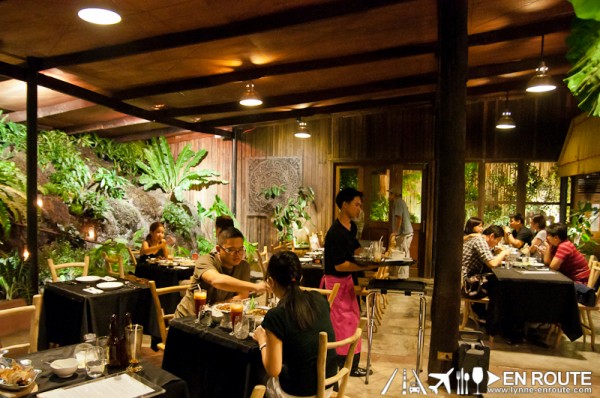 What ushered us in though, was the aroma! Yes, it was a heavenly smell of Thai cuisine fueled by its secret spices.  The smell wafted through the air and seemingly led us to our tables.
As expected, basil was a key ingredient all over the surprisingly varied menu.  Servings are good for sharing between 2-3 people.  Average damage per head is Php400-600.
For starters, we got the Thai Shrimp Cakes (Tord Man Goong, Php275) and Chicken Creamy Soup with Young Tamarind Leaves  (Tom Kai Bai Ma kham Orn, Php298).  The shrimp cakes come witha sweet chili sauce that goes well with it.  It could have used more shrimp flavor though.  The soup comes in an interesting dish that has a low fire underneath to ensure it stays hot all the time.  True to Thai cuisine, this will put your mouth on fire!  Please make sure there is water or some refreshing Thai Iced tea nearby.  (Their Thai iced is is one of the best we've tried.  You really taste the tea flavor.)
What followed were orders of Thai Style Fried Noodles (Pad Thai, Php325), Wagyu Beef with Holy Basil (Pad Gra-Pow Nua, Php325), and the specialty of the house, Crispy Fish with 3-Flavored Sauce (Pla Kao Rad Prik, Php750).  Everything has varying levels of spiciness.  While the Pad Thai felt a bit "wet", it was nice and chewy.  The peanut flavor really came through.  Wagyu can never be wrong.  Theirs was stir-fried in Thai wild basil, chili and garlic.  The thin slices were nice and flavorful with every bite.  The fish is served on a fish-shaped (how apt) silver platter and it made us realize how much food we ordered because we had to figure out how to make everything fit!  The grouper was cooked to a crisp and had their homemade tamarind, garlic, and chili sauce on top.  This fed four of us.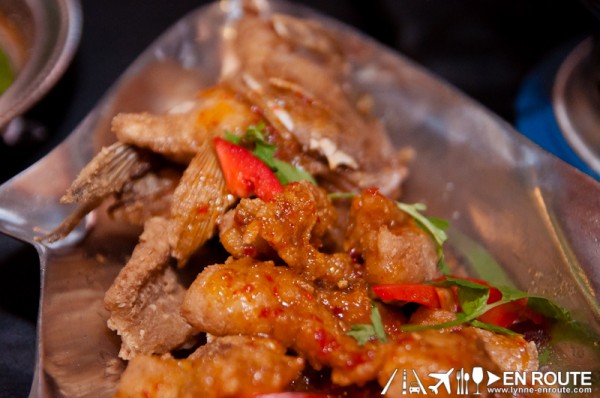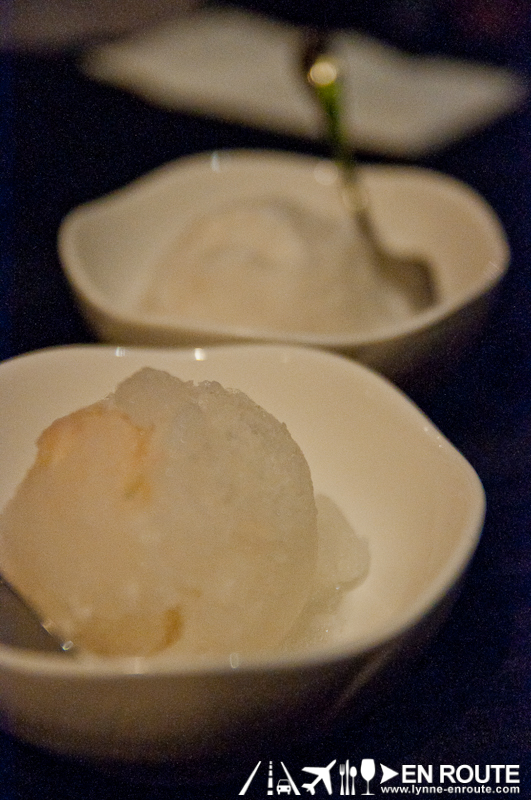 Some five glasses of water, some beer, and a glass of Thai Iced tea after, we looked into dessert. There are just essentially two to choose from but the Sticky Rice with Mango was not available so we just opted to share an order each of the Buko Lychee and Buko Gata sherbets (Php95 each).  It was a great way to cleanse your palate and soothe your mouth after all the spicy dishes.
The flavors and the amazing ambience combined give anyone a good dining experience.  In case you want to rest in between bites, you can walk around the outdoor dining and have a look. In case you fancy any of the big jars around, they're for sale.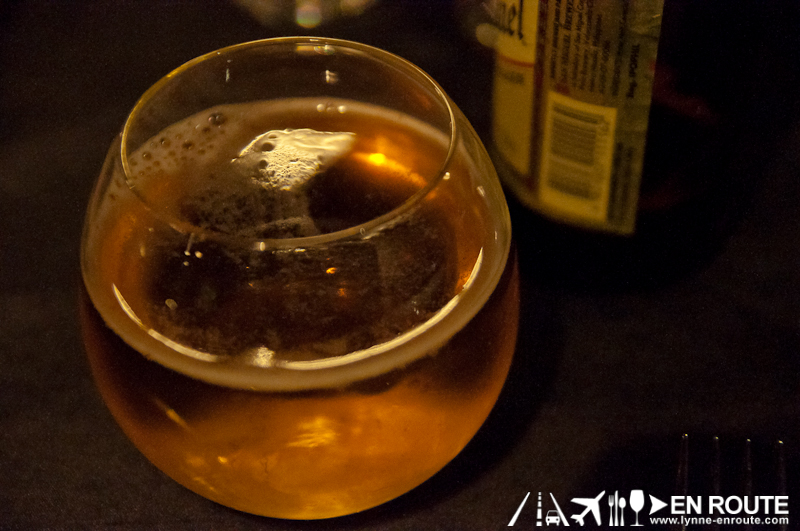 We're glad we let our curiosity get the best of us.  Go ahead and see what that big door holds for you. The secret's out about Basil Thai Restaurant and it's too good not to share.
Basil is located at Katipunan Avenue corner White Plains Avenue, Quezon City.  It's right across the White Plains Subdivision sign.
Telephone: 632 911 4158
Comment on this and Share it on Facebook!
comments
Powered by Facebook Comments