Some call them entertaining. Others, eyesores and downright distracting. Outdoor billboards, every now and then come under fire for either safety issues or issues pertaining to sensibilities.
Filipinos are highly visual consumers. If we could literally eat billboards, the giant shots of fried chicken and sisig along the road would be nothing but steel frames by now.  Seriously.  That's why we invest in a lot of food styling.
However, advertisers have to deal with the fact that these people are mobile.  You more or less have 3 seconds to work with so your billboard must immediately catch attention and communicate whatever message you want very quickly.  So please, no more of those print ads blown up for billboards.  That's just asking too much from your 60 x 40-foot-or-so investment.
Key here is: objective.  What's the billboard supposed to do?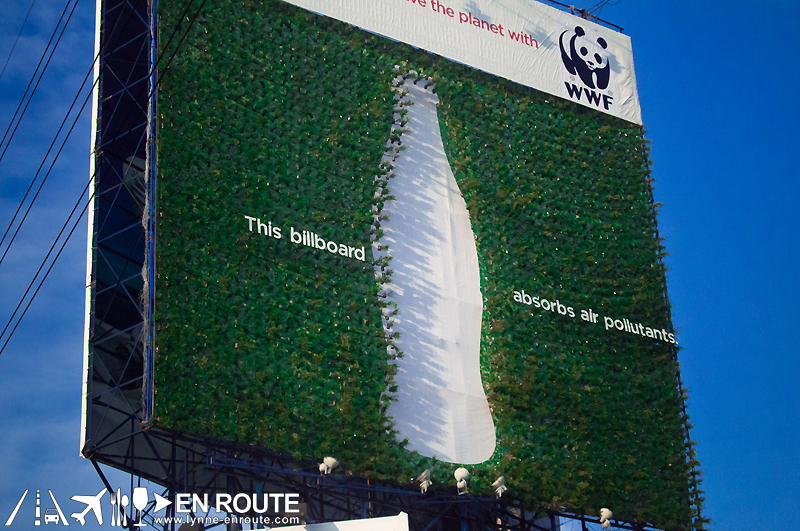 This is why I really admire Coca-Cola and World Wildlife Fund's latest collaboration.  They put up a 60×60 foot billboard made of Fukien tea plants in recycled bottles of Coca-Cola products.  Each plant can absorb up to 13 pounds of carbon dioxide so the entire billboard can absorb as much as 46,800 of CO2 in a year.  While some may think that's not a lot, it's a good start.  It has a bigger purpose apart from selling.  It's branding, yes.  But it's good branding.  Which is what you should expect from all big brands who wish to bombard us every time we're on the road.
And it's definitely worth a lot more than other billboards out there.
This billboard can be seen northbound along EDSA corner Kalayaan Avenue.  So I wonder, is the air technically fresher in that area? 🙂
Comment on this and Share it on Facebook!
comments
Powered by Facebook Comments