NOTE: AS DISCOVERED AROUND APRIL 27, 2012, THIS PLACE HAS ALREADY CLOSED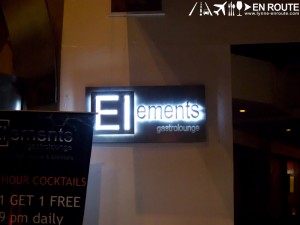 No, we're not here to talk about the periodic table.  Not even spontaneous combustion (although the combustion part seems pretty cool).  But we're definitely here to experiment.
Enter the gastronomic laboratory that is Elements Gastrolounge. For those who choose to invent and re-invent are geniuses really.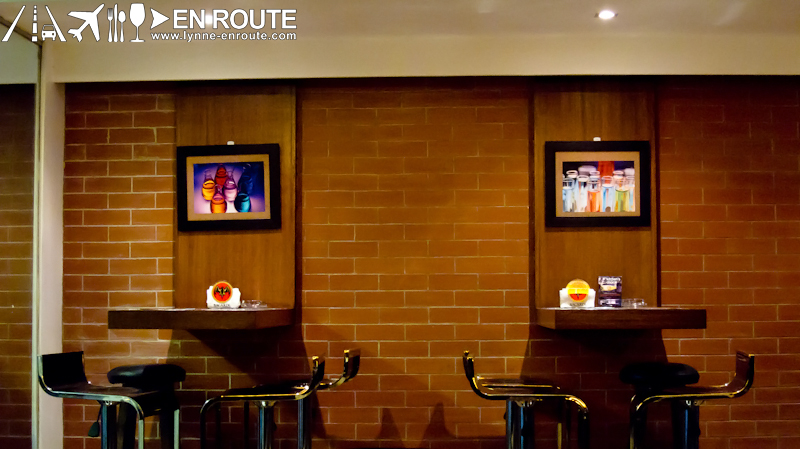 Now this, is no ordinary bar or restaurant.  And you won't play part in some clinical study.  And even if we ended up as test subjects, we'd welcome the different offerings they have for both the hungry and the thirsty (parched and alcohol-dependent alike).
Elements Gastrolounge opened just earlier this year in Greenbelt 3.  It's such a fantastic concept to play up and you can see it well in terms of how the whole place looks like a cross between a classroom and a science laboratory.  Details like test tubes and microscopes just add more character to the place.
And because even brilliant minds like scientists have to eat, you can't miss out on their food menu.  Try their appetizers of Mozza & Ham Croquettes (Deep-fried balls of mozzarella and ham – crunchy on the outside and creamy on the inside, served with salso) or the Elements Barchow Sampler (Sisig taco, Honey Sesame Wings, Salpicao Kebab and California Spring Roll in one order).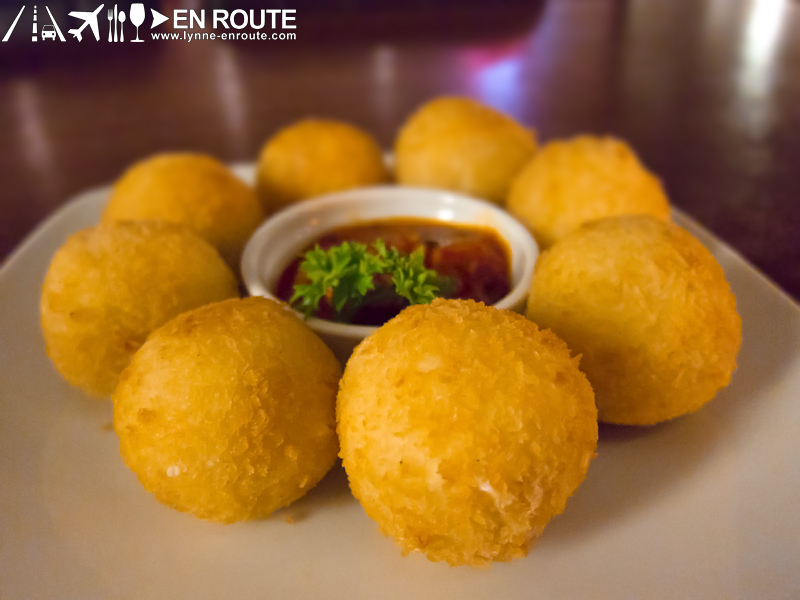 For the main courses, we've only been able to try the Sakura Shrimp Pasta (a light dish of baby shrimps, garlic and cream sauce on linguini pasta).  It lives up to it's description.  Just not quite sure what the "sakura" part of the dish tastes like and what particular flavor that's supposed to be.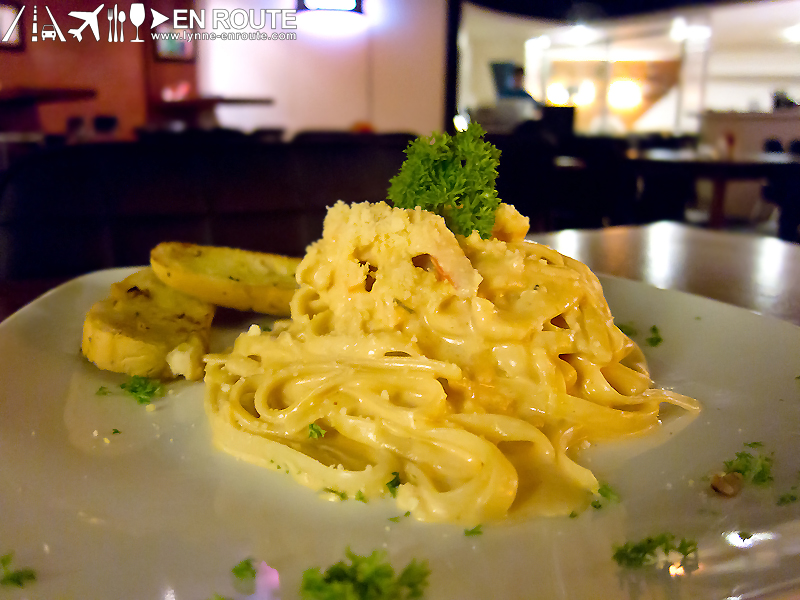 And what experimentation without some alcohol and fire involved?  You read that right.  There's some combustion going on in Elements — just not the spontaneous kind. And it comes from the bar, where a lot of good things radiate from.  The bar is also responsible for why a lot of our photos are blurry. 😀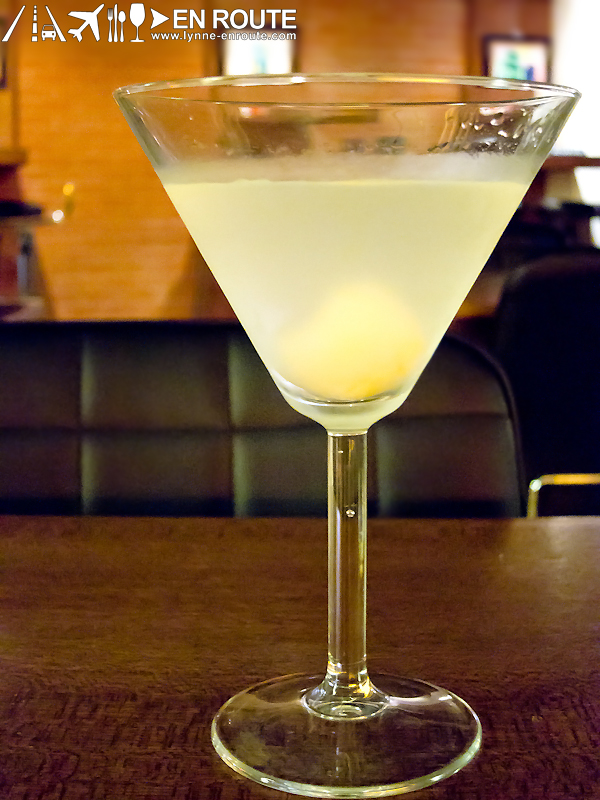 If you want to start with something familiar, you won't go wrong with their Cosmopolitan or Lychee Martini.  If you're looking for beer, they have what they call Albert Einstein, an orange-flavored beer.
For those who like their drinks sweet, they have the Juicy Fruit, a recreation of the popular bubble gum.  Just the smell of the liquer will remind you of nothing else.  It comes with a stick of the gum too!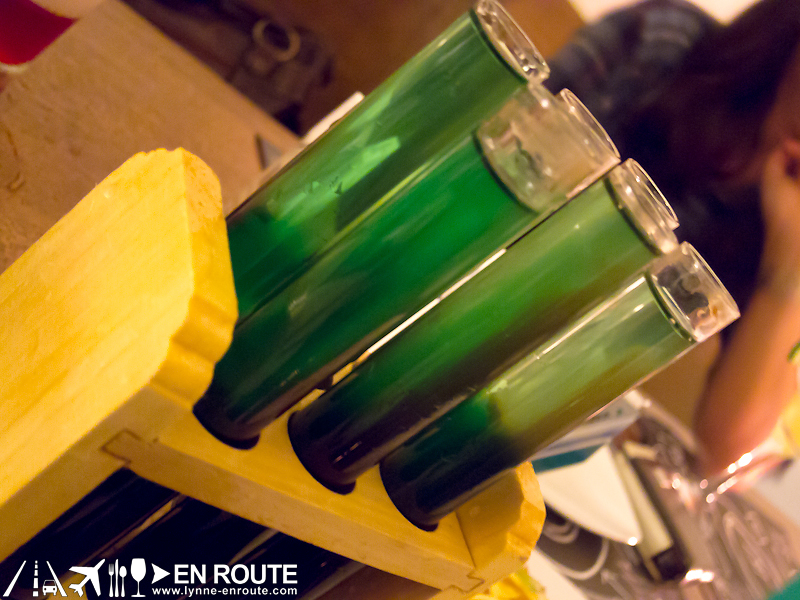 And if you happen to be a group and you can't decide on what drink to get, order the Test Tubes Sampler.  Just pick 6 shots and they'll mix it up and put them on a rack for everyone to take, and just shoot!
Want something "healthy"?  They have Detox, a refreshing drink of gin, cucumber, ginger, lemon and apple liquers, served in a beaker.  The cucumber lends it a very odd twist.  Definitely refreshing!  (And drinking from a beaker brings thoughts of going invisible or turning ala-Bruce Banner's Hulk afterwards :P)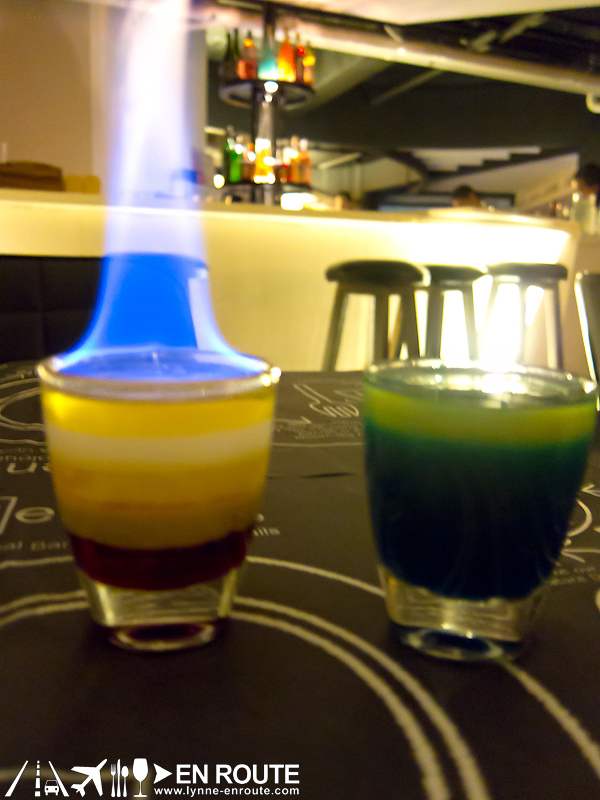 And lastly on our featured drinks, we have the Two-Timer.  It literally blew my mind!  Weren't we talking about spontaneous combustion? The warmth and taste this drink brought was just…WOW, out of this world.  It's a drink that's meant to be shared, like a his and hers kind of thing. Sweet?  Wait til you try it. There's a strong blue one's that's obviously for him.  And there's an even stronger pink shot for her (Because according to the Elements people, guys need help. 😛  In what?  We digress…) that's served on fire. All I remember  is that it had several kinds of liquor. If I remember right, they're Bacardi 151, vodka, Bailey's. There was also grenadine and some other ingredients that really didn't make it to my memory after taking the shot.  It was good though. Just mind-blowing. 😀
I even got a slice of free cake then because it was my birthday (not sure where it came from though :P).  Alcohol and chocolate always make me a woozy but very happy camper.
Their amazing and interesting dishes and DRINKS are genius creations on my book.  And it gets better. Buy 1, Take 1 from 6-9pm daily!  I'd recommend this place for drinks after work or on Friday nights. I hear Thursday is like a game night where there's shooting and balls and beer involved.  Sounds like fun, right?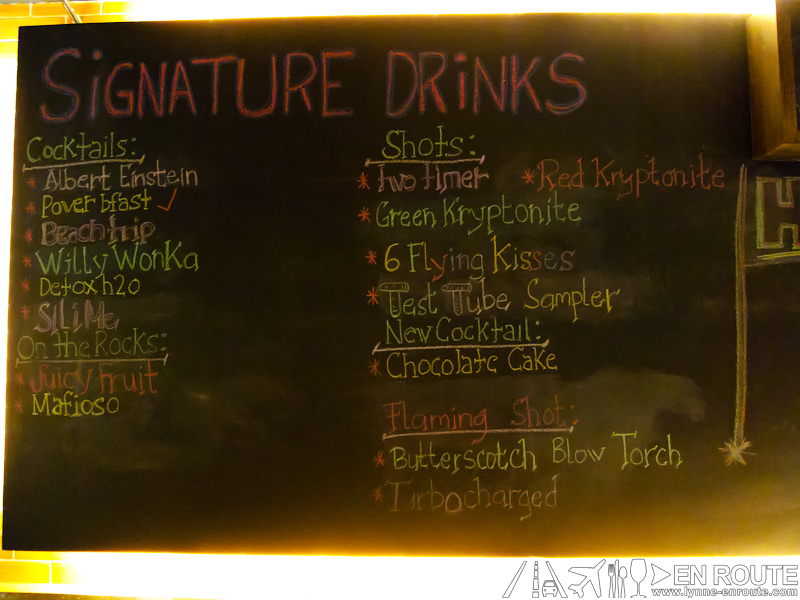 So try something new next time.  Head over to Elements Gastrolounge.  (Scientific calculators not required. :D)
Elements Gastolounge is located on the 3rd floor of Greenbelt 3 (it's near Red Box)
Walk-ins and reservations welcome.  Just get in touch with them through +639156427108 or their Facebook Page.
Comment on this and Share it on Facebook!
comments
Powered by Facebook Comments