Only from the Philippines. 100% Pinoy. Proudly Filipino.
Just some of the phrases we use in referring to anything done by our fellow Filipinos.
Now, in Thailand, one of the ways to identify with the Thai government is to use the word krung.  I had to look it up and one of my search results explained that krung actually refers to the capital city so my understanding is, it can be roughly translated as "of Thailand."
When I think of Thailand, three things come to mind: shopping (because of my experience in Chatuchak), its beaches, and the food.  When we say Thai cuisine, it is expected that it will be spicy and that there will be curry somewhere on the menu.  And against the multitude of restaurants offering Southeast Asian fusion dishes nowadays, there's actually a place that has channeled all their attention to serving good Thai food.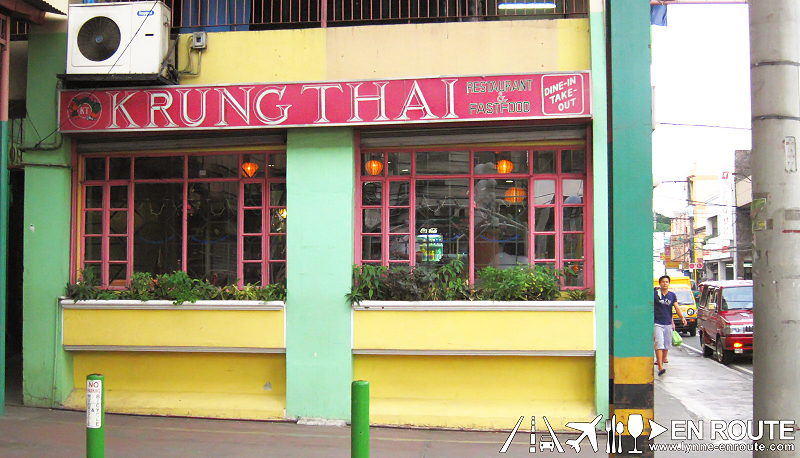 This is perhaps one of the most non-imposing restaurants I've seen.  It's so non-imposing we almost missed it! But like any place dubbed a "hole-in-the-wall," expectations were high.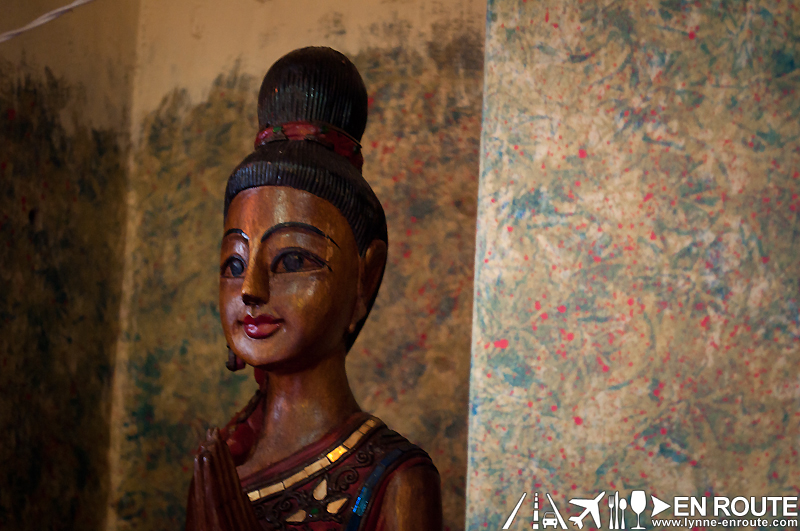 The impression you get upon entering is that it's very simple.  The layout maximizes the space to fit in tables that can seat up to around 30 people on a busy day.  And then the touches of Thailand stand out once you've had time to sit down and look around.  Being in Marikina though, they have a corner that displays shoes and bags for sale.  A bit off but hey, you forget it once you try the food.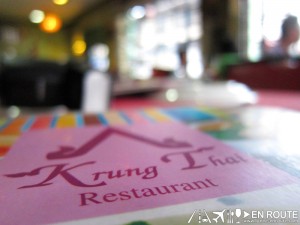 I was thankful that we went as a big group that night so we actually got to sample a lot more from the extensive selection.  The good news?  It's all very affordable!  For as little as Php200 a head, even when you're famished you'll go home really full.
Start off with some soup. We were easing our way into the cuisine so we opted for some Chicken Noodle Soup.  For just Php99, we got a serving that was good for 3 people!  They also offer you some chilli powder to add that kick to the soup. Careful though. A little of the powder goes a VERY long way.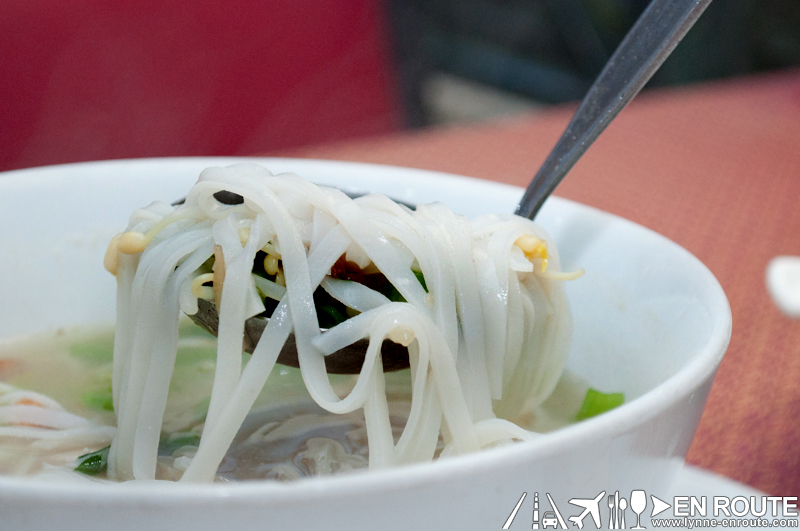 My favorites from what we tried were the Bagoong Fried Rice (Php278 for sharing) and the Catfish with Mango Salad.  I could eat the rice alone.  It was that good!  And yeah, I had to share it with everyone also. 😛  It played very well with the fruity taste of the salad.  I wish the catfish was made crunchy though.  That would have been an interesting texture.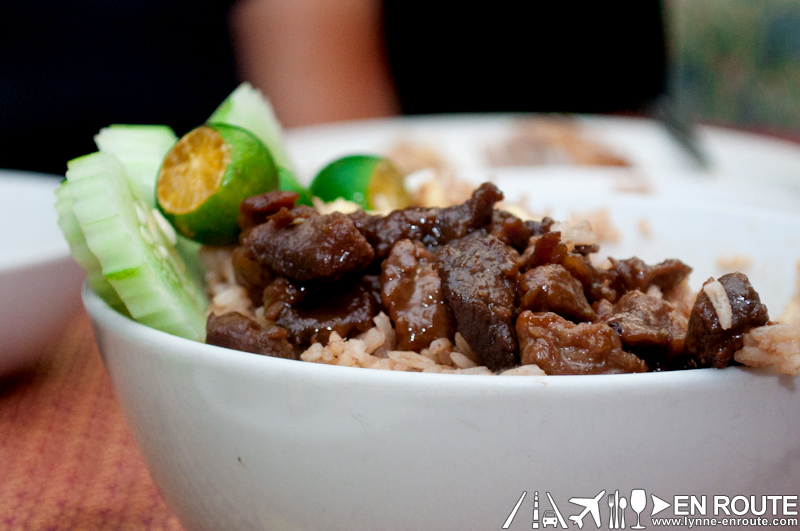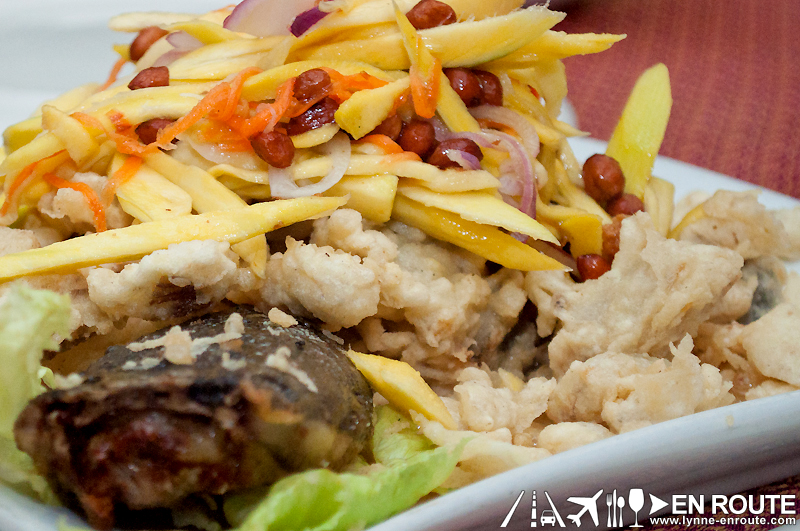 Of course, it was not complete without Pad Thai (Php149 for the regular and Php189 for the special with shrimp) and some Seafood Tom Yum (Php359 for 4-5 persons).  Tom Yum, for some reason, reminds me of sinigang but made a lot spicier.  But the spiciest dish I tried that night was the Spicy Papaya Salad.  That. Was. Hot.  (Bring out the refreshments!)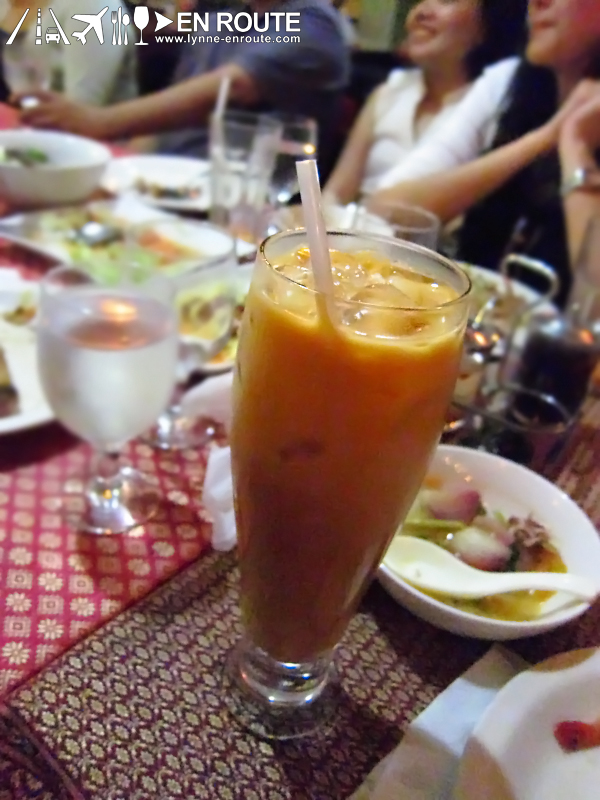 Something I wasn't expecting on the menu: Fried Chicken. Some people did prior research and I guess the fried chicken reviews were good because this is actually their bestseller (1/4 for Php129, 1/2 for Php259, or  a whole jumbo chicken for  Php519). There must be something about Filipinos and our love for Fried Chicken goodness anywhere, no matter what the cuisine.
One other thing that was addicting here was the Thai Iced Tea. I honestly don't think it's any more Thai than the other milk teas I've tried but, it was super refreshing while eating all of that spicy food.  (Especially that papaya salad.) Trust me.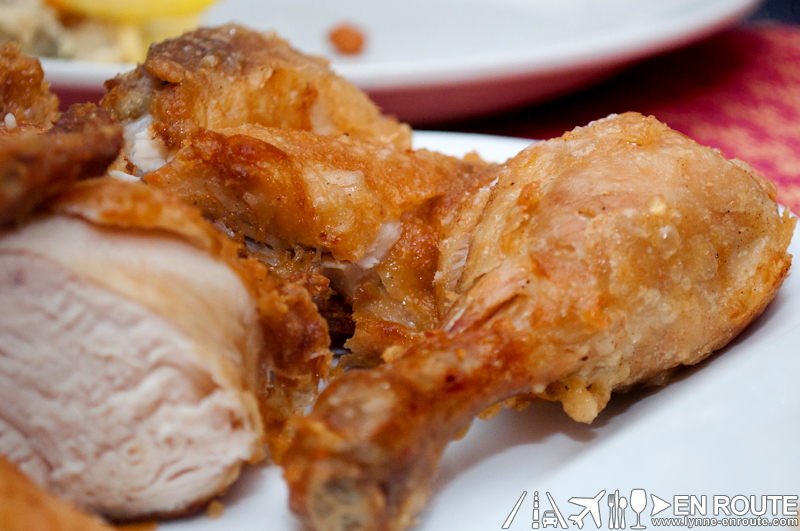 Whoever suggested this place to our group was a genius.  The mini-hunt for it was part of the experience.  Even the staff were very attentive to details such as who ordered warm and cold water among a group of 15.  It's a mark of good service.  And judging by how loud our table's laughter was, everyone had a good time.
This is what makes the trip to these gems of places more worthwhile.  Who would have thought a quaint Thai restaurant could be found hidden in Marikina?
And that's definitely Made in the Philippines.
——
Krung Thai is located on the corner of M. Cruz and W. C. Paz at the edge of the Marikina Public Market.  There's a pay parking nearby but they close at 6pm so they start shooing you away by 5:30pm.  Parking can easily be found along the nearby streets.
For reservations, you can call them at 02 6464041 and check out Krung Thai on Facebook for some of their menu offerings.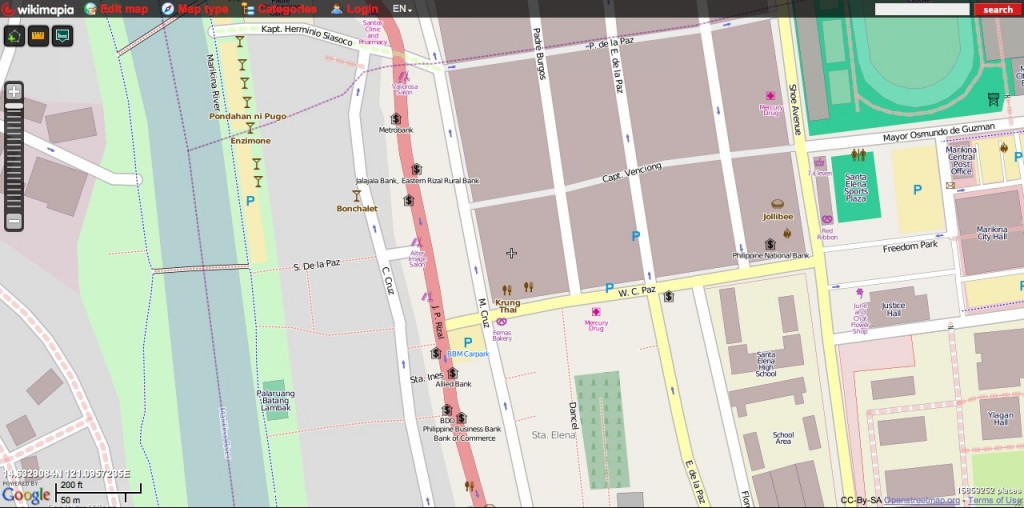 Comment on this and Share it on Facebook!
comments
Powered by Facebook Comments