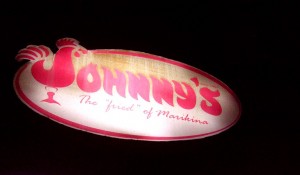 We have grown increasingly curious about Johnny's Chicken ever since we saw its humorously creative slogan: "The Fried of Marikina". We always pass it every time we head home so it became part of our mission to try it one of these days.
When a family gathering required some food contribution, this seemed like the perfect opportunity to give it a shot.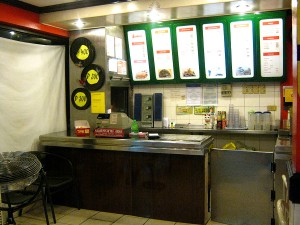 The branch we visited had its 80's era fast food appeal, with bright red interiors and fixed seats. Even if it was uncomfortable, people frequently came by to eat. This looked like a winner. We were really excited 🙂
One whole chicken, chopped for take-out was in order. It was priced at around PHP 290.00. Not as cheap as your typical lechon manok but competitively priced with other fried chicken. Allow 15 minutes waiting since they cook it fresh.
Opening up the foil revealed a nice golden brown deep fried chicken similar to a very popular local chicken institution. Taking a bite was a pleasant surprise as it tasted almost the same as well, albeit a little less crispy. Goes well with banana ketchup also. Take-outs and deliveries sometimes alters the quality of the food, but this seemed to pass the "Take-out Test".
Curiosity? Satisfied. Expectations? Satisfied 😀 ! This local pride is worth trying once in a while to surprise families and friends to boast that Marikina can be known for more things other than shoes
A small research gave three branches:
Right within Marikina Public Market along W. Paz St., (beside Krung Thai),
Inside the Marikina Riverbanks Mall
Pasig City at the corner of Amang Rodriguez Ave. and Benito Soliven Ave.
They deliver as well! We don't know their coverage yet but we are assuming within a few city blocks of their area. will give word once we have tried it for delivery.
Loved this post or have your own stories of Johnny's – the "Fried" of Marikina? Share it! 😀 !
Comment on this and Share it on Facebook!
comments
Powered by Facebook Comments