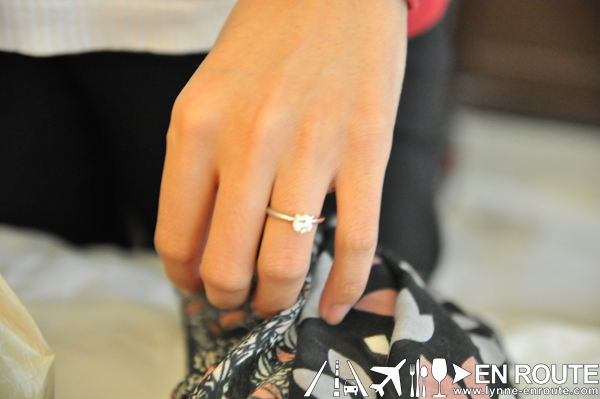 Readers of En Route have seen the story of the wedding proposal that happened in Disneyland, and that night has become one of the most memorable moments immortalized in fireworks pictures and Facebook likes :P.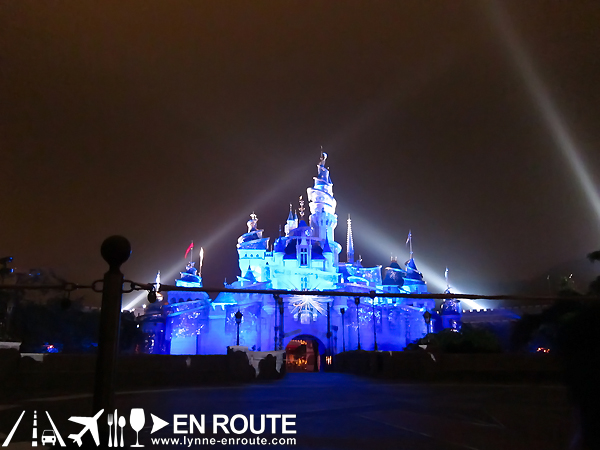 Now comes the time when the man had to head back home while the fiancee heads to Macau, all alone in a place he has never been. Then his flight gets cancelled.
The following are the photos and reflections of that man bumming around, stuck with a cancelled flight in the Hong Kong International Airport.
And how timely this post seems to be since for the Philippines, some news recently came out that its airport was one of the worst in the world. Maybe the photos, insights and observations in this post show what can be done to make it run like one of the best.
And it all starts with getting there from the city:
The airport is linked to Hong Kong's intensive railway system. It even makes sure that the railways are traveller friendly (leveled gaps, escalators, lifts for heavy baggage, priorities for disabled persons). If you can get to any train station in the city, you can be sure to get to the airport.
There's one big advantage that trains have: No traffic 😛 It is a breeze and such a delight to just ride along since you get to see so much in so few a time, and you just sit down (or stand up if it ever gets crowded 😛 ) in the train car.
When you get to the airport, it's the size that first leaves an impression:

Click this link to open in a new window for a full sized version
This is the entrance to Terminal 2. The place is vast, and people can run around. The sense of space has a calming effect on weary travelers. This is especially helpful when upon getting to the check-in counter, the ticket guy said that the flight is cancelled and the next flight is 7 hours away.
So what do they do? They give a lunch voucher for HK$ 75.00 for any of the restaurants in the airport, and charged to the airline. Any excess will be paid by the passenger. Must be some agreement the airport operators have with airlines that cancel their flights.
HK$75.00 is not a bad fare, and the list of restaurants is pretty decent.
So a lost man stuck with a cancelled flight normally looks for one thing: Beer 😀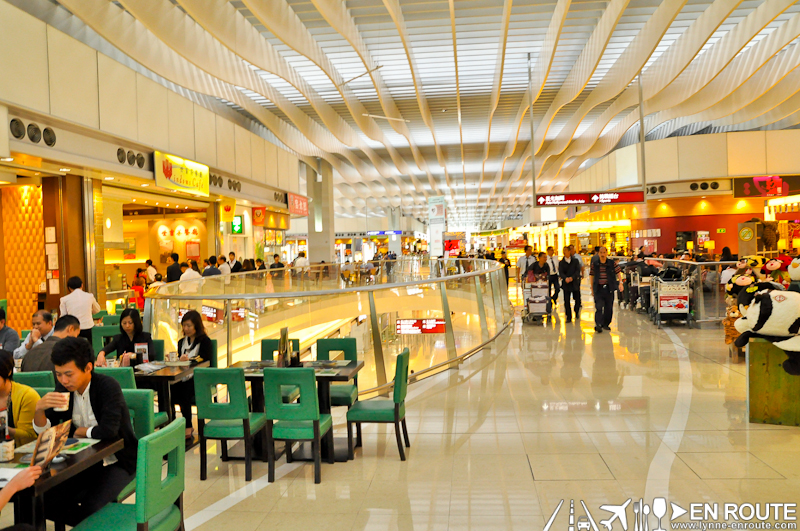 The second floor holds a myriad of restaurants that cater to the traveller, and apparently to the offices nearby! Some locals actually go to the airport to have their lunch and to shop around. It was like a mall. It was brilliant.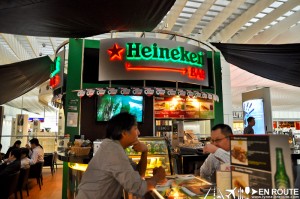 Looking around, the watering hole presented itself.
Some beer snobs may not think much of it, but if you are in the middle of a country with a cancelled flight, you will take this.
Besides, it does look cozy and inviting 😛
So now that the beer problem is solved, what can go well with it?
Bingo.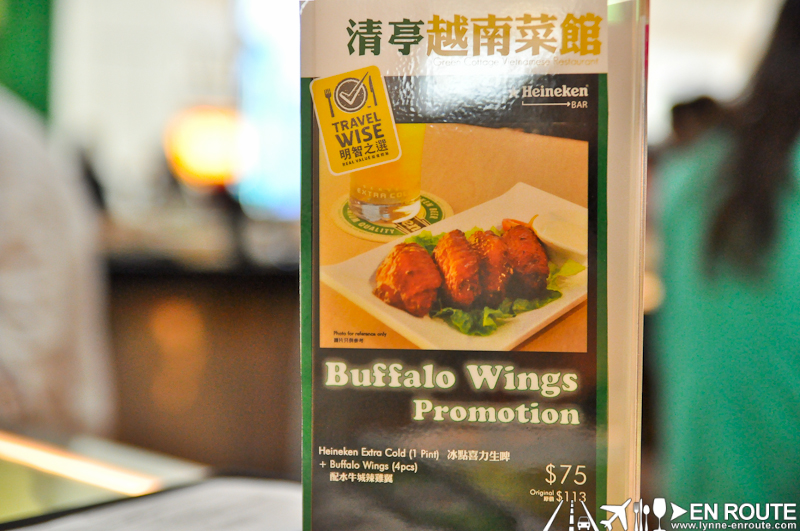 As if like it was perfectly made for the man stuck with a cancelled flight 😀 ! It's hard to believe that you can enjoy being stuck for seven hours 😀 And it came, and it delivered.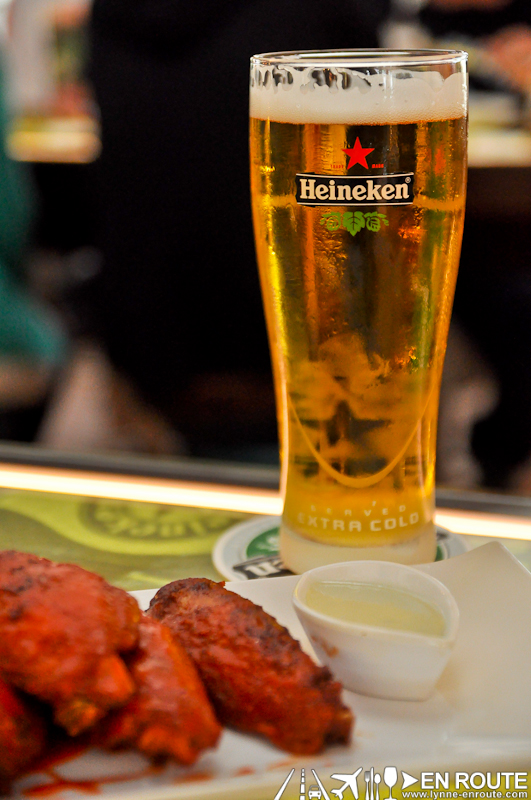 .
Ice cold beer,tasty buffalo wings, and a football game on TV. It fit the free meal voucher to the last cent. It was heavenly.
Lunch and football game was over, and there was over 5 hours left. No problem. As mentioned, the Hong Kong International Airport runs like a mall, so there are so many things to do: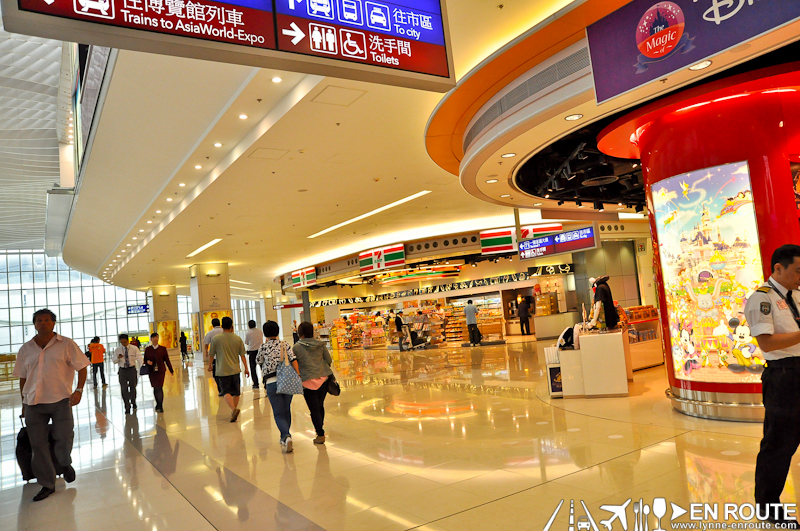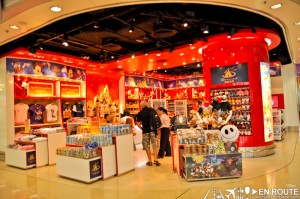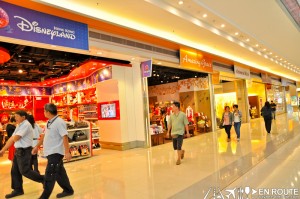 There are bookstores and candy chops, fashion boutiques and a Disneyland souvenir corner in case you forgot something from your Disneyland trip. Just be prepared to pay the price. It is marked up about HK$ 5.00 more than Disneyland.

Click here to open the full version of this panorama shot
There are entertainment centers like video game arcades, an aviation museum, and a 4D Cinema Screen. It's all beginning to make sense: having a mall inside your airport gives a better experience for both travelers and locals.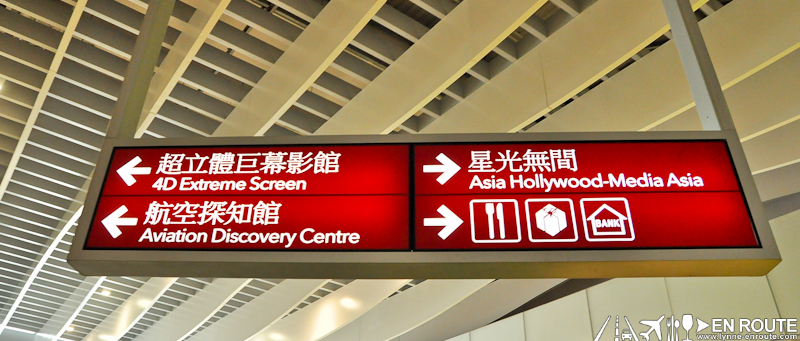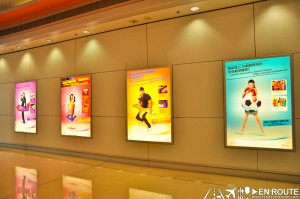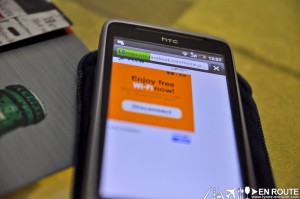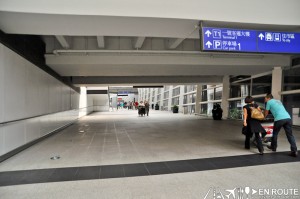 Just the free Wi-Fi alone can keep anyone busy for hours. This is just Terminal 2.
Terminal 1 is linked via a walkway, and there's more to explore.
Terminal 2 just hosts some of the check-in counters, the new airlines, and the mentioned mall amenities. Terminal 1 is the core airport, with all the other check-in counters and plane gates. More shops abound in this area.
And something that has recently sprouted in the Philippines is here, too 😀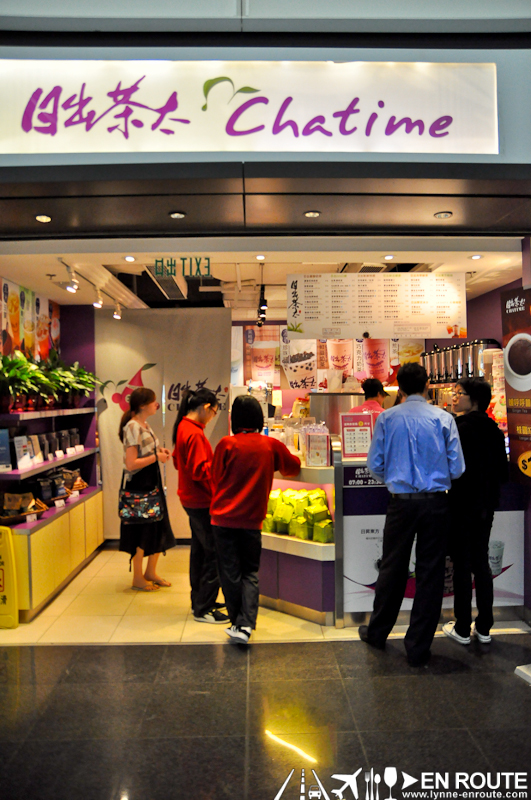 .
Such joy that there is a Chatime in the airport 😀!
If ever you do get bored inside the airport, just take the train back to any station or part of town you want to visit. One random pick came up with an upscale mall developed by the train operator and integrated again into the train system.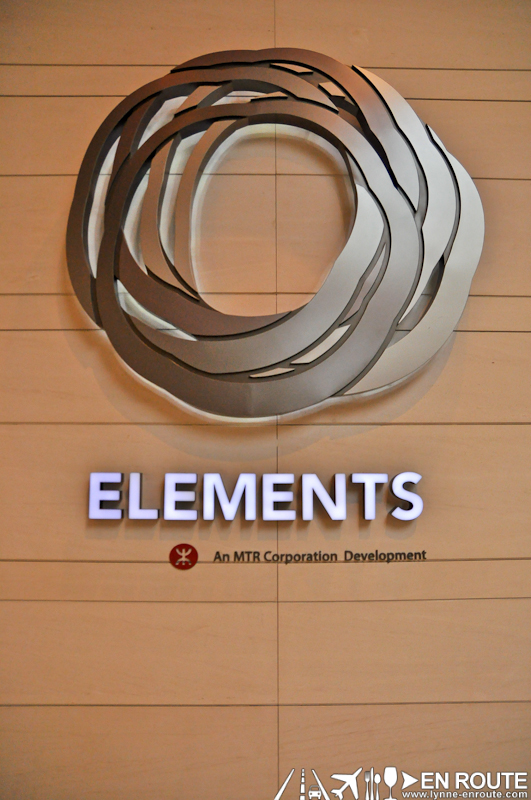 .
Elements was like Greenbelt 4 and 5 combined, then multiplied by 3, integrated into the Tsing Yi station. All the possible upscale designer brands were in this place. Needless to say, that HK$ 75.00 meal voucher won't really buy you anything substantial here.
The other Elements known is that of the bar in Greenbelt, and that is an awesome place, too.
1.5 hours left, and it was time to head back. And given a train that has no traffic, you can easily predict your schedule and do more.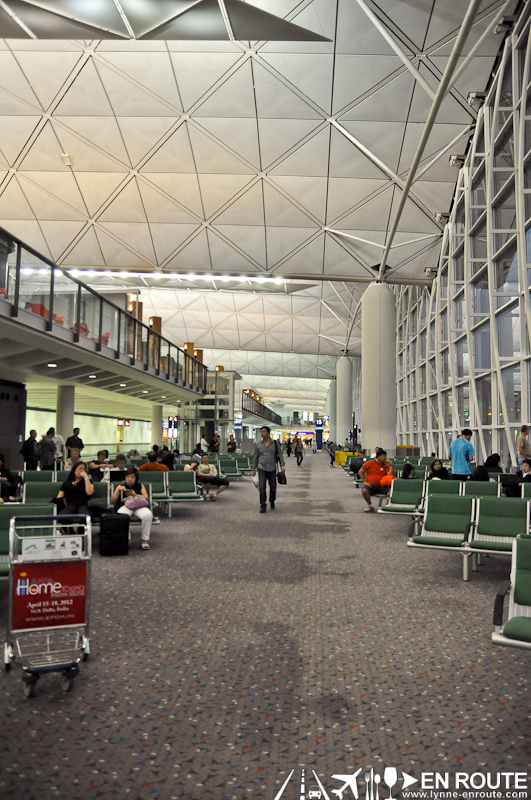 You can just take the train anywhere and still easily make it to your flight. It really is the best transportation system to carry people to their destination and be able to commit to a set time.
Being stuck for seven hours was actually an eye opener on the best practices that can be done to make even the tourist's experience of the airport far greater.
It goes without saying this was one of the most memorable layoffs ever, aside from having the natural high of a Disneyland proposal :D.
Can it be done in the Philippines? Definitely. It just needs the very same thing the man had when he proposed in front of the fireworks of Disneyland: Guts 😛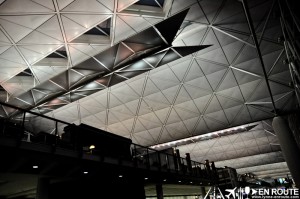 'Till the next journey, En Route to greater discoveries 😀
Comment on this and Share it on Facebook!
comments
Powered by Facebook Comments