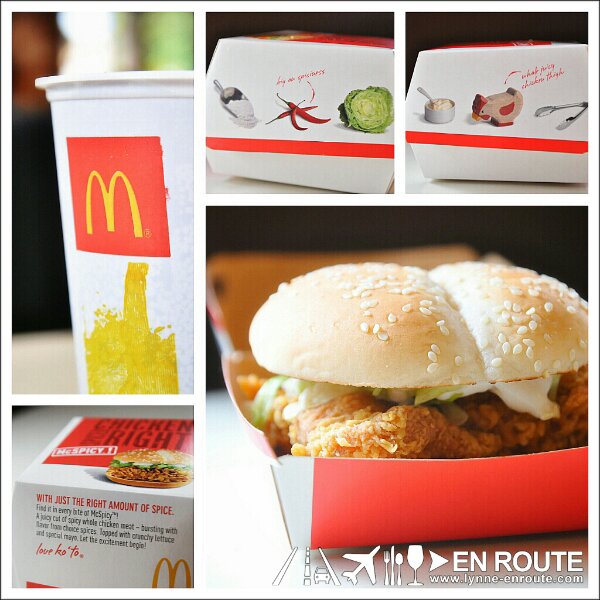 Well here's a swipe at the spicy chicken sandwich market. McDonald's figured that it can get a good share with their more ubiquitous store locations.
It says that it is "Chicken Spiced Right". At first look, the more premium bun and larger size makes it look like the bigger, flashier brother of their Crispy Chicken Sandwich (which, currently, seems to be leading against Jollibee in the cheap chicken sandwich wars).
The spice? Very much similar to its lowlier sibling. Just the right amount that won't make you reach for a cold drink in knee-jerk reaction fashion. Given its size, tough it will be a much more filling meal. The price for the value meal is more than twice, though (PHP 50.00 for the crispy chicken sandwich, the price of a McSpicy in the Philippines costs PHP 115.00, with fries and drink).
Who is the winner? Definitely the consumers since there are now more choices. Your fitness instructor will benefit financially, too, as now it will require you an extra 15 minutes on the treadmill and longer tenure for his fitness consultation. But since it's loaded with spicy goodness, you'll have no problem breaking a sweat.
UPDATE: Reading other blogs, found out that this will be a permanent mainstay on the menu.
So what's your take on McDonald's Philippines' new McSpicy?
Related Posts
Comment on this and Share it on Facebook!
comments
Powered by Facebook Comments