Past degustacion exploits have taught us a valuable lesson: make sure to have room for all the courses.  Some have six, eight, or as much as twelve courses, and some even come with wine and whisky pairings.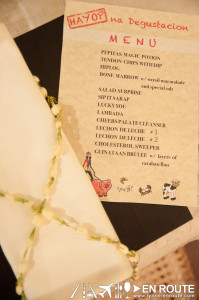 Nothing that's Filipino in theme and with lechon de leche though. (Mmm, lechon) What Pepita's Kitchen has in-store for private dining guests is a twelve-course lunch or dinner of Filipino favorites with a lot of twists and turns that keep one guessing and wanting more. Our stomachs need to stretch a bit more to thirteen (yep, thirteen) courses because we get a double dose of lechon de leches (Who's complaining?) to sample out the newest flavors.
Pepita comes from Pepito, a character from Madeline, a favorite of Liyora's, one of Dedet de la Fuente-Santos' daughters. (Trivia: Liyora gives great back massages too!)  From there, Dedet started calling all her daughters Pepita.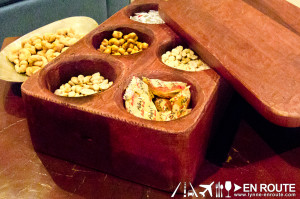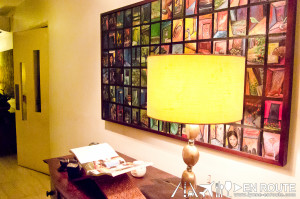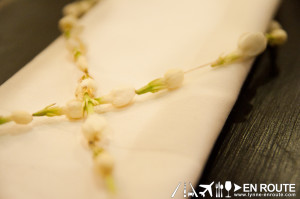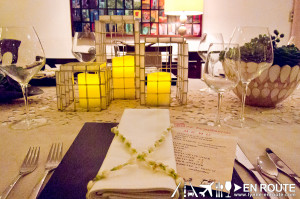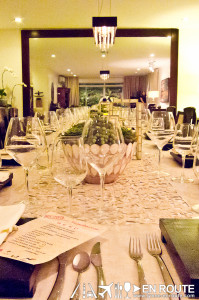 Our table is oh-so-beautifully set and it's the perfect place to be on a rainy night.  This sets the standard for how one entertains guests at home. (We were taking down notes on furniture and decorations the whole night.)  It's about keeping it classy but still relaxed.
We kick things off with Pepitas Magic Potion, a lambanog–dayap (coconut rhum and lime) concotion poured over cotton candy. That lambanog's the kicker right there. It's a pretty picture to look at and the first sip jumpstarts your taste buds right away.  (It might be worth looking into starting other meals with a sweet tonic too.)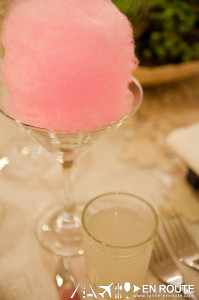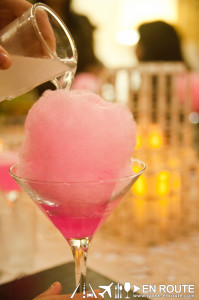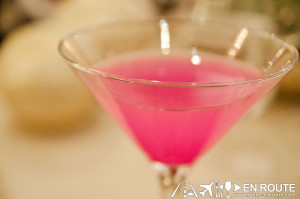 The next course is a pretty unique take on your chip and dip.  We are served Tendon Chips with Dip.  The tendon chips are definitely a healthier cousin of our famous chicaron.  Now the dip was a spoonful of sinigang that had a thick pasty consistency because of gabi or taro.  There's that familiar hint of sour taste unique to sinigang.  Smear generous amounts of the dip onto the tendon chip and just go for it.  Whatever leftover dip you have deserves to be licked clean off that spoon.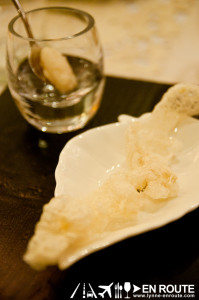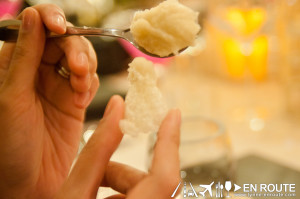 The third course is a runaway winner.  Everyone loves the Hiplog, a combination of hipon (shrimp) and itlog na maalat (salted egg).  The salty and grainy yet creamy texture of the sauce complements the fresh shrimp so well.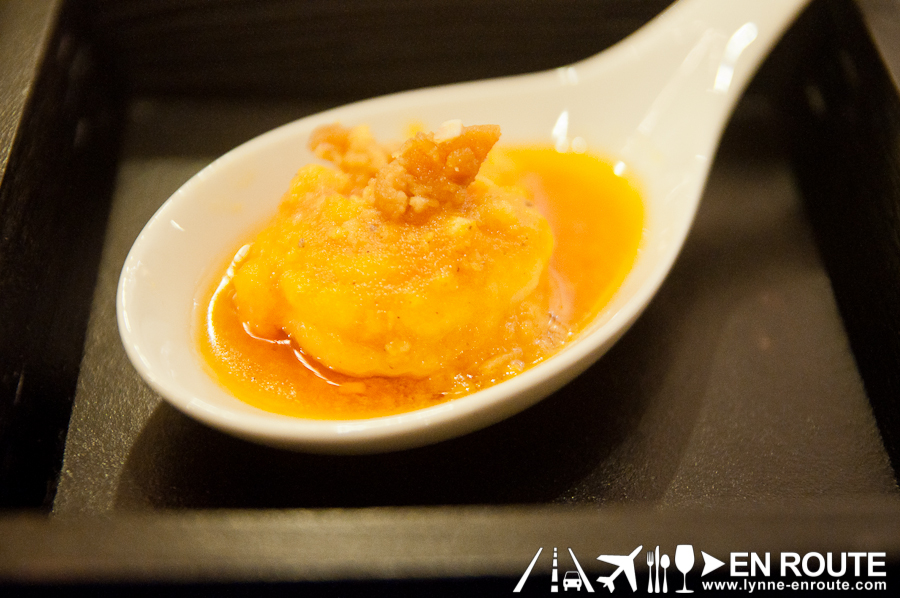 Each course is always beautifully plated and the serving of Bone Marrow with Oxtail Marmalade and Special Salt is no exception. I typically steer clear of bone marrow because of its calorific potential but I am not about to pass anything up tonight.  A sprinkling of salt on the marrow and a dollop of the marmalade and the bite may just render you immobile for a few seconds. It's. That. Good.  That Oxtail Marmalade also deserves special mention: some sweetness, a bit of saltiness, and creamy, soft oxtail.  If this comes in a jar, we'll be hoarding for sure.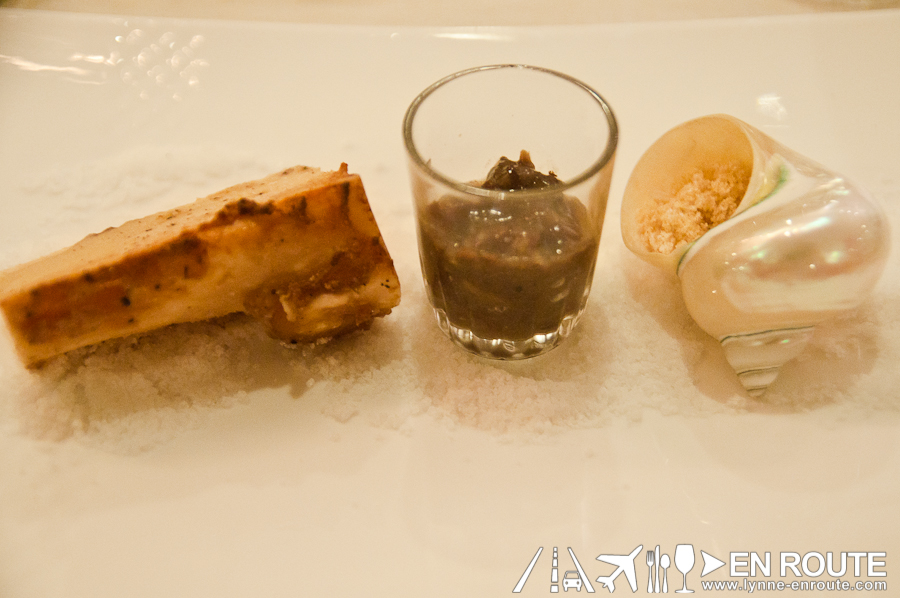 There's really a trend here.  It's playfulness with the food; everything's familiar with a twist.  Like the Pop Rocks in the Salad Surprise. You really get a surprise with a bite of your baby arugula and homemade cheese.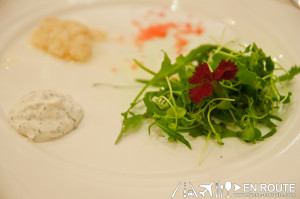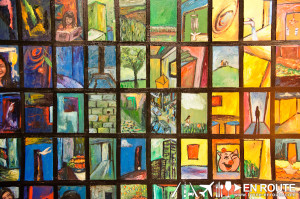 The next dish is easily another crowd favorite: Sipit Sarap, the claw of a crab with a rich sauce.  It comes with rice in case you need to balance out the flavors of the dish.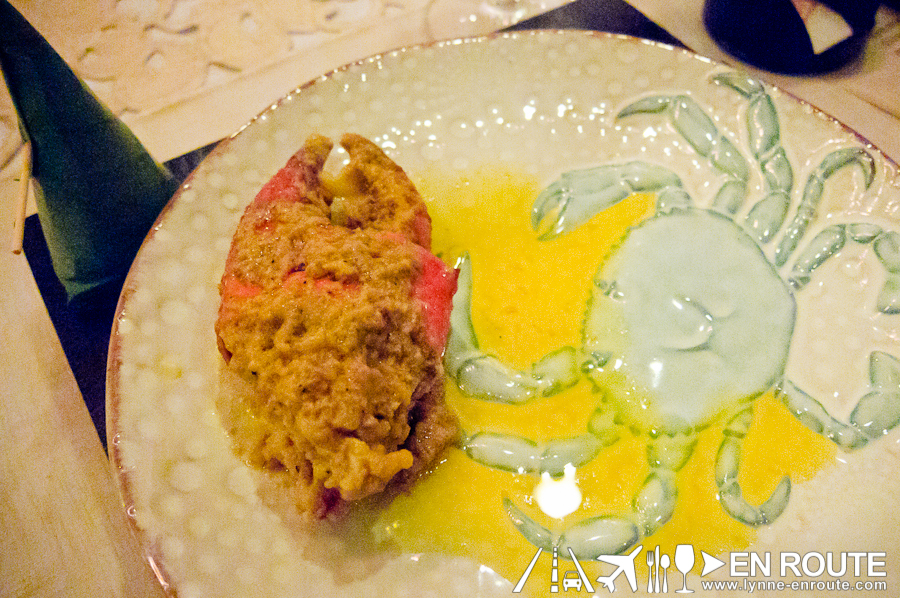 Lucky You, a play on the popular instant noodles, offers a very light and clean taste that supposed to prep you for the next wave of dishes.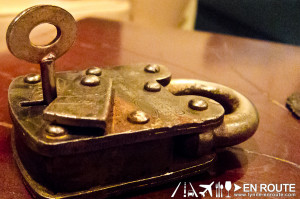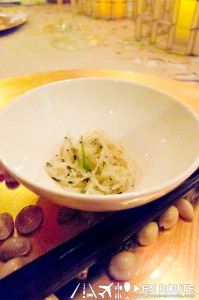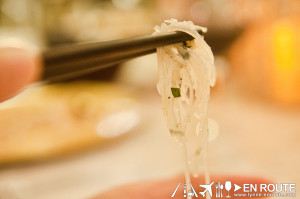 This starts with the spicy Lambada.  Why the name?  It's because, "mapapa-lambada ka sa anghang." (You'll end up dancing the lambada from the spiciness.)  It's like a spicy kaldereta, a zap to your senses just to check if you're still up for more.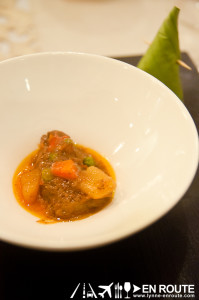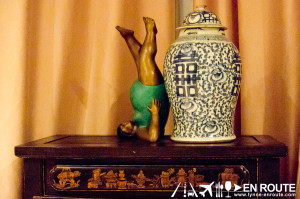 Because we finally come to the star of the show: the Lechon the Leche.  And we have two!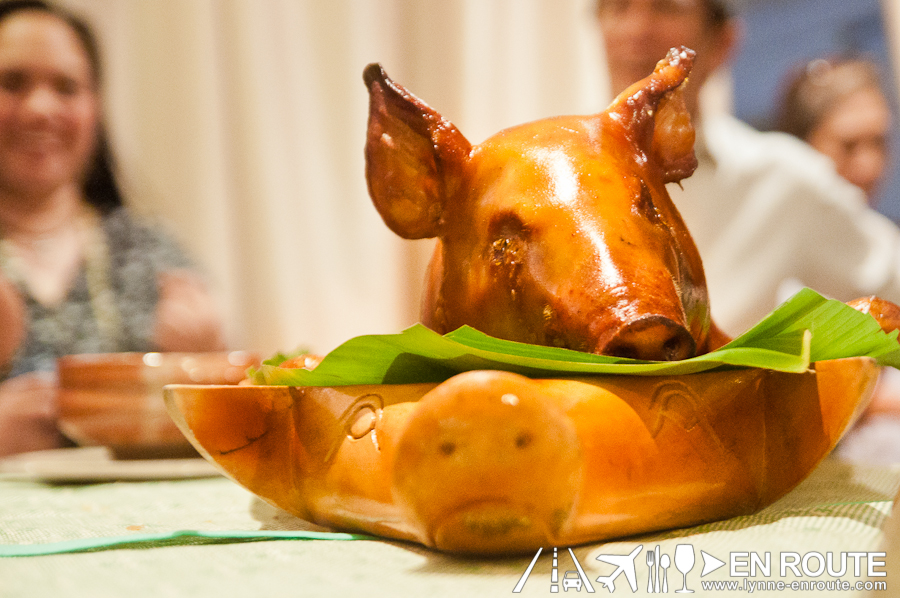 Liyora is an expert in cutting the lechon.  The big kitchen knife cuts through that crunchy skin with precise strokes.  This first flavor is the Than Long Lechon, stuffed with garlic noodles which you simply must drizzle generously with the the crab and butter sauce.  Be sure to take some of the skin too.  It's never complete without the delicate crunch of a perfectly roasted lechon's skin.  The noodles are long and firm, and reminds me of pansit somehow.  The garlic flavor is subtle so it's not overpowering, allowing you to take in several bites along with very soft lechon meat.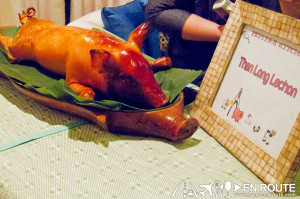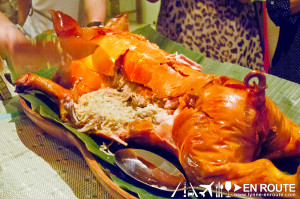 After the first salvo of lip-smacking goodness, we are served a palate cleanser in the form of a tamarind sorbet.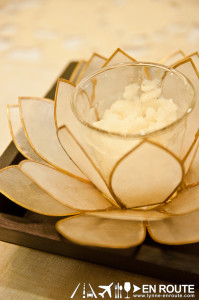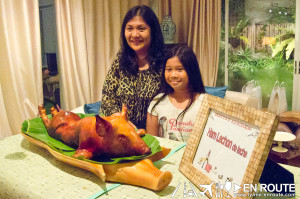 And we soon welcome our second lechon, the Ham Lechon.  This really feels like a Christmas lechon because of the Christmas ham that it holds beneath its skin.  There's a glaze on the side that you can put but I don't need any sauce. I swear, even inhaling feels good!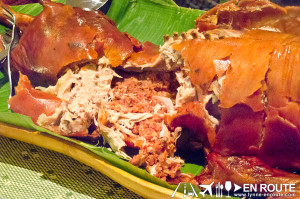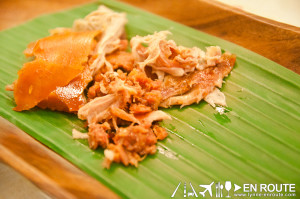 By now, we are past course number eleven and everyone is holding up. This shows that portioning and pacing are both just right.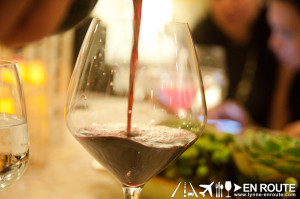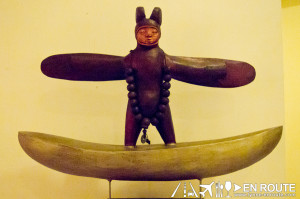 There are two desserts on the menu, the first of which is called the Cholesterol Sweeper.  Of the dishes, this begins as the most underwhelming in terms of presentation. It's oatmeal in a small glass and it's pretty plain to look at.  Not until you take a bite.  This is singlehandedly THE best oatmeal I have had.  It tastes rich and sweet and just oozes with happiness.  The secret ingredient?  Ghirardelli white chocolate. Despite everything I've eaten, I want some more of this.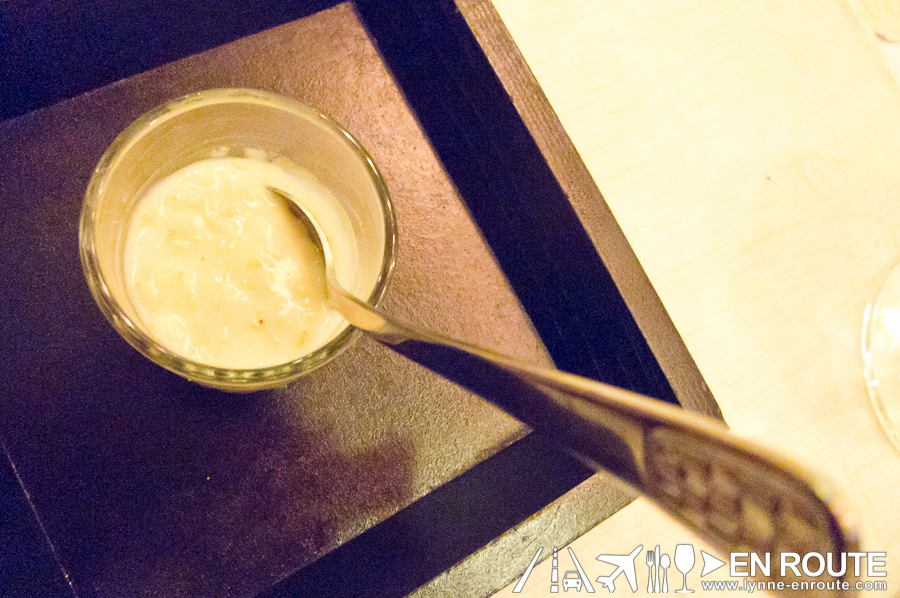 To close, we get a generous helping of Guinataan Brulee that has layers of carabao flan.  Guinataan or ginataan is made from coconut milk typically served with glutinous rice balls called bilo-bilo.
There's also Chocnut. 😀  They have Super Suman, sticky rice with an assortment of Filipino favorite dessert toppings, on their take out menu as well.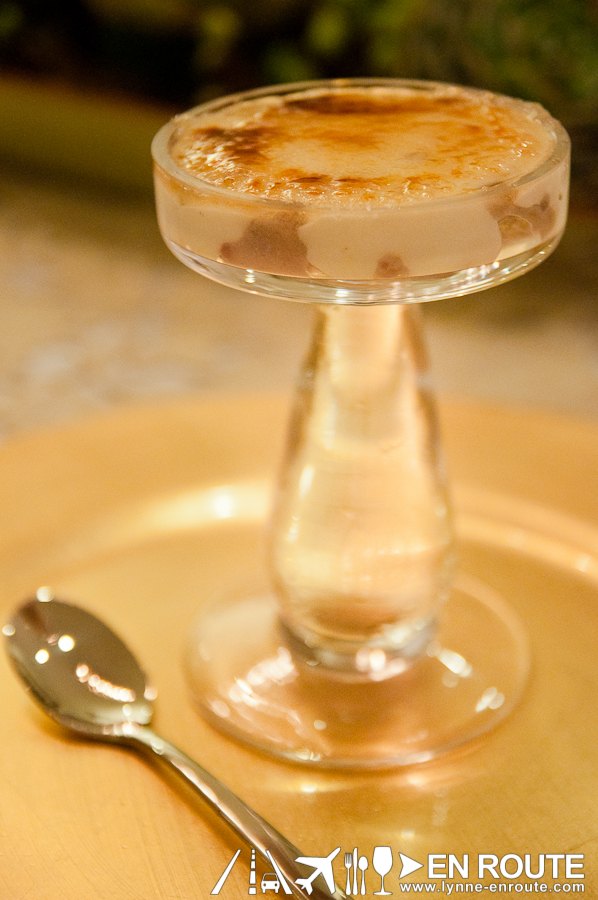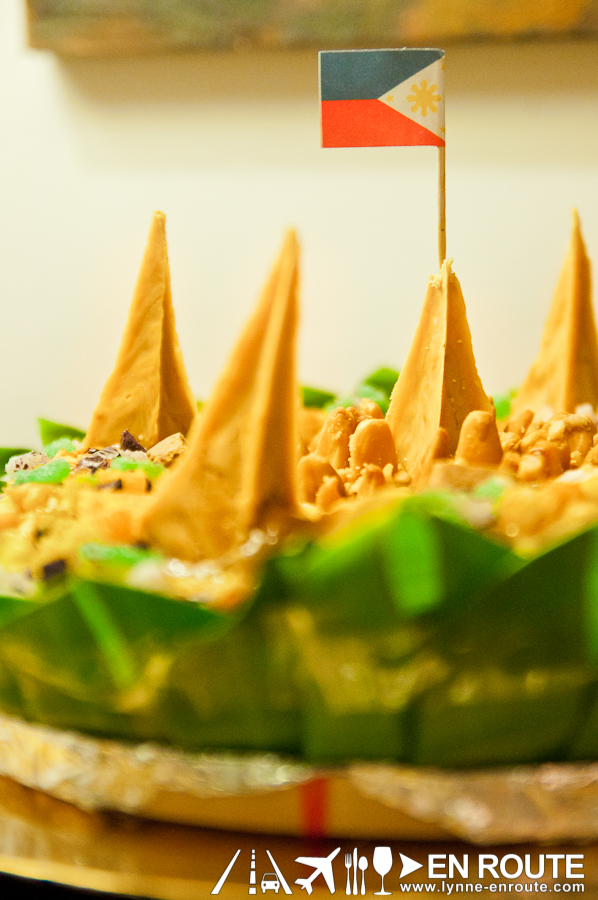 Here's a look at Pepita's Kitchen's "Hayop na Degustacion" menu.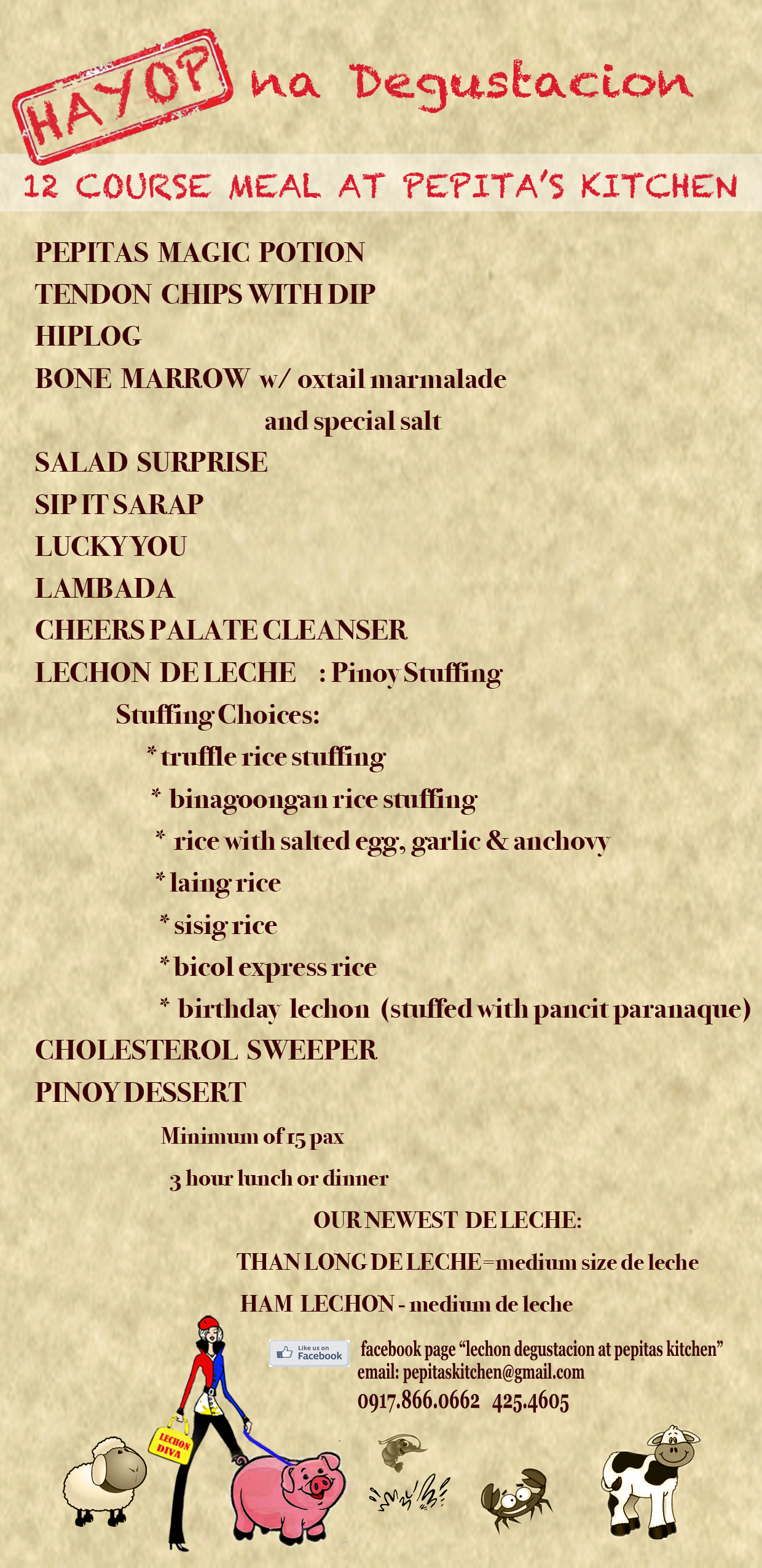 Pepita's Kitchen is open for private lunches and dinners for groups of at least 15 people.  It's a lovely home and the table setting alone speaks of the passion behind what they do.  For a degustation menu, what I really love about it is that it's not intimidating.  I actually know and understand what I'm eating and that has its own unique charm.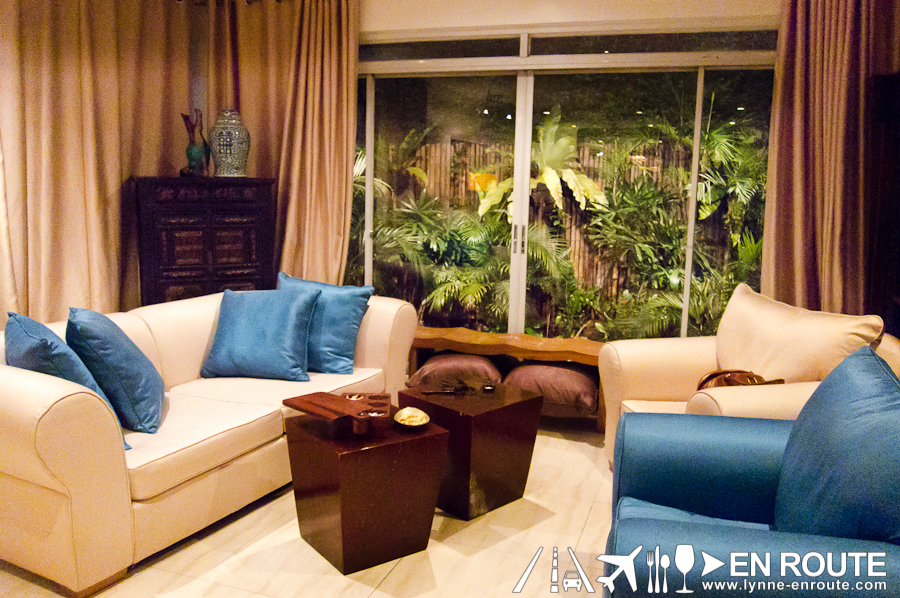 All lechons as well as the Hiplog can be ordered for take-out.  Another flavor to try would be the French lechon with truffle rice stuffing.
Check out Pepita's Kitchen's To-Go Menu.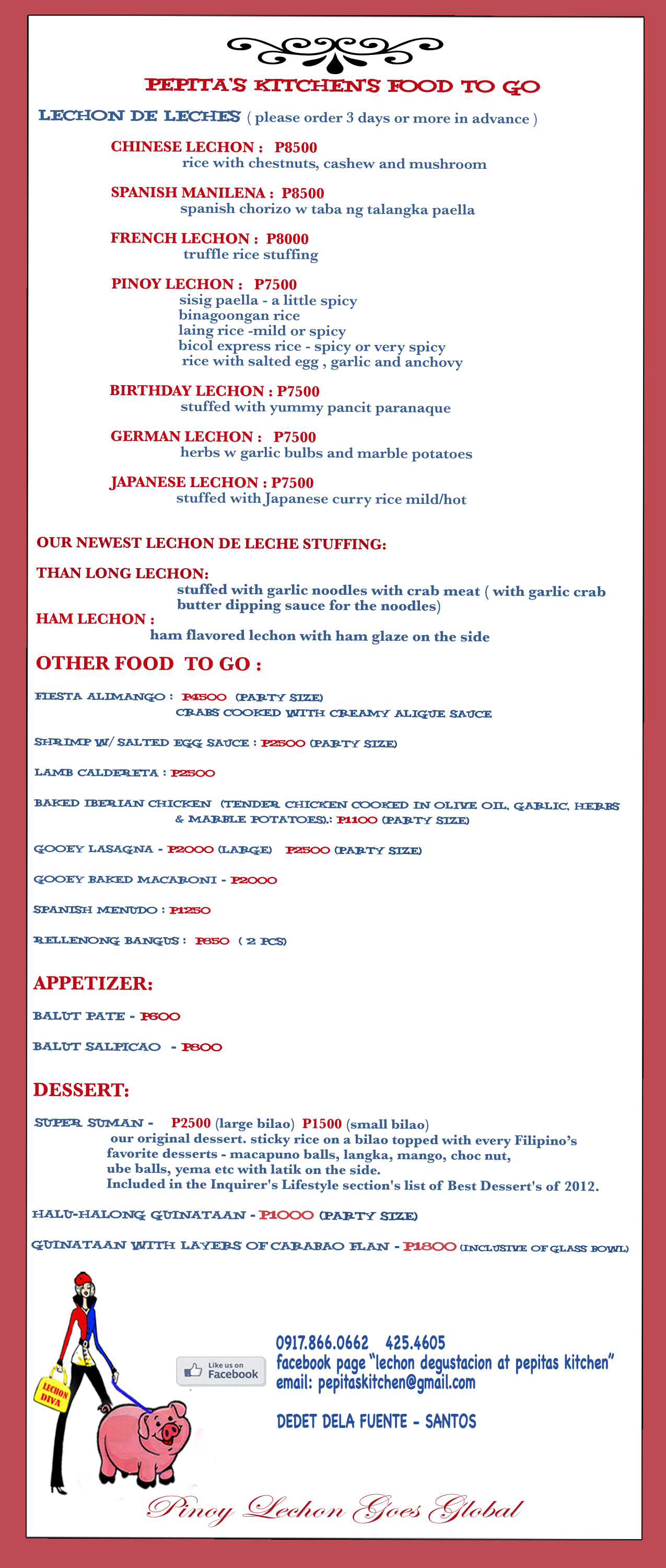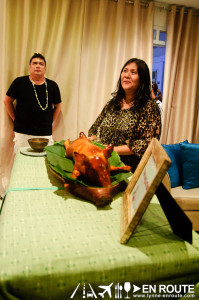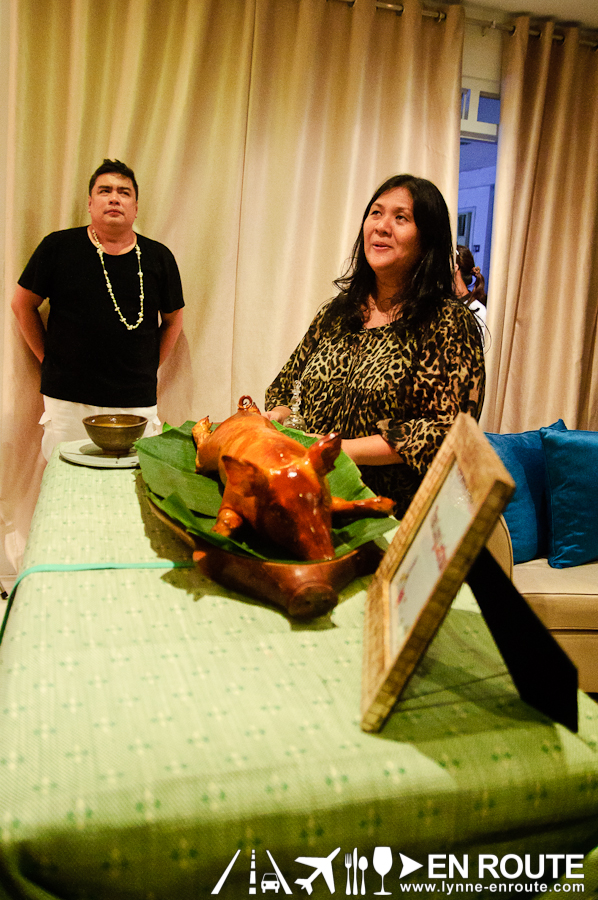 Pepita's Kitchen will start catering by February of next year so they can bring the degustation to you.  They will also have party packages for smaller groups in the future.
To contact Ms. Dedet Dela Fuente-Santos aka The Lechon Diva, you may do so through the following:
Numbers: +63917 866 0662, +632 425 4605
Comment on this and Share it on Facebook!
comments
Powered by Facebook Comments