This has been a long time coming and we would like to thank Leslie Gabe and the rest of MyFoodTrip for bringing out the Mr. and Ms. MyFoodTrip and for all the gifts and prizes they gave away to us, one of which are gift certificates from Momo Cafe. For all your food trip needs in the Philippines, check out their site at www.myfoodtrip.com and join their Facebook Page and be part of a growing food tripping community :

After meeting up with Leslie of MyFoodTrip in Eastwood, we figured this was the perfect opportunity to go again to Momo Cafe. It's been one of the restaurants we frequent because of the homey ambience and tasty food that is great for sharing. Since we still had one PHP 500.00 gift certificate left, it was time to try other items on the menu.
Momo Cafe is run by the Raintree Restaurant Group, the, same people behind Chelsea Market Cafe in Serendra, and the M Cafe and Mr. Jones in Greenbelt. As mentioned in one of the earliest blogs, Mr. Jones gets high marks for great comfort food set in an modernized version of the old American diner. You will be pleased to know they also have those large servings of comfort food in Momo Cafe, now in a chic, laid back and fun ambience.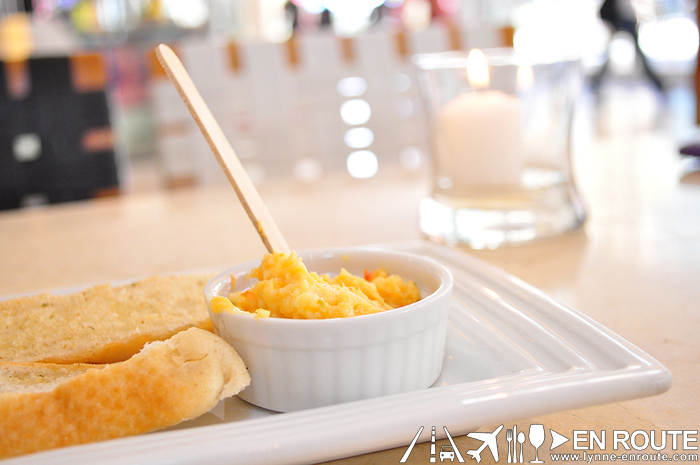 You start off with their complimentary cheese spread. Always ask for this. The creamy cheese with bits of pimiento will always be a great beginning to your meal.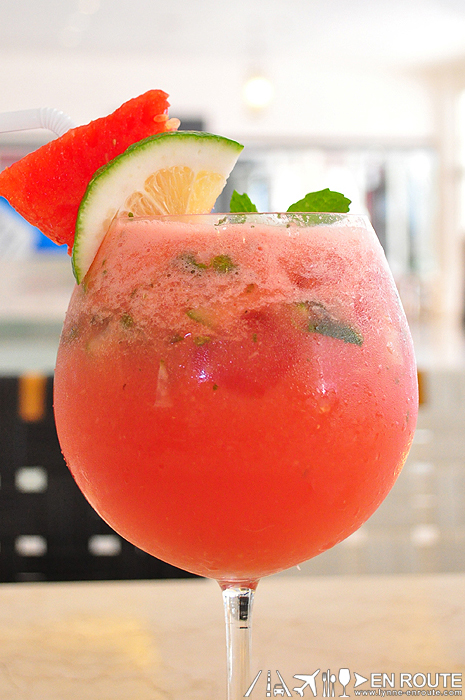 On previous visits, we have sampled Pancake Batter Chicken and Bacon Balls and some Sweet and Smoky "Hickory BBQ" Riblets. While no pictures were taken then, you will not go wrong with ordering any of those. Good servings with creamy taste on the pancake batter and a nice sweet tang on the barbecue riblets.
Best to pair it with your drink of choice, but one cocktail highly recommended is their watermelon lychee mojito priced at PHP 175.00. The delicate flavor of watermelon and lychee blends perfectly with white rum and some crushed mint. Enjoy it any time of the day. Perfect for summer 😀 !
There was the craving for some fish and risotto. How fortunate of us to discover that one dish had them both!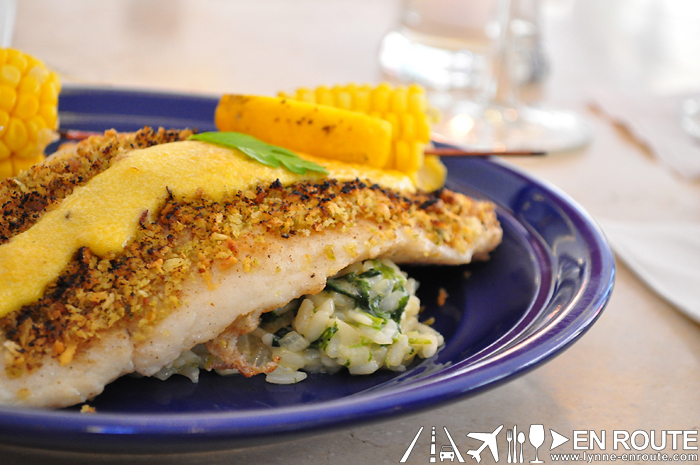 Pan Roasted Herb and Walnut Crusted Atlantic Lemon Cod with Spinach and Cream Risotto at around PHP 425.00. A mouthful of a name for a dish with filling flavor. The saltiness of the fish is balanced by the creaminess of the risotto. The included side order of steamed vegetables is more neutral but it adds a crunchy texture. For the ones looking for a light alternative in this world filled with gastronomic indulgences of the meaty kind, this will be for your days of going against the beaten path. Serves two.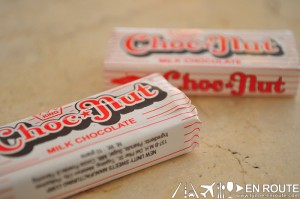 Finish off your dining experience with some complimentary Chocnut. It's a good sweet ending note or may even make you look at their dessert menu even more. 😀
Chic and fun setting, comfortable seats, comfort food and drinks, Momo Cafe in Eastwood will be your destination for mid-priced, well made meals to indulge your taste buds.
Momo Cafe in located at the G/F, Eastwood Mall, Eastwood City, Libis, Quezon City, Philippines. To learn more about Momo Cafe, visit their website here.
Learn more about En Route by Liking us on Facebook!
Comment on this and Share it on Facebook!
comments
Powered by Facebook Comments