This was a belated birthday dinner celebration.  We reached Serendra hungry and we were looking for a nice dinner place with good meat.
You know the food is good when the beginning of the conversation is marked by the first bite.  And no matter how many topics you branch out into, every bite will bring you back to raving about the food.
Duo Steakhouse and Wine Bar offers you a cozy atmosphere that somehow reminds you of the chatter that goes on during Sunday lunches with the whole clan.  But it also affords you that fine-dining type of setting to feel that you're not having just any ordinary meal. They even have paintings up on the wall using different art styles with prices on them.

And not ordinary it was.
We went for an order of the Chicken and Prawns Risotto.  The very fist bite was like fireworks.  Like your tongue goes on overdrive because there's an explosion of different tastes all of a sudden.  You taste the chicken, the shrimp, the broccoli, mushrooms and even the broth they cooked the risotto in. And then the flavors coalesce to a warm and fuzzy feeling akin to sipping a bowl of chicken soup from grandma on a rainy day.
We partnered this with Steak and Seabass.  First of all, whoever thought of putting these two together in one dish is a genius, because that night we were looking for both.  Seabass is probably my favorite fish.  I always associate it with the beach so I end of thinking of blue skies and waves.  Pair this up with steak that has a hickory kind of sauce and you have contrast.  But it works because they end up complementing each other.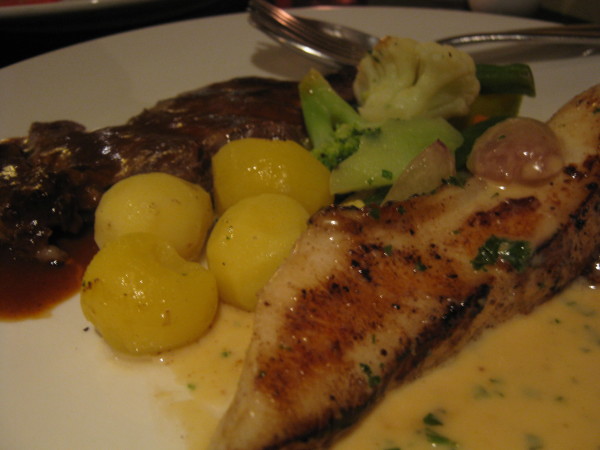 I can't believe I've never tried Duo before.  Given its location, the competition surrounding it, and its extensive menu, I say it is priced okay.  I didn't exit the restaurant feeling robbed.  I actually exited thinking of trying the Steak and Foie Gras next time.
With a big sigh of contentment, I summed up the meal with, "I'm so glad we chose this place."  Apparently, I was the picture of sheer joy at that specific moment.
Comment on this and Share it on Facebook!
comments
Powered by Facebook Comments