That new Bonifacio High Street Central complex has livened up the Fort Bonifacio area even more. What with its more distinguished selection of restaurants and lifestyle boutiques. It really knows what the market has been looking for.
Part of what they look for is a more sophisticated experience of eating already familiar American inspired comfort food. While T.G.I. Friday's and their all day everyday bottomless mojitos will always be a hit, some would want a more subdued atmosphere while enjoying some tasty wares, even if it does not have bottomless mojitos.
Speaking of sophisticated, check out the pictures that are coming now from this Sony point-and-shoot waterproof outdoor camera that was lent for the night. The technological progress in image processing and lens quality are amazing!
.
So back to the restaurant: Enter the chain that brings in the Village Tavern. The group hails from Winston-Salem in North Carolina, USA. North Carolina is also the headquarters of Krispy Kreme 😀 !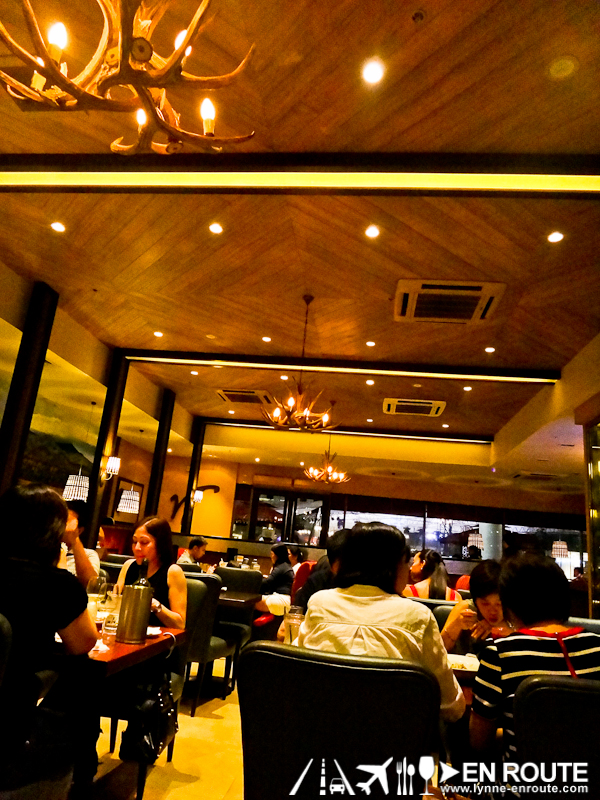 Going through the glass doors and sinking into one of their booths shows that this is really more for the subdued crowd. While it may be packed and American football reels are showing in its TV screens, the place is a lot more quiet and relaxed with the high ceiling and mellow mood lighting.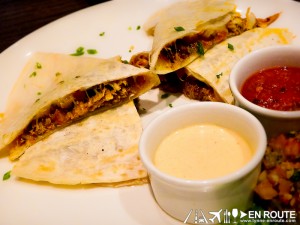 It's a far cry from how people may think a tavern looks like, but it really is more a modern twist with its mix of varnished wood finishes, glass shelves, and antler chandeliers.
People are here for a bite or three, and with an order of some great imported beer like a Guinness Extra Stout, it's time to explore a few of what the village Tavern has to offer.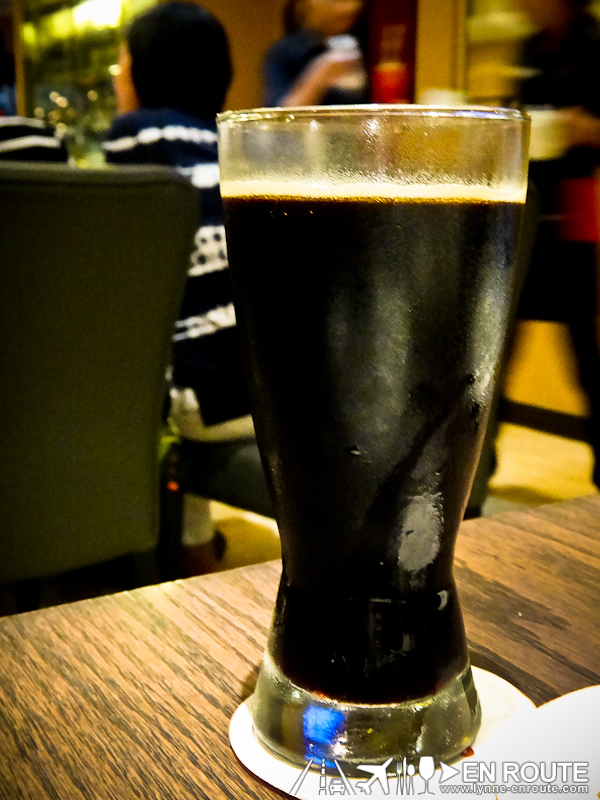 Pulled Pork Quesadillas (PHP 350.00) show what new American cuisine is all about. An influence of the southern tangy flavorings of pork mashed with inspiration from the Tex-Mex border. Surprisingly with the salsa and ranch dressing, it works perfectly.
This particular appetizer is deceivingly heavy, too. While quesadillas may normally feel light, the pulled pork sstuffing with its barbecuey-peppery flavors can work as a whole meal the moment you take in two pieces.
But wait, there's more: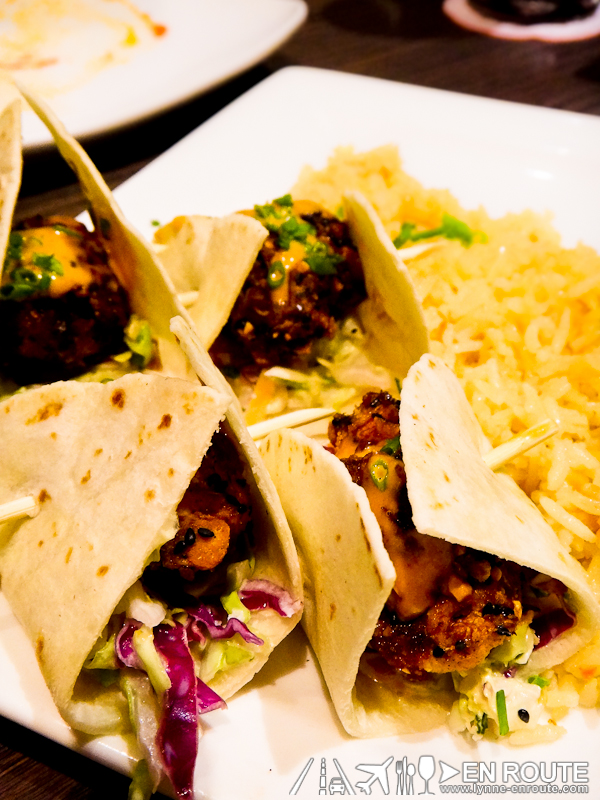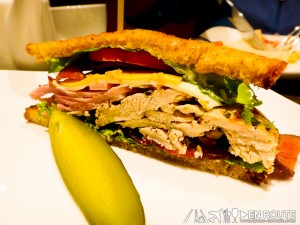 The Village Tavern has a Soup-Sandwich combination meal (PHP 395.00) that are directed towards the light eaters. It is still good for two. The clam chowder soup and the grilled chicken is again, surprisingly filling.
More Tex-Mex inspiration mixed with American flavors are in the menu, like the Crispy Chicken  Tacos (PHP475.00). These come with a side of rice. The spice of the chicken is mild enough to still get that chicken flavors. Again, great for sharing.
And look! More pulled pork on the menu!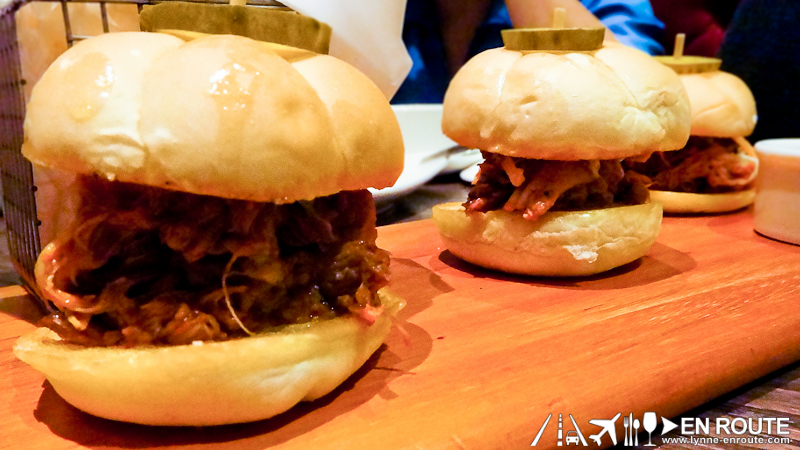 The Barbecue Pork Sliders (PHP 425.00) are three buns filled with the same pulled pork from the quesadillas, but this time served with a side of french fries and barbecue sauce. These are one of their best sellers and the tenderness of the pulled pork is complimented by its rich flavors making good use of the naturally neutral character of pork meat.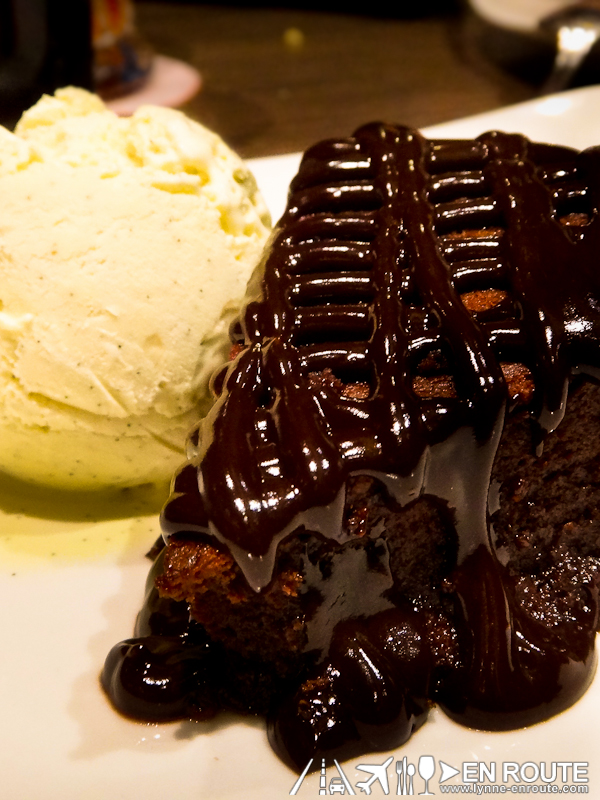 With such tasty savory dishes, that bitter-chocolatey Guinness was the perfect match. It also surprisngly went well with St. Bath's Chocolate Torte (PHP 395.00). Sweet finishes are a must after a savory dinner.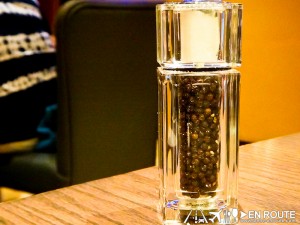 Feel free to explore more of its menu, as this Village Tavern makes a great addition to Bonifacio High Street Central, with its family friendly dishes and soft, easy-going ambiance. Eat heartily!
Related Posts
Village Tavern is located at Bonifacio High Street Central, Fort Bonifacio Global City, Taguig, Philippines.
Tel. Nos. +632-621-3245 or +63949 761-6258
Comment on this and Share it on Facebook!
comments
Powered by Facebook Comments