We have shown our fascination for mojitos. Case in point: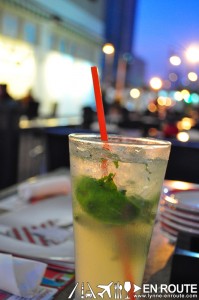 1. If a restaurant has mojitos in their drinks list, we give it a try

2. We have a tutorial on how to make a mojito
3. We have a mint plant named Pep, almost ready for summer mojito making

There is something deceivingly addicting about this Cuban concoction. It may be the sourness of the lime, the sweetness of the sugar, the cooling sensation of the mint,  or we are just plain alcohol lovers 😛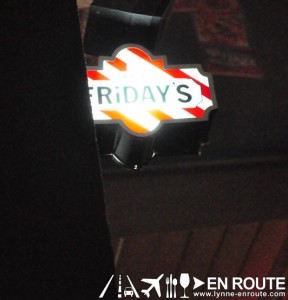 T.G.I. Friday's has been aggressively promoting their bottomless mojitos. You can get one for PHP 305.00 (add PHP 35.00 for a flavored one) and the promo starts at 4:00PM. This just seemed too good to pass! It all seemed even more inviting when we won a T.G.I. Friday's Gift Certificate for placing First Runner Up in www.myfootrip.com's Mr. and Ms. MyFoodTrip contest.
So like moths to a flame, we instinctively gravitated to sample the wares.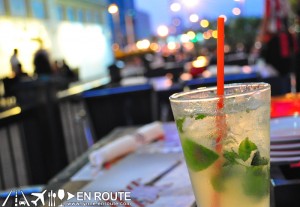 We tried their classic mix from the variety of flavored mojitos in the menu. First impression is that it has a more sour note. There wasn't much mint leaves in it so the mint aftertaste kicks in only after a few seconds, but it still sends a nice cool sensation through your nasal passages. I prefer a little bit of sweetness into it, but no one can argue that they are quite generous with the alcohol (this was much to our delight aside from the fact that it is bottomless!)
 Related Posts
A flurry of appetizers and other entrees go well with it. Whether it be their Three-For-All sampler platter, Fish and Chips, or Ballpark Nachos. The fried mozzarella and fish from the Fish and Chips may seem to taste like they were fried in the same pot, but they still taste satisfying. These comfort food are mediums for togetherness, always best shared with family or friends in the casual laid-back atmosphere of T.G.I. Friday's.
| | | |
| --- | --- | --- |
| T.G.I. Friday's should be a staple in your list of casual dining places and their bottomless mojitos are perfect for the summer! I believe they will have this promo all year round, but nothing's better than trying it right now. For mojito lovers, there is no excuse not to try this out and share their appetizers or entrees for a nice celebration with your friends and family. | | |
Like this post or have your own T.G.I. Friday's experience? Share it 😀 !
Comment on this and Share it on Facebook!
comments
Powered by Facebook Comments