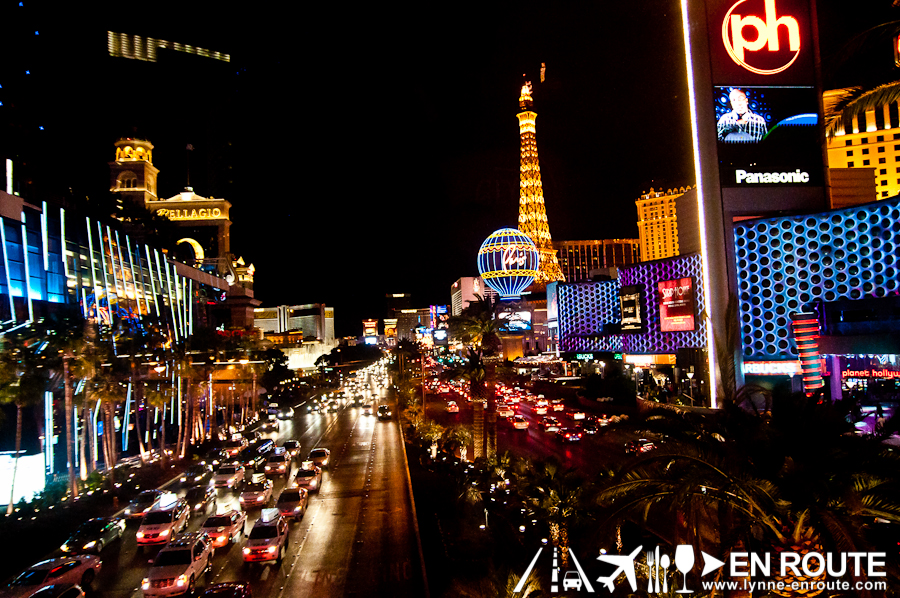 Ah yes. Las Vegas. It seems like each and every brick of this place was made from the hopes and aspirations that come with living the American dream – at least the fast-paced, glamorous, carefree, and opulent version of it.
From above, it is quite magical to look at, with all the glitzy lights and melodious mix of cars, coins, sound effects and elated people that make up some kind of noise that is distinct from anything in the world.
Because of this, Las Vegas has held quite a few nicknames, each properly describing it, and aptly becoming applicable to whatever any person wishes to get out of this blinding dot in the middle of the desert:
Entertainment Capital of the World
Gambling Capital of the World
Marriage Capital of the World
Glitter Gulch
Sin City
Why so much nicknames for a piece of concrete strip in the middle of nowhere? What is in it that it deserves both celebrated reputation and despised notoriety? Probably the best way is to go through the nicknames one by one:
Entertainment / Gambling Capital of the World: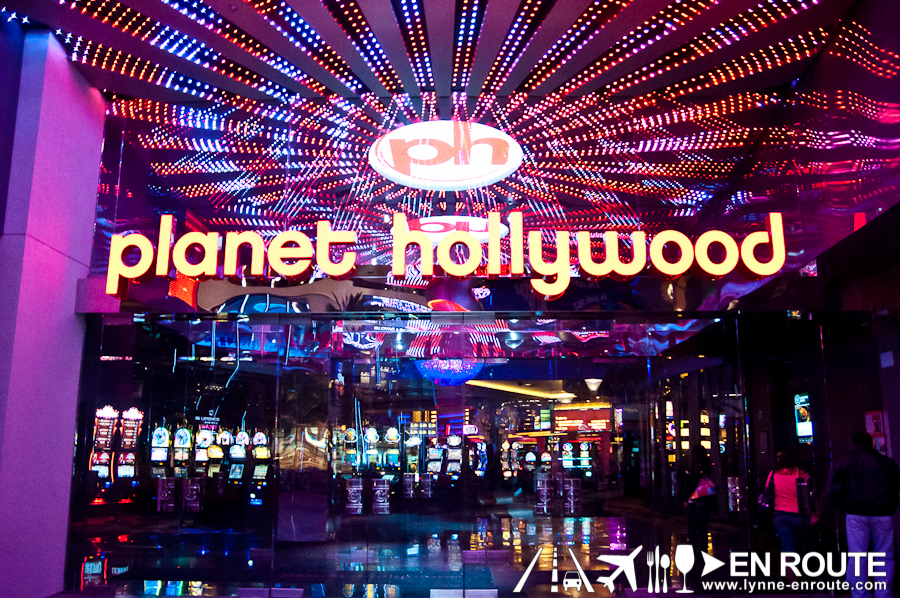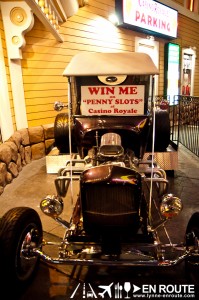 .
.
While Las Vegas is pretty much known as a gambling capital, the very thing that draws people to try their luck is the lure of the ever changing and dazzling world of entertainment.
It is quite deceptive when you think about it, that as everything around you beckons you to come closer like a fly to a moth, one way or another, you may find yourself taking a shot in a nearby slot machine to win a coveted prize. Strength of character will be tested here.
Speaking of characters: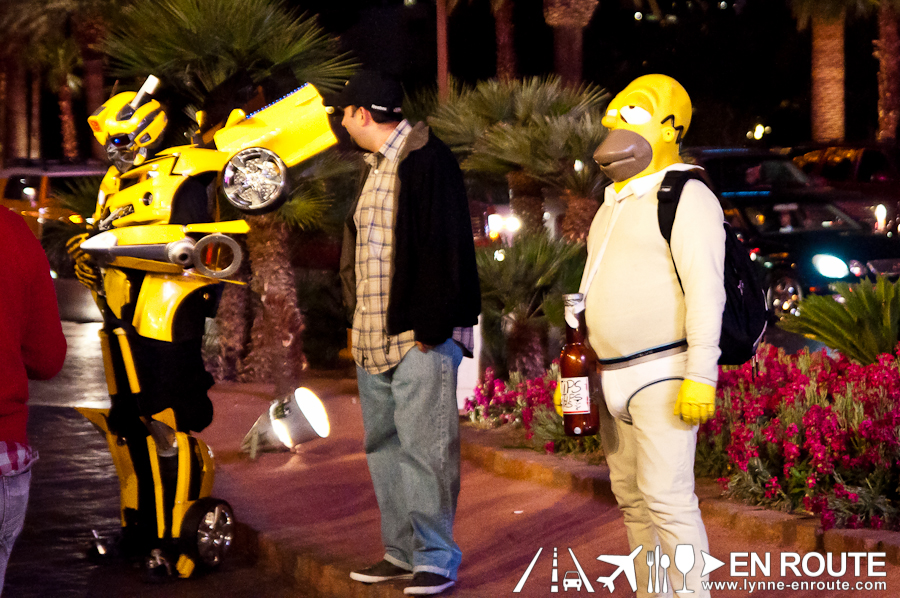 Up and down the main Las Vegas strip, fictional characters from famous places, movies, cartoons and other what-nots abound, giving a few giggles at the craftsmanship of their suits, or just tickling a little nostalgia that sends you dropping a few pennies as a sign of appreciation for that few moments of joy.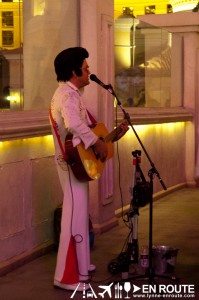 Everyone is pretty much represented here. From Homer Simpson, all the way to Japan through the famous Hello Kitty, and into the ends of the Earth with Captain Jack Sparrow. And they play the part well, too! The place feels like Disneyland, except that they sell beer from pretty much anywhere in the streets, and the place becomes full of drunk and stoned people.
Las Vegas is also a place where Elvis seems to live forever, albeit being degraded into singing the blues for some decent change to get through the next day. They can sing a great tune, though.
.
.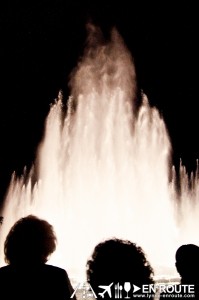 .
.
.
Everything is quite a sight here, with special effects and giant fountains that shoot water 20 feet into the air, crashing down into a pond worthy of being called a lagoon, with the wind blowing the mist to cool your cheeks. It is a sight to behold and kids will surely love it, even if it is waaaaaay past their bedtime. It  will cause them to forget to sleep.
Although once sober lights start to hit their eyes, then the reality of childhood crashes down on them, too.
.
.
Marriage Capital of the World: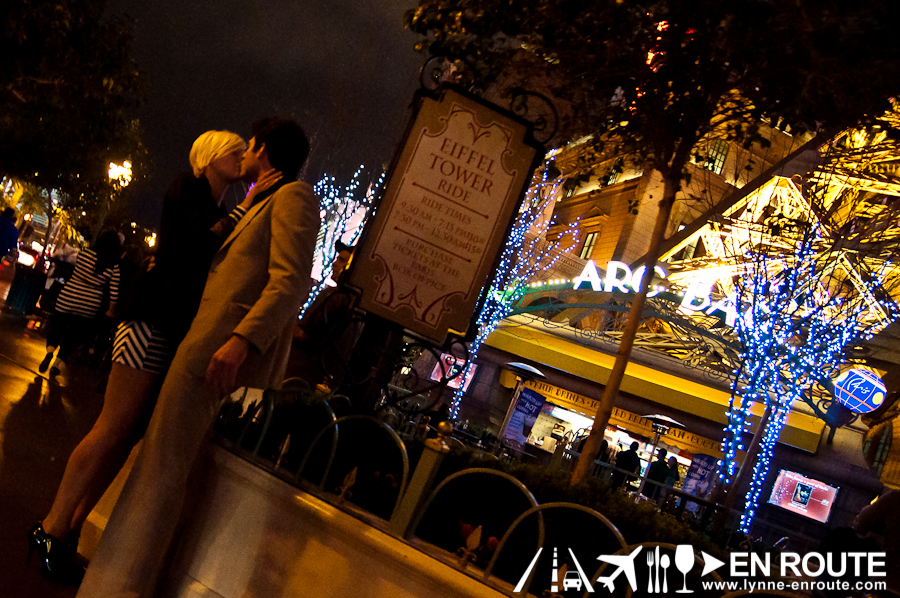 With all the blinding lights and melodious noise that captivates the senses, it can't be helped that it captivates the heart, too. As couples find it romantic to be standing on the foot of a replica of the Eiffel Tower (magnificent replica and size at that), the moment can sometimes become overwhelming.
And this is something Las Vegas conveniently delivers to those who find themselves in that very moment.
Althroughout the Las Vegas strip, there are wedding churches for couples to get married. Everything is provided: the rings, the priest, even one witness comes along with some of the promotional packages. It may sound not-so-legit, but these are legal marriages.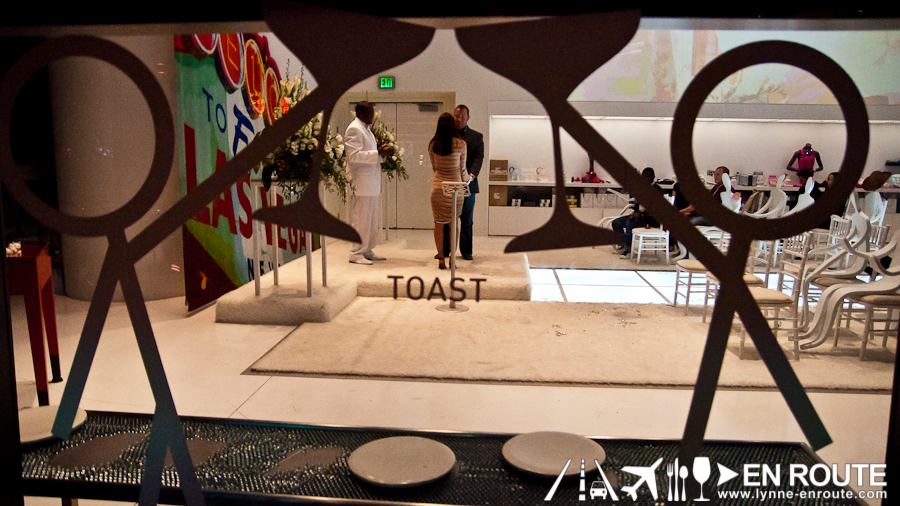 It isn't quite surprising that marriages in Las Vegas sometimes end up in divorce, sometimes even as quick as the night has gone by. The overwhelming feeling may or may not last. Like the slot machines, you take your chance at love, too.
Glitter Gulch: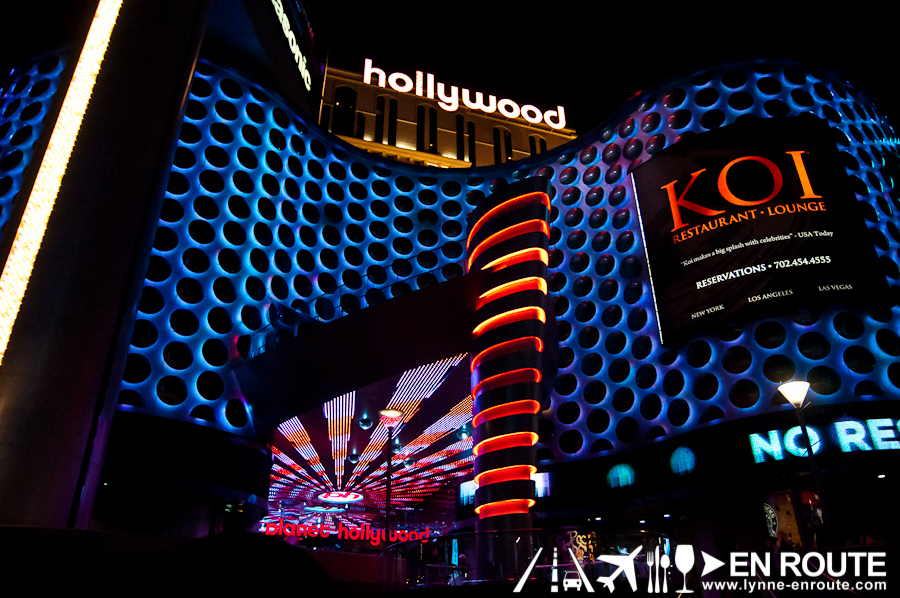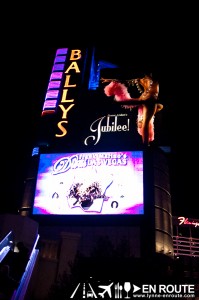 This is probably the nickname that is most obvious at every corner of Las Vegas the moment the sky turns from blue to black. Sizzling strobe lights and larger than life video screens, coupled with ostentatious decorations from themed hotels and casinos can transport you from outer space, to the streets of Paris, to the sands of the Sahara, and one swing back into Venice, Italy. The sights are just astounding, it is hard to really go through all of them in just one night.
The details are very impressive. You can see capitalists of the entertainment industry go to great lengths to use high grade materials to give outstanding knockoffs of real-world landmarks. This adds to the entertainment value of Las Vegas.
And it doesn't stop outside:
The meticulous attention to detail in the exteriors also flows into the interiors. Ambient lighting and simulated colored of sky and clouds feel like the whole place is always set at mid-afternoon. Depending on the themed hotel/casino you go to, you can see French dining coves or Venetian gondolas.
And you can pay a fee to be strolled along the whole canal system, too!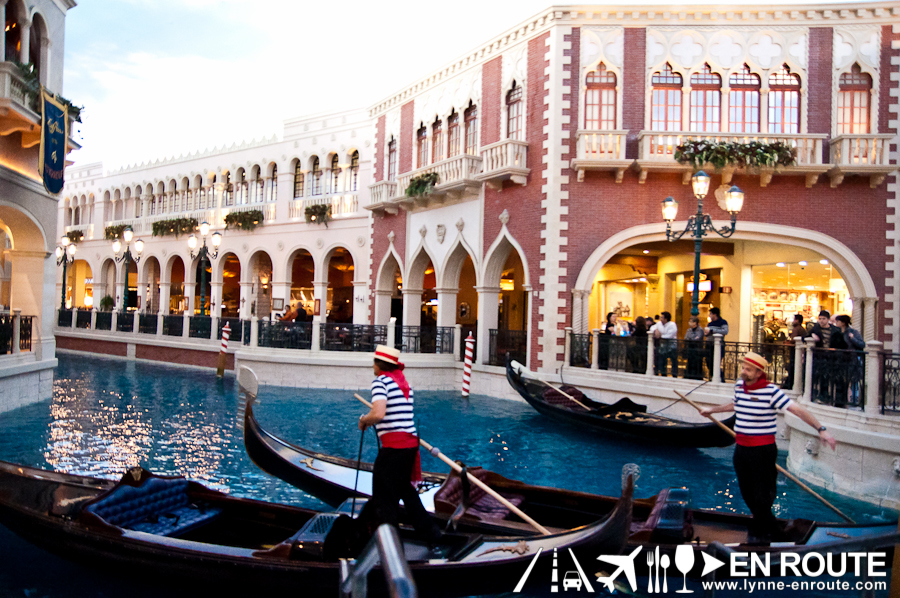 The halls are huge and majestic. It cannot be helped that guests just gawk with awe from building to building. This particular hall is found in the Venetian Hotel/Casino. If the angle of the camera is right, the floor sometimes gives the illusion of a bunch of stacked boxes, leading all the way to a grand fountain.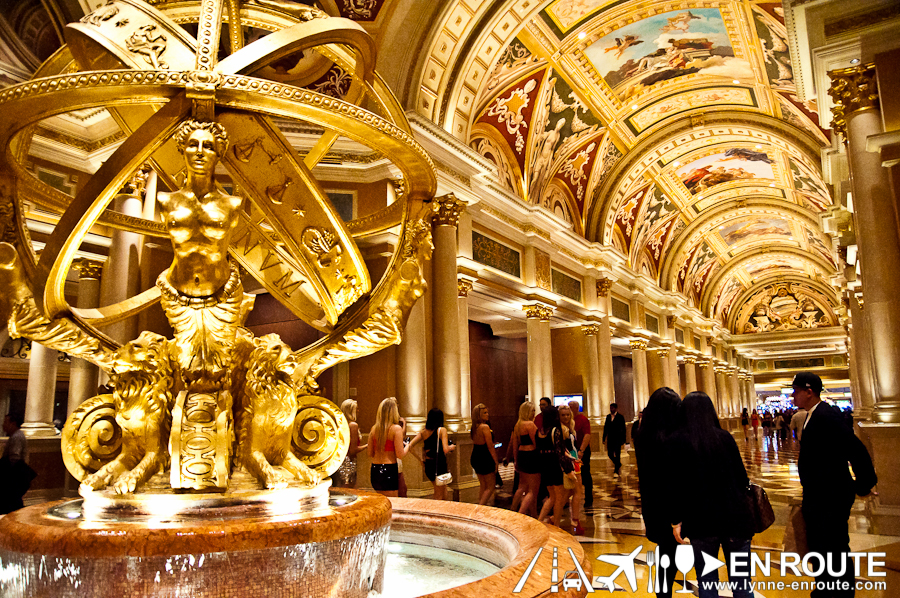 Now, notice the congregation of ladies at the other end of the fountain. To the oblivious/naive, these may look like just a few young girls just enjoying Las Vegas. But apparently, be more wary of those who dress a little too glamorous, as these are apparently prostitutes that are scattered along the place. This brings us to the last nickname:
City of Sin:
In the excitement of everything that is Las Vegas, one thing that may have born fruit in the recesses of your emotions is the sense of entitlement for the finer and more adventurous things in life, even for just this trip, and never to be desired for again. After all, everyone has heard of the saying, "What happens in Vegas, stays in Vegas."
Now these kinds of indulgences will all be a subject of debate. This is all epending on what you do crave for, or what you are after, when you head to the City of Sin.
It can be as simple as an eat-all you can buffet, where restaurants compete for your precious dollars and present you with an array of flavors that you will find hard to resist the moment you take a whiff from the scent coming out of their stations. You can find yourself eating to your heart's content, or all the way to your stomach's begging for mercy.
Have a taste of everything, as the ensemble just becomes all too irresistible. This is a place that serves all day breakfast, as the moment you step into those casinos, all closed up with no windows to prevent any light from entering, you will lose time and begin to wonder whether it is day or night.
And what comes with eating? Drinking. Wine? Beer? Sometimes it's hard to pick, so just get both. Be sure to make it out of your table without expelling all your food into a messy train-wreck-like vomit into their carpeted floors. The hotels find it normal, though.
Remember how on the first part beer is sold everywhere? So that just usually means one thing at the end: Beer bottles and crushed cans are dumped pretty much everywhere, too.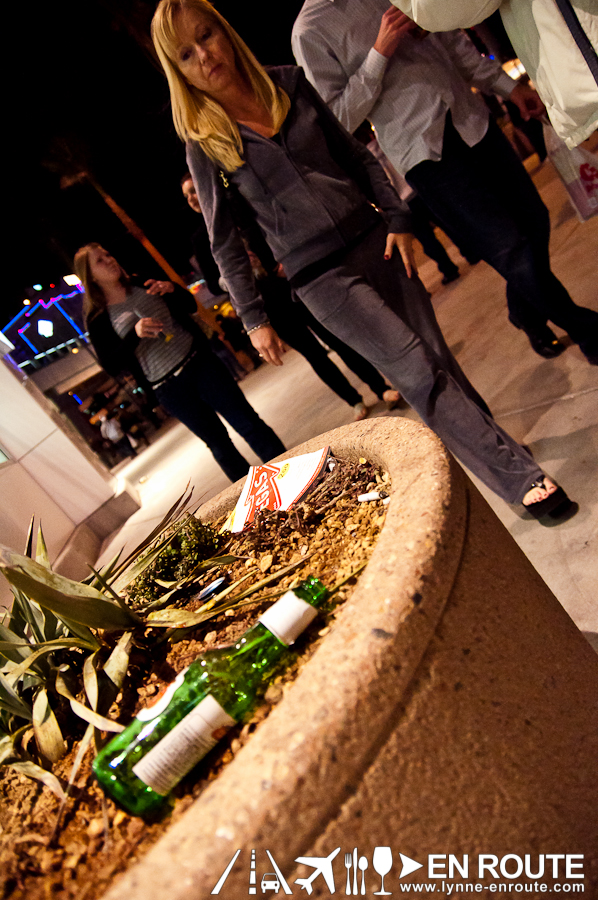 .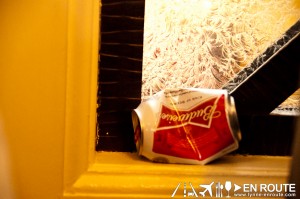 While there are those that crave for the food, there will always be a craving for the flesh, and this is where seedy guys looking like this take the spotlight:
People in hoodies are around the strip, both male and female. They will be clicking and snapping these cards from their finger and yelling something to the tune of "Take a pick. It's your lucky night" or something. When you get a card and finally find that these are pictures of naked women with a number to call, you will realize that these hooded figures are the notorious smut peddlers of Las Vegas.
Of course not everyone is out for this, nor are those who are looking for it be very much open to just suddenly get and keep the cards. They will drop these things at the very moment after discovering what it is, like it was some sort of unwanted merchandise.
So you will see a lot of these littered all over the streets….
….much to the annoyance of this guy, who will probably be cleaning this until sunrise when everyone has gone to sleep.
If that is not enough, giant versions of those images will come rolling to your eyes, openly advertising their "wares", through roving lighted billboards. Oh, and interestingly, promoters of strip clubs do not look seedy. you will see them as tall, well versed and sharply dressed gentlemen in designer suits, just offering it casually to groups of men. It is a stark contrast as to how you would see a man in a well ironed business suit.
The Dawn Comes:
Everything that has happened in the evening seems to disappear as the sun rises, and the place turns into something similar to a business district, given the tall casino/hotel buildings towering over the cars. But this is all an illusion, for once you go inside those casino doors, everything about the Las Vegas at night is still there.
So take your pick as to how you want your Las Vegas experience will be. Actually, why not take all? Las Vegas is what you make of it, and you can leave anytime. That is, if you find yourself wanting to do so. This is the draw of this oasis in the dessert, and it seems to be here to stay. As put in Elvis' song:
Viva Las Vegas!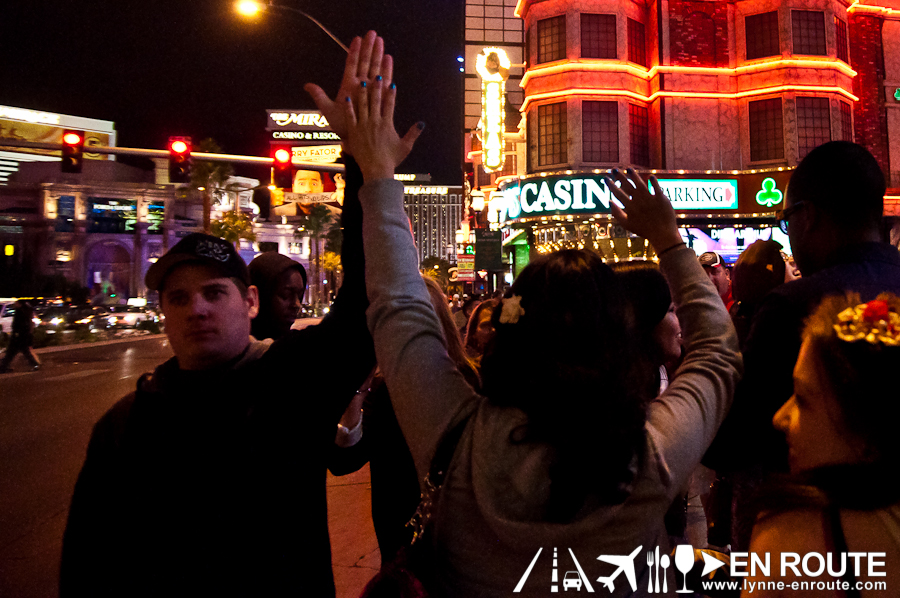 Related posts:
Been to Vegas? What do the pictures tell you of what you want to expect from it? Share it in the comments section below
Comment on this and Share it on Facebook!
comments
Powered by Facebook Comments