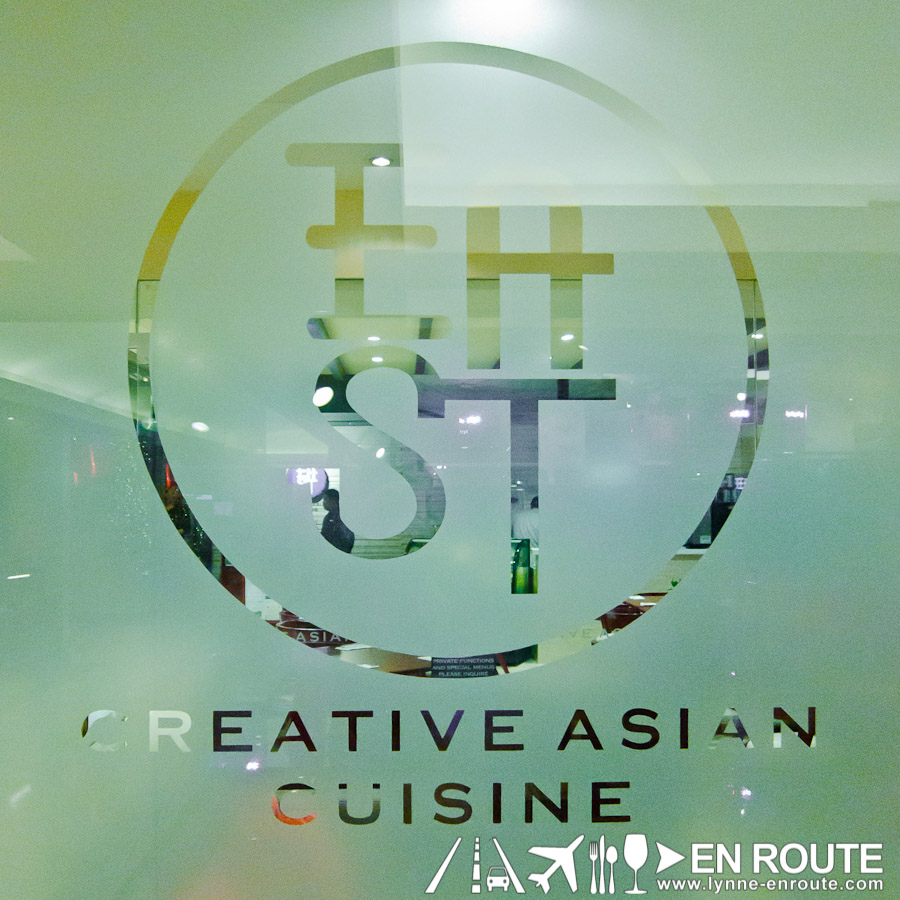 It is obvious that Rustans is not the main shopping destination of the people behind this blog as it was only this year of 2014 was it discovered that there are restaurants in EVERY LEVEL of the Rustans Department Store in Makati. Well how about that? You don't even have to leave a floor if you need to get some grub after some laborious luxury shopping.
But the one that will give a great, comfort Asian inspired filling inside Rustans will be East Cafe. Also surprising is that it has been in operation for about a decade now.
Headed by the talented Chef Him Uy De Baron of Nomama fame, East Cafe is different in that the philosophy of this little nook inside Rustans is to simply highlight cuisine that is easy to understand, yet complex enough not to be boring. Chef Him calls it "straight-up Asian comfort food."
And comfort is more than just the food, as the plush chairs and gentle trickling of water into a shallow pond filled with goldfish highlights this cafe where you may find Manila's elite women grabbing a bite after being all shopped out, or as a meeting places for some lovers.
But back to the food: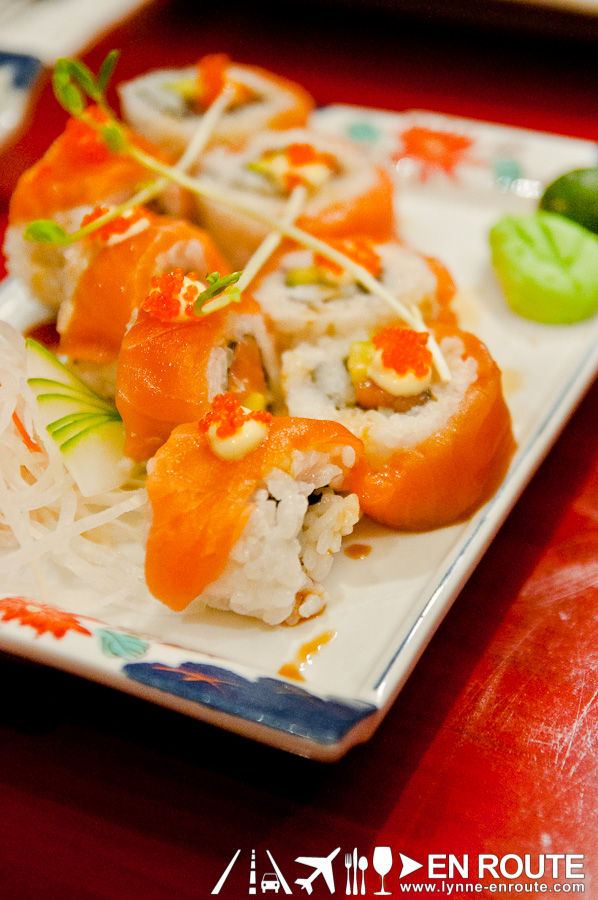 If you are still planning to head out to do more shopping and just need a quick boost, Sushi-style dishes are the way to go.
Easy to eat, great to share, and just overall comforting, especially if it is like East Cafe's Spicy Salmon Maki (PHP 250.00) that has a delicate spicy kick then balanced with fruity sweetness of mango and tamayo creaminess.
Alternatively, get its grilled unagi variation filled with cucumber, and sprinkled with sesame seeds.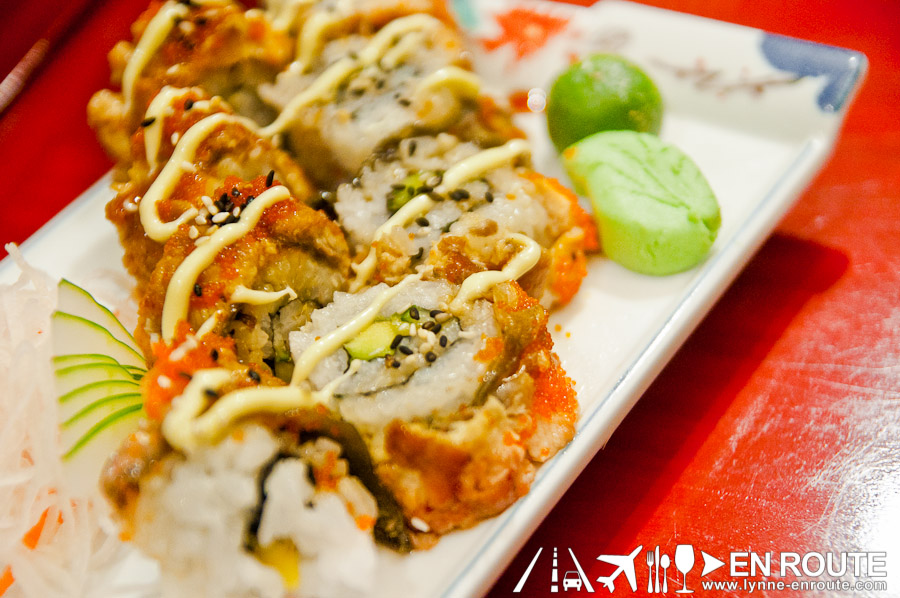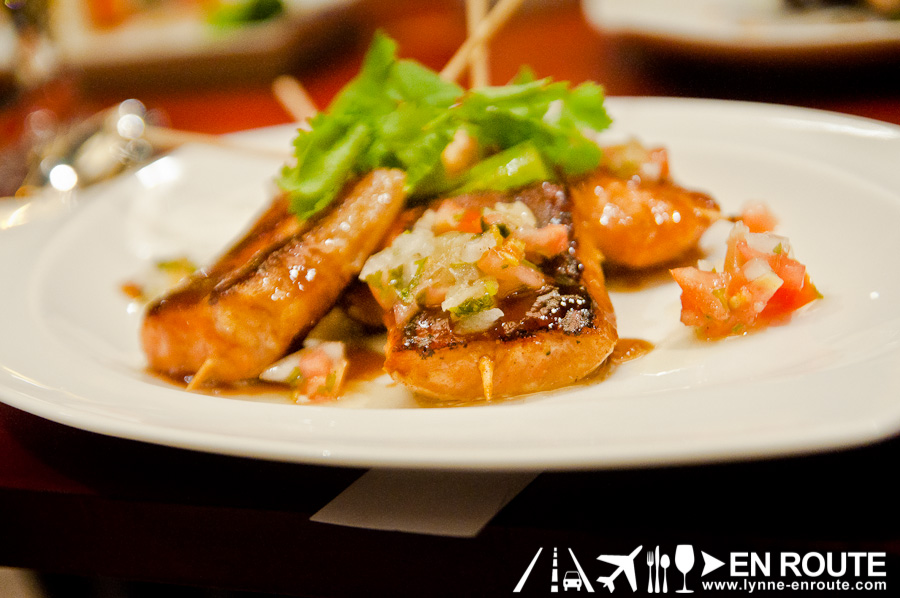 Carb-conscious? (that skirt you saw might not fit after some sushi), you can go with plain sashimi, or get these Salmon Belly Lollipops (PHP 380.00). Yes salmon belly is fatty, but this is the good kind of fat (the kind that helps you lose weight. Also known as Omega 3. Glad you can know more from this site other than unadulterated calorific indulgences). Get this and you will feel filled and guilt-free at the same time.
Or just go all leafy with Salt-and-Pepper Crab Salad (260.00). This is a salad of contradictions, as the leafy greens are compensated well with crab meat deep fried in a salt-and-pepper batter. But hey, you get the best of both worlds. This one is highly recommended.
And if you are not venturing forth anymore and calling it a day, replenish with some beef ribs. You need your meat after all.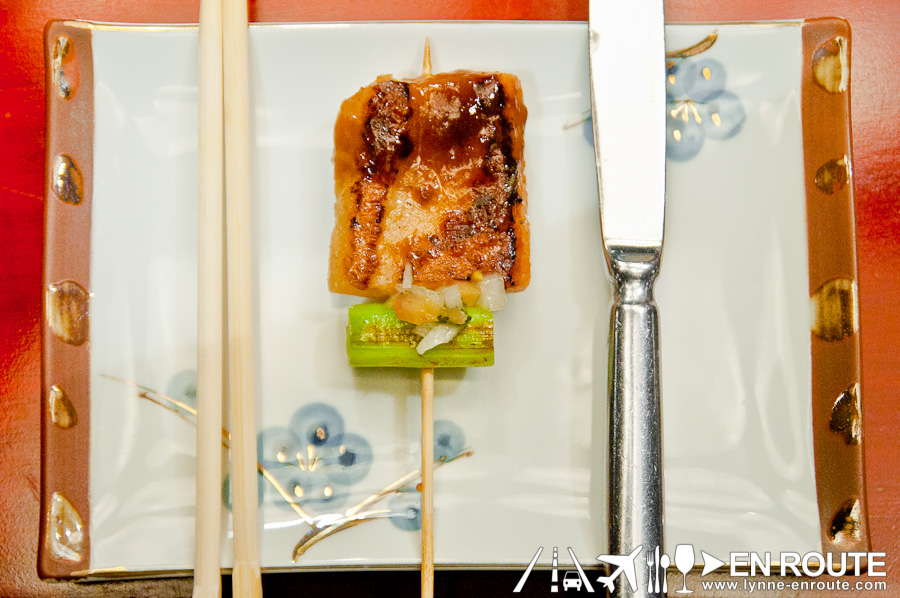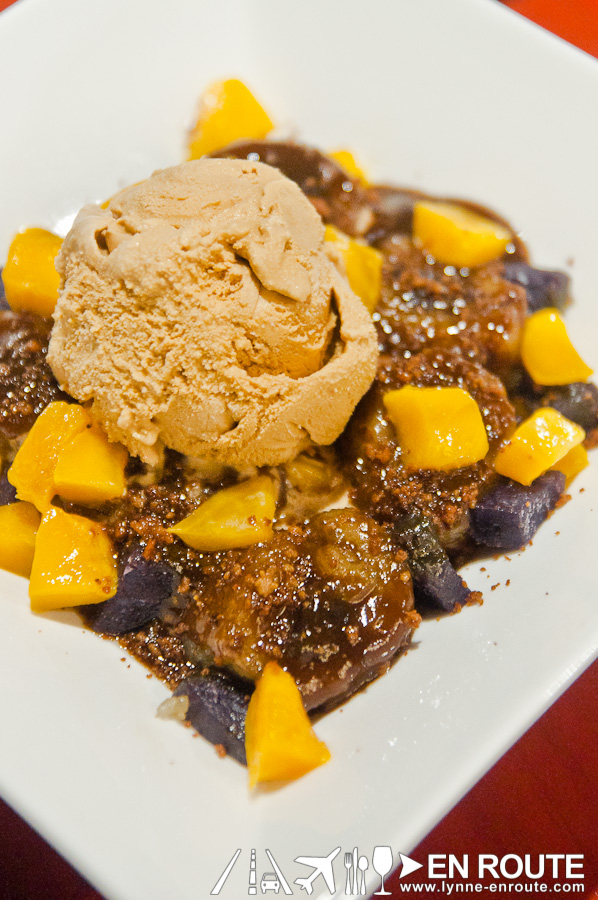 But there is something in their menu that may even trump any retail therapy, especially if all-out-sweetness is your form of healing of the soul. The people of East Cafe call it the Sumaki (PHP 275.00).
It's your Filipino suman shaped like a giant maki and then topped with creamy ube, mangoes, crushed pinipig, and ever so sweet Visayan latik (coconut jam). Oh, and then it is topped with ice cream! Retail therapy for a breakup? Who needs it when you have this massive native delicacy overload?
It's more than just a stopover for shopping, though. Given its more secluded location, it is a great place to hide away if you may need to focus on that last minute report while being surrounded by delicious, comforting wares, or for that quiet, casual, yet intimate rendezvous.
So don't be surprised if you see some people entering Rustans and leaving with no bags at all. They might have just needed that quick escape into East Cafe.
East Cafe is located at the 2nd Floor of the Rustans Department Store connected to Glorietta 4 in Makati City.
Tel. Nos. +632-812-0233 or +632-813-3739 local 246
Comment on this and Share it on Facebook!
comments
Powered by Facebook Comments