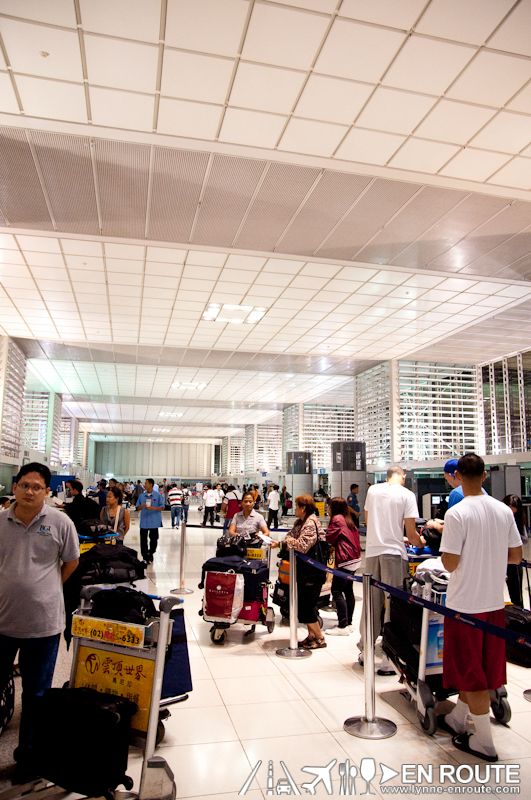 A United States Visa. Some people actually kill for it (Which of course automatically makes you ineligible to be granted one). Setting foot into America is actually one of the great Filipino aspirations that the 3% of the upper echelons of local society may take for granted.
But with a showing of honest work, good moral standing, and a good reason that the US Embassy will believe that you will NOT hide when you get to America, you get one stickered on your passport.
Here's a news flash though: It doesn't mean you get to step into America
And all the more in the post 9-11 world, where America has realized that there are really those who do not want to hide in their country, but just want to see it burn it to the ground. Call it envy, call it hate, call it a misplaced sense of self-righteousness. But thanks to these kinds of people, getting to America is more difficult now even with a US Visa, or a returning American citizen.
.
And it all starts inside our own international airport.
By now, most airport travellers from the Philippines will go through the usual post 9-11 routine: X-ray upon airport entry, check-in of passenger and any baggage, immigration, then another x-ray of carry-on baggage and body search (remove your shoes).
To other destinations, this is pretty much as far as airport frisking will go. It's a little bit different heading to America: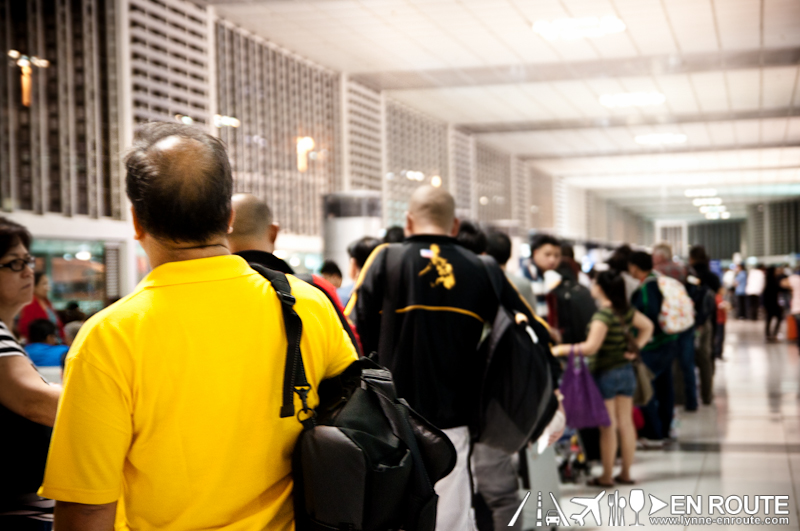 Guess what? It's another line for a cordoned off area in a designated airport gate. The frisking here is a little bit more…. comprehensive.
This part has no pics since even the camera has to be placed under inspection, so just go through the words:
---
Line up the following items just to make it faster: Bag, shoes, belt, phones, wallets, coins, watches, etc… And if you are carrying a laptop, take it off and place it in a separate storage bin. Basically all accessories in your clothing are to be placed in another machine for analysis. Anything you forget to place there, even if it's a piece of candy, is subject to confiscation, or you return to the end of the line.
And even once past the machine, you are assigned a personal inspector of your articles. The normal procedure is to confirm your bag and belongings, and then to take one step back and they ask that you witness their inspection. Everything in your bag can be placed out in the open, so if you have dirty laundry (literally), you get to air it out in public.
😛
Liquids in excess of 100ml and gels/toothpastes more than 100 grams will be confiscated at this point. So if you have a water bottle or toothpaste with you, you might as well consume it before heading in line (that's a lot of toothpaste to use. Might as well pack it with your check-in). Even unopened water bottles will be confiscated. This part is what pisses off most of the uninformed travelers. Update: A friend just gave information that this security portion was adopted from procedures to and from British influenced areas due to the 2006 transatlantic bomb attempt. Read more here:
Then it's another body frisk. This is not your Metro Manila mall security guard bored out his wits as if like he's feeling your belt. They will really search. At least they show courtesy and professionalism.
---
Oh, and remember to get your shoes 😛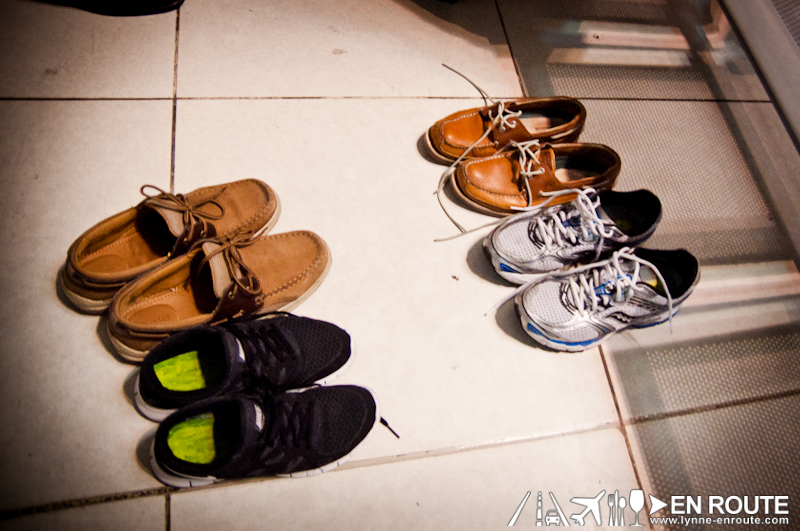 Afterwards, it's off to another verification of documents. Your US Visa will be scrutinized for authenticity. If you are a US citizen, your passport will be inspected. No one is excluded here. The paparazzi shot shows that even US citizens get their bags all opened up . These shots were already taken inside the cordoned area. We've heard of stories of people being declined at this last post just because they are nervous or show questionable behavior while being interviewed.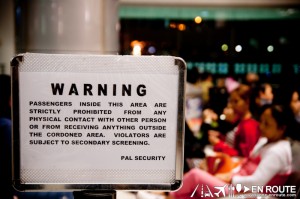 Once you're in, you are encouraged not to get out or be in contact with anyone off the cordoned area. Even just shaking hands from someone outside will get you in trouble. You will be asked to leave the area and go through the line all over again. It's like a social quarantine zone. So be prepared with a good book, some food and other entertainment as you wait to board the plane.
Yet, even with all these hassles, you will understand it when you get to set foot in America. The ideologies of freedom and justice is what people who enter America will experience. Stay tuned for more of these 😀
Have your own airport adventures to share? Shoot us some words in the Facebook Comments below 😀
Comment on this and Share it on Facebook!
comments
Powered by Facebook Comments