Ah yes. The Philippines' Metro Manila Development Authority, or as people fondly call them, the MMDA.
Created a few decades ago supposedly because some former president's wife wanted a mini government of her own where she can dictate the level of beautification, orderliness and number of indigent lady street sweepers of a booming metropolis, it has now evolved into this massive organization with a constant love-hate struggle between the city mayors and residents under its watch. Everything about it will be the hottest topic of debate among the passionate Filipino voting population. All actions seem to be graded depending on how it has personally made it convenient for the individual affected by their encompassing policies, particularly reducing vehicular traffic.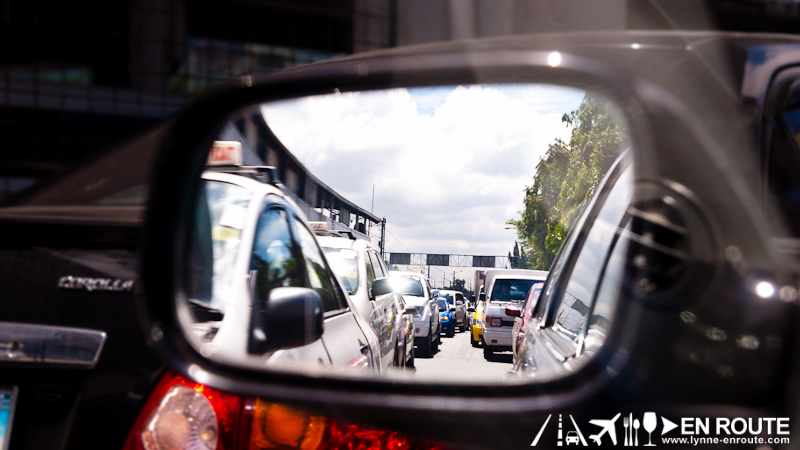 So many leaders of the MMDA have come and gone, all giving their best efforts in trying to restore the glory (and traffic condition) of Metro Manila, once heralded as the model city of the region. Everything was done in good faith, and most recently noticed: from concrete barriers, to railings that seem to herd people like cattle, to urban demolitions, and of course, the famous pink colored items. So the theme of Manila apparently depended on whether it will look like a place overrun by hanging vines, or colored like a Barbie dollhouse.
As of this writing the current leadership is taking more practical approaches while implementing technological advancements, such as surveillance cameras, renewed enforcement, and their much beloved real-time, online traffic navigator that has gained the applause of motorists.
Things seem to be great, and evolution is never always a step forward, but the general sentiment of the public is that the MMDA seems to be getting its act together, at least on the practical part.
For the aesthetic and beautification program, more plants and trees are placed to give a greener look and feel to alleviate the stress of motorists. They have, also, done some paintings….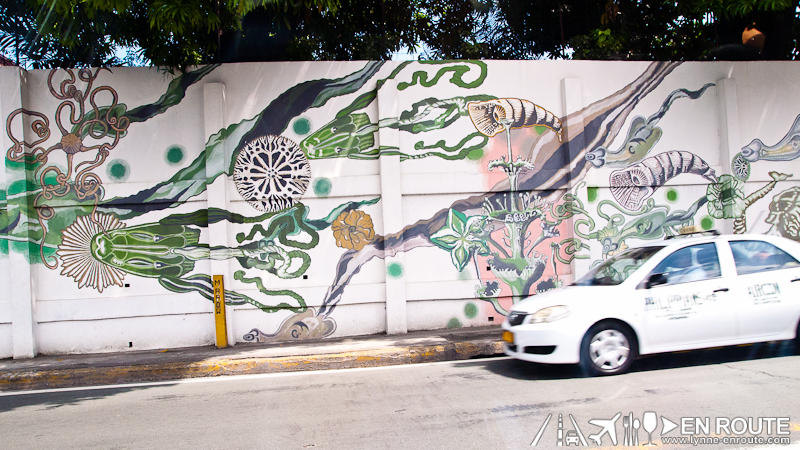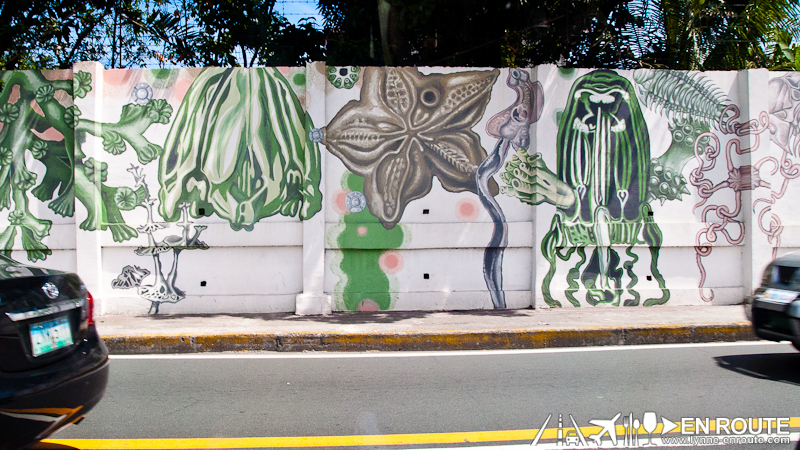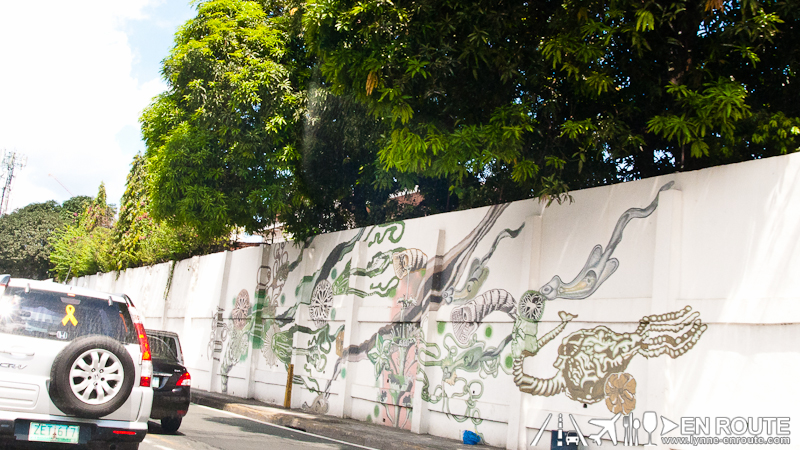 .
At first glance, someone might think that it might be a series of caveman colored petroglyphs illustrating a prophecy of an impending alien invasion if we don't stop jaywalking or littering, peppered with little OK buttons here and there.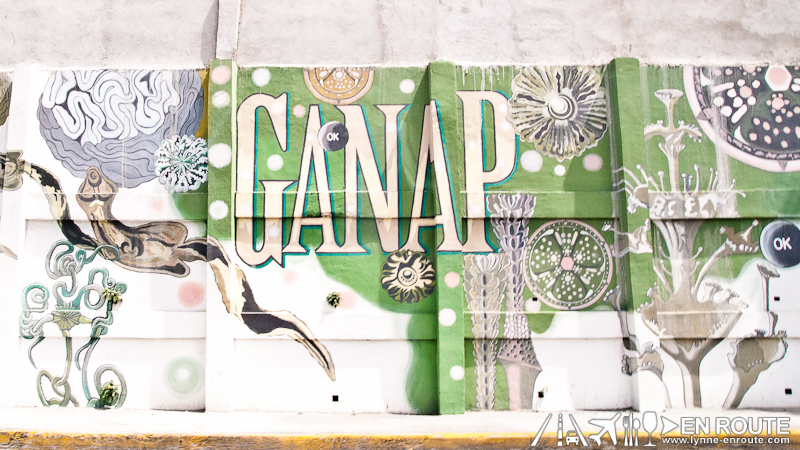 It doesn't seem to make sense, with the OK button and all. The word "Ganap", when literally translated to English means something like "altogether; complete; exact; finished; fulfilled; absolute" or something to that extent. Not really sure what it all means in relation to the mural, but then no one did figure out Van Gogh until he was long gone.
Upon closer inspection, the paintings seem to be creatures of the sea flipped upside down. Competitive nerds that may frequent Quiz Nights of the metropolis might find this fascinating, and some of them with a strange perversion for marine life may find it strangely erotic. It's not everyday that you are treated to a visual feast of what's underneath that shell of a horseshoe crab 😛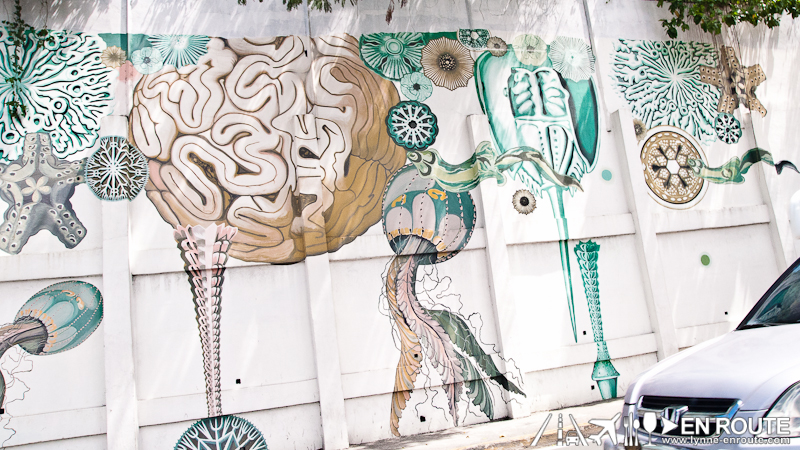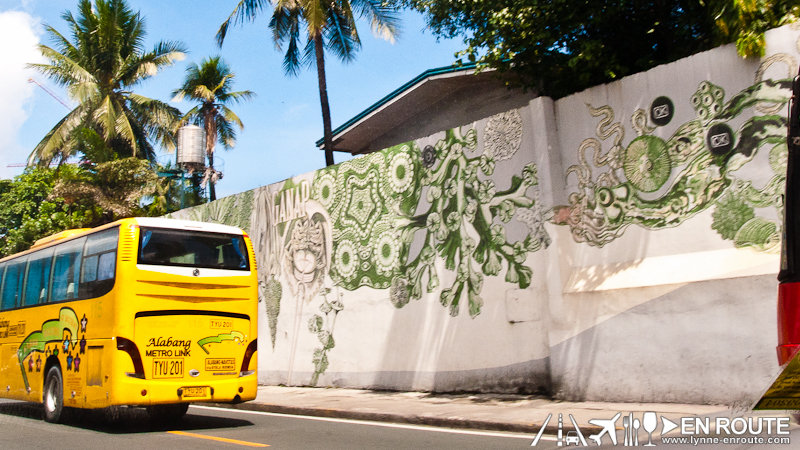 Again, change is good, and leave it up to our future generations to figure out the meaning of those OK buttons 😛
There are more themed artworks of these scattered along the metropolis. But what is your take on them? Give some comments below 😀
Related Posts
Comment on this and Share it on Facebook!
comments
Powered by Facebook Comments