Part of what we like to share here are things we encounter on the road.  From funny signs to interesting cab rides, we are always on the lookout for all things worthy of a story.
And speaking of things on the road, for a government department like the Metro Manila Development Authority (MMDA) that often receives flack for any things on the road – traffic, flood, accidents and what-not, I am actually impressed by how they have been actively keeping up with the times.  Who isn't following MMDA on Twitter yet?  I find them very responsive when you tweet them about traffic conditions in specific areas especially when you're stuck in heavy traffic and you want to take alternate routes to avoid more traffic and flood.
Check out the latest in MMDA's digital presence.  They just came out with an Interactive Traffic Navigator.  It's still in beta mode but this seems like a good start.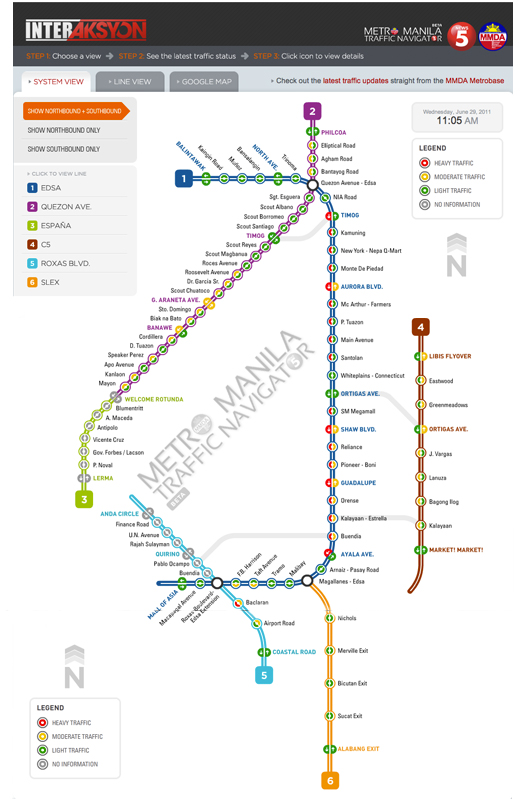 This allows you to see if the traffic conditions anywhere in Metro Manila are light, moderate or heavy.  It's updated every 10-15 minutes so that's pretty current for traffic news.  You can choose to view it three ways:
System View: Gives you a glimpse of 6 major thoroughfares: EDSA, Quezon Avenue, España, C5, Roxas Blvd., and SLEX.  You can click anywhere on the system for more specific location, say, Bagong Ilog along C5 or Santolan along EDSA.
Line View: Lets you view the same information in the form of a list.  It also lets you better see the status of traffic Northbound and Southbound.  It also gives you the option to click and view the map.
Google Map: If you need the help of a map, it is linked to Google maps so you can track where you are and where you're supposed to turn next.
I see this as a very proactive step towards being able to monitor more closely and to provide relevant updates to people when they need it.
MMDA's also on Facebook.  They actually post pictures of cars that violate ordinances like overspeeding.  For me, that seems just about right to instill more discipline on the road.
Comment on this and Share it on Facebook!
comments
Powered by Facebook Comments