Suckers for rooftop bars and restaurants? You are not alone.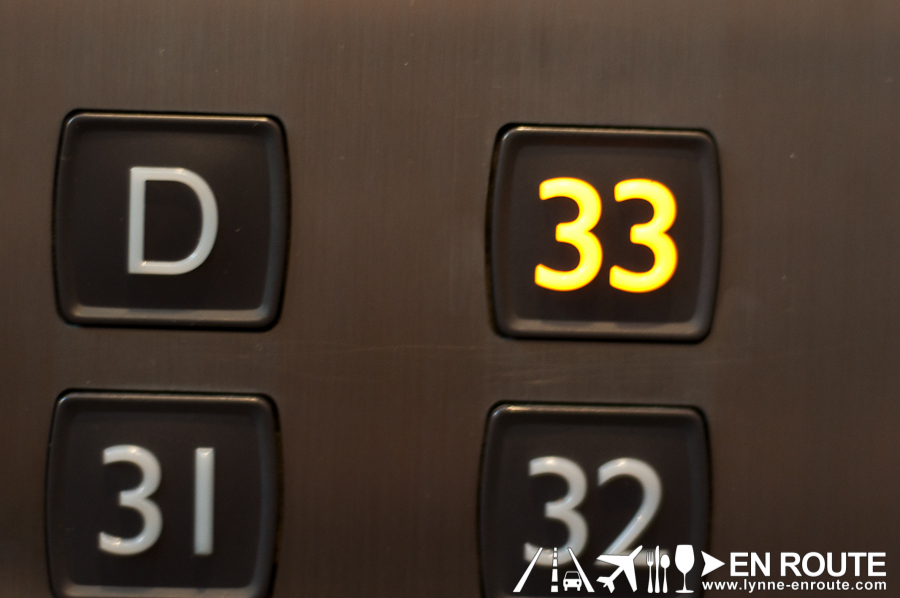 This is why Chef Jessie's newest venture named "100" sparkles like a little gem in Eastwood in Quezon City. What makes this even better is that it has incorporated a revolving floor on the perimeter of the cylindrical building.
A revolving restaurant concept has not been around in Manila for a very long time. The last time was during Manila's post-war golden years. So could this be a sign that Manila is way due for its time back in the limelight of the world? Maybe the story of one dinner here may help you decide:
After parking at the second floor (these are the parking slots reserved for the restaurant), make your way to the ground floor and into the building elevators. Just let the security know you are heading to 100 Revolving.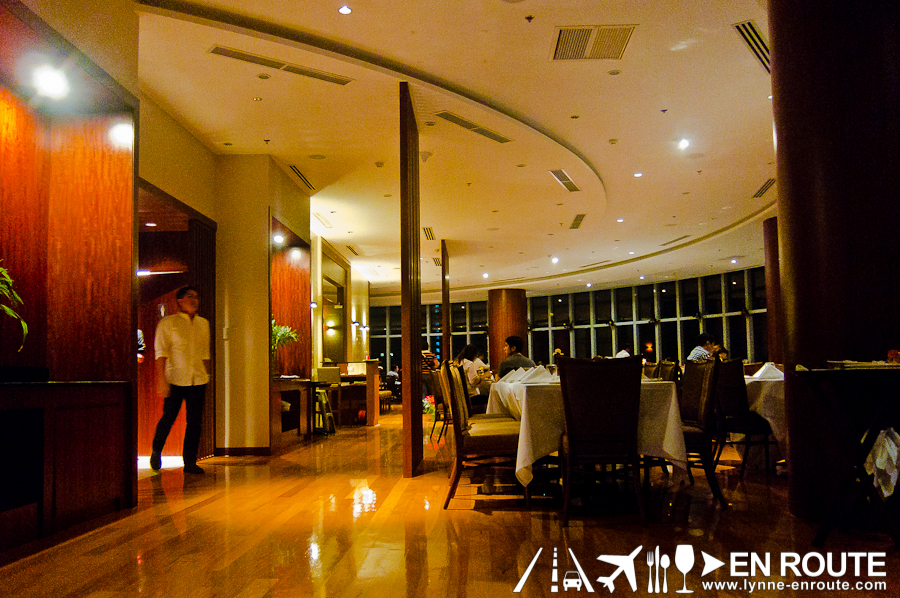 Upon entering, you are greeted with a panoramic view of the Manila skyline. You can elect to dine in the area where the floor is stationary, but of course, it is the revolving portion of the restaurant that you are here for.
The revolving portion gives you a great view of two things: The skylines of Quezon City, Marikina, Antipolo, Ortigas, and Pasig. It's quite a romantic sight.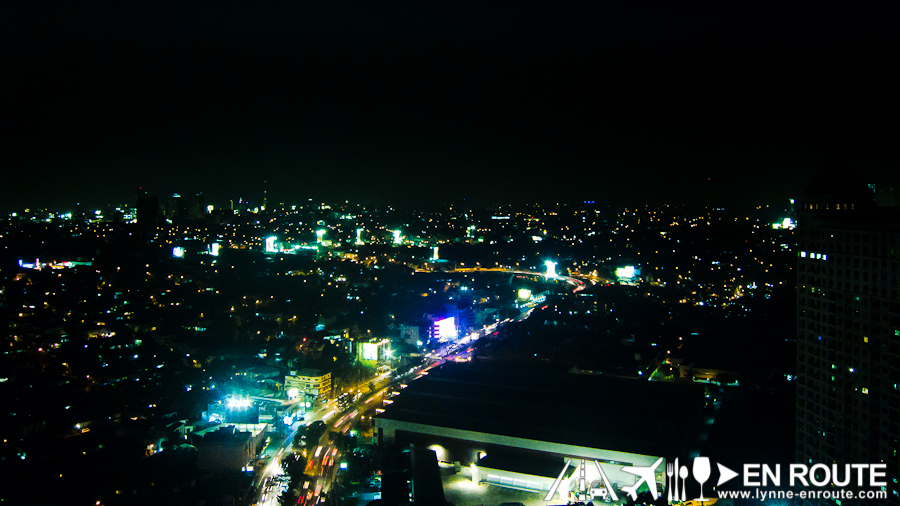 It also gives you a view of the whole restaurant, from the stationary dining areas, to the beautifully wood-cladded bar, until the busy open kitchen. One revolution is about 1.5 hours. This is pretty much about the length of a standard dinner here that consists of starters, main, course and dessert. You can stay longer, of course. Who wouldn't want to keep on gazing outside into the majestic and charming Manila?
Pretty good, except that there are times you may feel the motors of the revolving restaurant nudge a bit, which may cause some unsettling feelings if you are one who is most comfortable with your feet literally planted on the floor at all times.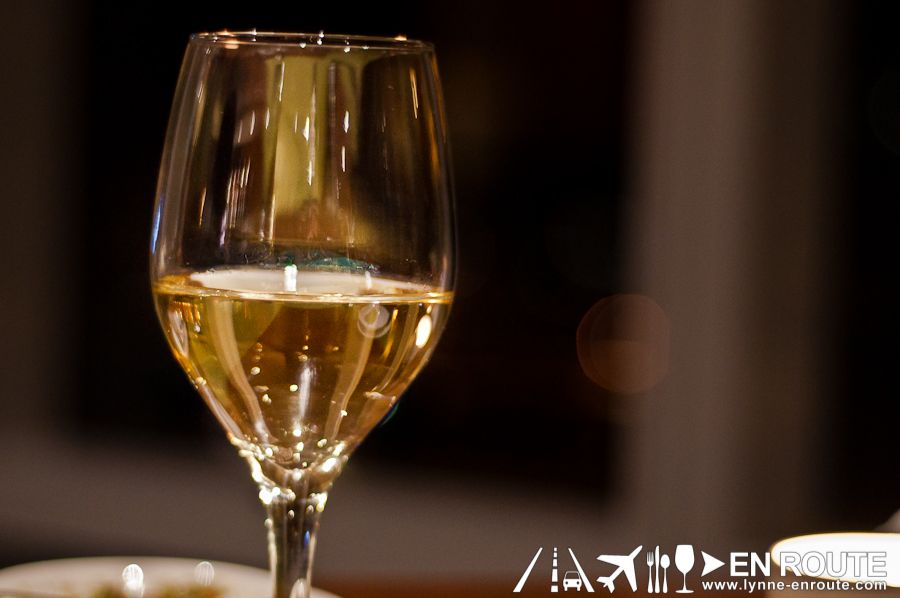 But ignore that for now, as Chef Jessie of Top-of-the-City and Le Souffle fame whisks you away for a great dinner with a menu so extensive that a single visit is not enough to taste the flavors and exciting concepts coming out of the kitchen.
Aside from freshly made bread and accompanying special olive-oil and pepper dip, here are things you may expect in your dinner at 100 Revolving: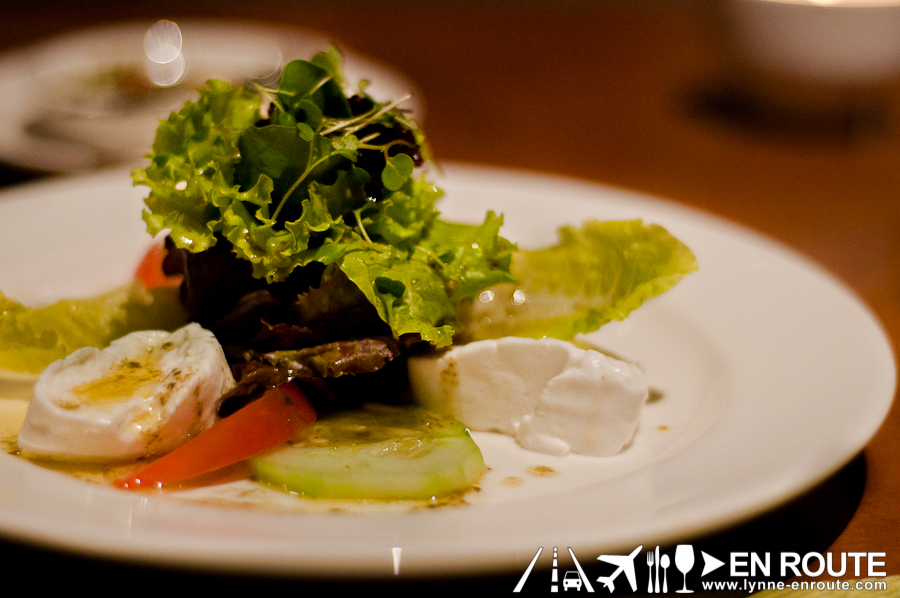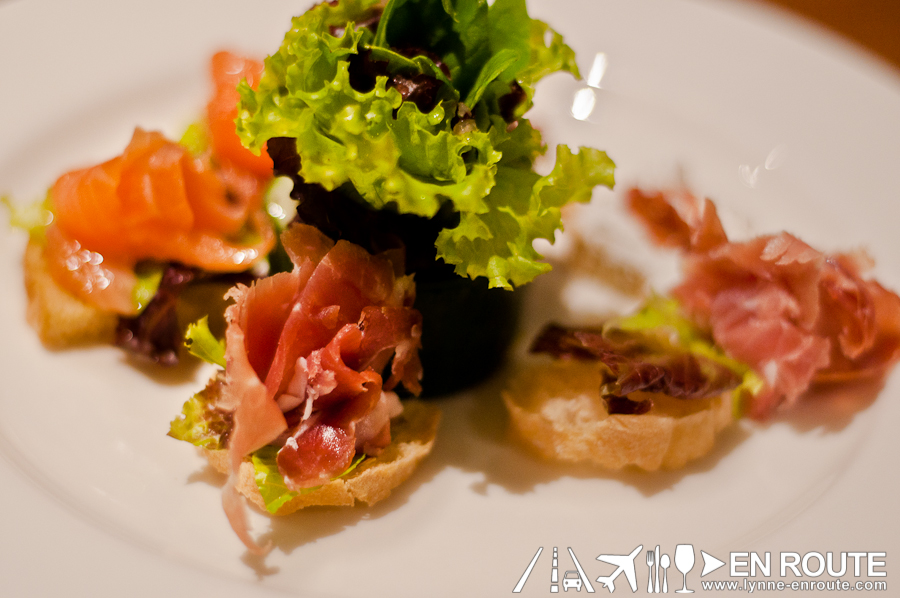 Kesong Puti Salad (PHP 200.00) will get your palate started off with the creamy cheese from carabao's milk and the delicate taste of drizzled vinaigrette dressing over crunchy, leafy greens. there is also this sampler of tapas composed of salmon, prosciutto, and ricotta cheese. Fantastic! Eat with deliberate luxury. No need to rush.
Take a sip of the wine you have ordered for this night, and on to the mains: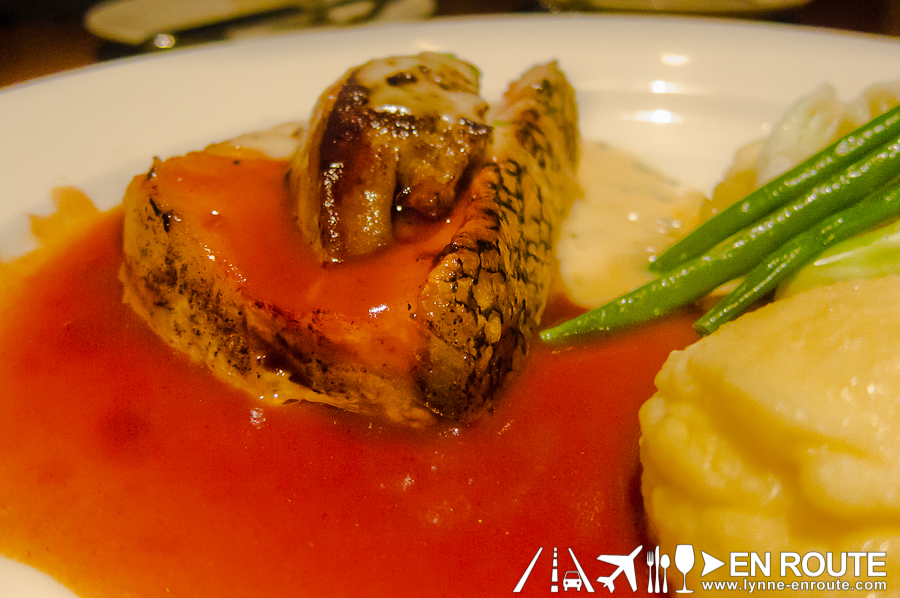 Seabass with Foie Gras with mashed potatoes and steamed vegetables (PHP 1,500.00). It is a relatively simple dish when compared to other haute-cuisine concepts, but execution of keeping the fish tender-soft and that foie gras intact with a bit of bite is the most important. No one wants a soggy good of fish and goose liver. Needless to say, this was absolutely delicious.
Rack of Lamb (PHP 1,395.00) for those looking for a little gamey flavor. Mind you, this was truly clean tasting that some may not even suspect the lamb flavor. It was requested to be cooked medium-rare, however it came out medium-well. Surprisingly, it was still tender. With the pining for the now-closed Lolo Dad's in Manila, this rack of lamb will suffice (although there is this club in Fort Bonifacio that surprisingly cooks a decent rack of lamb as well).
And dessert? The famous souffles of Chef Jessie. They come in various sizes depending on your appetite for this decadent treat. One thing to get for full robust flavor is the dark chocolate-coffee combination. It overtakes any taste that may be lingering in your taste buds and signifies that dinner is almost over, albeit with a sweet ending.
Always a pleasure to return to this place, even if going round and round seeing the same view may become somewhat of a weary ordeal. But just getting something new from the menu of Chef Jessie's 100 Revolving, and the experience just feels like it is the first time all over again. Gives justification that some things just get better and better the more you get around doing it.
100 Revolving is located at the 33rd floor of the MDC Building, E. Rodriguez Avenue, C-5, Liibis, Quezon City, Philippines
Tel. Nos. +632-962-1016
Detour: Against common practice, the MDC building has a 13th floor. Wonder what's in it?
Comment on this and Share it on Facebook!
comments
Powered by Facebook Comments