AS OF DECEMBER 13, 2012, IT WAS DISCOVERED THAT THIS PLACE HAS CLOSED.
Band-aids versus Skateboards.  This was the debate about what the wall design of Chef Bruce Lim's new restaurant venture, Hyphy's, looked like.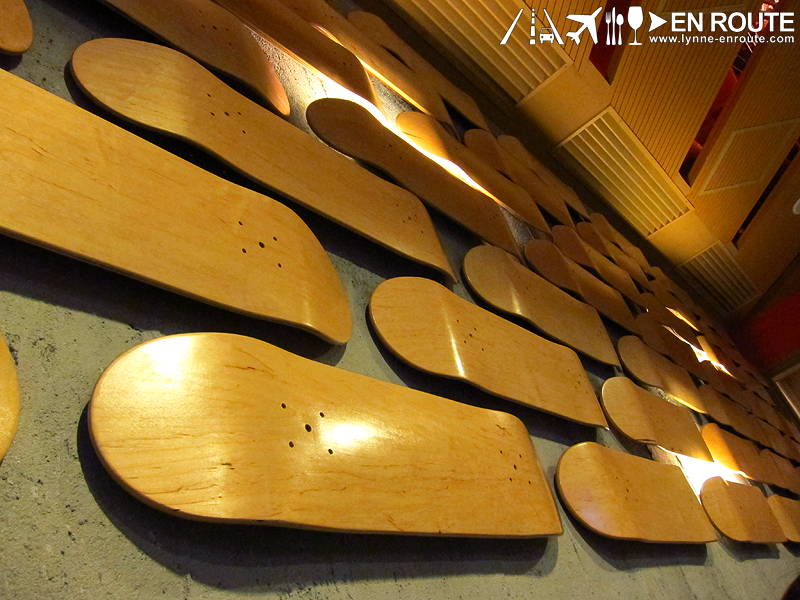 Hyphy can be considered a shorter form of "hyperactive" or a combination of "hype" and "fly."  Paying tribute to the melting pot that is San Francisco, Chef Bruce Lim injects a touch of Filipino to San Fo-inspired dishes.  We actually saw him there and I resisted the urge to have my picture taken with him.  Surely, anyone who can cook very well deserves celebrity status in my book. 😀
San Francisco actually houses a lot of universities.  I'm not sure if that has anything to do with the concept behind the interiors, but it reminded me a lot of classrooms.  The lightly-colored wood of the ceiling, the tables, and the wall accents were very simple against the interesting black-and-white pattern of the floor.  I liked the high ceiling and other black accents of the lamps and the chairs.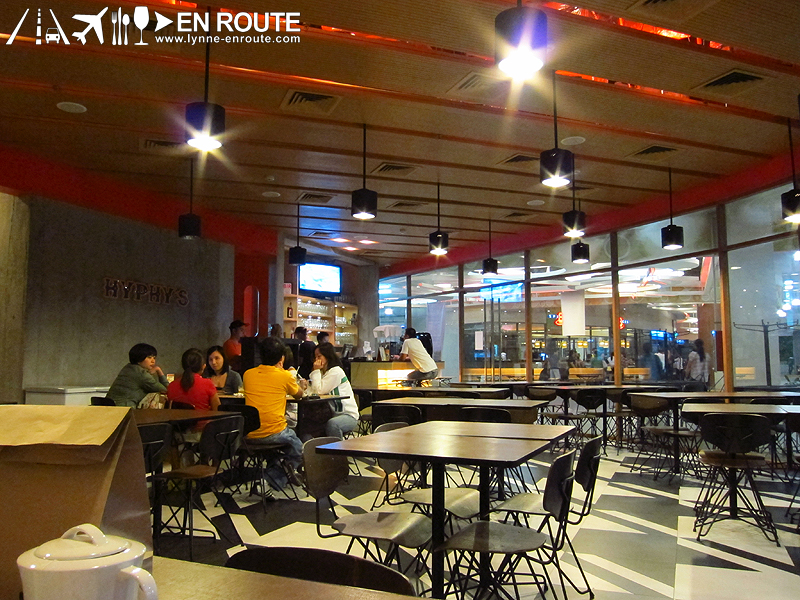 Service deserves special mention as it was very prompt and attentive.  The waiters knew their menu well and were able to give suggestions as to what the best-sellers and latest promo offers were.  It helps diners, especially first-time visitors, enjoy their food choices more.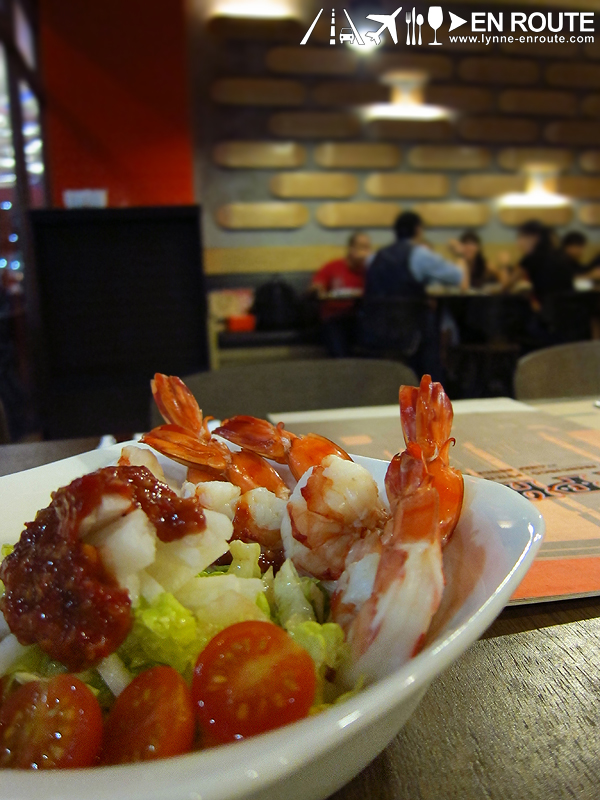 And speaking food choices, I'm hyphy, ahem, I mean happy, that we got to try several dishes.  We began with an order of Prawn Cocktail (Php220).  The juicy prawns dipped in their cocktail sauce was really good.  We were actually contemplating on ordering one more.  We tried their Quesadilla (Php178) also but it just paled in comparison to the Prawn Cocktail.  If I had to pit something against it the prawns, it would be an order of the Garlic Fries.  Us Pinoys, we love our garlic so this had a very healthy sprinkling of fresh garlic.
For the main dishes, the line-up included Chicken Lettuce Wraps (Php178), Sisig Pasta (Php220), Kanto Pork BBQ (Php220), and Bolognese ala Cubana (Php190).  I have to say one of the value-for-money orders is definitely the Chicken Lettuce Wraps.  For the price, it can actually serve two people already.  I enjoyed having to scoop and roll my own food and it made it feel more homey and comforting.  The flavor of the chicken was not overwhelming at all so I could keep on getting more.  The crisp lettuce provided a nice, refreshing contrast to the warm meat.
The name, Kanto Pork BBQ, sounded full of personality right there so it's a safe option for a rice meal.  They were generous with the garlic on the rice also.
For those who like the strong flavor of sisig, the pasta counterpart is something you should try.  The taste did remind me of sisig but it just might have been too strong for my taste.  I liked it during the first few bites but I needed a swig of water soon after.  It also felt as heavy as its sizzling pulutan counterpart.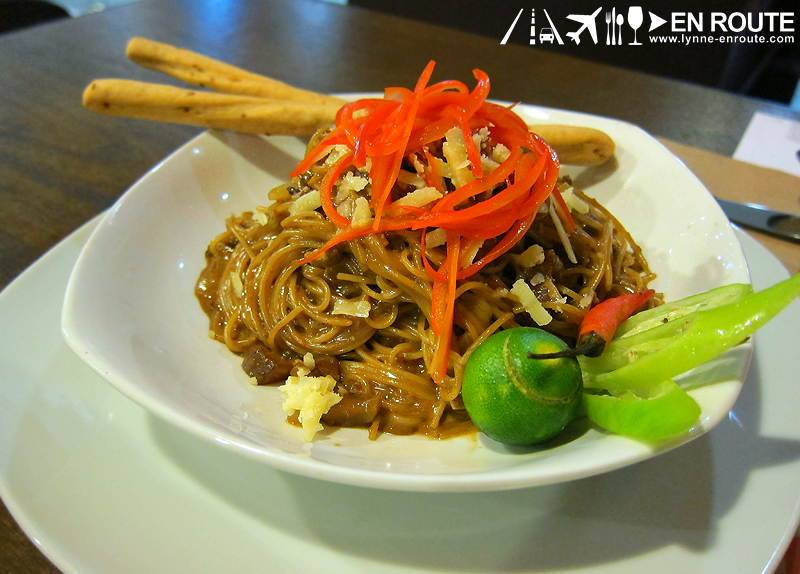 The last main dish was the Bolognese ala Cubana Pasta.  The Italian meat-based sauce gets paired up with the Filipino version of rice served on top.  Instead of rice, spaghetti noodles were used.  I was half-expecting sliced banana to be served with it also.  This was actually one of my favorites.  I've never had a fried egg in a pasta dish before and I found it really interesting.  The bread sticks that came with it served as our way of cleaning up the sauce afterwards when all the noodles were gone.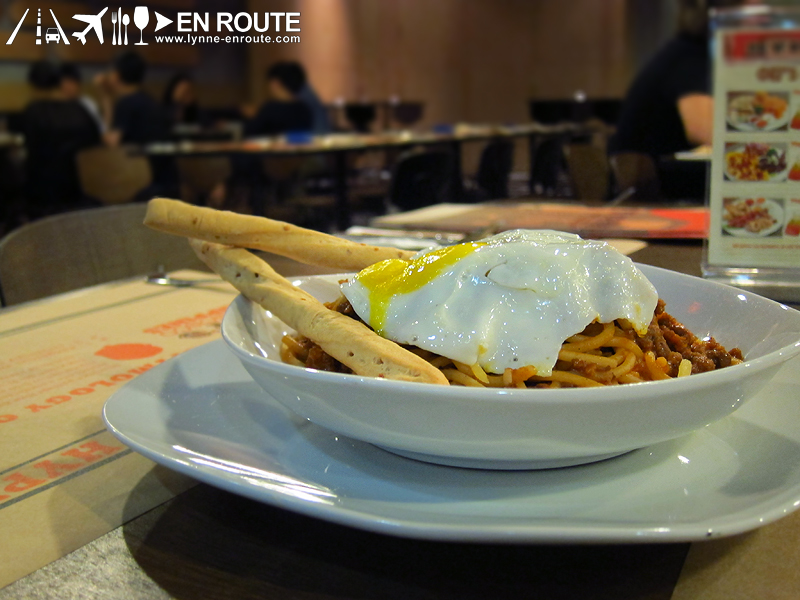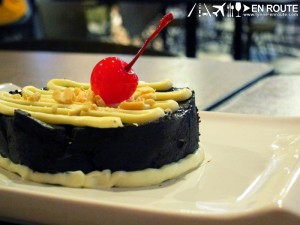 We managed to squeeze in some dessert.  They were out of frozen yogurt that time so we went to the less healthy options and got the Tablea Chocolate Torte (Php150).  The tablea chocolate gives it a very dark and rich taste that leaves you smacking your lips after each bite.  Good choice over the fro-yo.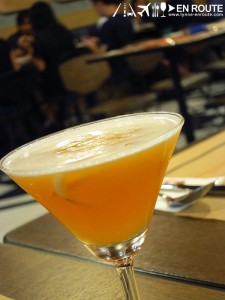 Overall, I liked our experience.  The service and food was good.  We didn't have to wait for our food too long.  The menu is extensive so you can take your pick from the pastas, sandwiches, and rice meals.  They even offer cocktails! That's awesome.
It's one of the restaurants in Robinson's Galleria's Veranda. An area near the EDSA Shrine's been converted into a diner's haven, whether you're out for drinks, dessert, or a hearty meal.
So, okay.  Given San Francisco's vibe, maybe the wall decorations do resemble skateboards more.  But you have to admit, once you think band-aids, you can't help but think of them too.  What do you think?
Check out Hyphy's on Facebook! You can also contact them through the following channels:
Comment on this and Share it on Facebook!
comments
Powered by Facebook Comments